​​Blog written by Lever – Lever, an Employ Inc. brand, is a leading Talent Acquisition Suite that makes it easy for talent teams to reach their hiring goals and to connect companies with top talent.
Less paperwork, stress, and headaches, plus more free time to spend on tasks that really matter: that's the high-level benefit of leveraging human resources (HR) automation.
Zoom in a bit further, though, and you'll see that HR automation software not only leads to fewer manual HR processes (including those owned by the talent acquisition arm of your HR function) but also an opportunity to address and optimize other key workforce tasks.
The Burden of Manual Processes
Human resources management encompasses a number of important initiatives: from executing the entire employee onboarding process, to aiding people managers with employee training, to helping the C-suite enhance the employee experience.
On the recruiting and hiring side of the HR department, HR automation tools play a pivotal role in talent acquisition success. Notably, these solutions eliminate time-consuming, manual labor—like scheduling interviews with candidates—to help teams save major time and money.
Consider the non-automated process of connecting with both job seekers and hiring team members who will take part on a given interview panel and speak with a prospect:
The talent specialist who is running the recruitment process must work their you-know-what off just to identify and engage candidates of interest. A not-so-small task—and one that, as you well know, takes a lot of time and effort.
After finally identifying a small group of top-tier talent who seem like optimal fits for an available position and screening them, it's time to advance them to the interview process. And that means coordinating a lot of schedules.
Once interviewers are selected (ideally, by using software that helps you load-balance interview panel participation), you need access to find available slots on all panelists' calendars and send out the official invite to the candidate
This may not seem like an arduous task on its face.
However, if anyone knows how frustrating it can often be to find that magical 30- or 60-minute time slot during which everyone on your interview panel is free (and the pain of having an unorganized interview scheduling process, in general), it's recruiters.
That's where HR automation can help (and alleviate stress for talent teams).
Does interview scheduling automation make sense for my team?
ROI is key. This is not a time to invest in software that won't bring you immediate value. So let's eliminate the guesswork with our free ROI calculator.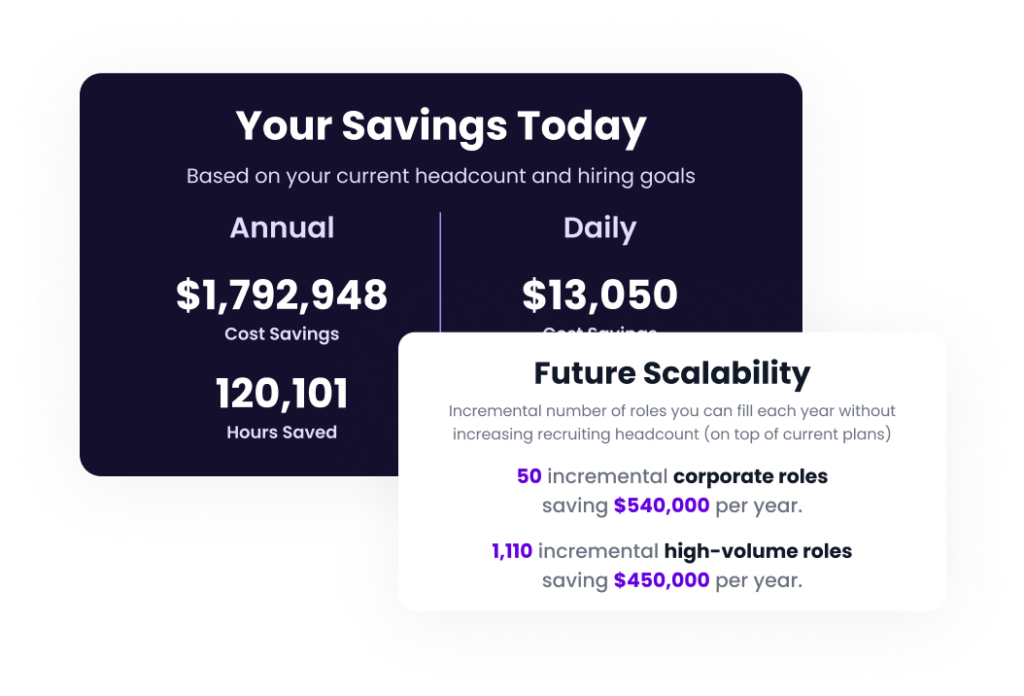 The Outsized Impact of HR Automation
Leveraging an HR process automation solution that has built-in interview-scheduling functionality to help facilitate the planning of all interviews in a given recruitment cycle means:
Members on the recruiting side of your HR staff don't have to poke and prod interviewers every time they need access to their schedules to set up calls with candidates
You can realize quicker recruiting cycles by arranging chats with your active opportunities and, after interviewing each, advance the right candidate to the offer stage
More satisfied hiring managers, given you're able to drive down time-to-hire/fill for their roles
The ability to shift gears and focus on other equally essential recruiting-related duties
"The more day-to-day responsibilities talent leaders and specialists automate, the more time they can allocate to other daily activities and long-term objectives," Lever Sr. Product Marketing Manager Roy Reif shared in their guide on the power of recruitment automation for candidate engagement.
See how the TA team at HelloFresh used the time they saved with HR automation to up-level their candidate experience:
Specific Use Cases for HR Automation in Hiring
Interview scheduling is a highly specific example of HR automation in action.
While it's important for every talent acquisition specialist on your HR team to utilize automation in the interview process, there are benefits to utilizing recruiting automation technology for other hiring-centric activities.
Archiving and Advancing Job Applicants
Talent teams with LeverTRM, Lever's native ATS + CRM solution, utilize the platform's many distinct recruiting automation capabilities to tackle several different tasks—and lessen the need to conduct those tasks manually.
One such task? Automatically "archiving" (i.e., tagging poor-fit prospects with specific designations and marking them as cold opportunities) and advancing applicants, based on defined knockout questions and related criteria (e.g., must have X years of experience and Y certification).
Personalizing Messaging to Job Prospects
Recruiting organizations with LeverTRM can deliver bespoke nurture emails to passive candidates in their pipeline and feature beautifully branded interview scheduling links created via GoodTime within those emails to boost their lead-to-screen conversion rates.
As Lever's eBook on the (many) pros of talent nurturing explains, "You need a carefully constructed, workflow-based, automated email-nurturing strategy … to stay top of mind with individuals of interest in your talent pool and, ultimately, convert high-quality candidates."
Setting Up Custom Recruitment Workflows
Custom-tailored interview workflows (e.g., auto-assign panelists in your bullpen of interviewers to calls with candidates) are highly beneficial for your hiring team. But, HR automation workflows can also help with the later stages of a given interview process.
For instance, LeverTRM users set up custom approval chains that automatically alert relevant hiring stakeholders that an action is needed on their part to either approve a new requisition, job posting, or prospective offer to a lead.
Similarly, interview panelists can automatically get "nudged" with notifications and reminders within LeverTRM and/or connected communications tools like Slack to provide timely candidate feedback and scores. (And prevent prospects from exiting the recruiting cycle because it was taking too long).
Delivering Candidate Experience Surveys
The interview process has ended. You've either hired or rejected candidates you've spoken with during that time. Now, you need to send surveys to each prospect you engaged for an open role to get their thoughts on the recruitment process and meet with your interview panel.
Using LeverTRM, you could auto-deliver CX surveys to all candidates in the days following the end of the recruiting cycle to have them rate your interviewing efforts and offer general feedback in an open-text field — info and insights that can help you improve your candidate experience efforts.
Evaluating the HR Automation Tech Landscape
The sheer number of activities your average recruiter conducts daily is substantial.
That's why it's so important for talent specialists to use technologies to streamline much of their day-to-day work, reduce the occurrence of human error, and make speedy but smart hires.
Human resources practitioners at your org who are more focused on your existing workforce and not prospective employees leverage automation for various HR management use cases (e.g., auto-sending exit interview questionnaires to employees during the offboarding process).
Your talent team would be wise to do the same. Use filters, rules, and triggers in your automation tech of choice to streamline daily tasks, make work much simpler (and more enjoyable), and provide an increasingly better candidate experience.
Watch the on-demand webinar featuring experts from Lever and GoodTime to learn how today's talent acquisition teams improve their quality of hire with leading recruitment tech.