How can employers improve both the interview and the candidate experience, leading them to better hiring decisions and higher retention rates among new employees?
Ideally, an interview accomplishes two things:
Generates enough valid data for both the interviewer and the interviewee to successfully assess the job.
Provides an excellent candidate experience that transitions the candidate into employment.
In contrast, poorly executed interviews and a weak candidate experience result in bad hiring decisions and a weak employer brand.
To gain better insight into current interview practices, GoodTime partnered with a third-party agency to survey a diverse set of 2,800 candidates and interviewers who had gone through the interview process within the last six months.
In this post, we share three key findings from that survey, as well as three candidate experience best practices that interviewers can use to improve the outcome of their next interview.
Read on to improve candidate experience in interviews and beyond.
Does interview scheduling automation make sense for my team?
ROI is key. This is not a time to invest in software that won't bring you immediate value. So let's eliminate the guesswork with our free ROI calculator.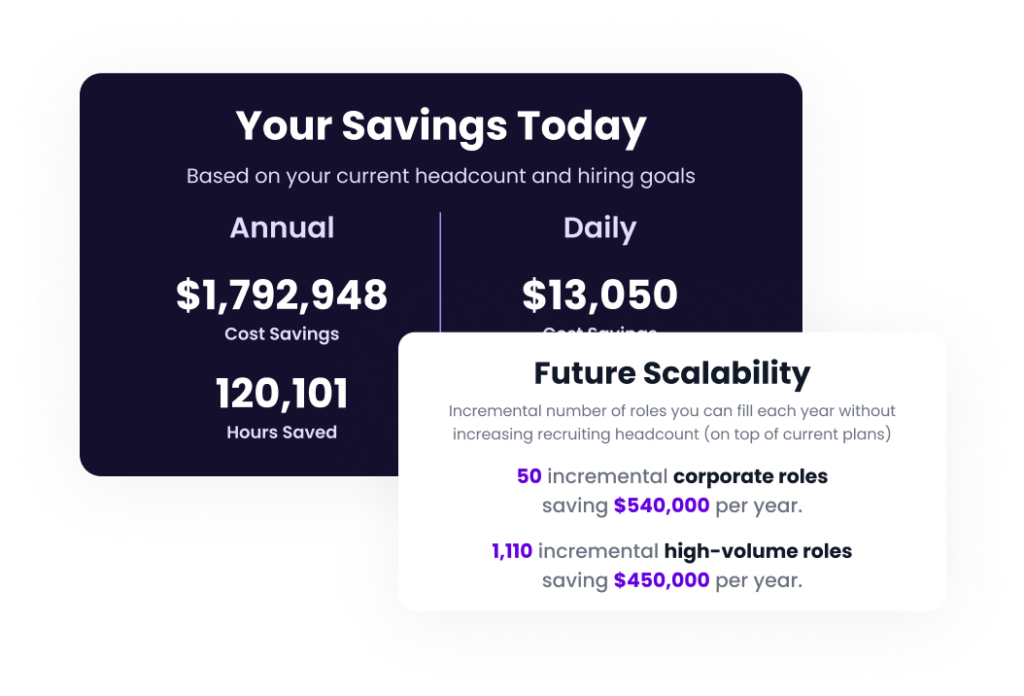 Key Findings on Candidate Experience
Interviewers want to create a positive candidate experience, but they don't feel equipped to do it.
90% of interviewers believe that candidates use their interview experience to decide if they will accept a job offer, and 73% report they don't ultimately hire the most qualified candidates.
So what? When high-performing candidates find the interview process cumbersome, frustrating, or unfriendly, they'll likely continue their job search elsewhere — maybe even with a competitor.
However, when candidates find interviews to be welcoming and easy-to-navigate, not only will they present the best version of themselves, but they'll likely talk about it with friends and family, too.
An interview should convince a good candidate to join your team — not damage your employer brand.
All Too Often, Candidates Are Set Up To Fail in Their New Role
When done well, interviews are the single best predictor of job success. However, a staggering 33% of new hires look for another job within their first six months.
Oftentimes, employee dissatisfaction can be traced back to the interview process in the form of a clumsy assessment of job fit (did you put the right person in the wrong role, or hire the wrong person altogether?) or a poorly communicated job description (did the candidate understand exactly what the job entails)?
Without optimizing the candidate interview experience, as much as one-third of your hiring budget is at risk. Don't let that happen to you!
Talent Teams Are Disconnected From the Experiences of Interviewers and Candidates
Interviewers and candidates agree that interviews need to be less focused on companies and more focused on candidates. However, HR leaders and talent teams believe their interview process is effective, giving it a perfect score of 10/10 on our survey.
What does that tell us? Talent teams aren't in touch with what's really going on. It's time to re-think the interview process.
What To Do?
If this all sounds a little doomsday, don't worry. Leveling up your interview practices won't happen overnight, but there are some best practices you can put into place today.
Don't underestimate the power of a warm welcome. RecruiterBox reminds interviewers to "let your candidates shine." By creating a welcoming atmosphere, candidates will be more likely to open up in an interview, allowing employers to understand who the candidate really is.
Understand the candidate's mindset. Ask the right candidate experience survey questions such as, "Was your last job helpful for your career journey, or just a means to an end?" Find out where candidates are, and meet them there.
Ask open-ended questions. Indeed points out that open-ended questions give interviewers an opportunity to learn more about a candidate's experience and relevant abilities. They also give candidates a chance to demonstrate their unique problem-solving and analytical skills.
Key Takeaway
Time's up for interviews full of scheduling headaches and unresponsive hiring leaders. It's time for candidate-centered, connection-driven interviews instead.
To read more about how to make that happen for your team, download 5 Steps to Hiring Top Talent at Scale.