It seems that recruiters in the healthcare sector can't catch a break. Today's healthcare talent acquisition teams must contend with a shortage of candidates, high staff turnover, and increasing demand for talent—and this barely scratches the surface of the challenges looming over the sector.
What lies ahead for the healthcare hiring landscape in 2023? This year brings new hiring challenges and economic obstacles, but we're here to help make sense of it all.
After surveying 531 talent acquisition leaders across sectors for our 2023 Hiring Insights Report, we've released the report's healthcare edition. Based on responses from 105 talent leaders in healthcare, the report highlights how they're attracting and retaining talent amid today's obstacles.
For the TL;DR of the report, here's a roundup of the six key takeaways your team must know to successfully weather 2023's healthcare hiring storm.
1. Hiring Goals Fell Short
Healthcare recruiters encountered significant hurdles in the past year when it came to attracting and retaining top-tier talent. Reflecting these ongoing struggles, healthcare organizations achieved only 50% of their hiring goals in 2022.
As last year's talent acquisition and retention challenges carry over into 2023, the probability of reaching this year's hiring targets remains increasingly uncertain.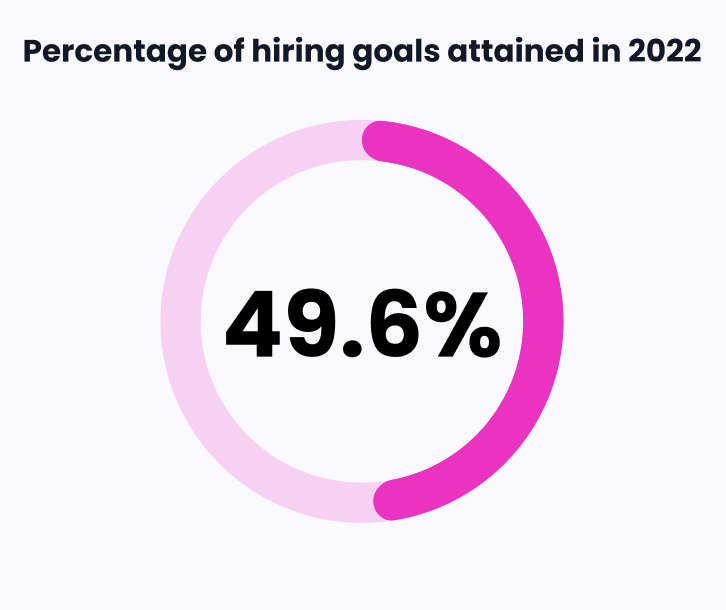 2. Top Previous Change: Demand for Talent Increased the Competition
According to most talent leaders, the hiring environment become significantly more competitive in the past year due to a surge in demand for skilled professionals (50%). In second place, talent leaders also recognize that candidates increased their demands, requiring additional touchpoints throughout the hiring process (41%).
Interestingly, high turnover rates within recruitment teams did not rank among the top three issues cited. Although staffing challenges continue to plague healthcare teams, the data suggests that turnover has had a less pronounced impact on talent acquisition departments.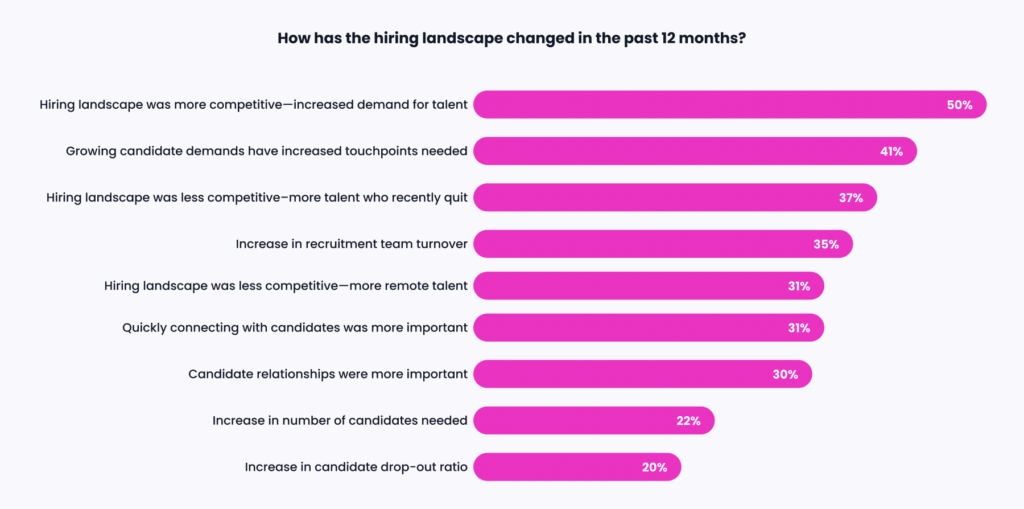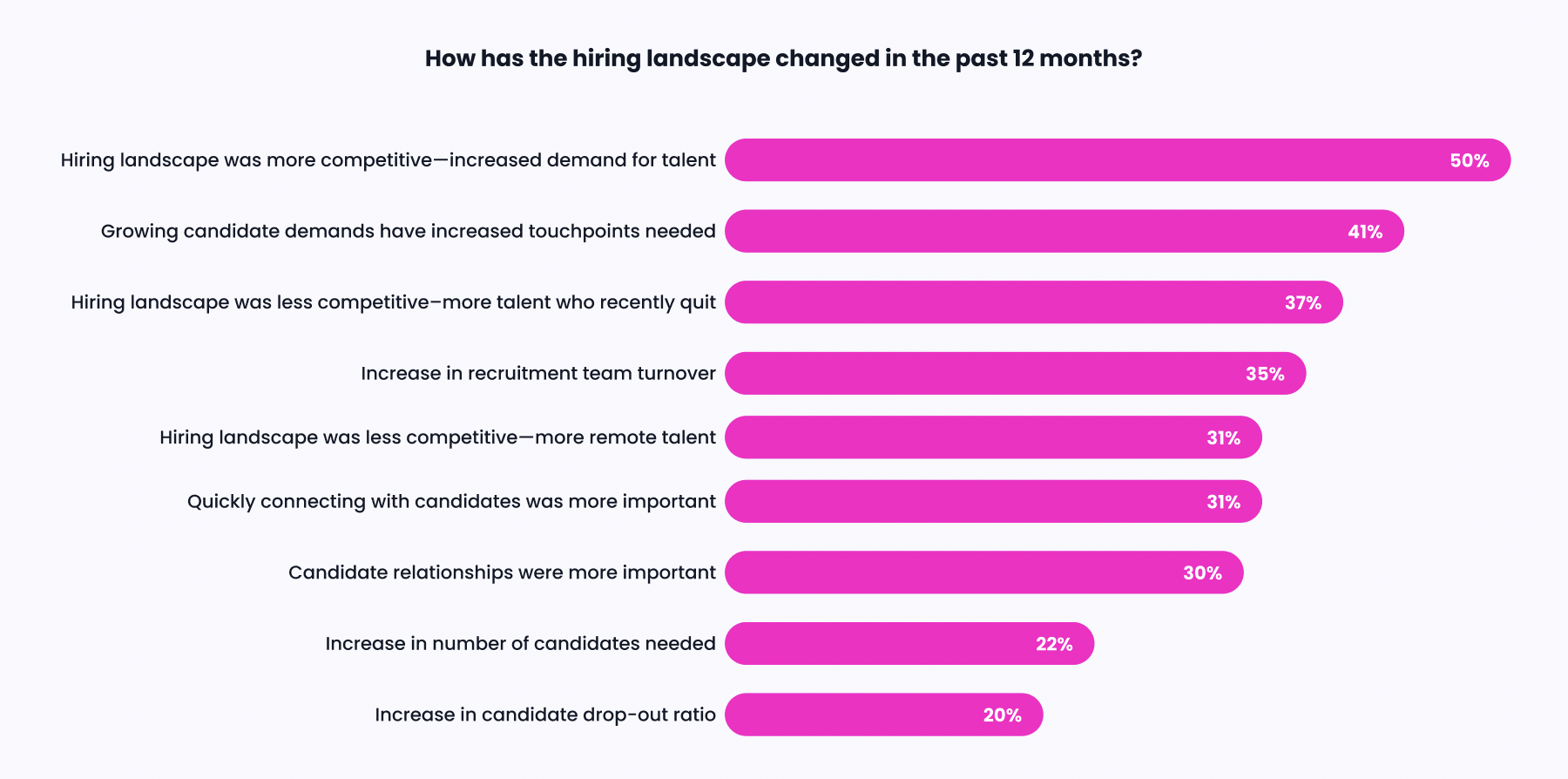 3. Layoffs Hit Healthcare Hard
Although the recent headlines have primarily focused on the technology sector's layoffs, healthcare has also seen significant workforce reductions. As a result of the economic downturn, a staggering 55% of surveyed companies have laid off employees. Of these affected companies, almost 75% reported that job cuts impacted between 10-19% of their workforce, while 17% reported layoffs of over 20%.
In an industry already struggling with a shortage of talent, organizations with a history of layoffs may encounter even greater difficulties in attracting top candidates. The possibility of future layoffs may cause potential candidates to hesitate in submitting their applications. It's essential for companies to establish a compelling employer brand and provide a memorable candidate experience to win talent over.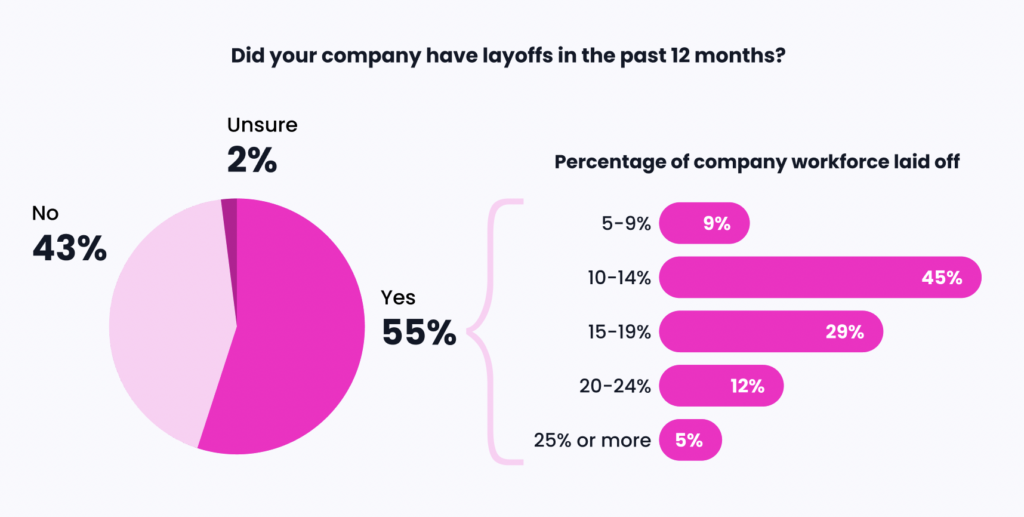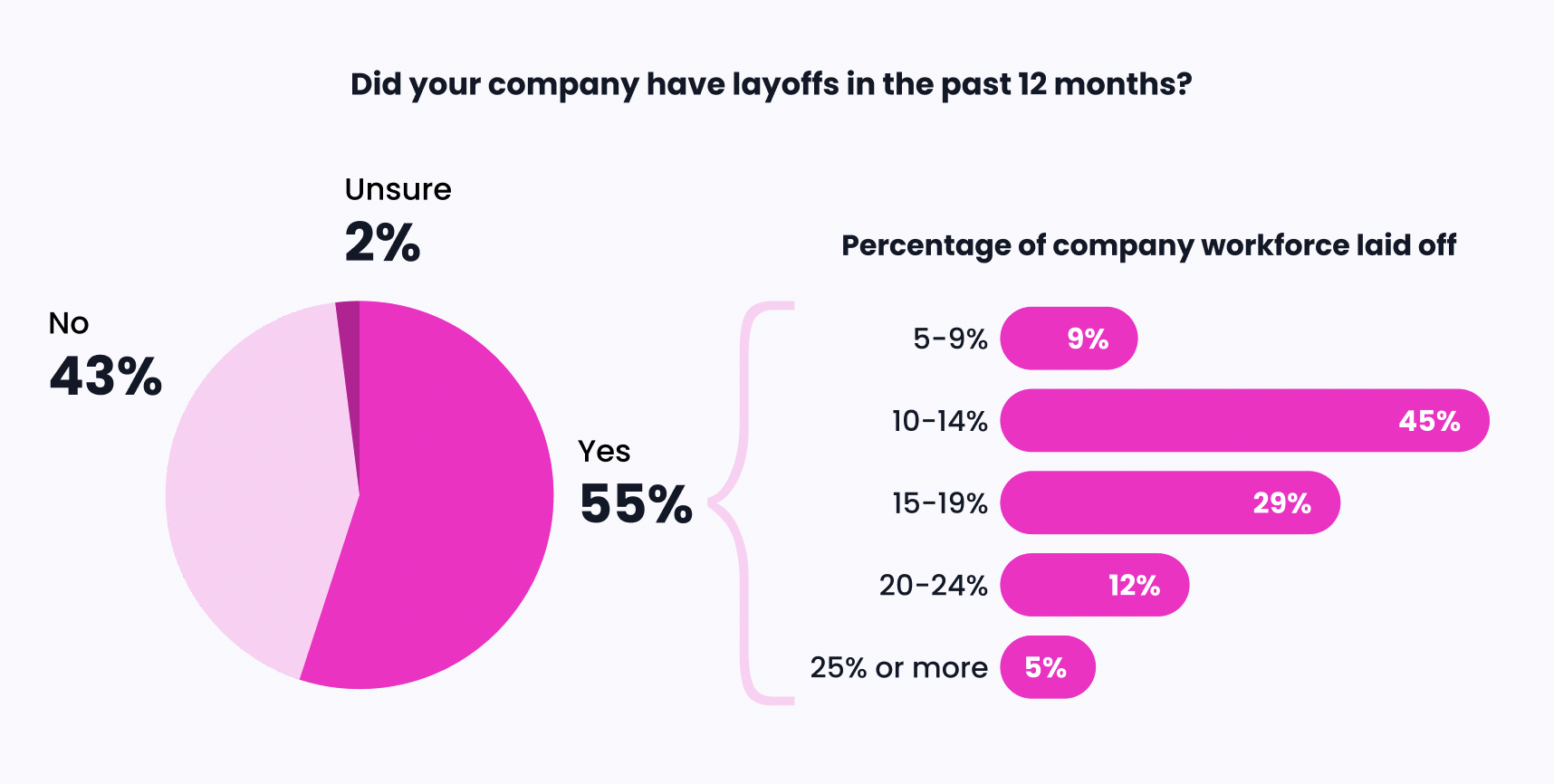 4. Top Expected Challenge: Hiring Policy Changes
The biggest upcoming challenge expected by healthcare talent acquisition leaders: "changes in company hiring policies" (31%). In the evolving world of work, where new challenges constantly arise, talent leaders anticipate that they will need to reassess their hiring policies in order to successfully confront these obstacles head-on.
Finding enough time to plan out these policies can seem impossible when juggling other challenges. However, tackling large-scale projects such as implementing new policies becomes incredibly doable with the proper tools. If teams focus on alleviating their fifth biggest challenge—limitations of hiring technology (27%)—by leveraging healthcare tech solutions that enable greater efficiency and automation, they can free up bandwidth to focus on other impactful projects.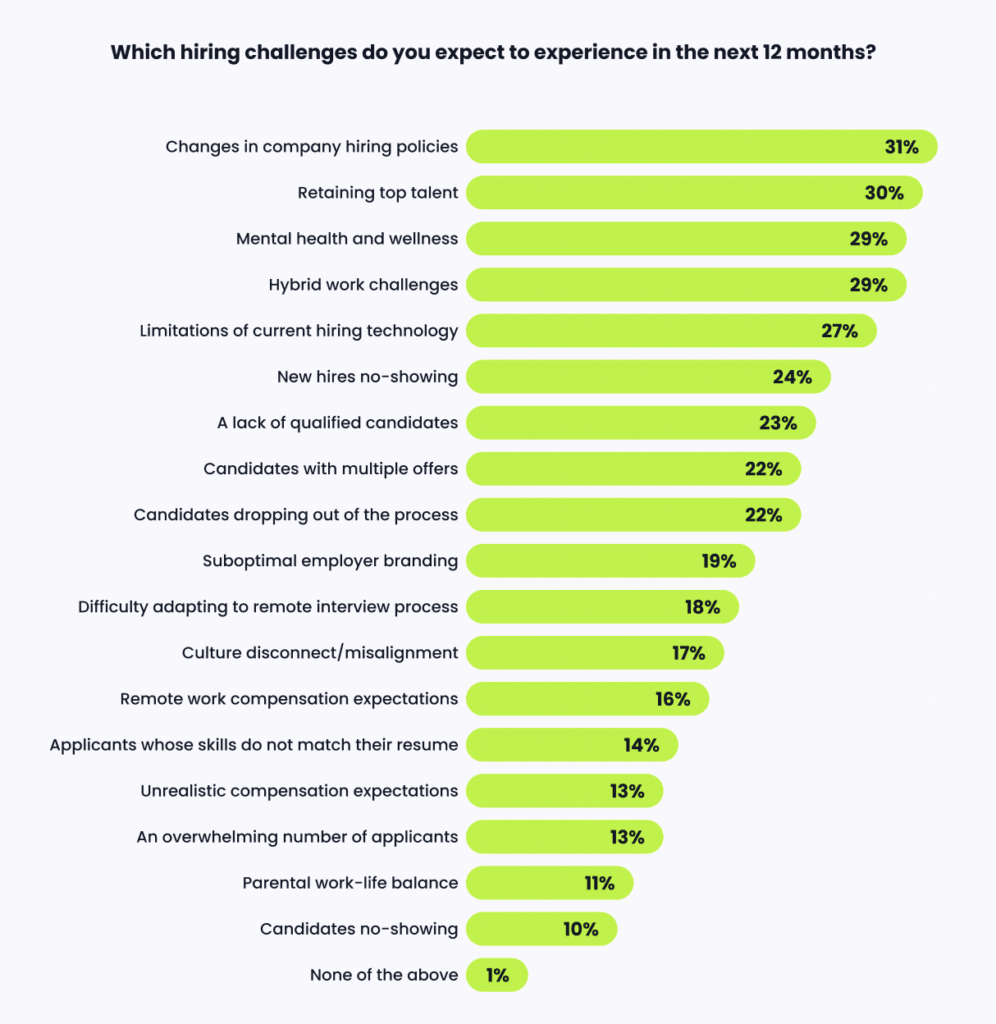 5. Top Expected Change: Candidate Demands Will Increase
It's common for healthcare candidates to explore job opportunities beyond the realm of healthcare. Candidates frequently apply for jobs across different sectors and consider a multitude of opportunities. Thanks to the abundance of opportunities available to them, healthcare candidates are typically more selective in their job search and expect a standout candidate experience.
Healthcare companies have awakened to this reality and largely recognize the importance of impressing their candidates. Speaking to this fact, talent leaders think the biggest change coming to the landscape in the coming months will be an increase in candidate demands that necessitate more touchpoints in the process (44%).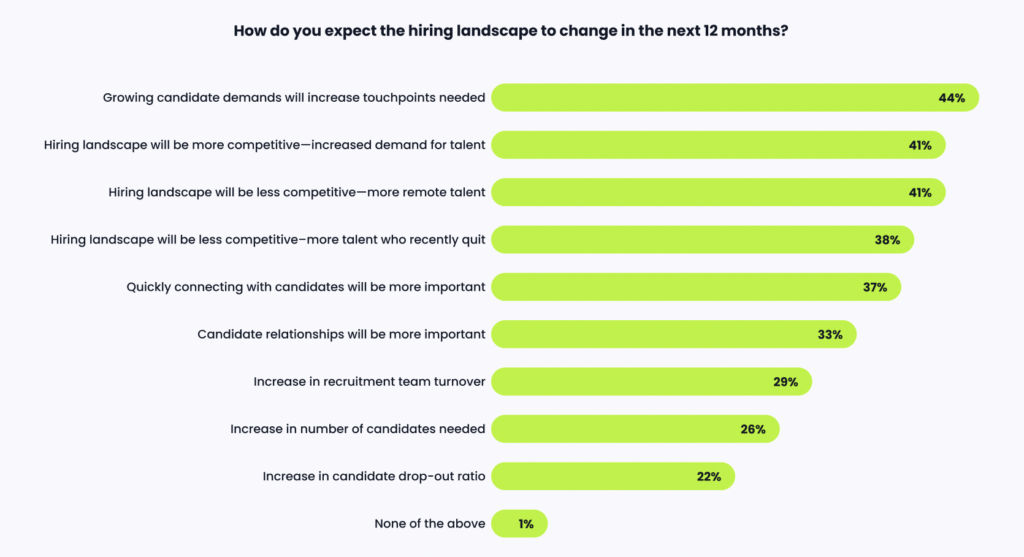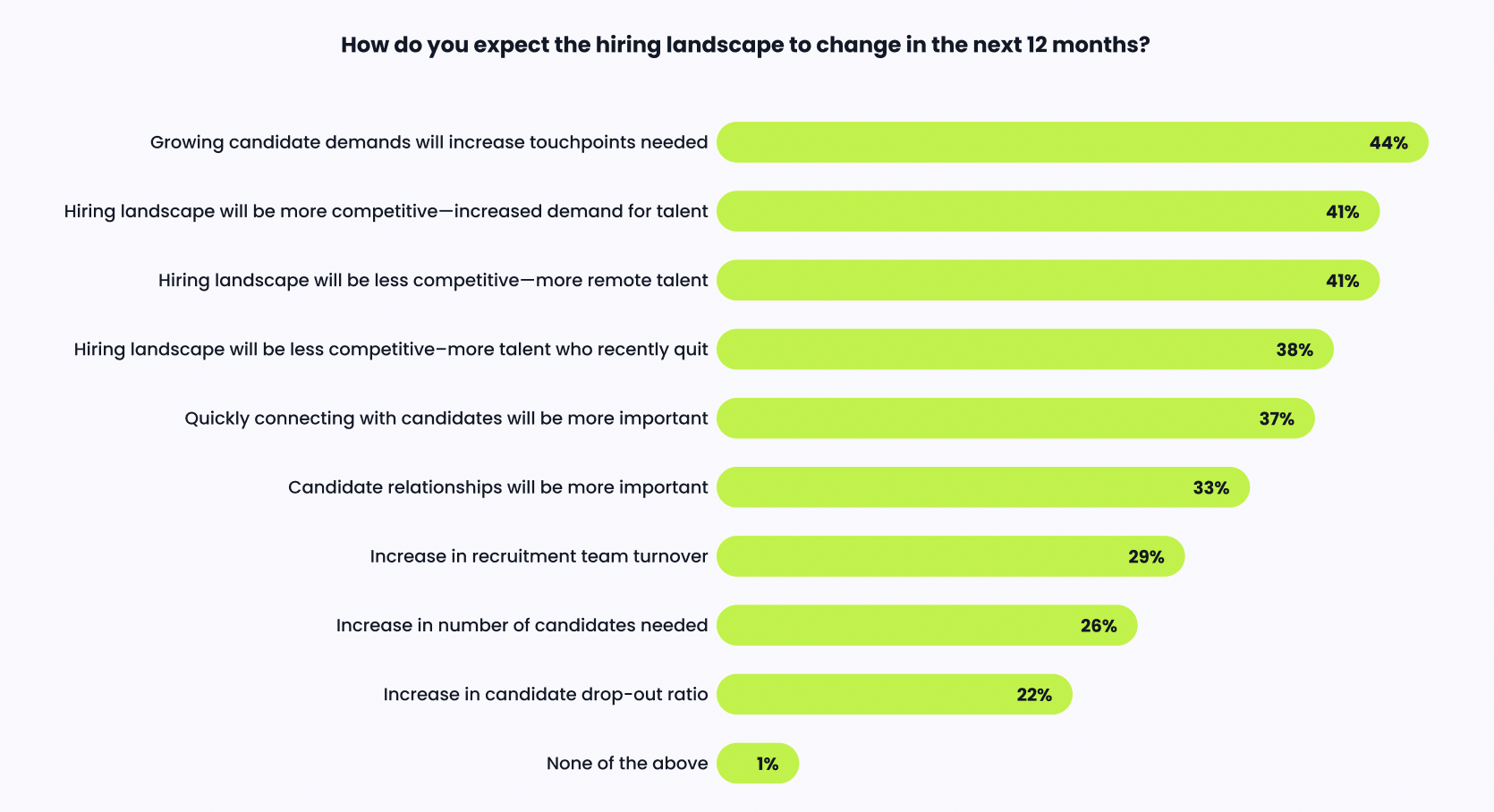 6. Winning With Efficiency and Speed
In the coming months, healthcare talent acquisition leaders plan on improving overall efficiency (42%) and time-to-hire (42%). Hiring teams recognize that in order to win the best talent, hiring with speed and efficiency is absolutely essential. And with the intense talent competition showing no signs of letting up, an efficient process becomes all the more important.
The key to achieving speed and efficiency lies in the fifth most popular response: "optimizing automation in the hiring process" (33%). Using purpose-built healthcare recruiting software to automate repetitive, manual tasks allows overburdened hiring teams to enjoy some much-needed relief and focus on other impactful initiatives.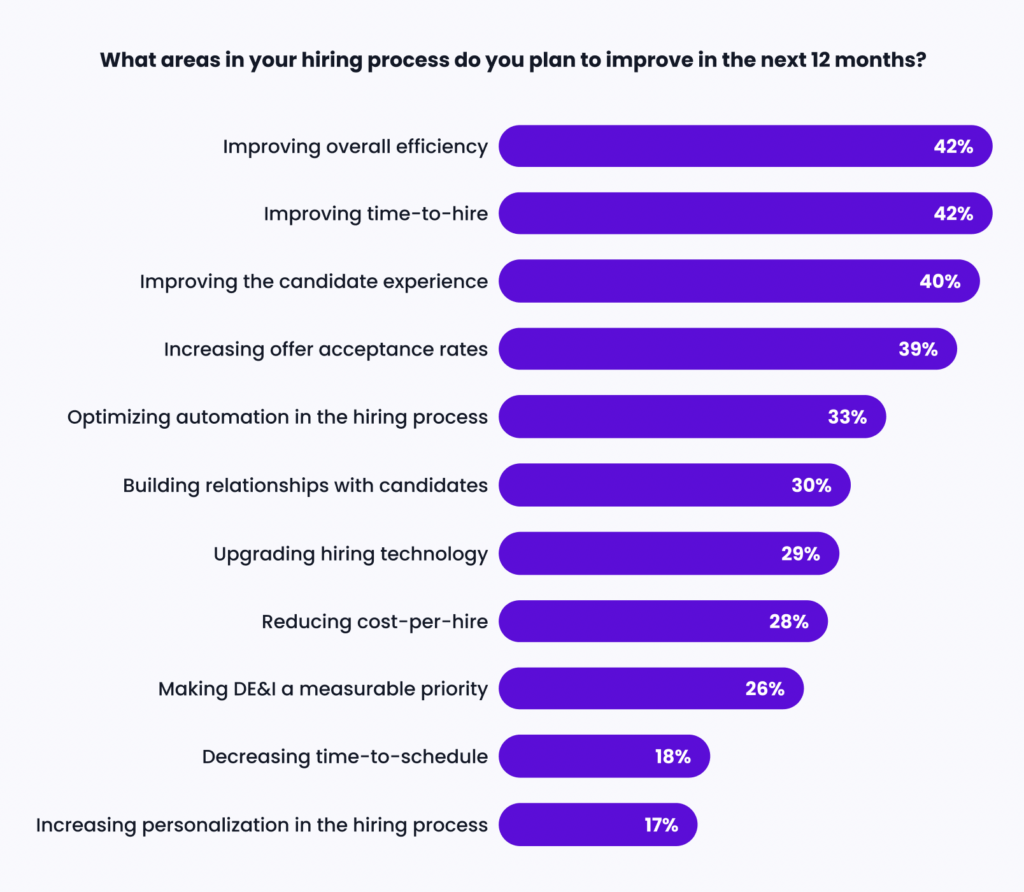 Healthcare Talent Acquisition Teams: Want More Insights?
2022 brought a shortage of candidates, a burned-out workforce, and a difficult hiring landscape, creating a perfect storm for healthcare talent teams this year. The pressure is on to attract and retain qualified candidates, deliver an efficient hiring process, and leverage hiring tools that drive teams toward success. Are you ready to conquer 2023?
To dive deeper into these insights and much, much more, get the healthcare report today.
Does interview scheduling automation make sense for my team?
ROI is key. This is not a time to invest in software that won't bring you immediate value. So let's eliminate the guesswork with our free ROI calculator.