No matter how you look at it, manufacturing recruiting is tough, and it's not getting much easier. With a shortage of skilled workers and countless open positions to fill, it's no wonder that recruiting can seem like an insurmountable challenge.
So, what can talent teams expect from the manufacturing hiring landscape? This year comes with new challenges and economic obstacles, but don't stress; we're here to help make sense of it all.
After surveying 531 talent acquisition leaders across sectors for our 2023 Hiring Insights Report, we've released the report's manufacturing edition. Based on responses from 106 talent leaders in manufacturing, the report shows how they're attracting and retaining talent amid today's obstacles.
For the TL;DR of the report, here's a roundup of the six key trends your team must know to successfully weather 2023's manufacturing recruiting storm.
1. Hiring Goals Fell Short
We'll be honest—recruiting large numbers of skilled candidates isn't easy, and the data agrees. TA teams have struggled to recruit during a manufacturing labor shortage. Talent teams in the manufacturing sector met only 44% of their hiring goals in 2022. This is the lowest hiring goal attainment among all five sectors surveyed for our Hiring Insights Report. 
As manufacturing continues to struggle with talent acquisition, the likelihood of meeting hiring goals this year becomes increasingly uncertain.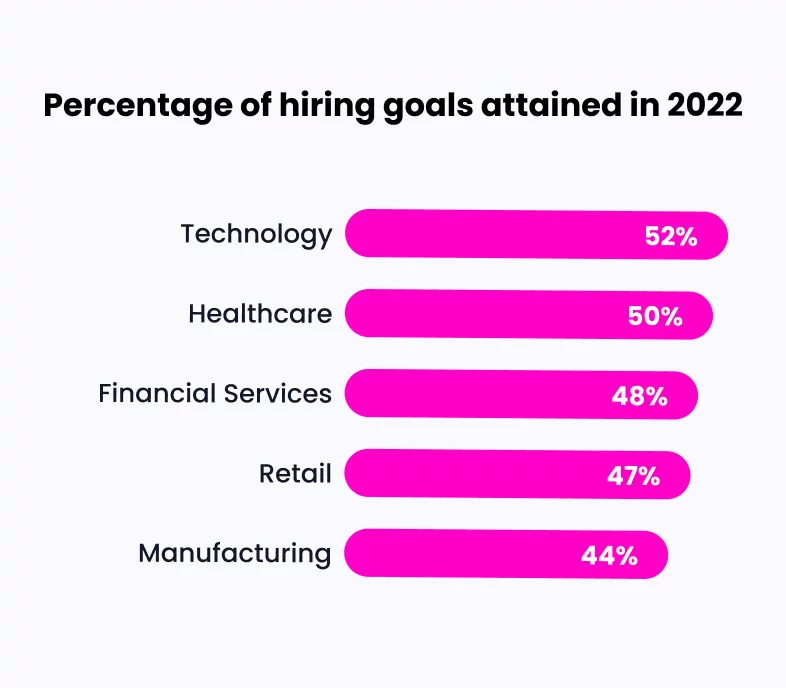 2. Top Previous Changes: Candidate Demands & Recruitment Turnover
It's common for manufacturing candidates to explore roles in sectors beyond manufacturing. With so many job opportunities at their fingertips, candidates now expect an exceptional hiring experience.
Luckily, manufacturing talent leaders recognize this trend. This is seen in one of the biggest changes experienced over the past 12 months: the growing candidate demands increased the touchpoints needed in the hiring process (46%).
Yet make no mistake—giving candidates a superior experience isn't a small feat. This becomes even harder when you have a reduced hiring team. Talent leaders say they also felt that the increase in recruitment team turnover impacted their abilities to manage candidates (46%).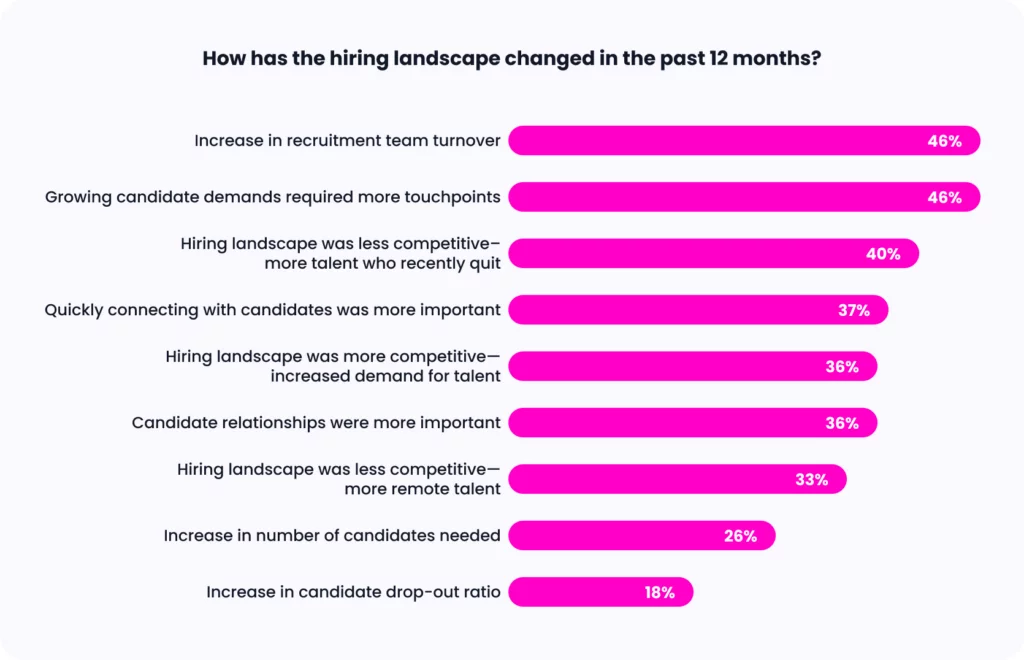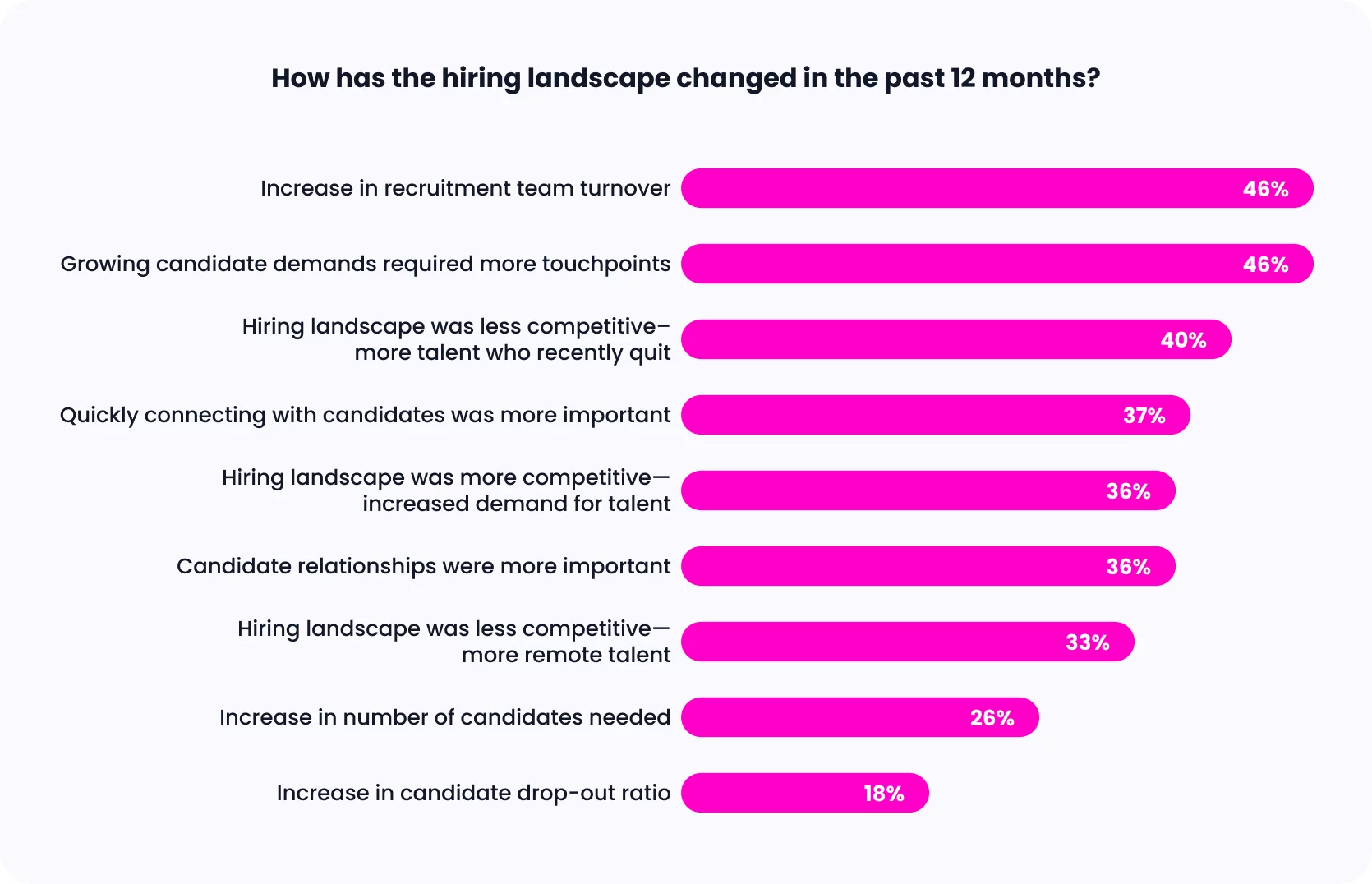 3. Layoffs Hit Manufacturing
You've likely heard a lot of buzz surrounding layoffs in tech, but what about layoffs in manufacturing? According to our survey, a whopping 69% of manufacturing companies reported layoffs. And it's not just a few employees; 40% of affected companies cited headcount reductions of 10-14% and 19% reported reductions of over 20% of their workforce.
As companies face a skills shortage and increased candidate demands, the effects of layoffs can feel devastating. Having a reputation for layoffs may scare off talent who worry about job security. That's why it's more important than ever to meaningfully connect with candidates and give your employer brand an extra boost.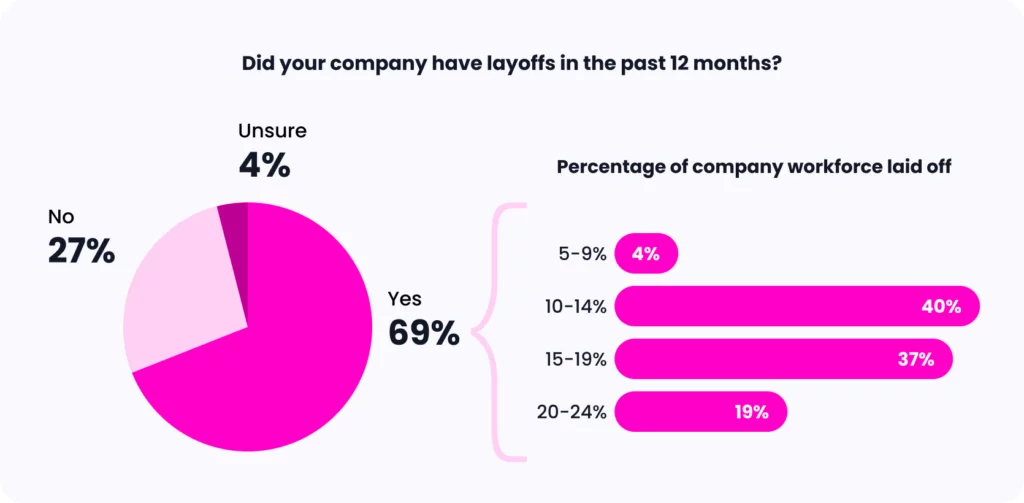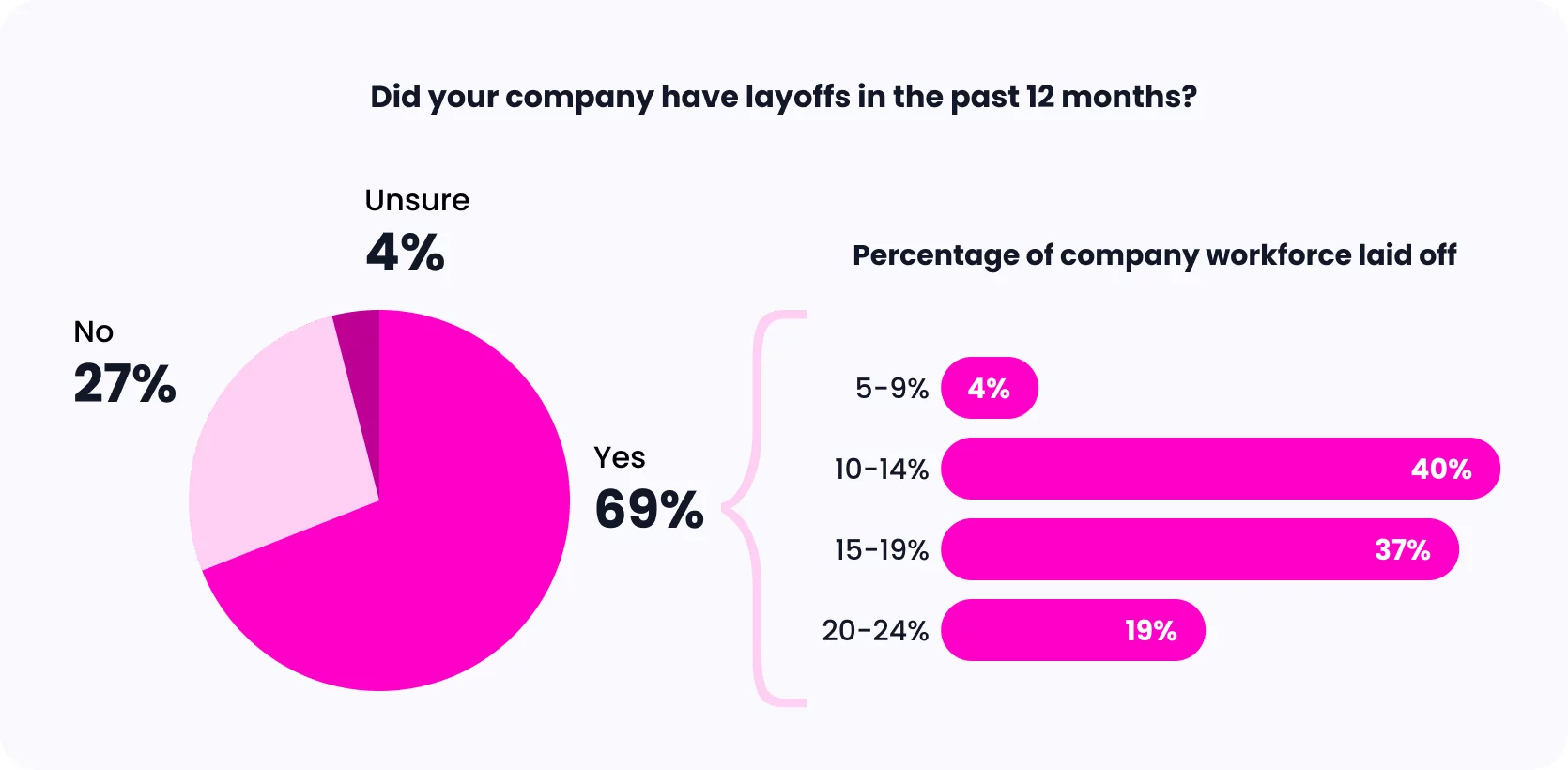 4. Top Expected Challenge: Limiting Hiring Technology
Manufacturing recruiting teams are bracing for a big challenge in the year ahead: outdated hiring technology. From our survey, 27% of talent leaders cited the limitations of their current tech as their top concern. With turnover and budget cuts already taking a toll, talent leaders recognize that they need the right tools to succeed in 2023.
Does interview scheduling automation make sense for my team?
ROI is key. This is not a time to invest in software that won't bring you immediate value. So let's eliminate the guesswork with our free ROI calculator.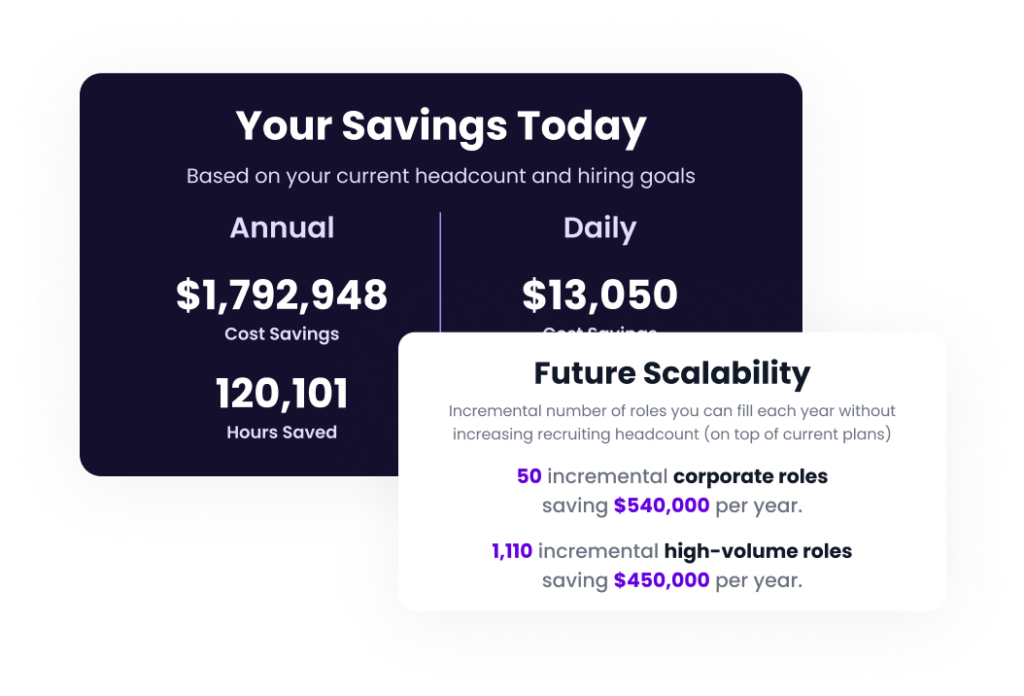 Clunky technology just makes life harder for talent teams—especially when facing the challenges of high-volume hiring. But with the right tech solutions, teams can overcome the obstacles of the past year and offer a standout candidate experience that meets the demands of candidates. (Yes, even in the face of turnover).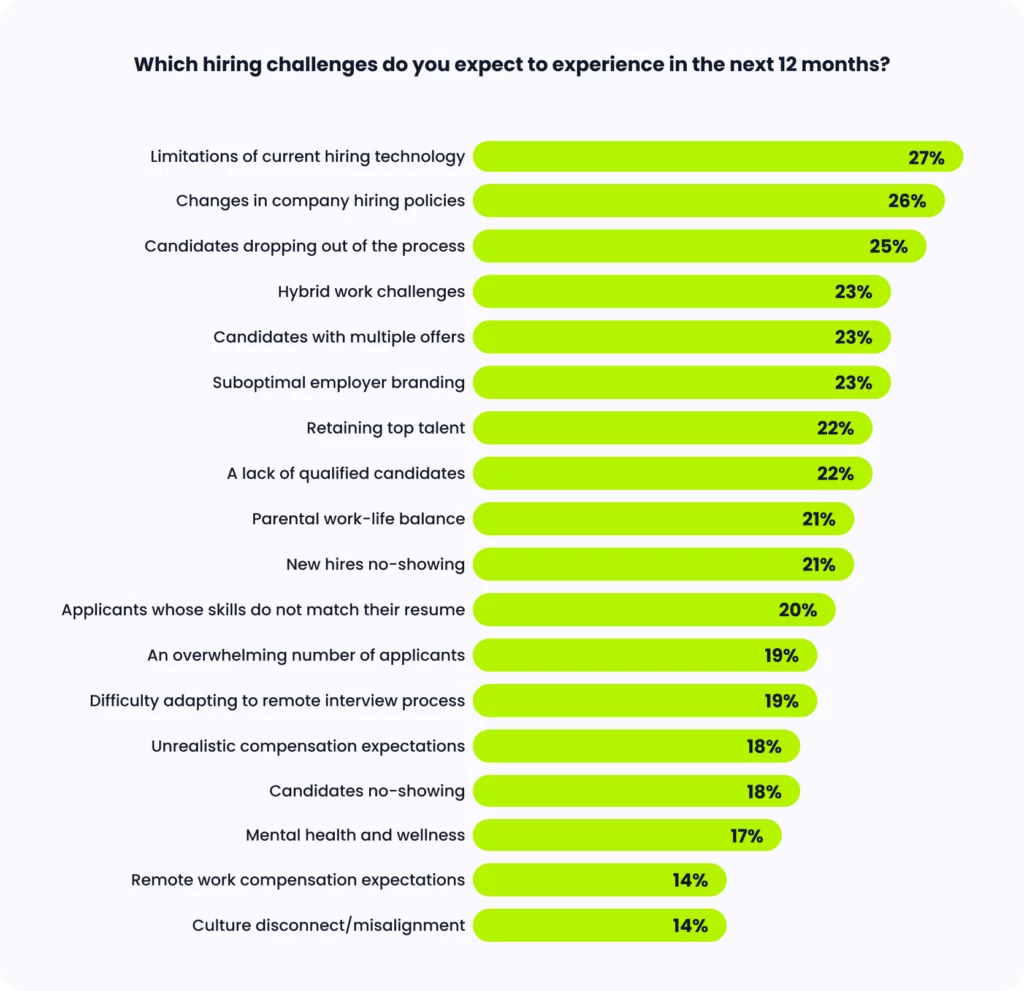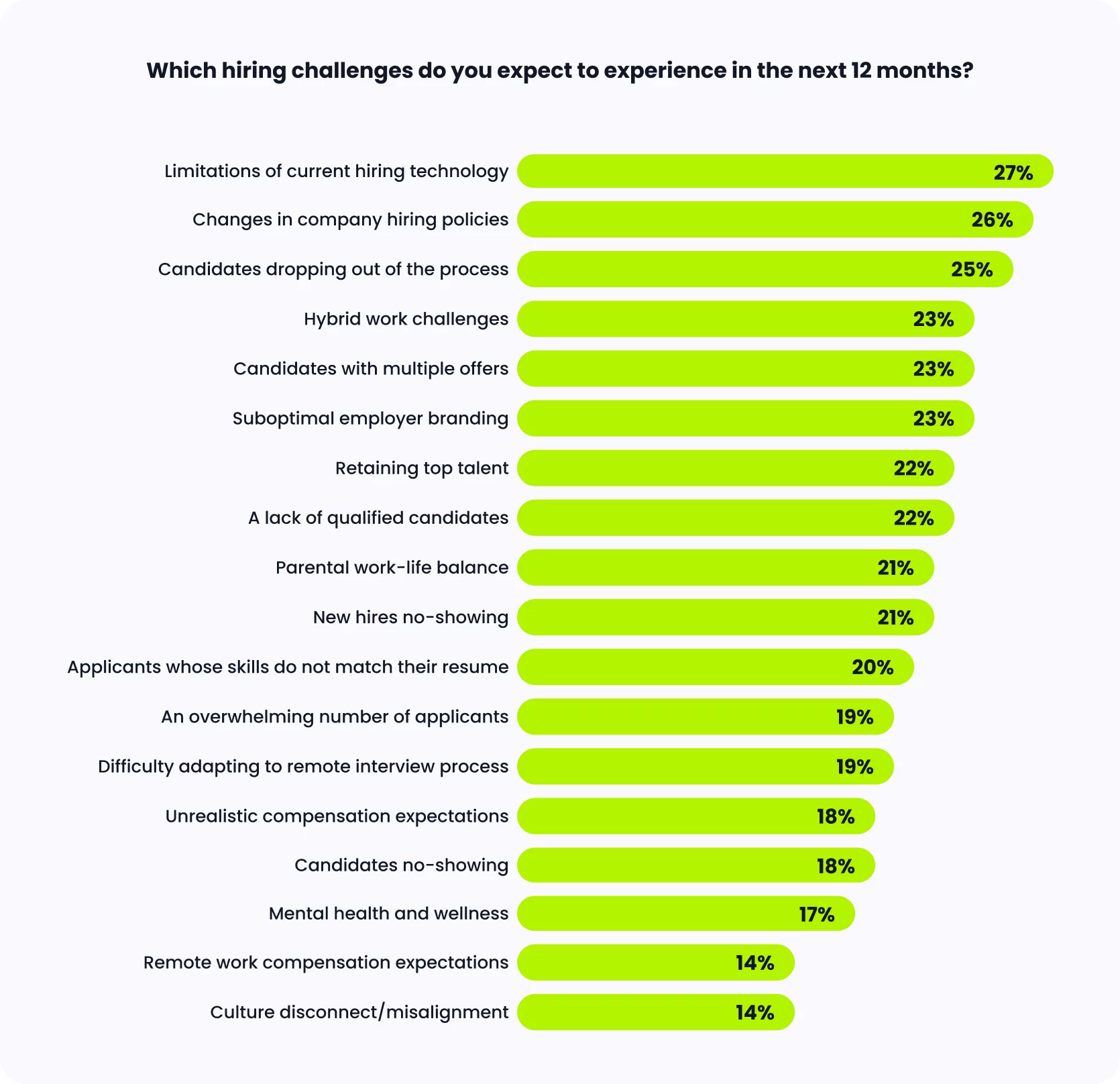 5. Competitive or Uncompetitive Landscape? You Decide
When it comes to the future of hiring, talent leaders are split down the middle. Out of our respondents, 44% believe the landscape will become less competitive due to an increase in available remote talent, while 43% believe it will become more competitive due to rising demand for talent. It's a tough call, especially given the current economic climate and the challenges that coincide with it.
Interestingly, there's a notable difference in opinion between directors and C-suite executives. Most directors (50%) predict that the hiring landscape will become more competitive due to increased demand for talent. On the other hand, most C-suite executives (46%) believe that remote work will lead to a less competitive hiring landscape.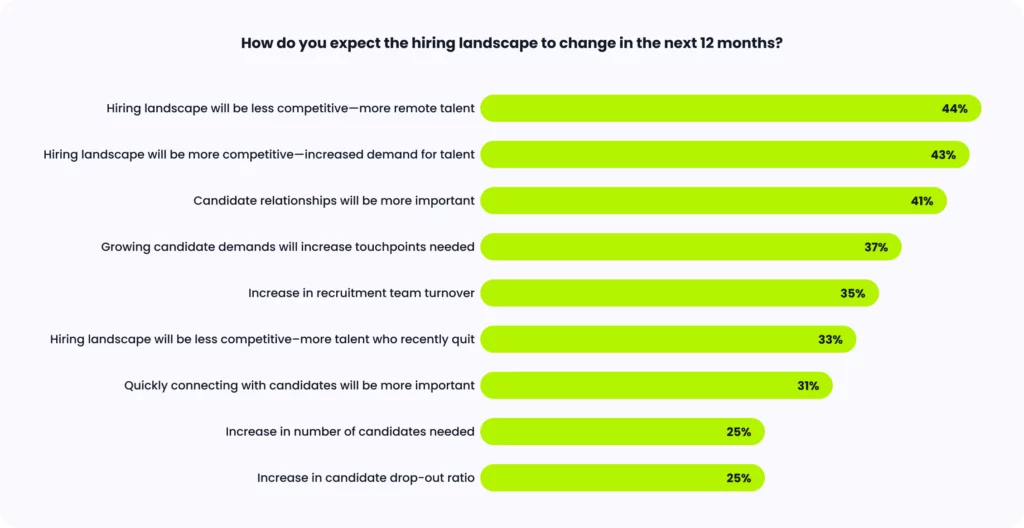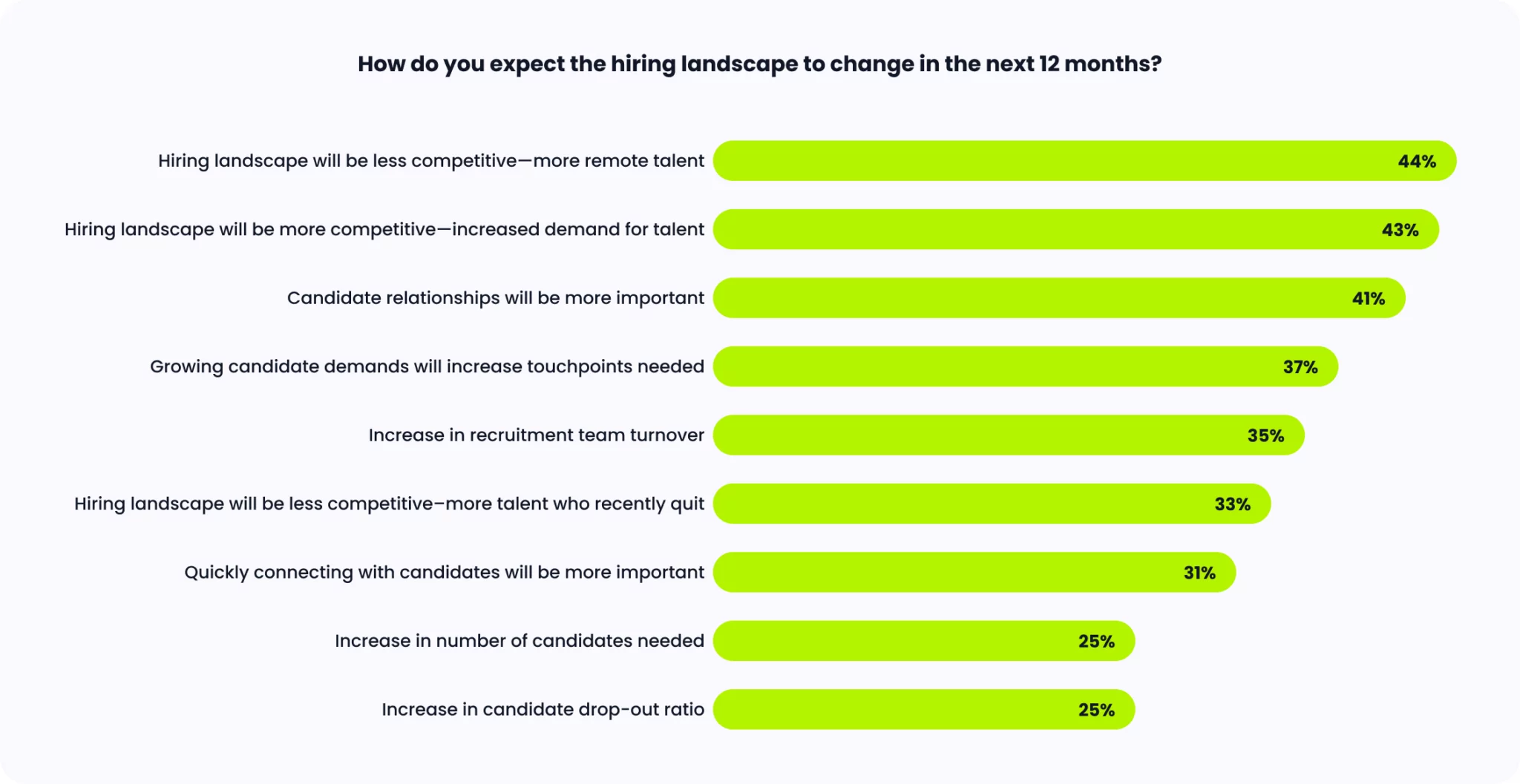 6. Prioritizing Time-to-Hire and Relationships
Tied for first place at 36%, talent leaders ranked reducing time-to-hire and cultivating relationships with candidates as the top priorities for enhancing the hiring process in the coming months. By improving these areas, teams can create a process that values both speed and connections—crucial in today's competitive talent market.
It's important to strike a balance between speed and building meaningful connections. Candidates want a fast process that shows they are a priority and their time is valued. However, they also want the opportunity to connect with the hiring team and gain insights into the company's work culture and employees. By improving both aspects of the process, teams can attract and retain top talent in a highly competitive market.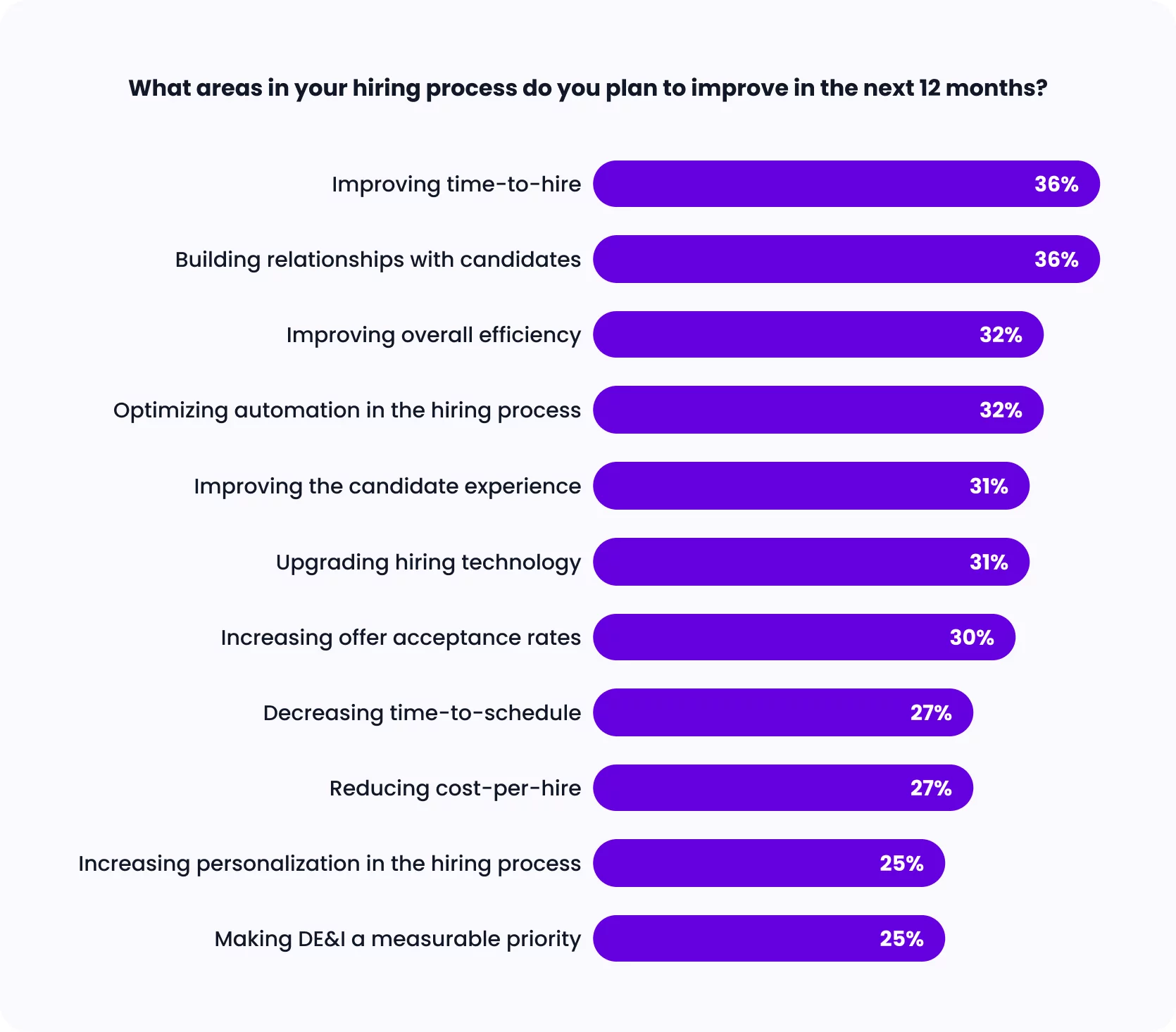 Manufacturing Recruiting Teams: Want More Insights?
2022 brought a shaky economy, sweeping reductions in force, and a challenging hiring landscape. Now in 2023, manufacturing recruiters are met with a perfect storm of challenges. The pressure is on to attract qualified candidates, deliver an efficient hiring process, and leverage hiring tools that drive success. Are you ready to conquer 2023?
To dive deeper into these insights and much, much more, get the manufacturing report today.