In recent years, the tech industry has seen soaring triumphs and significant setbacks. On the heels of mass layoffs, hiring freezes, and a looming recession, what lies ahead for the talent acquisition landscape in 2023? This year brings new tech hiring challenges and economic obstacles for tech recruiters, but we're here to help make sense of it all.
After surveying 531 talent acquisition leaders across sectors for our 2023 Hiring Insights Report, we've released the report's technology edition. Based on responses from 103 talent leaders in tech, the report highlights how they're attracting and retaining talent amid today's obstacles.
For the TL;DR of the report, here's a roundup of the six key takeaways your team must know to successfully weather 2023's tech hiring storm.
1. Hiring Goal Attainment Lags Behind
Despite the best efforts of hiring teams in the tech industry, the unstable economy and hectic hiring landscape continue to pose challenges. As a testament to the sector's ongoing struggles, in December 2022 tech companies fell short of their hiring goals, meeting just 52% of their targets.
This is an improvement from last year's report, where they came in six points lower at 46% goal attainment. But still, 52% is far from satisfactory. Financial uncertainty remains a major concern for the sector in 2023, casting doubt on the prospects of achieving hiring goals this year.

2. Top Previous Changes: Growing Candidate Demands and Less Competition
In the last year, talent leaders in the tech industry have identified two significant shifts in the hiring landscape. For one, they have seen an increase in candidate demands, necessitating more touchpoints in the hiring process (45%). Talent leaders have also seen a decrease in competition due to the greater availability of remote talent (45%).
While the surge in remote candidates has slightly reduced the pressure on tech recruiters, the high expectations of candidates still require constant attention. In recent years, the market has favored candidates, making it essential for teams to consistently deliver a top-notch candidate experience.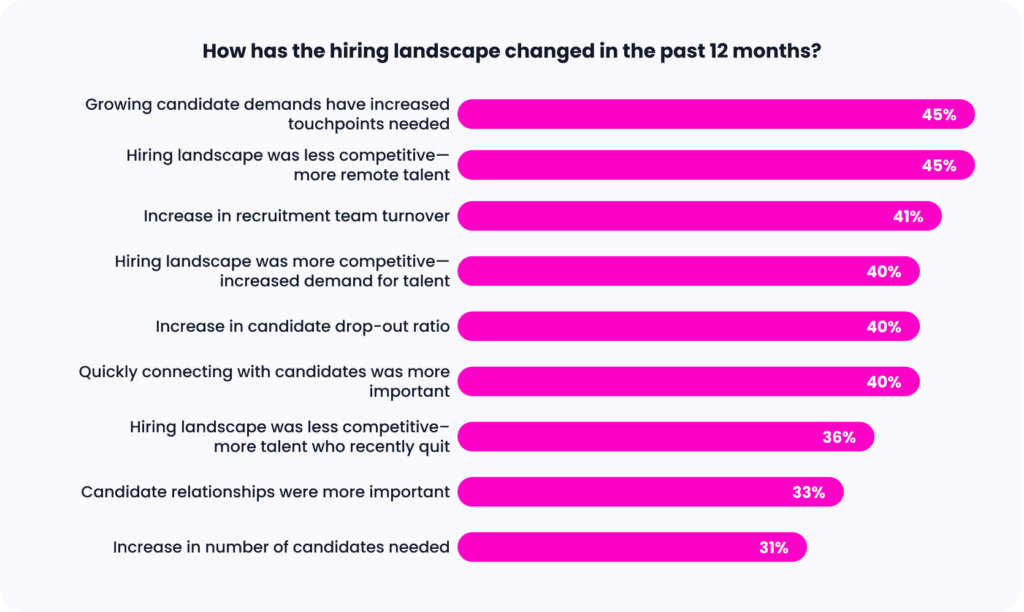 3. Layoffs Hit Tech Recruiters Really Hard
If you've spent time scrolling through LinkedIn recently, you know that layoffs have not been kind to the tech industry. The sky-high pandemic growth of many tech companies, followed by a tumble in stock prices, made companies re-evaluate their spending—often resulting in workforce reductions.
A staggering 57% of companies reported layoffs, with 44% saying the cuts affected 15-19% of their headcount, and 22% reporting cuts of over 20% of their company's total workforce.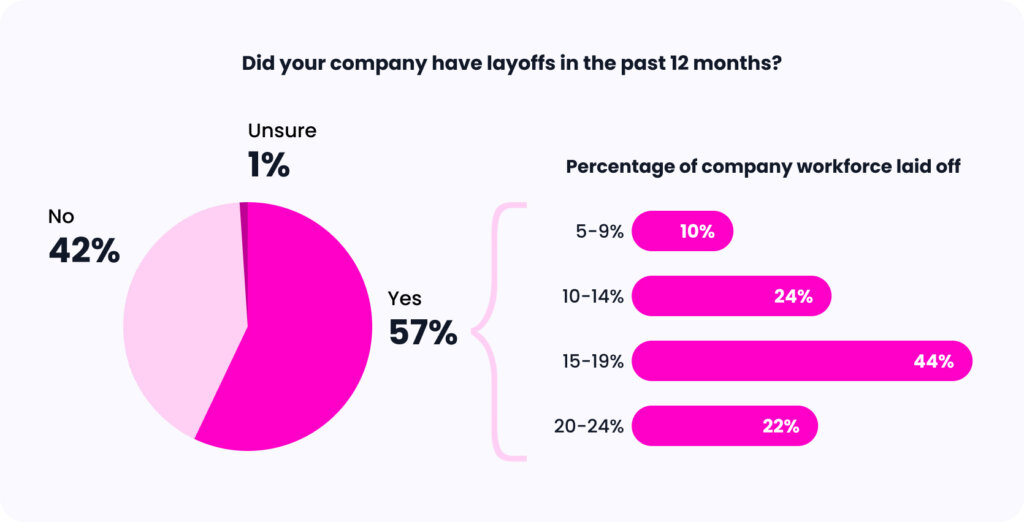 4. Top Expected Challenge: Candidates Withdrawing
The biggest challenge anticipated by talent leaders: candidates dropping out of the hiring process (30%). Candidates have high expectations about their experience during the hiring process and will readily pursue more attractive opportunities if those expectations are not met.
For tech talent leaders, these expectations can seem increasingly difficult to meet now that hiring teams have even fewer resources to leverage in streamlining their processes.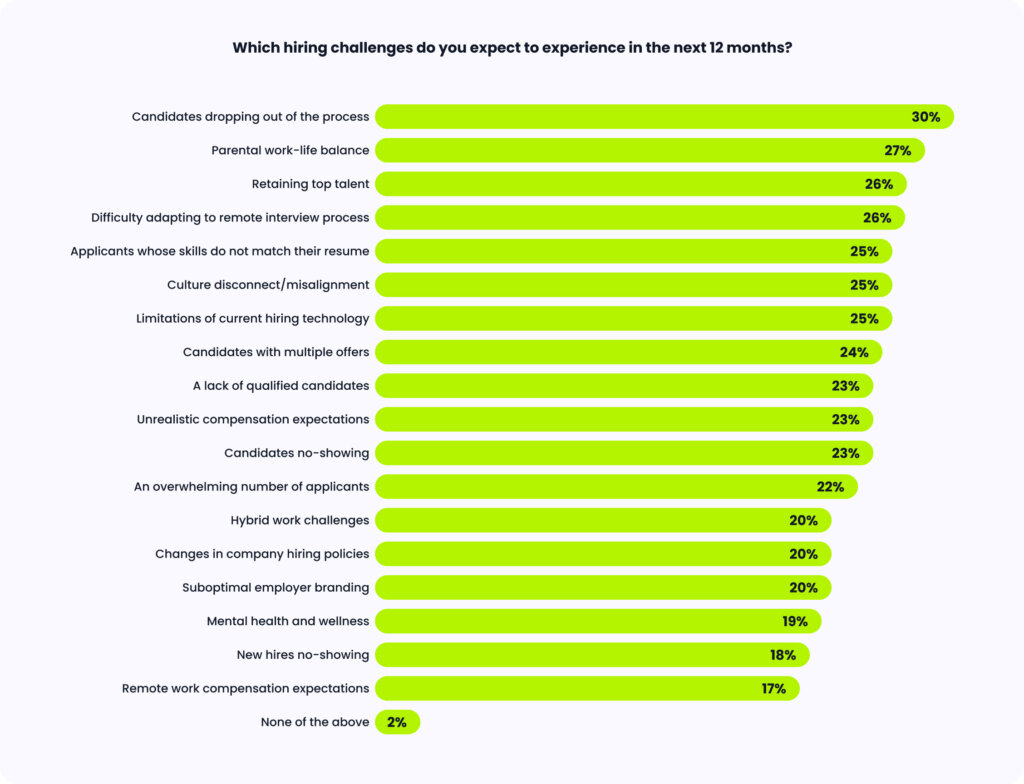 5. Competitive or Uncompetitive Landscape? You Decide
Looking to the future, talent leaders are split on the outlook of the hiring landscape; 50% say the landscape will become more competitive due to an increased demand for talent, and another 50% say that the landscape will become less competitive due to an increase in available talent who recently quit their jobs.
The future of the sector remains shrouded in uncertainty, as economic headwinds continue to thrash against tech companies. Tech recruiters can rest assured that the economy will cool down, but once it does, what will be the fate of the hiring landscape? Only time will tell.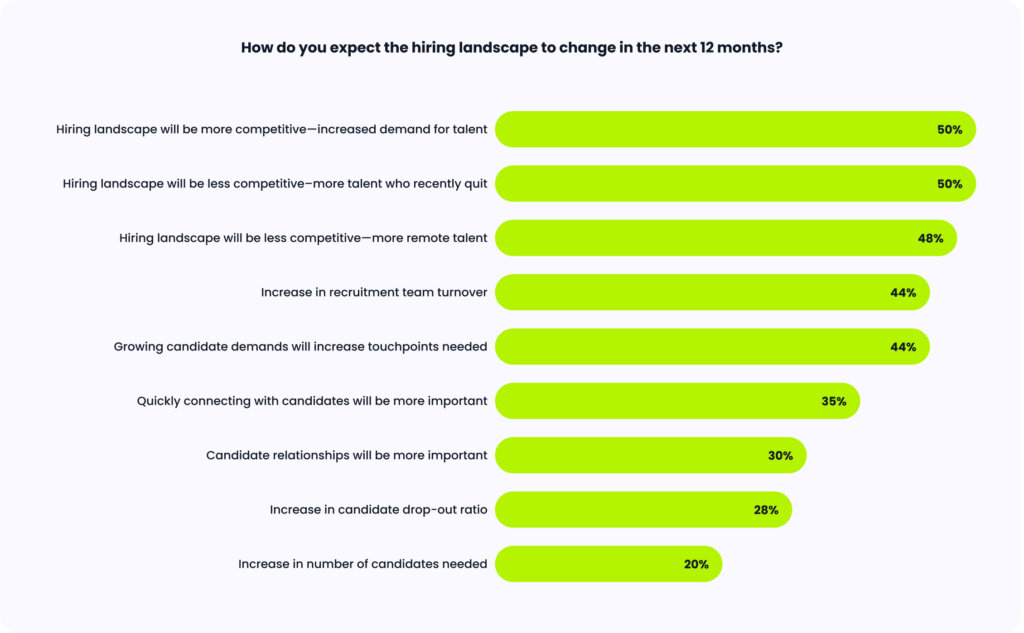 6. Getting Personal and Efficient
In the coming months, tech talent leaders plan on prioritizing personalization in the hiring process above all else (46%). A personalized hiring experience helps candidates feel valued, effectively meeting their high expectations.
Following behind in second and third place, talent leaders say they also intend to improve efficiency (44%) and hiring process automation (41%). Evidently, making the hiring process as smooth and streamlined as possible is top of mind for hiring teams.
Does interview scheduling automation make sense for my team?
ROI is key. This is not a time to invest in software that won't bring you immediate value. So let's eliminate the guesswork with our free ROI calculator.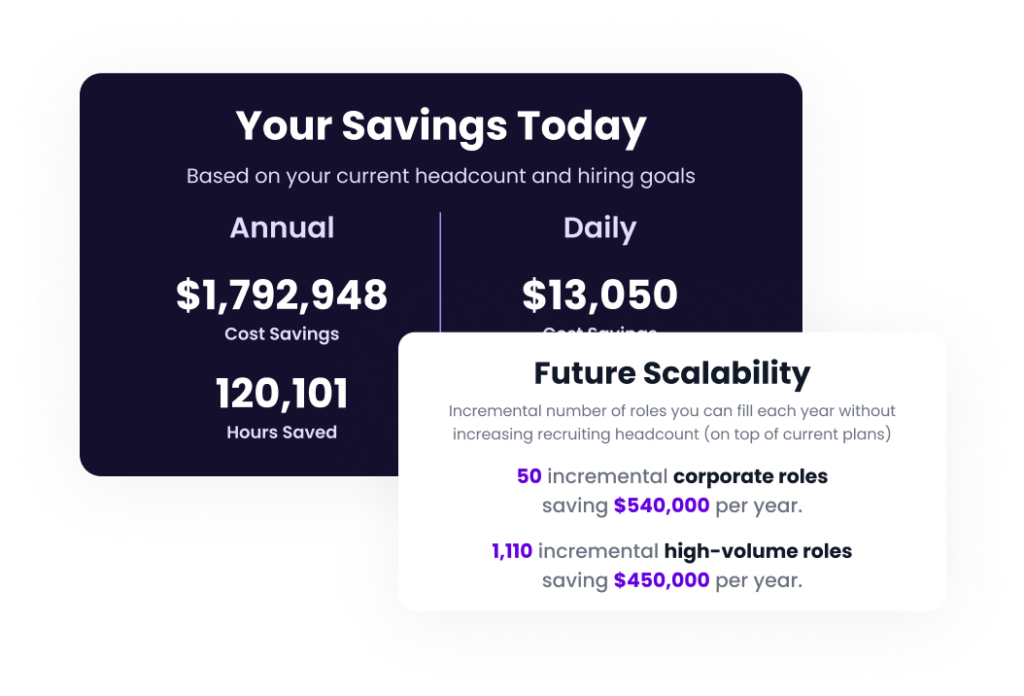 Effectively prioritizing these three areas will require innovative solutions, such as upgrading the hiring tech stack. The proper tech allows even the most overburdened tech recruiters to set themselves up for success. Tech tools can also add personalization to the process without increasing the workload. This effectively addresses the top focus area for the year ahead.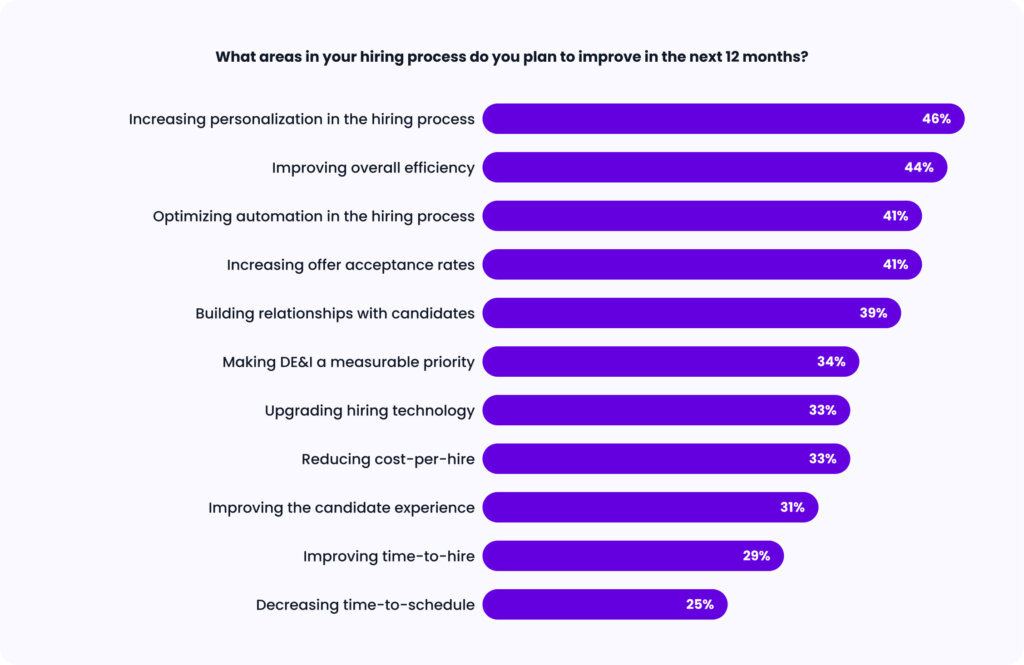 Hey, Tech Recruiters: Want More Insights?
2022 brought a rocky economy, sweeping reductions in force, and a difficult hiring landscape. Now in 2023, tech recruiters are met with a perfect storm of challenges. The pressure is on to attract qualified candidates, deliver an efficient hiring process, and leverage hiring tools that drive success. Are you ready to conquer 2023?
To dive deeper into these insights and much, much more, get the tech report today.