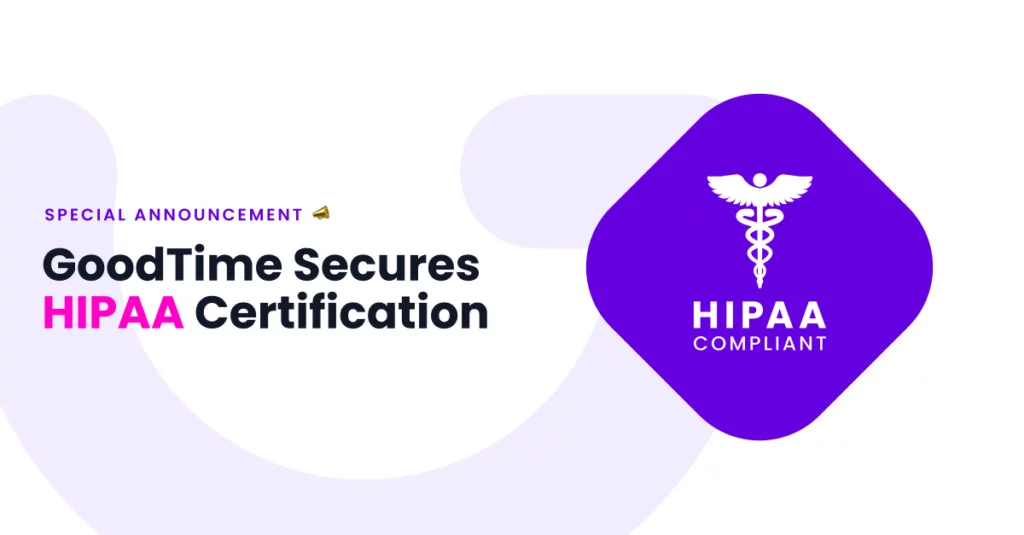 As the U.S. grapples with an escalating shortage of health aides, nurses, and physicians, GoodTime secures HIPAA certification, enabling more health organizations to fill roles quickly with fewer resources.
August 8, 2023, SAN FRANCISCO – GoodTime (goodtime.io), a leading provider of AI-powered scheduling software, proudly announces the achievement of HIPAA/HITECH Type 1 Compliance. With this certification, GoodTime empowers more healthcare organizations to fill roles faster in the face of a healthcare labor shortage by utilizing Hire, the company's flagship interview scheduling platform.
Addressing the Healthcare Labor Shortage
Amidst a severe shortage of health aides, nurses, physicians, and other healthcare professionals, GoodTime's HIPAA certification brings a timely solution to hiring teams in the healthcare industry. Consulting firm Mercer projects a shortage of over 400,000 home health aides and 29,400 nurse practitioners by 2025. The Association of American Medical Colleges (AAMC) predicts a potential shortage of up to 122,000 physicians by 2032. This scarcity of healthcare professionals has intensified the competition for talent, making it crucial to fill open roles quickly to meet the needs of healthcare companies and the patients they serve.
Enhanced Possibilities with GoodTime's HIPAA Certification
Healthcare organizations are already bound to strict HIPAA guidelines for any systems that directly handle sensitive patient information. As an extra measure of security for all protected health information (PHI), many of these organizations strive to only use HIPAA-compliant systems, even when those systems don't directly interface with patients.
GoodTime's certification is a significant milestone that re-affirms the company's commitment to healthcare organizations and sets them apart as the only interview scheduling provider that is HIPAA-compliant. By adhering to the highest industry standards for data security and privacy, GoodTime helps healthcare talent acquisition teams streamline and automate their hiring workflows, minimize resource requirements, and fill roles faster in the midst of the labor shortage.
Ahryun Moon, GoodTime Co-Founder and CEO, expressed enthusiasm about the recent HIPAA certification, highlighting its importance for healthcare organizations. Moon stated, "We are thrilled to have obtained the HIPAA certification, as it strengthens our dedication to healthcare organizations during this challenging time. With secure, automated, and efficient scheduling, healthcare hiring teams can fill open positions swiftly, without all the manual work, and ultimately deliver exceptional care to patients."
Purpose-Built Features for High-Volume Healthcare Hiring
GoodTime Hire leverages AI to revolutionize the healthcare hiring process, particularly for high-volume roles in the context of the labor shortage. Healthcare organizations use Hire to significantly reduce time-to-fill and provide a standout candidate experience, even as talent acquisition teams have become leaner. Teams hiring for high-volume healthcare roles benefit from features like:
SMS/WhatsApp messaging: Reach candidates via texting and WhatsApp to increase response rates and schedule faster.
Workflow automation: Auto-trigger messages and reminders to candidates and hiring managers — and automate the entire interview process with an intuitive workflow editor.
Screening and knockout questions: Stay focused on what matters and identify the most qualified talent automatically with screening questionnaires and knock-out questions.
About GoodTime
GoodTime helps people and companies drive better outcomes from their most important meetings by automating coordination, making sure the right people are in the room, and providing actionable meeting insights to hit goals faster.
The company's flagship product, GoodTime Hire, helps hiring teams go beyond candidate experience and make every interview count. Hire uses AI to automate interview coordination, build better relationships during interviews, and deliver insights to continuously optimize the hiring process. Over 300 companies around the world like Slack, Box, HubSpot, Spotify, Okta, and Pinterest are getting to "yes" up to 70% faster with Hire. Learn more at goodtime.io.
Learn more about how GoodTime can help your organization with healthcare recruiting.