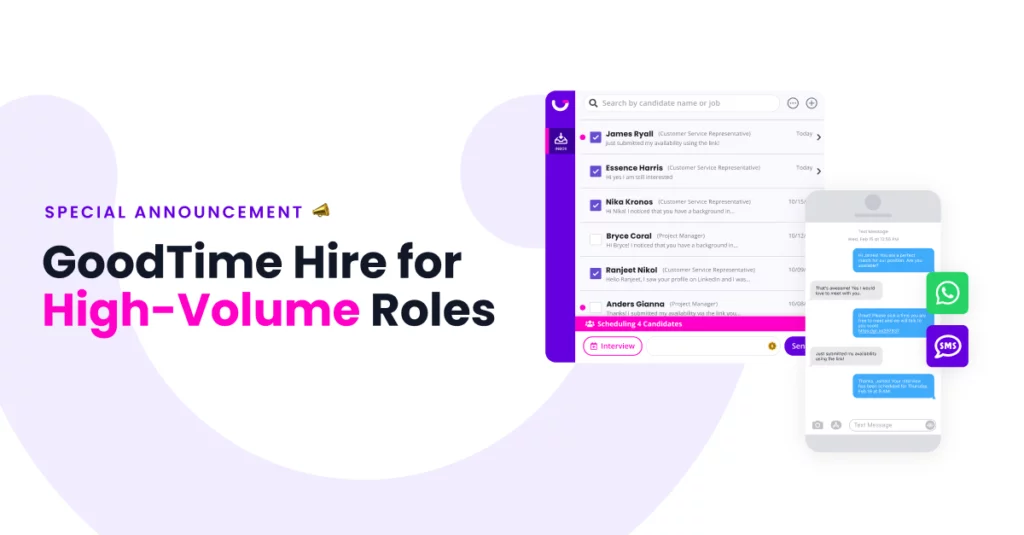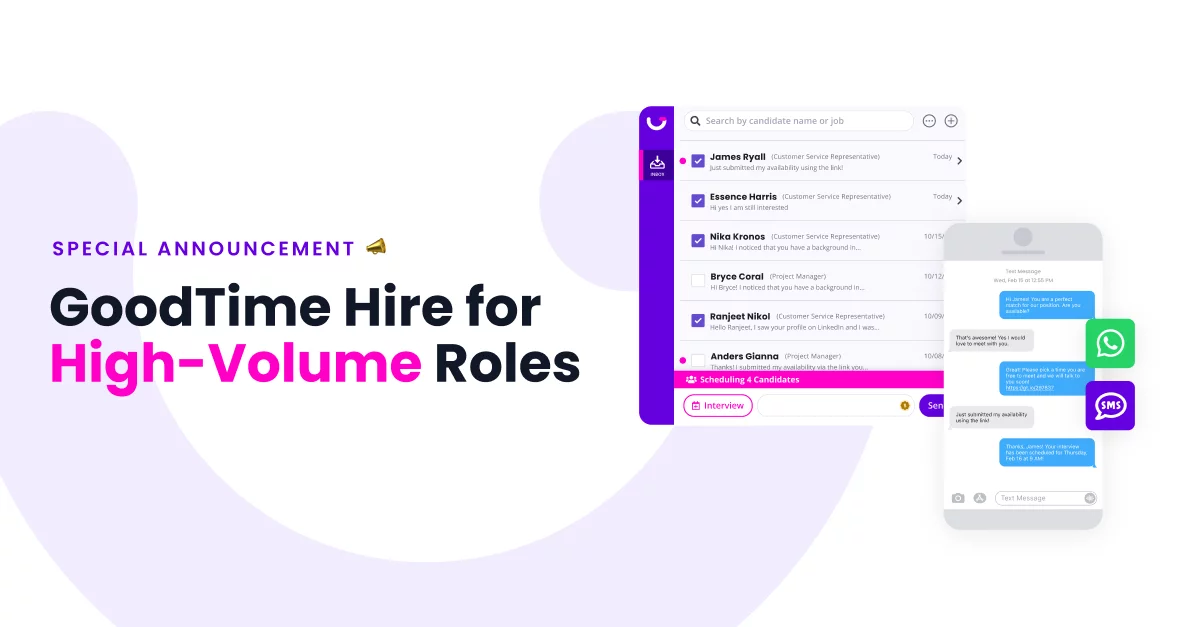 SAN FRANCISCO, CA – May 4, 2023 – GoodTime, the world's first Meeting Optimization Engine, today announced the launch of its newest product, GoodTime Hire for High Volume. This latest offering provides talent teams with advanced automated interview scheduling capabilities for high-volume roles through SMS, WhatsApp, and email messaging. The product's fully-customizable workflow editor significantly improves recruiter productivity and reduces time spent on manual, repetitive tasks through automation of the entire interview coordination process including triggering messages, invites, and reminders when specific events occur.
This release expands GoodTime's product line to now support companies hiring for both corporate and high-volume roles, delivering efficiency and payroll savings in today's challenging hiring landscape.
The challenges of high-volume hiring
Getting in front of qualified talent as fast as possible is crucial to filling high-volume roles. However, high-volume recruiters often face a surplus of open positions and insufficient time to fill them using outdated and manual processes. This leads to delays in scheduling candidate interviews, lower response rates, and a subpar candidate experience.
In GoodTime's 2023 Hiring Insights Report, sectors typically known for hiring high-volume roles—retail, manufacturing, and healthcare—reportedly met just 50% or less of their hiring goals in 2022. Looking to the future, one of the top challenges expected by these sectors is the limitations of their current hiring technology. Leveraging new, advanced technology and automation gives talent teams the best chance to hit their hiring goals and fill high-volume roles faster with fewer resources.
With Hire for High Volume, talent teams can schedule interviews at scale through:
Automated Interview Scheduling: Quickly schedule candidates 1:1 or in bulk through SMS, WhatsApp, and email
SMS & WhatsApp Messaging: Reach candidates where they are with a mobile-first experience; mass-message or send personalized individual messages
Customizable Workflow Automation: Automatically trigger messages to candidates and hiring managers for invites, reminders, and nudges to spend more time on high-value tasks
Screening & Knock-out Questions: Identify the most qualified talent quickly with pre-built screening questionnaires and knock-out questions
Integrates Into Current Processes: Message candidates directly from applicant tracking systems, Indeed, or any website, right from the browser
"The challenges of high-volume recruiting are unlike those encountered in corporate hiring," said Ahryun Moon, CEO and Co-Founder of GoodTime. "With these unique hurdles comes the need for tech solutions tailored to high-volume recruiters. That's where Hire for High Volume comes in. Our new product allows recruiters to quickly reach out to candidates, schedule interviews effortlessly, and let automation free up bandwidth and boost productivity for every recruiter on the team."
Hire for High Volume is available now as an add-on to the flagship GoodTime Hire product or as a standalone product. For more information, visit goodtime.io.
About GoodTime
GoodTime helps people and companies drive better results from their most important meetings. The GoodTime Meeting Optimization Engine automates scheduling, ensures the right people are in the room, and provides actionable insights to meet smarter. Its flagship product, Hire, allows organizations to win top talent faster with Candidate Relationship Intelligence. Over 300 leading companies like Spotify, Slack, Pinterest, Okta, HubSpot, and Box have scheduled over seven million smart meetings with GoodTime. Learn more at goodtime.io.