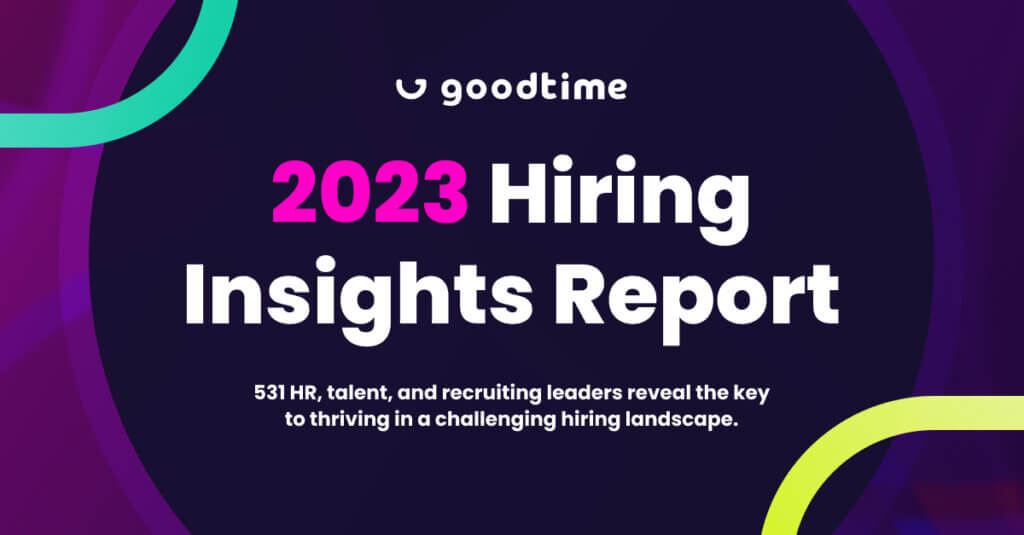 San Francisco, CA (FEBRUARY 21, 2023) In the face of economic disruption and competing hiring issues of layoffs and candidate shortages, the only constant is change in today's workplace. GoodTime today published the 2023 Hiring Insights Report to identify key talent acquisition (TA) trends and understand the sentiment around the hiring climate to help TA leaders to adapt talent strategies and be successful in the next year and beyond.
GoodTime announced its findings from its annual Hiring Insights Report to gauge talent acquisition's current and future landscape. GoodTime surveyed 531 talent acquisition leaders across the U.S. to hear about their most critical hiring challenges—and how they're meeting the demands of candidates in a changed hiring landscape. 
The report highlights the challenges of hiring in an ever-changing economic and business climate, focusing on what companies are doing, not doing, or are planning to do to hit their hiring goals.
The high-level findings from the GoodTime Hiring Insights Report include:
On average, less than 50% of hiring goals were met in 2022
44% reported that an increase in recruitment team turnover impacted their ability to move candidates through the funnel quickly
Over 70% surveyed said the time-to-hire increased in the past 12 months
The biggest challenge hiring teams face in the year ahead is the limitations of their current hiring tech stack
Improving efficiency and automation in the hiring process are the top two areas talent teams will prioritize in 2023
Companies far from hitting their hiring goals
It's hard out there for HR and talent leaders. As employees resigned and layoffs commenced, companies scrambled to backfill critical roles, hiring 274 new employees, on average, in 2022. According to the report, on average, respondents attained less than 50% of their hiring goals in 2022, two points worse than in 2021. To make matters even direr, 71% of talent leaders report that it is taking longer to fill an open position in 2022; up over 11 points from 60% last year.
Automation and efficiency are crucial to scaling hiring
Across industries, the number one challenge companies anticipate in 2023 is the limits of their current hiring technology, cited by 27% of respondents. The top areas of improvement reported include improving overall efficiency (39%) and optimizing automation in the hiring process (37%), followed by increasing offer acceptance rates (35%).
"With changes in hiring policies, candidate needs, and the economy, it's no secret that the landscape continues to evolve quickly. Those who make automation and efficiency priorities stand a far greater chance of success, now and in the future," said Ahryun Moon, CEO & Co-Founder, GoodTime. "Hiring leaders know that having a fast, responsive candidate experience is key to win top talent. The report findings clearly show that companies mired in outdated processes will continue to struggle to hit their goals, while others focus on efficiency and automation improvements in the year ahead."
Download the full 2023 Hiring Insights Report.
About GoodTime
GoodTime helps people and companies drive better results from their most important meetings. The GoodTime Meeting Optimization Engine automates scheduling, ensures the right people are in the room, and provides actionable insights to meet smarter. Its flagship product, Hire, allows organizations to win top talent faster with Candidate Relationship Intelligence. Over 300 leading companies like Spotify, Slack, Pinterest, Okta, HubSpot, and Box have scheduled more than seven million smart meetings with GoodTime.