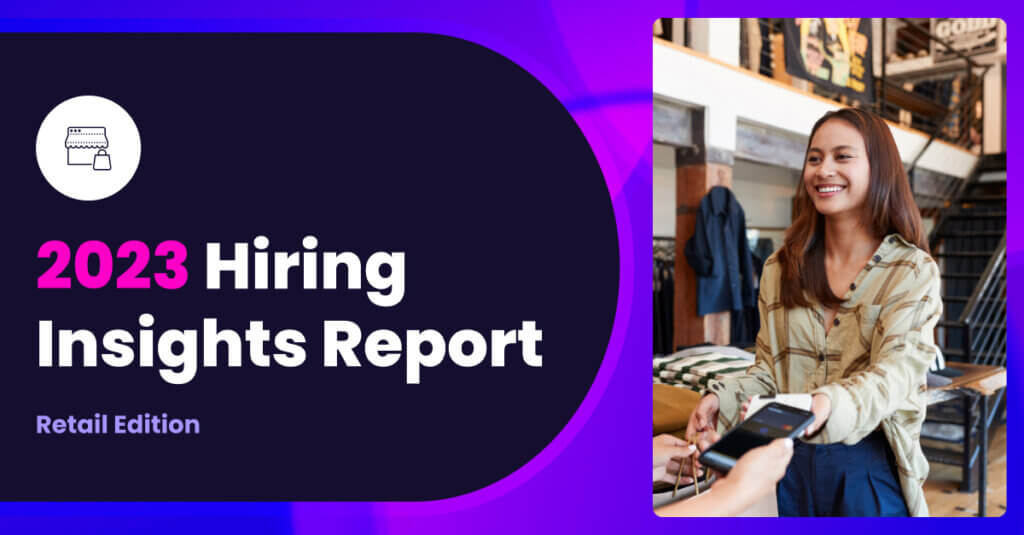 April 18, 2023, SAN FRANCISCO – After surveying 531 talent acquisition leaders across sectors for its 2023 Hiring Insights Report, today GoodTime released the report's retail edition, featuring sector-specific insights. Based on responses from 108 talent acquisition (TA) leaders in retail, the report highlights the challenges hiring leaders face to attract and retain high volumes of talent and explores the changes they are making to achieve their business objectives and hit their hiring goals. 
The high-level findings from the 2023 Hiring Insights Report, Retail Edition, include:
Less than 50% of hiring goals were met by retail talent teams in 2022
41% of talent leaders say the increase in recruitment team turnover will impact their ability to hit their goals
A staggering 70% of subjects reported layoffs; 32% reported a reduction in force of 20% or more
34% of respondents will improve personalization and the candidate experience in the coming year
33% of TA leaders look to improve overall efficiency in 2023
The economic downturn hit retail TA teams
The report details the difficulties faced by retail TA leaders in the midst of economic instability, with 25% of respondents citing applicants with inflated resumes and candidates with multiple offers as top challenges. Hybrid work challenges (24%) and unrealistic compensation expectations (24%) round out the biggest obstacles of 2022. In today's economy, TA leaders must acquire skilled talent amid padded resumes and competing offers while also mitigating the impacts of layoffs.
Personalization and candidate experience a top priority
Looking ahead, 41% of talent leaders expect that the surge in recruitment team turnover will only make it harder to meet their goals. Winning talent with reduced headcount requires a refined, engaging hiring process. Increasing personalization (34%) and improving the candidate experience (34%) are tied for talent leaders' top focus area, with boosting efficiency (33%) following closely behind. Upgrading their hiring tech stacks allows teams to deliver on these priorities with a personalized, streamlined candidate experience, no matter the hiring volume.
"Hiring teams in retail have numerous obstacles stacked against them," said Ahryun Moon, CEO of GoodTime. "Addressing high turnover, filling vacancies and seasonal roles, and navigating high-volume hiring requires teams to reassess their operations for gaps and areas of improvement. Teams must center their efforts on refining the hiring process to deliver a well-rounded candidate experience, one that is equally engaging as it is efficient."
To access the full report, visit here.
About GoodTime
GoodTime helps people and companies drive better results from their most important meetings. The GoodTime Meeting Optimization Engine automates scheduling, ensures the right people are in the room, and provides actionable insights to meet smarter. Its flagship product, Hire, allows organizations to win top talent faster with Candidate Relationship Intelligence. Over 300 leading companies like Spotify, Slack, Pinterest, Okta, HubSpot, and Box have scheduled over seven million smart meetings with GoodTime. Learn more at goodtime.io.