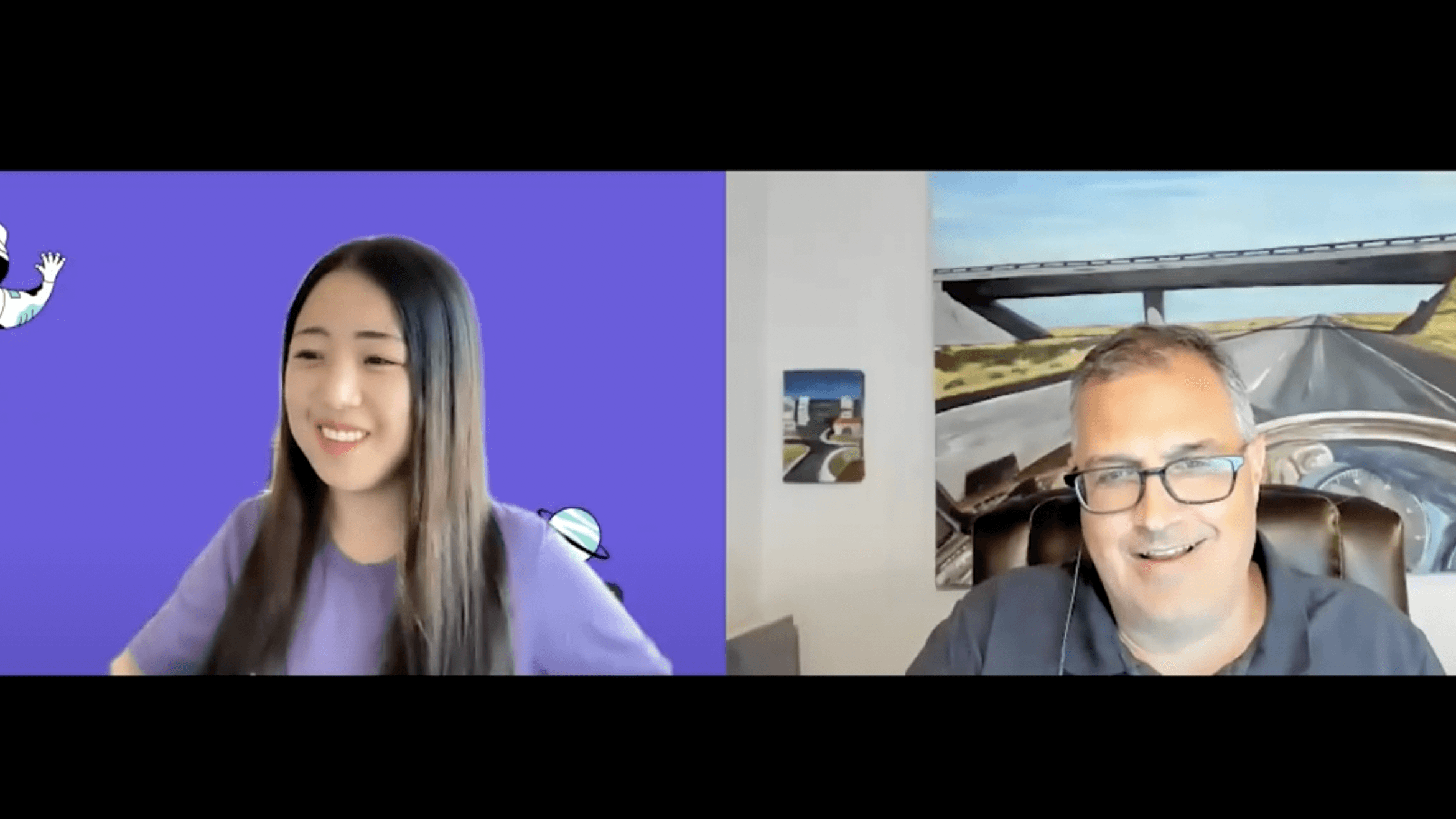 Editor's note: The original interview with WorkTech is from July 2021. Watch it in full here.
GoodTime CEO Ahryun Moon met with WorkTech's George LaRocque to discuss how GoodTime does more than just automate the administrative aspects of the hiring process for TA teams. Ahryun discusses her experience raising funds in a pandemic, the GoodTime roadmap, and the impact GoodTime delivers on diversity and inclusion in recruiting.
"Candidates get almost a consumer-like experience when they schedule an interview."

— Ahryun Moon, CEO at GoodTime
At its core, the hiring process revolves around hiring managers, based on availability and the employer's timeline. With the rising demand for talent, especially tech-enabled hires, the pitfalls of the traditional recruitment model cannot be ignored any longer. Companies that take too long to hire miss out on high-caliber candidates, leading to potential candidate frustration and the risk of reputation damage. Paired with shifting priorities and more employees placing happiness over a pay raise, there's a need to reshuffle the dynamics for better hiring.
"GoodTime transforms the interview process. First of all, we've completely removed the hassle of emailing back and forth. Candidates get almost a consumer-like experience when they schedule an interview," Ahryun shared.
Placing talent at the forefront of recruitment, GoodTime Hire makes the process easier for both recruiters and candidates alike. Besides scheduling automation, the platform goes one step further by using an AI-powered algorithm to provide tailored experiences.
Unlike legacy scheduling tools, GoodTime's ultimate goal is to transform the way that interviews are made and conducted – starting from pre-interview processes like training.
"Our technology tracks the interviewer database, so you can store your interviewer's relevant attributes. Based on those attributes, you can schedule the right interviewer to the given candidate," Ahryun continued.
Along with that, the platform provides interviewer training to fully equip hiring professionals with proper training. The system also uses data and insights that you wouldn't get from an agent.
How this plays into the paradigm shift in the employment market is that candidates now get a say in who they speak to and their comfort levels. It also puts an emphasis on how interviews are a two-way street. Both parties play a part in contributing to a successful meeting. To illustrate this, Ahryun brought up an instance where clients would question the lack of female hires due to rejection, while not actually honing in on the root of the issue: when these candidates meet with an all-male board and get turned off by the job environment.
Scaling Relationship Building
"The real magic happens when candidates meet with interviewers, they hit it off, have amazing conversations." Ahryun stated, when talking about how organizations scale their operations by building larger candidate pools and overlooking the actual candidate experience. On the other hand, an unstructured process leads to breakdowns and recruitment woes while scaling operations.
Building an optimal environment for candidates could also ramp up diversity and inclusive hiring, an important aspect for companies to stay relevant today. Inclusive hiring is a concept that has been long overdue, and can bring about multiple benefits to any organization. A more diverse workforce brings about a wider range of perspectives and skill sets, leading to more ideas for problem-solving and better decision making. Yet, some corporations still face issues in hiring diverse candidates.
"Filling the top of the funnel, that's definitely number one priority and one of the most important aspects. But usually those candidates don't necessarily get a fair chance through the process, or at the end they decline the offer because they wouldn't see themselves working there," Ahryun explained, indicating the need to cater to candidates and improving first impressions.
Raising Investments in a Time of Economic Volatility
GoodTime ended their investment round in November of last year. In a time of uncertainty and the global pandemic in full force, this was a challenging round for the company, Moon states. At the same time, with national conversations surrounding diversity and corporations seeing turnovers and new hires, it was time for a step toward a more inclusive workforce.
This year, however, valuation is through the roof. "It's pretty crazy now," Ahryun said.
The funds have been used to refine GoodTime's solutions and fuel the expansion of the team to over 60 members. According to Moon, "The hiring scene is changing so rapidly. The 'future of work' is a remote and hybrid type of work. We want to make sure our products help the journey." Thus, the investments were used to further innovate and bring fresh ideas to life with a bigger team.
As hybrid and remote working transition from the 'new normal', to just normal, GoodTime also seeks to provide the appropriate training for hiring in these areas. As more companies move towards a data-driven hiring strategies, Moon and her team are refining GoodTime's data and insight features.
Customers who come to GoodTime acknowledged the complexity of the reality of work, and want to embrace this through their solutions. Leading by example, GoodTime aims to continue adapting to the new environment, hiring high-quality talent across geographical borders.
The Future Is Candidate-driven
"Personally what makes me really excited is our product. We're really excited to bring additional innovations. We try to keep our ear to the ground and try to work closely with our customers," Ahryun said.
"As we figure out the best practices in this new world, we want to bring new innovations to our customers – interview training, additional insights, as well as new innovations around remote and hybrid hiring. We'd love to be the new transformation of this new hiring and crafting of a new candidate journey."
To watch Ahryun's full interview with WorkTech, click here.