Let's start with the good news. More and more TA leaders finally recognize that to snag the best talent, forming candidate relationships is the way forward. They know that candidate-focused hiring practices must take center stage, and one-sided practices must be laid to rest.
Now…the bad news: the execution just isn't adding up. Our 2022 Hiring Insights Report surveyed 560 TA decision makers across the U.S. to understand their perceptions of the most pressing challenges facing their teams, and what should be done to reel in top talent. The report's data shows that yes, talent teams recognize the importance of connecting with candidates, but not enough teams actually put candidate relationships in motion—and that's a problem. Too much talk, not enough action.
If there was ever a time to kick relationship building into high gear, the time is now. In 2021, companies surveyed fell 50% short of their hiring goals. Failing to prioritize meaningfully connecting with candidates means bad news for your hiring goal attainment. It's time for less saying and more doing.
Candidate Relationships in Short Supply
On the bright side, 46% of our report's respondents agree that creating genuine relationships with candidates is more important than ever. But the positives end there.
Despite this consensus, only 36% of respondents looked to build better candidate relationships in the past 12 months, and the same percentage plan on improving these relationships in the coming months. Companies have good intentions, but struggle with taking action.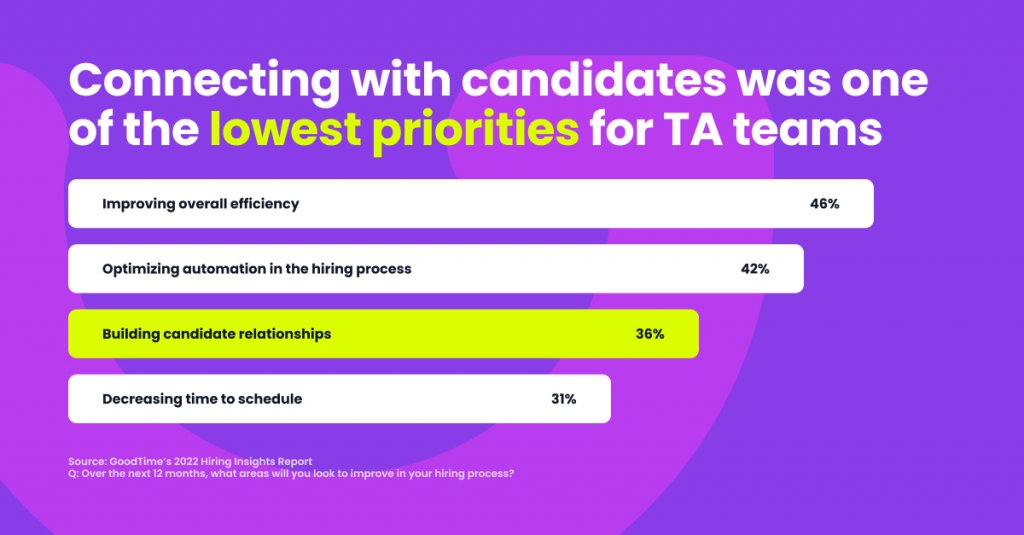 Remote workspaces do not fare any better. Among the fully-remote companies surveyed, just 25% plan to build relationships with candidates in the future. Yet if anyone should focus on relationship building, it's them. Remote employees are more perceptible to feelings of isolation. This makes it even more important to cultivate trust and connection in a remote hiring process.
Hiring Efficiency Falters
TA leaders surveyed indicated that their main focus lies in improving the overall efficiency of their hiring process. This is a good sign; respondents agree that prompt and clear communication throughout the hiring process is most valuable to candidates, which goes hand-in-hand with an efficient process. Improved efficiency also means more time and space to focus on high-value tasks—such as authentically connecting with candidates.
But before companies can even start to use this space for building relationships with applicants, they have a ways to go in ramping up their overall hiring efficiency. The majority of respondents—60%—say that over the past 12 months, their time-to-hire has increased. Companies that hire fast have a major advantage in keeping talent engaged enough to win them over. However, the average time-to-hire among all respondents was three weeks.
As for the time spent on administrative tasks, HR teams reportedly spend more than one-third of their time scheduling interviews. Manual, clunky interview scheduling majorly lowers the quality of a hiring process—and a candidate-recruiter relationship.
By establishing the right processes and technology to eliminate the time spent on administrative tasks and boost hiring efficiency, TA teams can maximize their bandwidth to focus on what matters most: connecting with candidates.
Disconnect in Company Culture
It's not lost on TA teams that job seekers deeply consider company culture before accepting an offer. Nearly all (90%) companies reportedly designed their interview process to reflect their culture.
The problem? Just 53% communicate their company culture to candidates during the hiring process. In other words, 47% of companies neglect to communicate an element that is incredibly top-of-mind for candidates—and risk losing out on star applicants due to this disregard.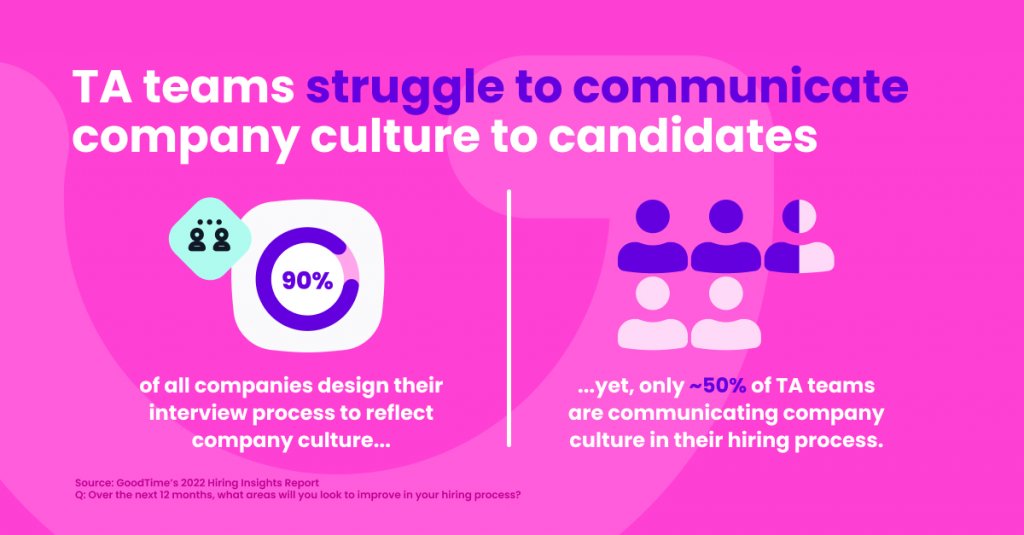 Candidates want to know whether a company's mission, values, and culture align with their own beliefs. They're quick to turn down an offer if they don't see themselves feeling happy and welcome at your company. One of the clearest paths to forming candidate relationships is by having them feel deeply connected to your culture—yet this can't happen if the culture isn't communicated to them to begin with.
Want the Latest Insights? Read the 2023 Hiring Insights Report
It's abundantly clear that in the HR world, there's lots of talk but little execution—and companies aren't achieving their hiring goals as a result. Candidates are interviewing you as much as you're interviewing them, and they expect you to put in the work to form a connection.
For TA teams to make long-lasting bonds with applicants, they must pull themselves up by the bootstraps and take action. That means leveling up their efficiency to free up time to focus on candidates, and thoughtfully communicating elements of their culture to win applicants over.
Want to catch up on the latest hiring trends? Get excited: our 2023 Hiring Insights Report is now available. 500+ HR leaders, 1,000s of real findings, 1 industry-leading report. Read the report today.