Recruitment teams, let's make one thing clear: candidates now call the shots.
In every sense of the word, we're living in a candidate's market. The job market is twice as competitive as it was pre-pandemic, and it's increasingly common for candidates to end up spoiled for choice with multiple offers. To top it all off, the Great Resignation is still in full swing, as employees leave for greener pastures in droves.
In our ever-evolving hiring landscape, companies must stay in-the-know on the latest HR trends—or risk getting left in the dust. To gain an inside look on these trends and uncover how to succeed in a candidate's market, GoodTime surveyed 560 HR, talent, and recruiting leaders across the U.S. for our 2022 Hiring Insights Report.
The findings? Companies that build genuine candidate relationships smash their hiring goals. If teams want to compete with the talent landscape, they must invest time and energy into building relationships with applicants. There's no way around it.
Candidate Relationships Remain Paramount
When asked how they would describe the changes they've observed in the hiring landscape over the past 12 months, 46% of HR leaders said that the ability to create meaningful relationships with candidates has become more important than ever before. This is 1% below the top response, "the hiring landscape has become more competitive due to an increased demand for talent."
The data shows that focusing on candidate relationships will remain of utmost importance in the future. The ability to create meaningful candidate relationships topped the list of how HR leaders expect the landscape to evolve in the next 12 months.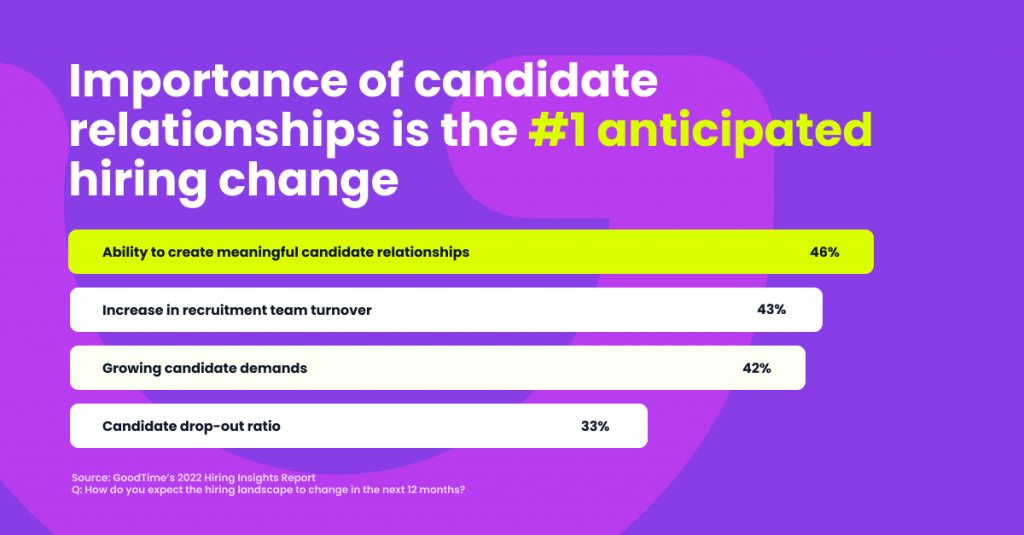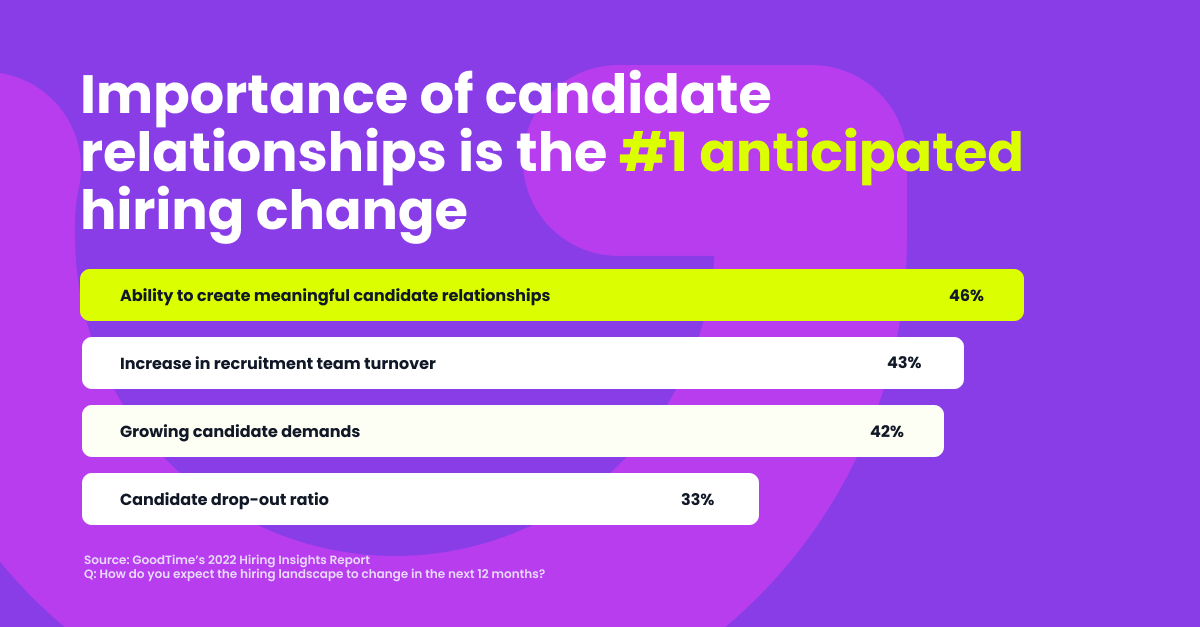 Interestingly, when asked which hiring challenges they've faced in the past 12 months and which challenges they expect to face in the coming months, HR leaders ranked "retaining top talent" as the biggest challenge each time.
The writing's on the wall: connecting with candidates is a key component of a successful hiring process. This won't change anytime soon. But creating candidate relationships is as important for talent retention as it is for acquisition. Retaining talent starts from the very first moment that a candidate has a conversation with a recruiter. In order to turn candidates into long-term hires, talent teams must cultivate genuine connections with new employees from the get-go.
Say Good-bye To One-sided Hiring Practices…
If you didn't know before, now you know: one-sided, staged hiring practices belong in the past. "Our company has 'Bring Your Pet to Work Days!'" just doesn't have the same pizzazz anymore. Candidates expect something deeper.
We asked our report's respondents what, if anything, does their organization currently do to build a meaningful relationship with candidates throughout the recruiting process. Out of the seven items to choose from, the first seven are candidate-focused hiring practices, and the last two—office tours and free lunch—are outdated methods. Unsurprisingly, we found that less than 35% of companies partake in the last two methods.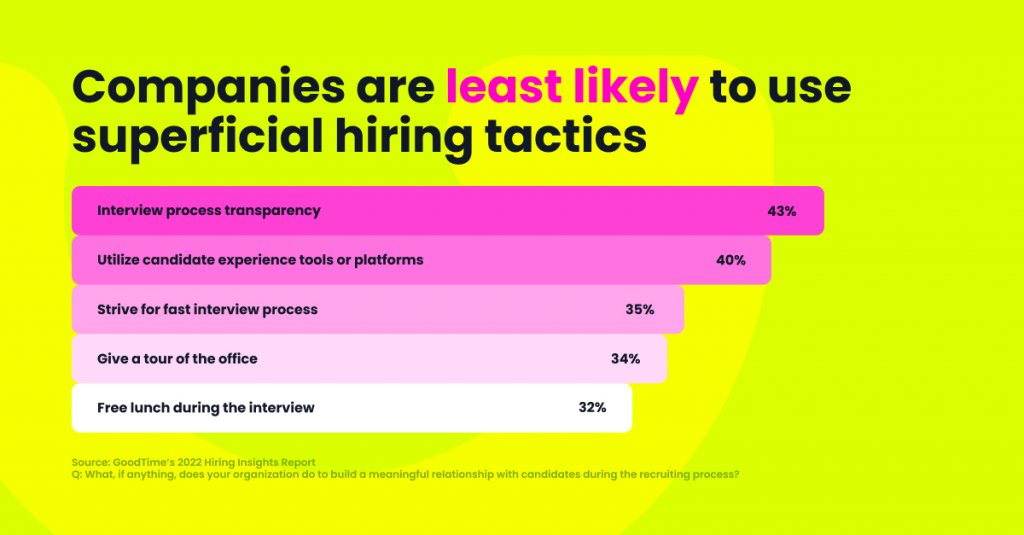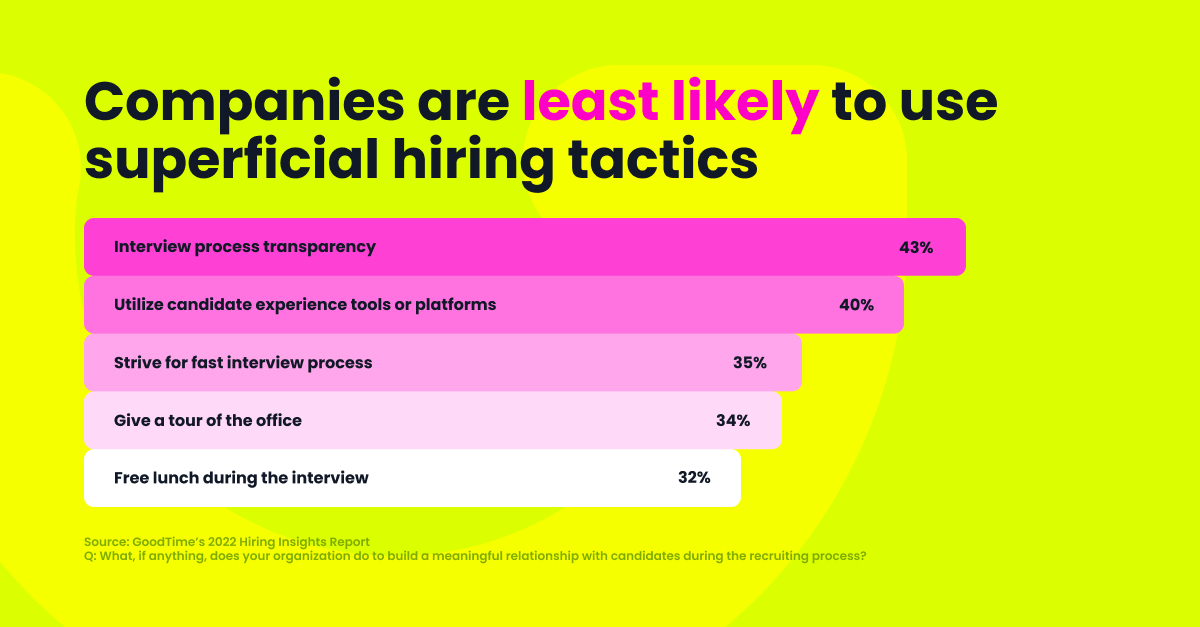 The vast majority of companies now realize that one-sided practices don't generate offer acceptances. Flashy perks hold no value in today's Distance Economy. (Finally, we can put the in-office ping pong table to rest.) Emphasizing genuine connection, transparency, adaptability, and candidate well-being transforms candidates into new hires.
…And Say Hello To Candidate-focused Methods
It's no secret that hiring in today's intensely competitive labor market can feel like an uphill battle. If you want to give your hiring goal attainment a major boost, look no further than candidate-focused hiring practices.
Among the report's respondents, we found a notably positive correlation between the number of candidate-focused hiring practices implemented and the percentage of hiring goals met. Specifically, companies implementing seven candidate-focused practices from the previous list saw a 17.7% gain in attaining their hiring goals.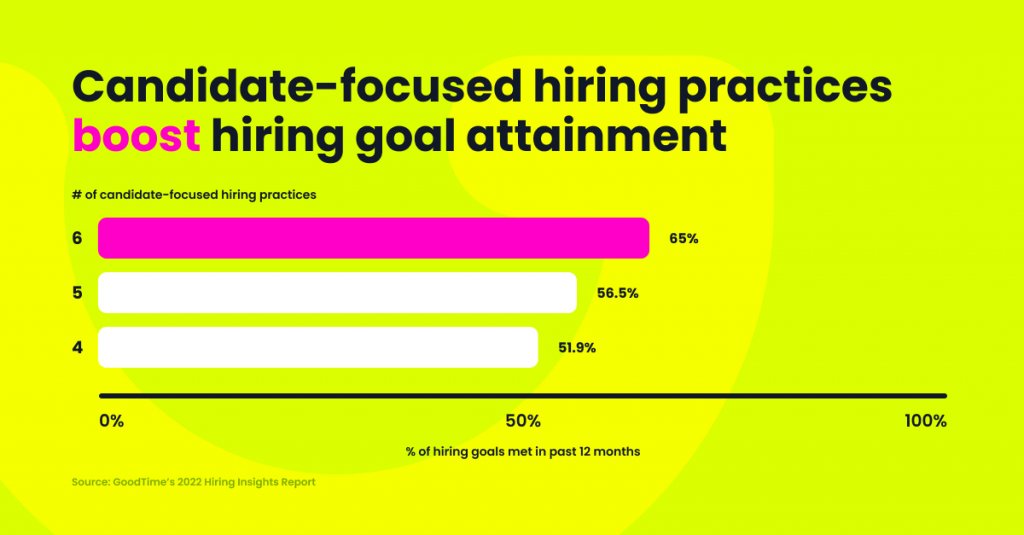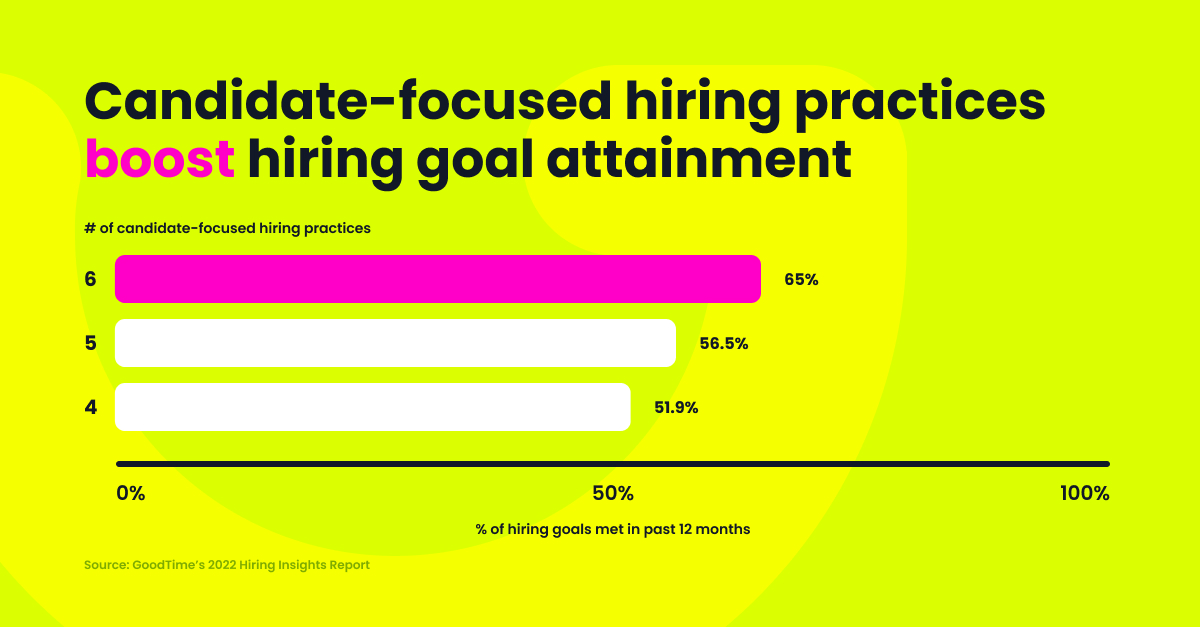 In fact, as long as companies implemented at least four candidate relationship best practices from the list, they outperformed the average. The business gains from creating genuine candidate relationships are very real. If you care about your bottom line, it's time to connect.
Want the Latest Insights? Read the 2023 Hiring Insights Report
The recent changes in the hiring landscape are enough to make anyone's head spin, but at its core, succeeding at TA in today's world isn't as complicated as it seems. If applicants don't feel connected to your company, they won't join. And if employees feel disconnected from your company, they will leave. It all boils down to connection. Candidates are people, and everyone yearns for a genuine connection. It's only human nature.
The solution to TA is right in front of us: invest in candidate relationships as you would in any meaningful asset. You'll be impressed with the payoff.
Want to catch up on the latest hiring trends? Get excited: our 2023 Hiring Insights Report is now available. 500+ HR leaders, 1,000s of real findings, 1 industry-leading report. Read the report today.