Picture this: you're struggling to secure quality candidates for your team's open reqs, and getting candidates to a "yes" takes too long. You're contemplating hiring more recruiting coordinators to optimize your talent acquisition process— because that's the logical fix, right? Not so fast. Consider investing in recruitment tech instead.
You can hire all the recruiting coordinators that you want, but if you're bogged down by inefficient operations and processes, your problems are sure to persist.
Instead of funneling more employees into a broken system, get to the root of the problem and patch up the holes in your hiring process. Establishing the right recruitment tech is the solution.
Why Recruitment Tech Is a Worthwhile Investment
1. Modern-day Hiring Requires Automation
Think you can succeed in hiring without the help of automation? Think again. Automation is an absolute necessity in the fast-paced hiring landscape. The competition for quality candidates isn't going anywhere. That means that companies must act quickly to secure the best talent.
But repetitive tasks like interview scheduling can lengthen a hiring process—and cause teams to miss out on candidates. That's why using tech to automate interview scheduling is the way to go.
Automation accelerates the time it takes to schedule, choose interviewers, and communicate with candidates. Combine all of these advantages, and you have a decreasing time-to-hire. 
Automated interview scheduling at warp speed
Lean team? Sky-high goals? No sweat. Secure top talent 50% faster with smart scheduling automation that handles even the trickiest interviews.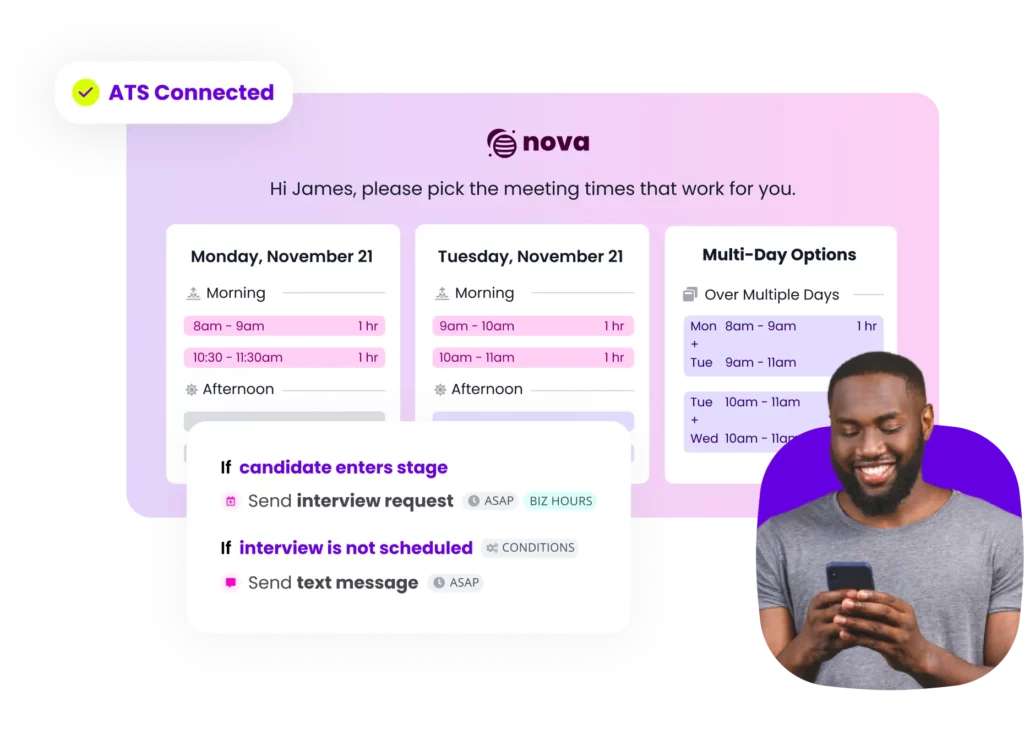 2. Enhance Recruiting Coordinators' Candidate Relationships
We're still in the middle of a candidate's market. There are two jobs for every available worker—a number that's in the range of historic highs. Since candidates have the upper hand, talent teams must deliver a hiring experience that exceeds expectations.
One of the best ways to stand out from other companies is by prioritizing candidate relationships. If a candidate doesn't feel a bond with your team and your brand, it'll be difficult to get an offer acceptance. That's where recruitment tech comes in.
Tech unlocks a multitude of ways to create personal candidate relationships. From identifying the most convenient interview time for a candidate's schedule, to adding personalization to automated messages, a tech platform's functionalities can do wonders in enhancing your bonds.
3. Data-driven Hiring Processes Succeed
The best talent acquisition teams keep tabs on their hiring data. Without a sense of your past and present metrics, it's difficult to effectively optimize your process and spot issues.
Data-driven recruiting is viewed as an approach to recruiting, but here's the truth: all recruiting should be data-driven. Luckily, many talent acquisition teams already know this. Our 2022 Hiring Insights Report shows that 35% of TA professionals reference their hiring data on a weekly basis, and 32% reference their data monthly.
How are they accessing this stream of data? More likely than not, they're leveraging their tech stack. Robust HR tech can help you keep tabs on the number of RC schedules, interviewer declines, and the time that it takes to interview for a role.
4. Free Up Bandwidth for Recruiting Coordinators
No matter the industry or company size, recruiting coordinators know the pain of manual interview scheduling. When you have your head stuck in calendars, it's difficult to make time for high-value projects that will make real improvements to your process.
That's the beauty of recruitment tech. It takes care of the tedious tasks—like finding calendar availability and selecting interviewers—so that RC's can focus on what really matters. With this newfound bandwidth, recruiting coordinators can connect with candidates, dive into their data, and give DEIB initiatives a facelift.
And No, Tech Can't Replace Recruiting Coordinators
Don't worry, we're not advocating for robots to replace recruiting coordinators (that'd be a bit jarring to say the least). There are many elements that recruiting coordinators can deliver that technology can't—like empathy and trust, which are both so important to candidates.
Talent teams need a marriage between technology and recruiting coordinators so that they can reap the benefits of both. Without skilled RC's, a hiring process feels robotic and impersonal. Yet without technology, tasks become tedious and a hiring process becomes inefficient.
The way forward is clear: leverage technology and equip your recruiting coordinators with the knowledge that they need to use it to its full potential. Then, watch the quality of your hiring process soar.
Amp Up Your Recruitment Tech Stack Today
Continuously increasing your talent team's headcount isn't a sustainable way to fix your problems. The right tech stack can enhance your process and enable a talent team of five to operate like a team of 50. So, you're probably wondering: "Which recruitment tech is right for me?"
For starters, you need an ATS in your arsenal. The ATS that you choose depends on the needs and size of your talent team and company. If you find it difficult to decide on one, we recommend the following: Greenhouse, iCIMS, Jobvite, SmartRecruiters, Workday, and Lever.
But while an ATS is essential, an ATS just can't deliver on all of the features that you need for success. GoodTime Hire fills those gaps.
Hire automates coordination, improves your relationships with candidates, and provides actionable insights to continuously optimize the entire hiring process.
Learn more about how GoodTime Hire's interview scheduling software can transform your talent acquisition process