At GoodTime, we're always on high alert for the latest shifts in recruiting. We hypothesized that the companies that build genuine candidate relationships are the ones that come out on top—but we didn't want to lean on a hunch. We needed data. This prompted us to conduct our 2022 Hiring Insights Report to survey 560 TA leaders and understand their biggest challenges, what they're doing (or not doing) to improve their candidate relationships, and how those efforts impacted their goals.
Ahryun Moon, Co-founder and Head of Company Strategy at GoodTime, presented our survey's findings and the latest HR trends in a jam-packed, data-driven SHRM webinar. Read on for the key takeaways from the webinar, and get ready to crush your recruiting goals with ease.
1. We're in a Candidate's Market
It's a candidate's market in a candidate's world, and it's about time that talent teams got used to it. Based on GoodTime internal data, we now know that the competition for the most talented candidates has skyrocketed since the pre-pandemic era. The average candidate interviews at four times the number of companies as they did before. To ramp up the competition even more, candidates typically receive multiple offers before making their next job move.
It's clear that today's candidates have a lot of options to choose from. So, what are the most crucial factors in their decision-making process?
Candidates now put a heavy emphasis on key intangibles. These include transparency, company mission, and DEIB. Candidates want to learn more about these elements through cultivating a connection with your interviewers and talent team.
All signs point to a need for talent teams to reimagine their hiring process and cater to what candidates really want. Yet still, we needed more data to back this up. That's where our 2022 Hiring Insights Report comes in.
2. The (Hiring) Struggle Is Real
The 2022 Hiring Insights Report unearthed several alarming realities for talent teams. Out of the companies that were surveyed, they attained an average of just 50% of their hiring goals in 2021. "Yikes" is an understatement.
Companies chose "retaining top talent" as the number one hiring challenge that they've experienced over the past 12 months. With the ever-increasing popularity of remote work, some might assume that in-office companies struggled with this challenge the most. However, that wasn't the case. Remote companies were more than twice as likely to struggle than the overall average.
The key takeaway? Yes, the Distance Economy widens the talent pool, but it also widens the employer pool. This gives more options for top candidates to choose from, making it hyper-critical to take the correct steps to retain, attract, and win talent.
Does interview scheduling automation make sense for my team?
ROI is key. This is not a time to invest in software that won't bring you immediate value. So let's eliminate the guesswork with our free ROI calculator.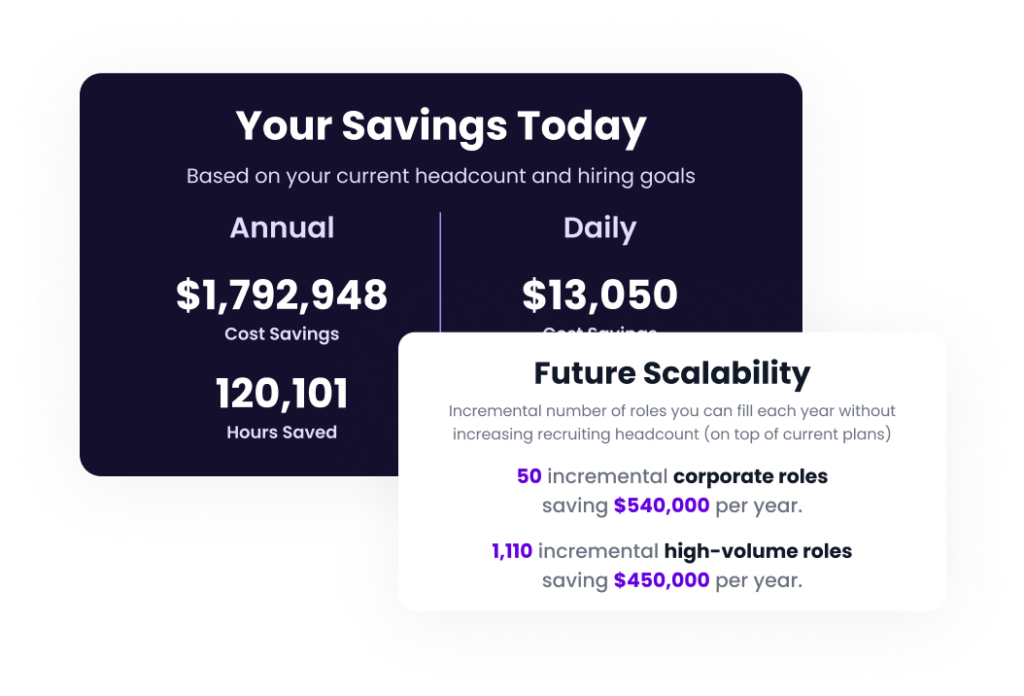 3. Candidate Relationships Are the Solution
Hiring is tough all over. So, what needs to happen? When asked how they expect the hiring landscape to evolve in the next 12 months, "the ability to create meaningful relationships with candidates" claimed the number one spot.
This is a good sign; talent leaders recognize the shifts in the market and in what candidates now search for. They understand that forming candidate relationships is the key to smashing their hiring goals, retaining top talent, and surpassing the competition.
This datapoint also signals that traditional hiring strategies just don't work anymore. Talent teams can't expect to win by pouring more and more candidates into the top of the funnel. Instead, they must craft an interview process that facilitates strong relationships with talent so that they don't lose qualified candidates in the middle of the funnel.
4. Employ Candidate-focused Hiring Practices
The data is clear: it's time to make candidate relationships the priority. It's what every applicant wants. Success in hiring is now found in the implementation of candidate-focused practices. These practices can be split into four buckets: genuine connection, transparency, adaptability, and candidate well-being.
Genuine Connection: Candidates want to know if they align with a company's mission, values, culture, and DEIB involvement. In order to understand an employer's stance on those factors, candidates want to build a genuine connection with them.
Transparency: Today's candidates also expect a transparent hiring process. They won't stand for ghosting or beating around the bush. Candidates want open, honest, and frequent communication from companies and interviewers.
Adaptability: If your hiring process doesn't adapt to the needs of your candidates, it's time to change things. Candidates want to schedule interviews at times that best fit their schedule, as opposed to sitting through an all day in-person interview.
Candidate Well-being: On the topic of well-being, candidates want to gain an understanding for where companies stand on mental health support and related benefits.
5. Use Tools and Techniques To Boost Candidate Relationships
Talent teams have an abundance of powerful methods to use when connecting with candidates. Three of the most crucial tools and techniques include collecting candidate feedback, showcasing a commitment to DEIB, and training interviewers.
Candidate Feedback: Gathering candidate feedback helps hiring teams understand how to adapt their interview process to fit the needs of candidates. In order to generate the most actionable feedback possible, teams should collect a simple "candidate pulse" after each interview.
Commitment to DEIB: More than 70% of candidates reportedly want employers to showcase their dedication to DEIB. One of the most powerful ways to reinforce your commitment to DEIB is through your interview process. Take time to cultivate diverse interview panels.
Interviewer Training: The number of companies that overlook the importance of interviewer training is shocking. Training interviewers is not only important in generating better relationships with candidates, but it's also crucial in hiring fast.
Want the Latest Insights? Read the 2023 Hiring Insights Report
Investing in candidate relationships is the future of hiring. The companies that build a foundation of strong connections with applicants can expect higher levels of productivity, loyalty, and engagement.
But this is only half the story. Want to catch up on the latest hiring trends? Get excited: our 2023 Hiring Insights Report is now available. 500+ HR leaders, 1,000s of real findings, 1 industry-leading report. Read the report today.