In the world of talent acquisition, it's sink or swim. The challenges facing hiring teams are more daunting than ever; an unstable economy, sweeping reductions in force, and increased candidate demands threaten teams' goals. Yet if you ask HR leaders, the formula for success is found in one dynamic duo: recruiting automation and efficiency.
In December 2022, GoodTime surveyed over 500 U.S. decision-makers in talent acquisition for the 2023 Hiring Insights Report to uncover their perceptions of the most pressing challenges facing their teams, and how they plan to attract and retain top talent in the year ahead.
The report shows that amid their sea of obstacles, talent leaders plan on reaching for success by optimizing their automation and boosting the efficiency of their processes.
Yet thriving in today's hiring landscape will be no small feat; most teams don't have the best track record when it comes to prioritizing efficiency and automation. However, as the data will show, the key to effectively hiring with efficiency and automation is hiding in plain sight.
Teams Eye Recruiting Automation and Efficiency
When asked what areas of their hiring process they will look to improve in the next 12 months, "improving overall efficiency" (39%) and "optimizing automation in the hiring process" (37%) ranked as talent leaders' top focus areas. These were talent teams' biggest focus areas for the second year in a row.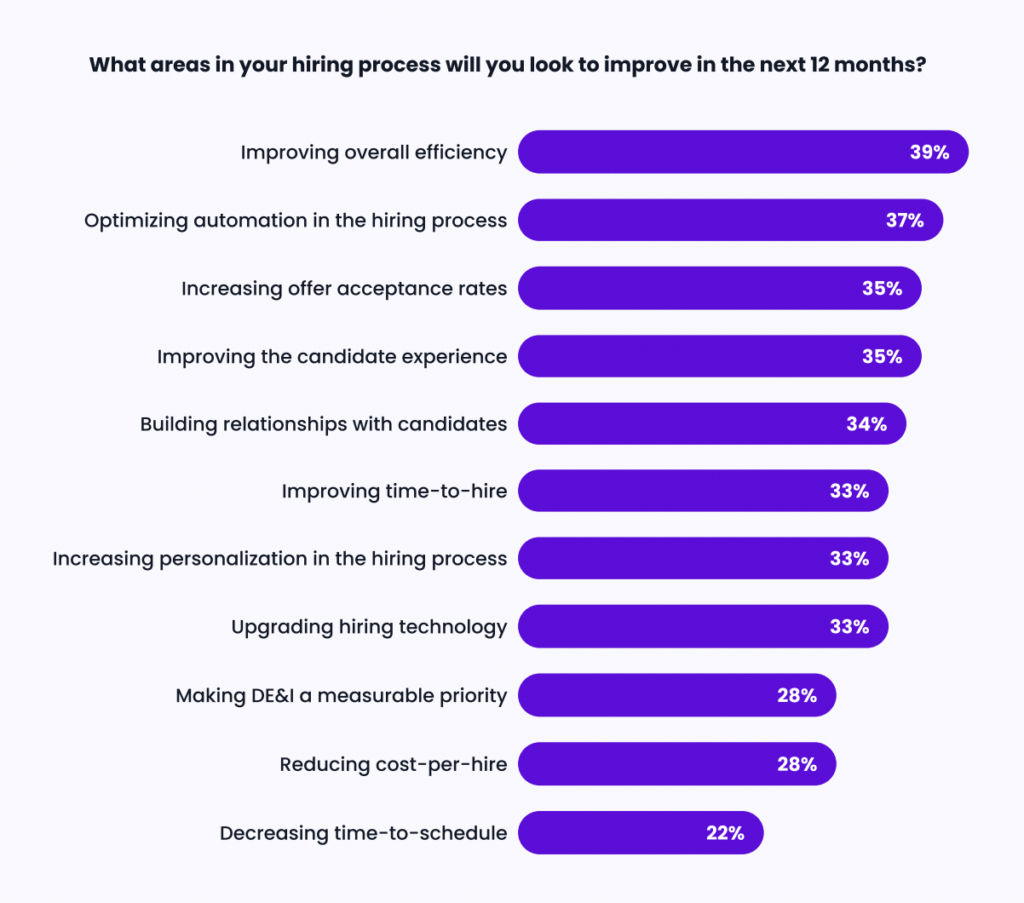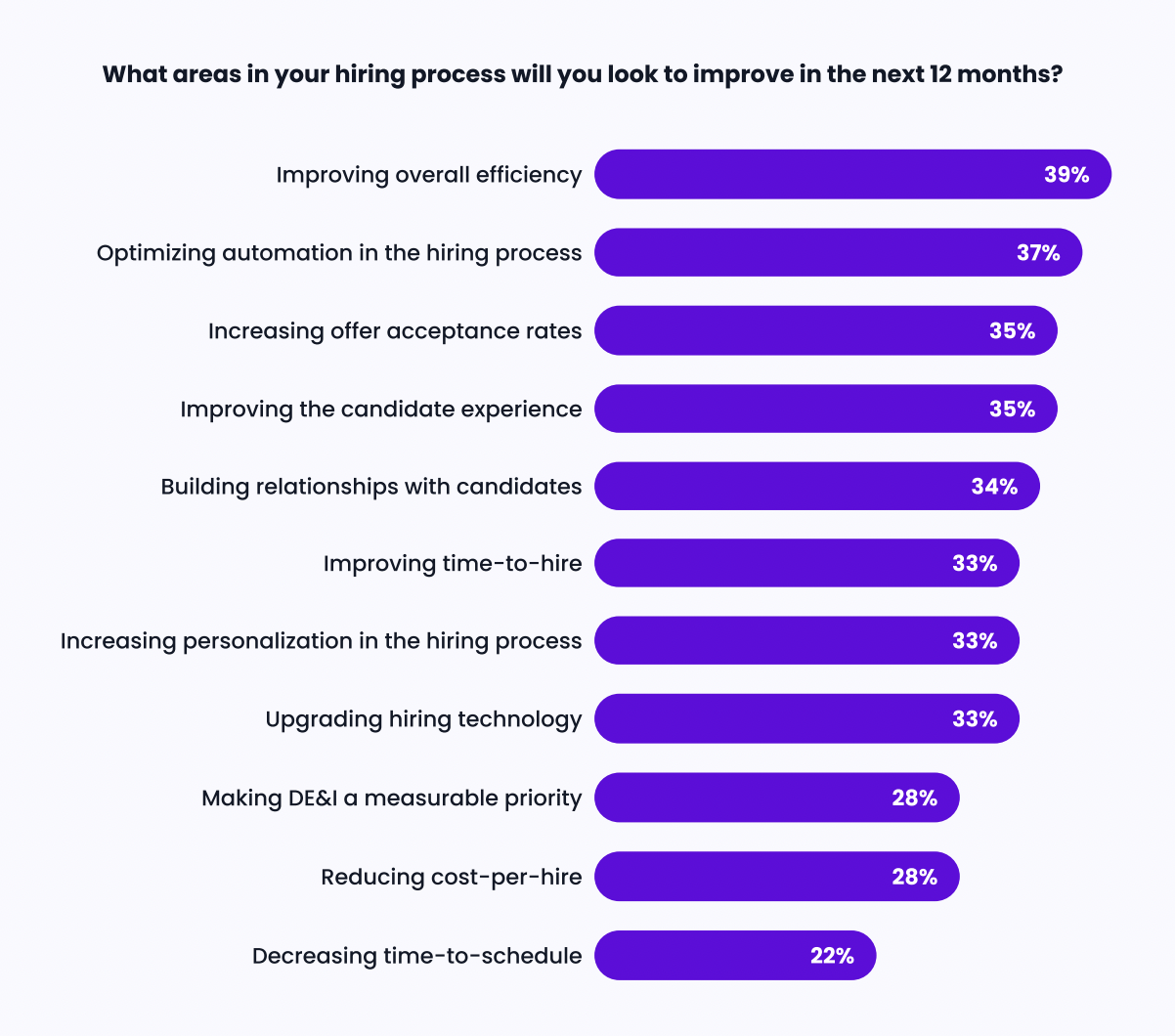 With 65% of surveyed talent leaders reporting layoffs in the past year, this focus is incredibly timely. Streamlining the hiring process and automating tedious tasks helps fill efficiency gaps following hiring team layoffs while providing much-needed relief to resource-strained teams trying to "do more with less."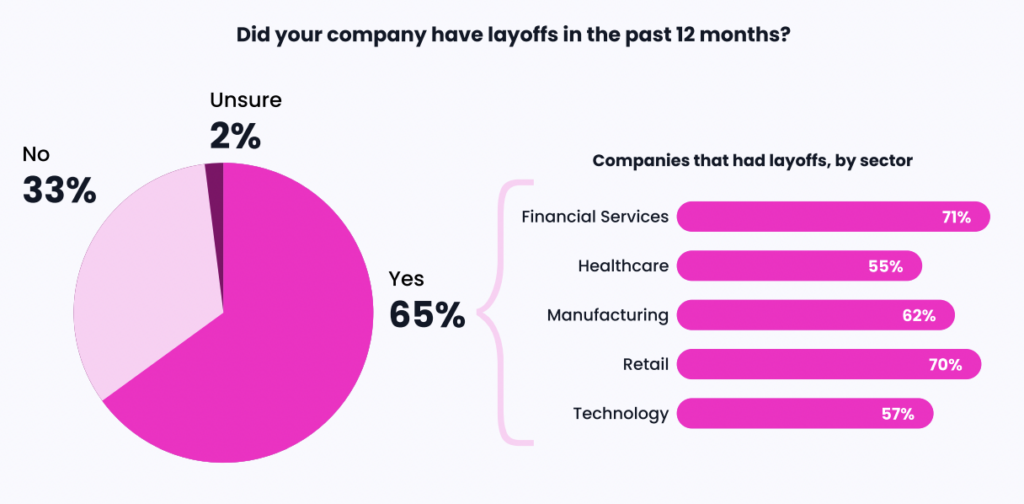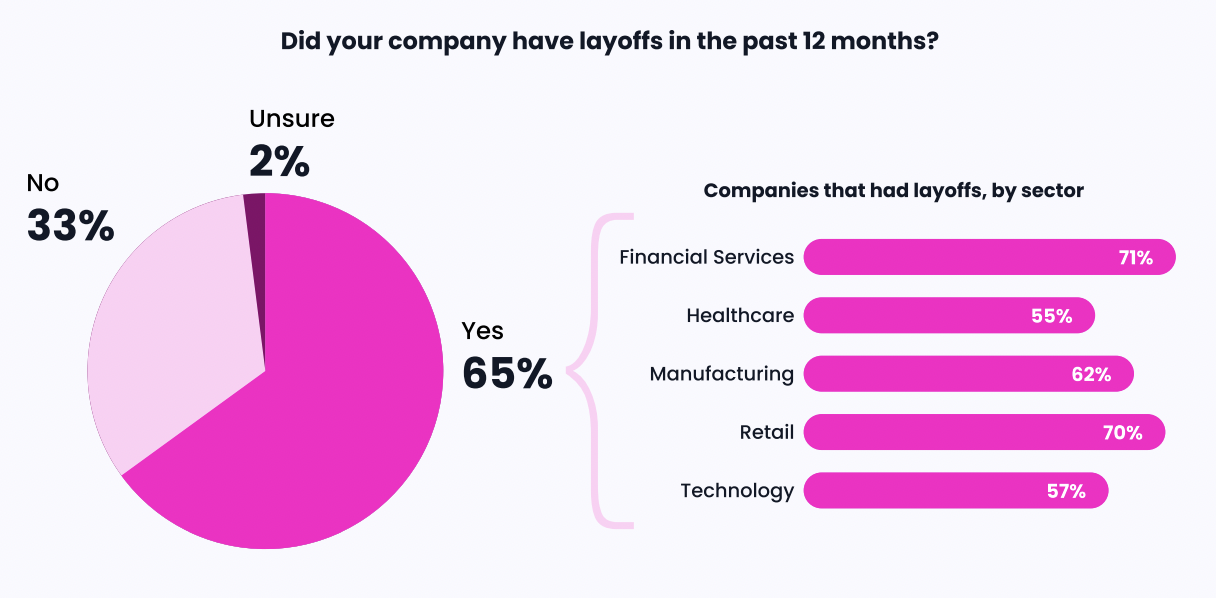 The focus on efficiency and automation becomes even more important when considering the top change that teams expect in 2023: "the hiring landscape will become more competitive due to an increased demand for talent" (45%).
A competitive landscape requires all hands on deck to attract and engage candidates, move fast on qualified talent, and deliver a high-quality hiring experience. Teams will need to leverage the dynamic duo of efficiency and automation if they want to drive better hiring outcomes.
Does interview scheduling automation make sense for my team?
ROI is key. This is not a time to invest in software that won't bring you immediate value. So let's eliminate the guesswork with our free ROI calculator.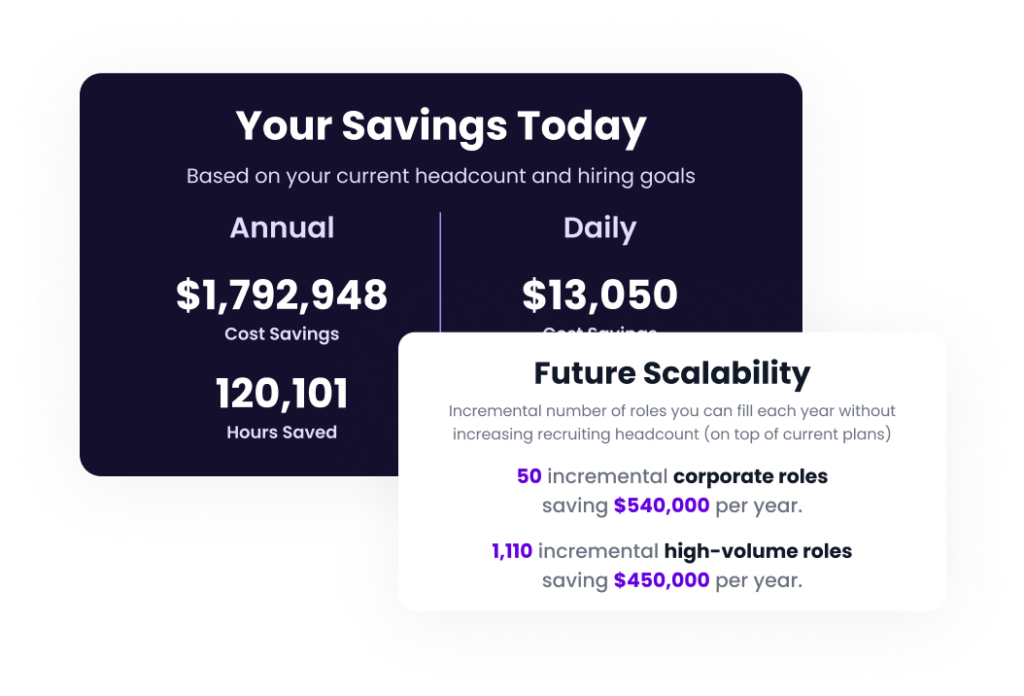 Where Recruiting Automation and Efficiency Efforts Fell Flat
Talent teams aren't strangers to implementing recruiting automation and efficiency-centric initiatives. In fact, improving efficiency (39%) was the top focus area for talent leaders in the past 12 months, with optimizing automation (37%) coming in second place.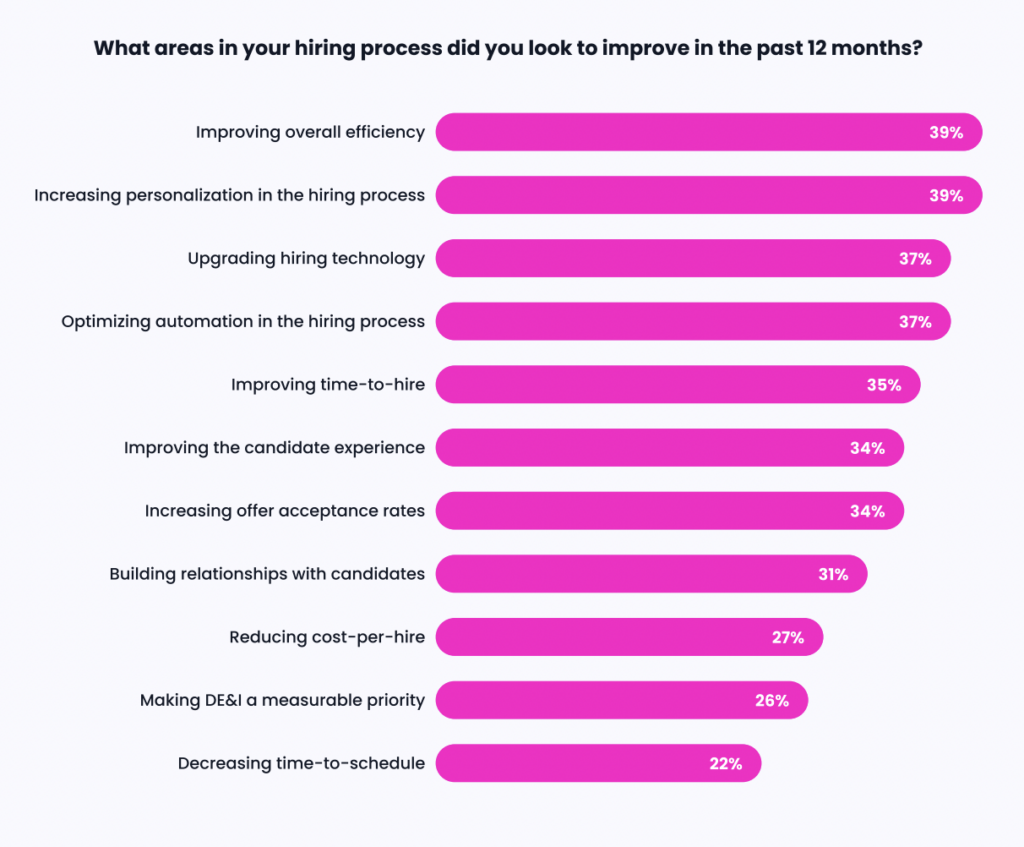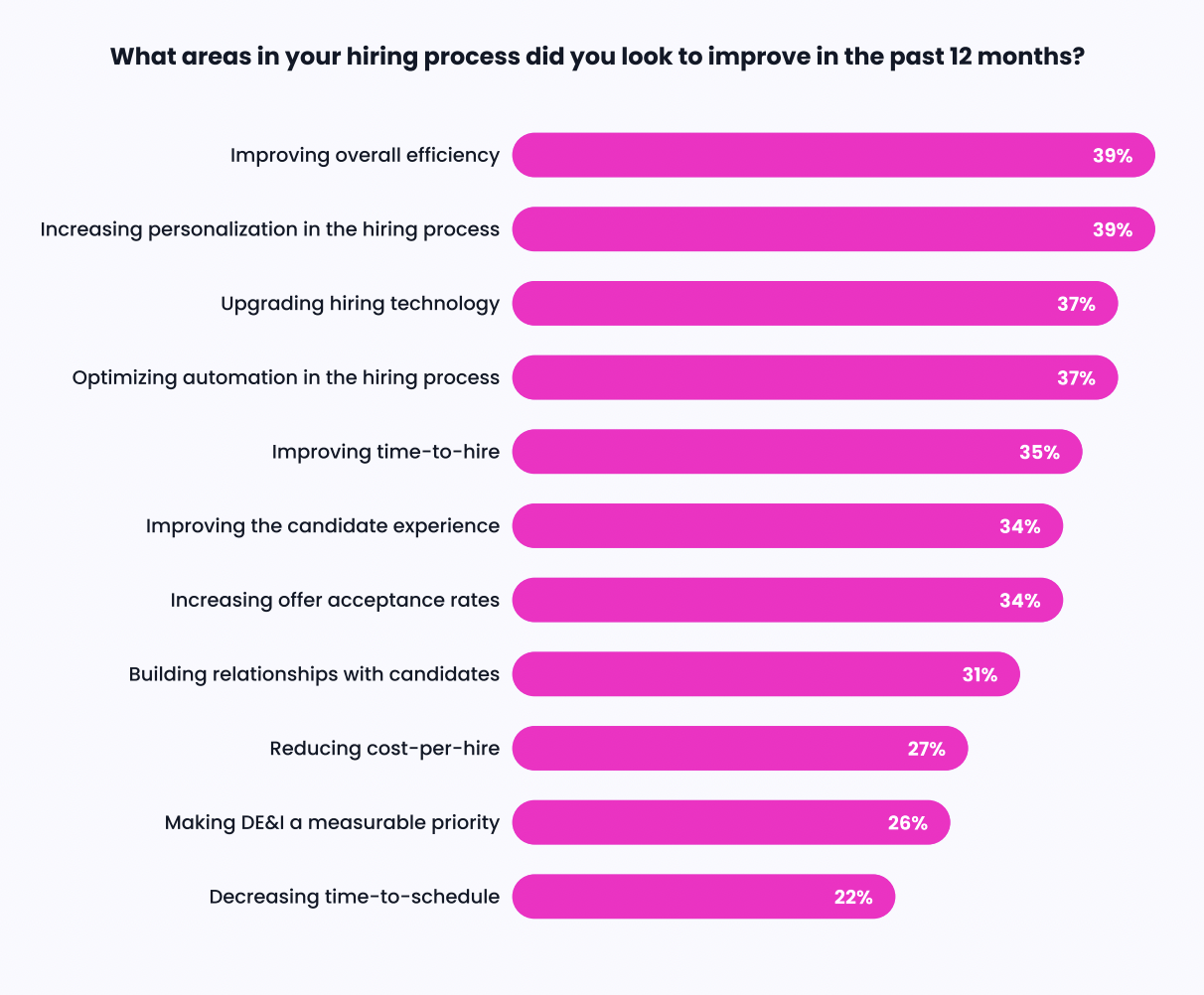 So, where did this focus lead talent acquisition teams? (Spoiler alert: probably not where they would've liked to be). Based on the outcomes from the past year, it appears that some teams may not have successfully followed through with their efforts to prioritize efficiency and automation.
For starters, talent teams missed their hiring goals by a significant margin. Companies reportedly hit just 48% of their goals in 2022, a 2% drop from 2021.
The data on time-to-hire also doesn't reflect well on teams; 71% of TA leaders said time-to-hire increased in 2022. This is a notable uptick from 2021, where 60% reported an increase in time-to-hire.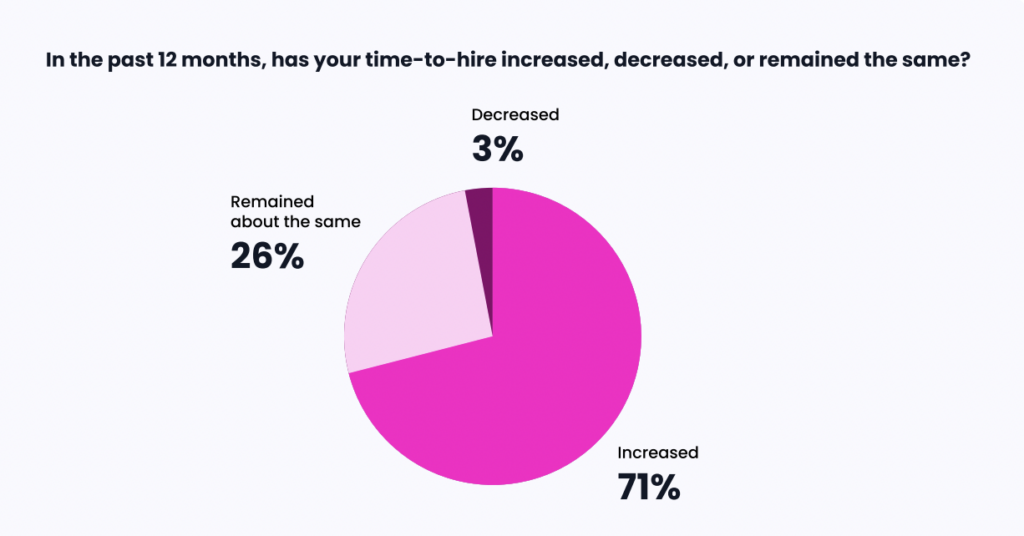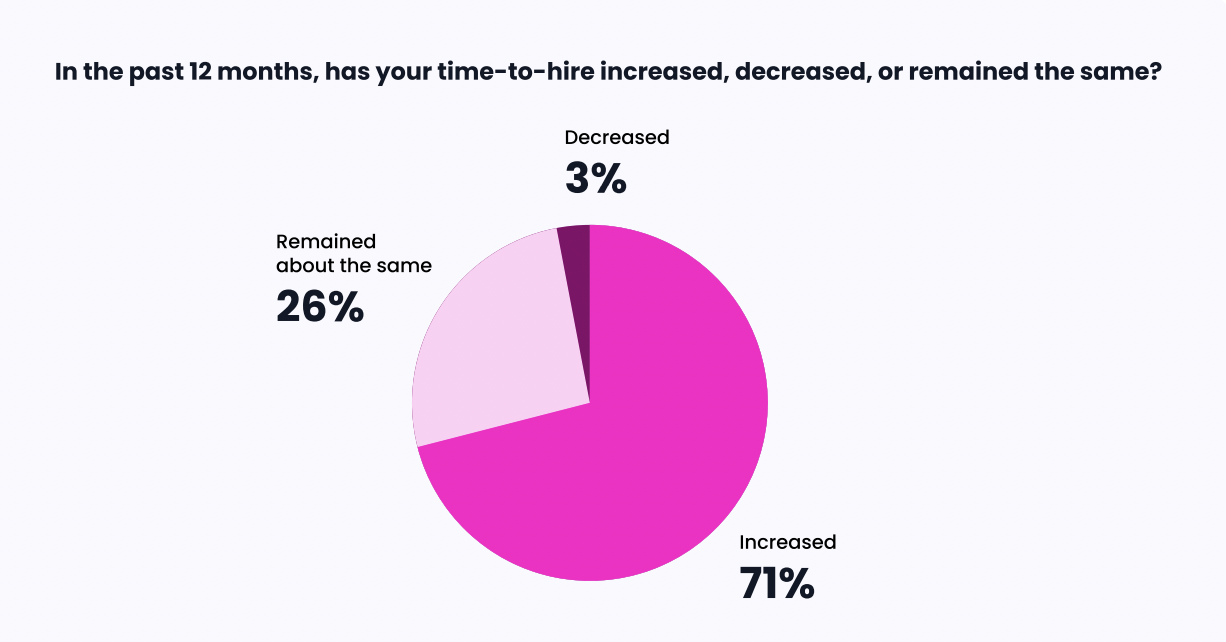 Adding even more fuel to the fire, time spent scheduling is on the rise. Recruiting teams spent 42% of their time scheduling interviews in 2022, a 5% increase from last year's report.
The Disconnect on Efficiency
With hiring goal attainment on the decline and time-to-hire and time spent scheduling on the incline, teams certainly have cause for concern. Yet interestingly, it appears that many teams aren't worried about the efficiency of their processes. A shocking 99% of respondents rated their hiring processes as either somewhat or very efficient.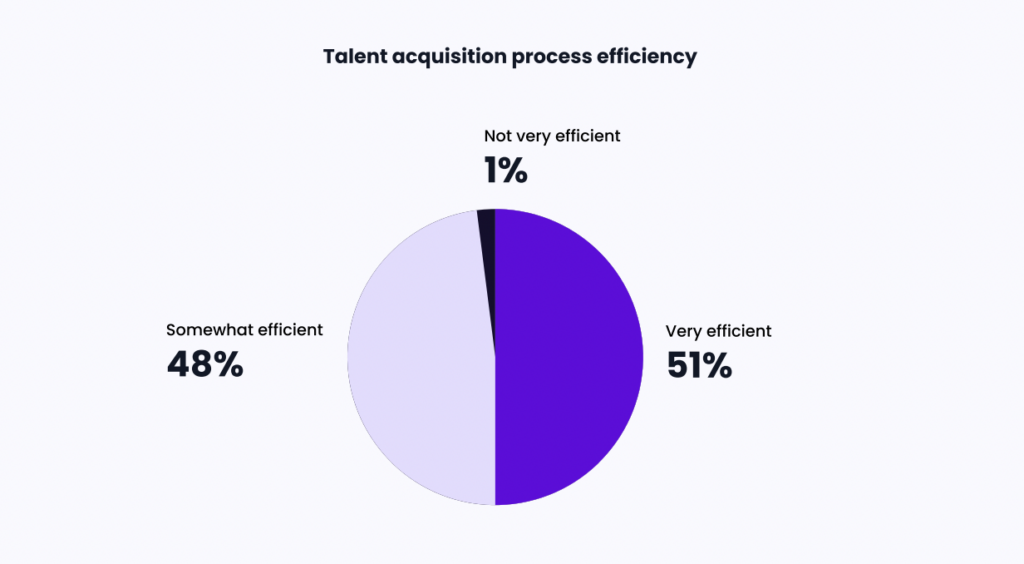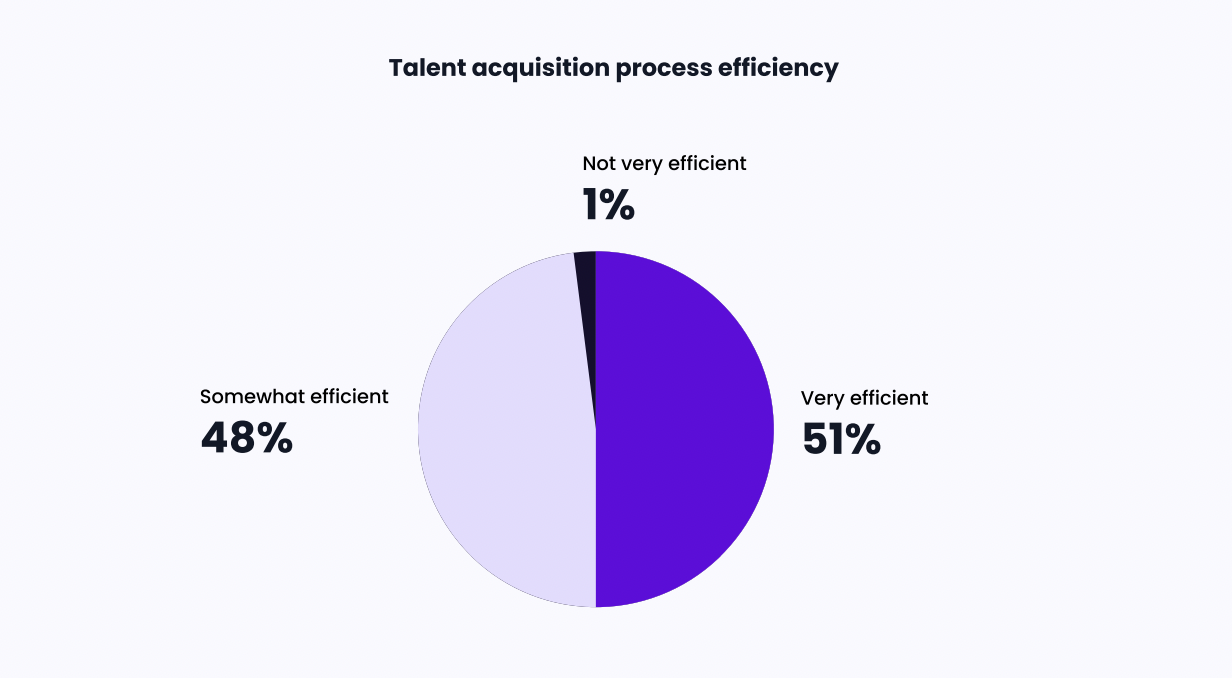 Teams may feel that they are doing their best to optimize their operations amid the hectic hiring and economic landscape, but still, the data shows there's ample room to improve—especially as teams plan to amplify efficiency and automation in 2023.
Leveraging Hiring Tech for Success
Moving forward, effectively optimizing recruiting automation and boosting efficiency will require new, innovative approaches. Luckily, the solution is right under TA teams' noses.
Hiring teams believe that the biggest challenge they'll face in the coming months is "limitations of current hiring technology" (27%). Refining the tech stack would not only solve this challenge but also endow teams with the efficiency and automation needed to succeed this year. (Plus, the right tech helps you save major time and money along the way).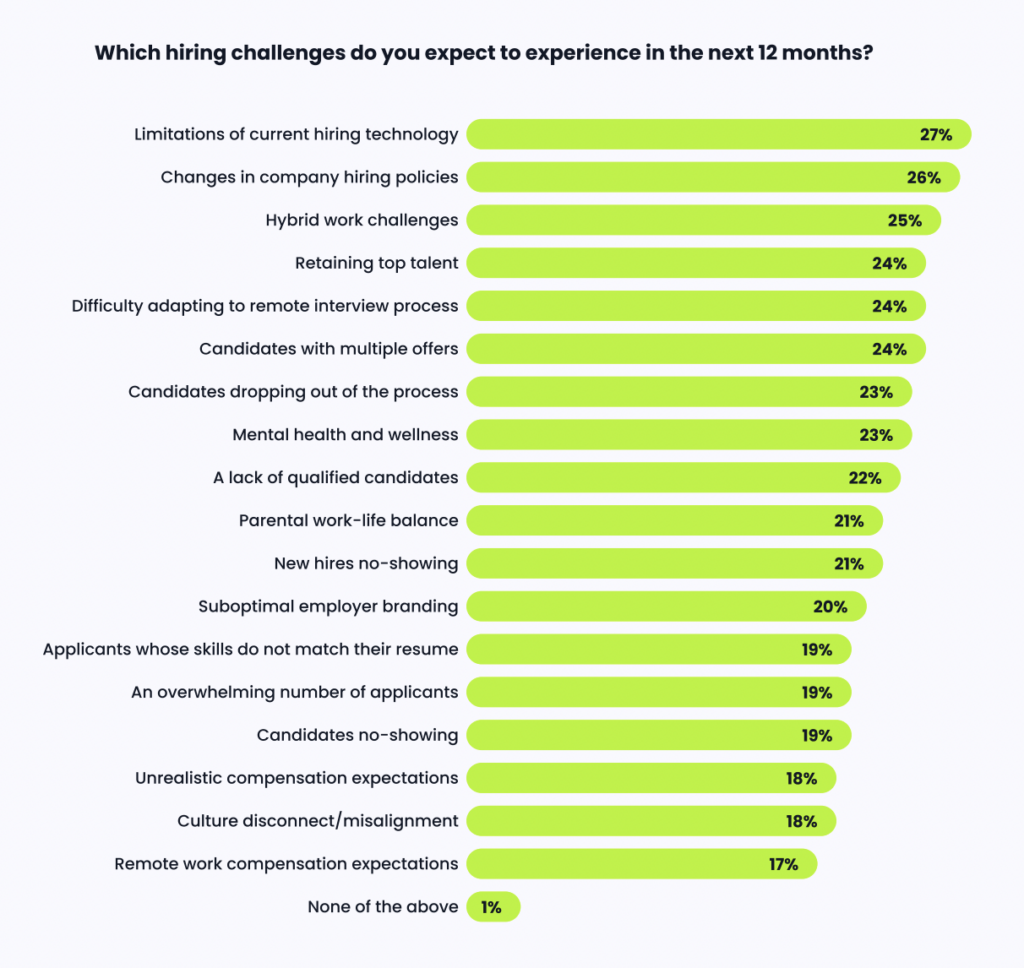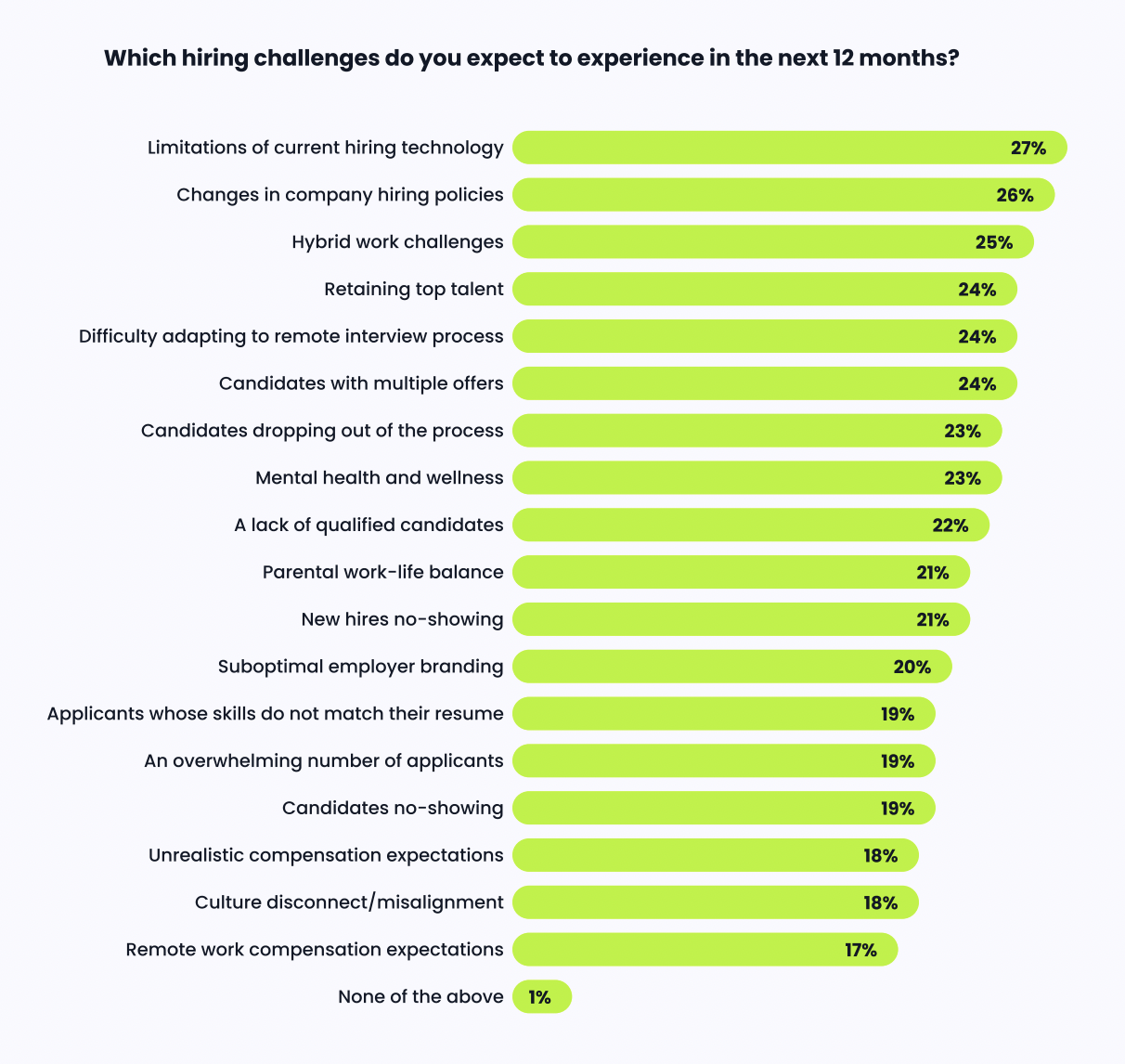 Optimized hiring tech directly helps teams maximize their productivity and balance hiring speed with process quality But here's the problem: "upgrading hiring technology" (33%) ranked as one of the lowest priorities for teams in the future. Why? Some sectors, such as healthcare, are more risk-averse than others and may shy away from adopting new tech. Or, simply put, teams might not see it as a pressing issue to attend to among their countless other concerns.
Yet if teams want to use efficiency and automation to their advantage and stand the greatest chance at hitting their hiring goals, they must change their tune. Leveraging new tech is the way forward.
But how do you secure new HR tech during budget cuts?
We get it — it's a bit of a catch-22. The more budgets are cut, the more you need HR tech, but the less able you are to procure it. We sat with Valeria Stanga, Senior Talent Acquisition Partner at HelloFresh for her take on making a clear, compelling case for new HR tech, even in the face of reductions and budget cuts.
Want More Recruitment Insights?
2022 brought a rocky economy, widespread layoffs, and an uncertain hiring landscape, creating a perfect storm for hiring teams this year. The pressure is on to find and attract qualified candidates, deliver an efficient hiring process, and leverage hiring tools that drive teams toward success. Are you ready to conquer 2023?
To dive deeper into these insights and much, much more, get the full 2023 Hiring Insights Report today.