Have you been asked to "do more with less" recently? If you're a talent acquisition professional in tech, it's incredibly likely.
Amid these tumultuous times in the tech industry and the greater economic landscape, a myriad of tech talent teams must maximize what they have. Whether this means grappling with cutbacks in budget or team resources, the pressure is on.
But with many tech companies continuing hiring in some capacity, TA teams must still deliver the high-caliber hiring experience that candidates expect…just now with less budget and/or resources.
This isn't an impossible feat. Talent teams just need to reevaluate their current hiring operations and strategies. (And we're here to help.)
Here are five ways talent acquisition teams can address tech's hiring challenges and actually do more with less.
1. Amp up Your Internal Mobility Strategy
When asked to optimize what they have, the opportunity that too many teams overlook is considering their current employees. That's right; we're talking about boosting your internal mobility strategy.
There's a multitude of reasons you should consider current employees for new roles. For one, companies that prioritize internal hiring have a 41% longer employee tenure than those that don't.
Not to mention that it's faster and cheaper to hire from within. In times of "doing more with less," this advantage grows even more important.
If you're wondering exactly how to enhance your internal mobility strategy, we've created a handy internal mobility guide to get you started. (Hint: it starts by getting leadership on the same page, emphasizing good ole L&D, and providing managers with the support that they need.)
2. Emphasize Continuous Candidate Engagement
Typically, a candidate's journey ends when you reject them or extend an offer. Following this talent acquisition model requires you to start from scratch every time you must fill a role. That wastes a lot of bandwidth and resources—which many talent acquisition teams in tech can't afford to lose.
Practicing continuous candidate engagement means engaging and re-engaging candidates before, during, and after the hiring process. This creates a high-quality pool of engaged, pre-vetted candidates to consider for opportunities.
With a loyal community of talent to pull from, you'll be able to conserve time and money that would've been spent on sourcing new talent.
3. Make Hiring Analytics Your Best Friend
Do you find yourself wasting resources running in circles, trying yet failing to understand why there's bottlenecks scattered throughout your hiring process? If so, let your hiring data guide you towards clarity.
By analyzing your hiring metrics, you can pinpoint problems and identify the appropriate solutions—and avoid investing money into a solution that you're not even sure will be the real fix.
If you need help getting started, our Co-founder and Head of Product recently sat down with some of our partners to discuss how to masterfully evaluate your hiring metrics.
All in all, data is truly the gift that keeps on giving. Keep a firm pulse on your analytics dashboard, and you'll have all the answers that you need already at your fingertips.
4. Don't Forget About Employee Referrals
When you need to maximize your budget and resources, gathering employee referrals just makes sense. Similar to the benefits of internal hiring, employee referrals can reduce time-to-hire and costs.
Out of employers surveyed, 82% rated employee referrals above all other sources for generating the best ROI. As an added bonus, 88% of employers said that referrals generated the highest quality new hires.
Needless to say, if you don't have a formal employee referral program, it's time to spin one up. An employee referral program turns every single employee at your company into a mini recruiter. What better way to make the most of what you currently have?
5. Establish the Right HR Technology
A robust HR tech stack ensures that there's no need to hire extra recruiters. With the right technology in place, your team of five will operate like a team of 50.
HR technology not only allows you to maximize your resources during this current industry-wide hiring downturn, but also allows you to scale later when the industry inevitably revs up again.
Does interview scheduling automation make sense for my team?
ROI is key. This is not a time to invest in software that won't bring you immediate value. So let's eliminate the guesswork with our free ROI calculator.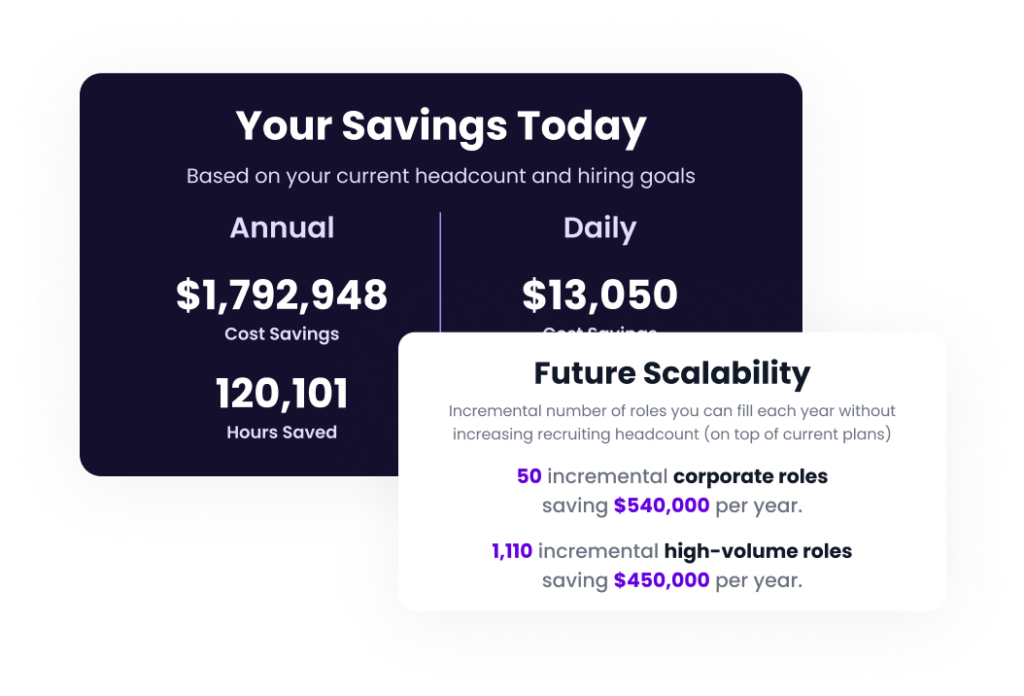 Making the case for new HR tech during budget cuts
So you're convinced that new tech can help you solve the "do more with less" problem, but how are you supposed to acquire new software while budgets are being slashed? We spoke with Valeria Stanga, a leading Senior Talent Acquisition Partner at HelloFresh, about how teams should approach seeking new technology, and how to craft a compelling argument that will win over your finance team.
For starters, operating without an ATS is a major no-no. The ATS that you implement depends on the needs and size of your talent team and company. Can't decide which one is right for you? We recommend the following: Greenhouse, iCIMS, Jobvite, SmartRecruiters, Workday, and Lever. 
While an ATS is undoubtedly an essential, there's some features that an ATS just can't deliver. GoodTime Hire fills those gaps.
Hire offers a custom-branded, seamless, fully automated interviewing experience that's driven by those that matter most: the candidates. It automates coordination, builds genuine connections with talent, and gathers actionable data to optimize the entire process.
---
Schedule a demo to learn more about how Hire can transform your talent acquisition process.
Automated interview scheduling at warp speed
Lean team? Sky-high goals? No sweat. Secure top talent 50% faster with smart scheduling automation that handles even the trickiest interviews.