The key to optimizing your recruiting lies in identifying, measuring, and taking action on the best hiring metrics. If you want to get more out of your metrics, we've got you covered. GoodTime joined Checkr and iCIMS to identify the most high-value metrics, and how to best leverage and analyze your hiring data.
Want to watch the watch the webinar in full? Come right this way. For a recap of the conversation, read on.
Choosing the Best Metrics
Vanity metrics have a knack for sweeping up hiring teams. The numbers make your team feel good, and boy do they look attractive in a report. But looks can be deceiving; ultimately, those numbers reveal next to nothing about your business goals.
So, how do you select the metrics that matter?
Monitor Metrics on Candidate Relationships
With the high expectations of today's candidates, forming a genuine bond with applicants is more important than ever. Talent teams should keep an eye on metrics that reveal the quality of these bonds.
Jasper Sone, GoodTime's Co-founder and Head of Product, said that one important metric that's contingent on your candidate relationships is turnaround time. This measures the average time it takes for a candidate to respond and get confirmed for their next interview.
Engaged candidates respond faster than disengaged ones. With candidates interviewing at four times as many companies now versus pre-COVID, meaningfully connecting with applicants is crucial to keeping your turnaround time low.
Divide by Primary and Supporting Metrics
Rhea Moss, Director of Data Insights and Customer Intelligence at iCIMS, prefers to choose hiring metrics by distinguishing between primary and supporting metrics. When a primary metric is healthy, the secondary metrics in connection to the primary are likely also healthy.
For instance, time-to-fill is an important primary metric to measure. If your time-to-fill improves, you're probably seeing notable supporting metrics like your OAR (offer acceptance rate) and dropout rate improve, too.
Let Hiring Metrics Reveal Themselves
Is starting your projects by selecting the key metrics the best strategy? Maybe not. Scott Jennings, Head of Industry Strategy and Market Development at Checkr, suggests a different method. He believes that teams should start with a business problem that they're looking to solve, and then work backwards to identify the most suitable metrics.
"What you typically find when you're delivering a project is that the metrics at the end of it that matter are different than what you thought going in," Scott noted. "That's going to be influenced by the different data sets that you bring in and the different philosophies that are brought in."
Balancing Speed and Quality When Hiring
Candidates don't want to wait around. A lengthy hiring process means losing talent. Yet at the same time, a rushed hiring process creates disinterested candidates. How should teams balance speed and quality to snag top talent?
Boost Interviewer Availability and Quality
Jasper recommends that organizations take two crucial steps to emphasize speed and quality. The first step involves providing a high level of interviewer availability. For the second step, talent teams should ensure that their interviewers convey an excellent image of their company.
To tackle the first step, organizations should have five alternative interviewers locked and loaded for every interview. "If you provide five alternatives, for any random time that a candidate wants to meet there is a 96% chance that someone on your team could meet with them," Jasper noted.
The second step involves establishing a robust interviewer training program. This way, you'll build an interviewing team that's adept at deeply connecting with candidates.
Does interview scheduling automation make sense for my team?
ROI is key. This is not a time to invest in software that won't bring you immediate value. So let's eliminate the guesswork with our free ROI calculator.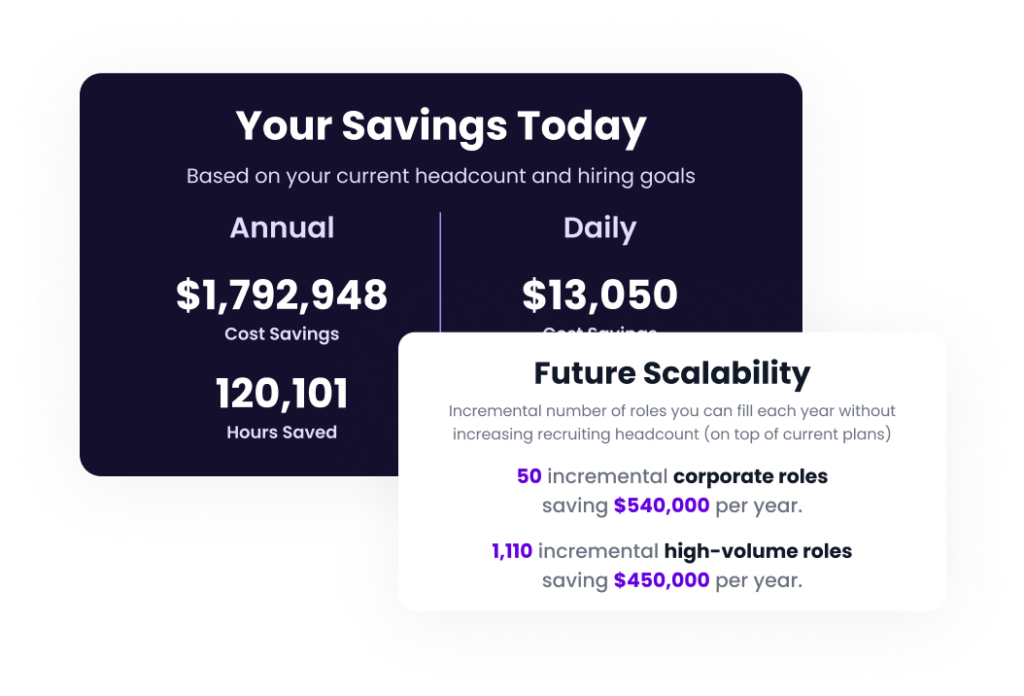 Ideal Speed Varies by Employment Model
While the average hiring process in the U.S. lasts for about 23.8 days, this length varies across the different employment models. Same day hiring isn't possible in most traditional hiring spaces, but it is in the contingent labor market.
For this reason, Scott noted that the ideal speed—and the perfect mix of speed and quality—that talent teams should shoot for depends on the team's employment model. Teams should reflect on the standards and candidate expectations that are unique to their model, and then go from there.
Leveraging Industry and Geographic Benchmarks
Congratulations! You now have a stellar selection of metrics to monitor. Better yet, you've crafted a hiring process that emphasizes both speed and quality. But, one question remains: how should you utilize industry and geographic benchmarks when analyzing your own data?
Analyze Benchmarks for Shifts
"Geographic benchmarks are quickly falling to the wayside," Rhea noted. While these benchmarks are incredibly pertinent to industries like healthcare and retail, it's unwise for teams to leverage geographic benchmarks in the same way that they have in the past since people are relocating to new geographic locations faster than ever.
Her take? Instead of using industry and geographic benchmarks as gold standards, teams should evaluate benchmarks to understand general, directional shifts. Look for seismic changes in behavior based on industry or geographic data, and take that into consideration when identifying changes in your hiring metrics.
Share Your Own Benchmarks
It's just as important for your organization to share your own benchmarking data as it is to analyze benchmarks that are already available. Jasper added that GoodTime enjoys sharing their benchmarking data to help other organizations set goals for themselves.
"By sharing data, not only does it give us an understanding of where we're at, but it inspires teams to come up with creative ways to beat some of the geographic or industry standards," he said.
Optimize Your Recruiting Process Today
When you take action on the most crucial hiring metrics, the sky's the limit for your talent team's success. If you want to beef up your knowledge on TA metrics a bit more, you're in good hands.
Check out our 4 KPIs that Show TA Ops Success infographic to boost your recruiting process with more metrics that matter.