If the pumpkin iced coffees are upon us, that means so is the holiday hiring season.
Retail talent leaders, this is your sign to push forward with your holiday hiring plan if you haven't done so already. I know that with a (still) unstable economy and fewer resources to meet hiring goals, talent teams are worried that they're up against another hard holiday hiring year.
But not to worry — I've got your back. I gathered tips from experienced TA leaders and we're going to spill their secrets and show you how to achieve holiday recruiting success this year.
The truth is, things aren't going to be easy. Similar to last year, the U.S. labor market remains tight with 1.6 jobs available for every unemployed worker.
However, it's not all doom and gloom. The good news is that we're seeing signs of gradual cooling and a 35% increase in job searches this year compared to last year. With continued inflation, interest-rate hikes, and resumed student loan payments, people may be feeling the pressure to find jobs.
Even so, it's still the worker's market in retail. As retail TA leaders continue to face hiring headwinds, how can they set themselves up for a successful holiday hiring season in 2023? Read on to find out what the experts are saying.
Don't wait another second to plan for holiday hiring
So yes, the best time to start your holiday hiring strategy was in September, but the second-best time is now.
Talent teams are up against a growing set of unique challenges (from tech advances to an unpredictable economy to shifting candidate expectations). Knowing this, it's critical to have an adaptable plan in place so you can start attracting job seekers right away.
Speed is the name of the game when it comes to hiring, especially in retail. If you're slow to offer the job, the store across the street will sweep in and grab your candidates.
To make sure your competition doesn't strike first, you need to start your hiring strategy early. Elizabeth Konkel, U.S. Department of Commerce economist agrees. "My advice for employers looking for seasonal workers is start now," she says. "Don't wait later in the season because you may really feel a big crunch."
We repeat: don't wait. Not only will this set you up to hire the right people for the right roles, but you'll also have more job applicants than if you waited.
"My advice for employers looking for seasonal workers is start now. Don't wait later in the season because you may really feel a big crunch."

Elizabeth Konkel, Economist, U.S. Department of Commerce
Vary your recruitment methods during the holiday season
Need to attract seasonal hires, but aren't sure where to begin? Get creative.
There are a variety of platforms that can be leveraged to spread the word. Of course, first, you'll want to make sure your basics are covered and that you're advertising your seasonal jobs on your company website, social media platforms, and online job boards.
Then, think beyond digital ads.
Remember — not all "creative" recruitment methods need to be tech-forward. Sometimes, old-school approaches are the most effective. We spoke with Craig Pyke, currently the Director of Talent Acquisition at Rivian and a hiring leader with nearly 20 years of experience hiring high-volume roles. When we asked him about innovative approaches to hitting hiring goals, he advised going back to basics:
"I actually posted a billboard. In my background, that was like the craziest thing to do. You know, we would source talent on all these different channels, but in volume recruiting, you have to get in front of people, right? And sometimes just doing a simple thing like that — getting back to basics and in front of folks — is one good way to go about it."
Try a company referral program, attend job fairs and hiring events, or even hand out old-school fliers at your local campus. It may seem outdated, but it's a great way to get in front of college students who need a bit of work while school is out of session. Even better, include a QR code on your flier that allows students to quickly scan and apply directly from their phones. And speaking of mobilized applications, this brings us to our next point.
Make your seasonal job application process mobile-friendly
Where are you most likely to browse the internet? Is it at your home office on your desktop computer? Or, is it on your phone or tablet while you're waiting in line at the bank, taking your work lunch break, or riding public transportation?
Most likely, it's the latter. And when it comes to retail applicants, this especially holds true. ICIMS reports that 70% of retail applicants used a mobile device to apply for a job. This is compared to 53% of other applicants.
To get in front of these quick-paced candidates, retail talent leaders need to make their application process mobile-friendly. While you're at it, make sure to keep the application process fast and efficient, especially since 73% of applicants abandon the application process if it takes longer than 15 minutes.
Famous Footwear recently implemented text-to-apply and is reaping big benefits — a 50% increase in applicants per job opening to be exact. With that kind of applicant increase, you can't afford to not mobilize your application process.
Texting, interview scheduling, and candidate insights — in one platform
Crush your hiring goals with our high-volume recruiting software. Get text recruiting, meeting scheduling, workflow automation, and more.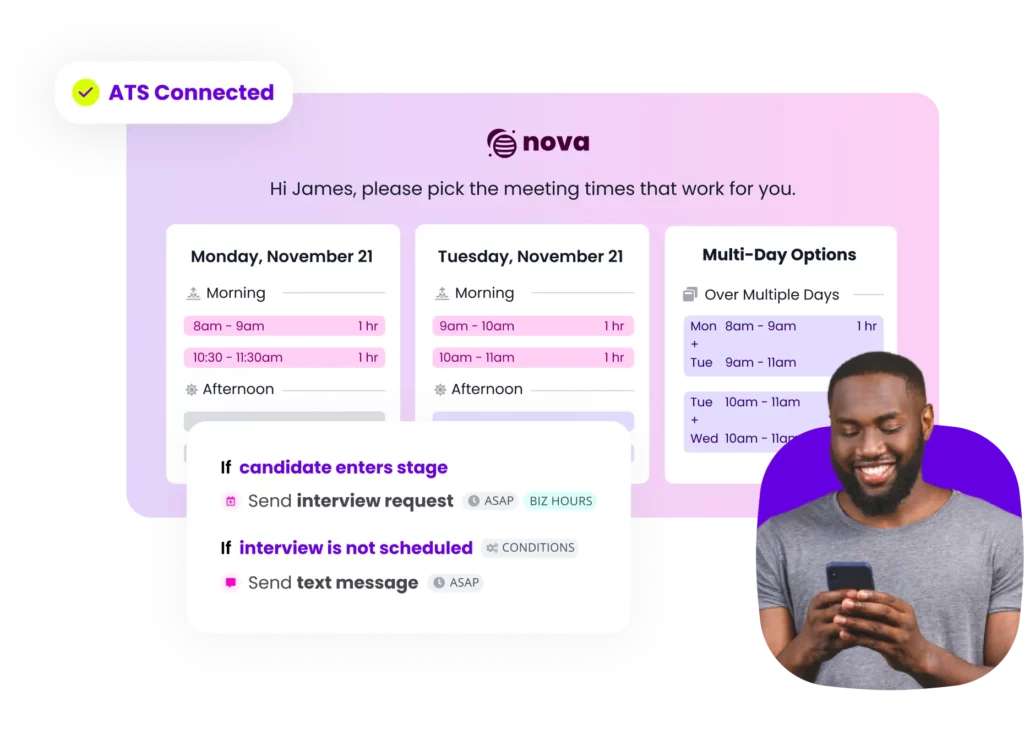 Engage candidates instantly
There's nothing worse than applying for a job, then waiting…and waiting…and waiting for a response. And a same-day response? That's almost unheard of according to an Indeed report. Only 4% of job applicants hear back that same day and only a few more (37%) hear back in one week.
So if you're looking to impress candidates, incorporate texting into your recruitment process. With the right platform, you can upgrade your current ATS to contact candidates directly through SMS and WhatsApp and move them to the next stage of the hiring process — in just seconds. Curious about what it looks like in action? Check out the SMS and WhatsApp featurette from our Product Tour.
When you engage instantly, candidates feel valued. And you get to find the right people, faster.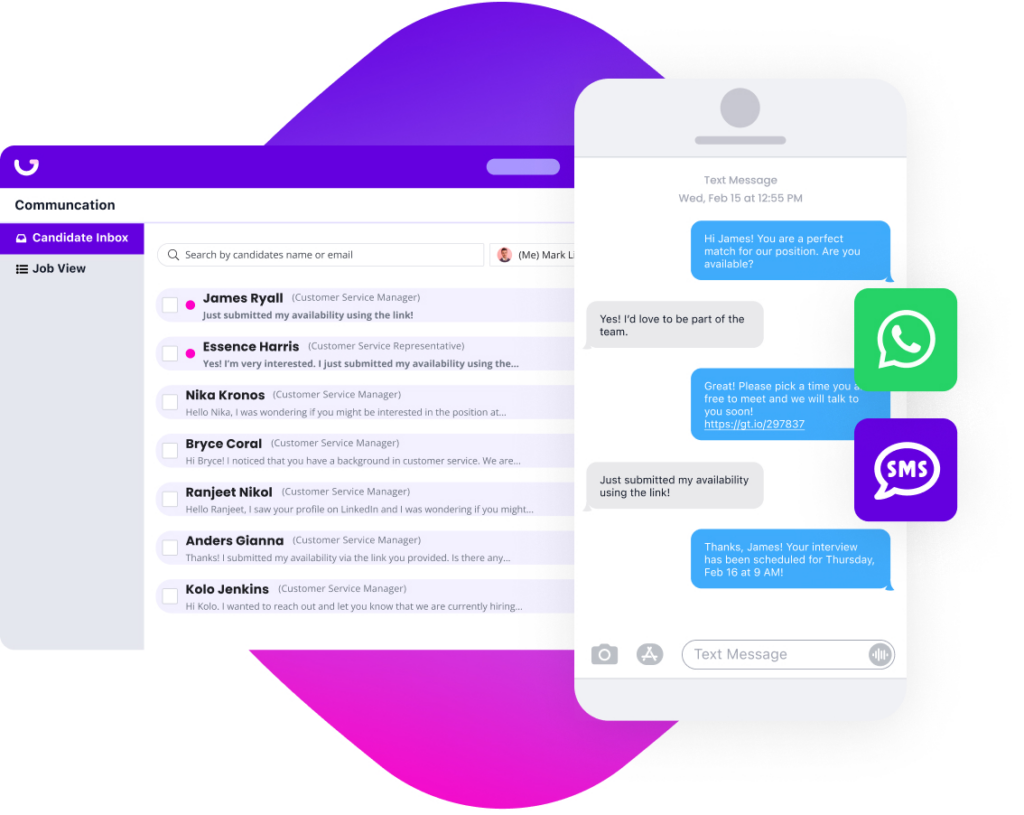 Streamline your process as much as possible to reduce time-to-hire
Speed really is the name of the game this year. When I speak to recruitment leaders hiring for high-volume roles, nearly all of them say they're looking to streamline or even completely eliminate steps from their hiring process.
Brenda Purvis knows high-volume hiring. She's led recruitment efforts for high-volume roles for 15 years and is currently the Principal Consultant for Enterprise Talent Strategy at Kaiser Permanente. In a recent executive roundtable, she urged TA pros to prioritize them in their hiring process:
"Time is truly the name of the game… time is the element that we can have some control over," she told us.
"How do we make sure that we're looking at our recruiting teams and equipping them to really reduce the time in all of those processes? Some of that is technology, and some of that is procedures and efficiency, but it's also trying out new things. Instead of three or four panel interviews, can we get this done in two? Or, in certain roles where we have a higher volume of roles, and we really do know what it takes to be successful, would a recruiter be able to make some of those hiring decisions?"
"Time is truly the name of the game… time is the element that we can have some control over."

Brenda Purvis, Principal Consultant for Enterprise Talent Strategy, Kaiser Permanente
Look for transferable skills
A large majority of retail seasonal workers will come from Gen Z. And as newbies in the working world, it's likely that they may not have all the experience you're looking for.
But just because they don't have retail experience doesn't mean they won't be a good fit for the job. In fact, 50% of talent teams are no longer considering just experiences and instead, are looking at skills.
So, rather than relying on resume qualifications, consider candidates who show potential. Do they possess essential retail skills, like teamwork or initiative? If so, they're likely a great fit — even if their resume doesn't say so.
But how, exactly, do you evaluate skills?
Skills assessment tests are becoming the go-to tool to discover if candidates have the capability to get the job done. These tests can measure everything from technical skills to cognitive abilities and personality traits. They're truly a game-changer when it comes to matching candidate skills to job requirements.
Invest in high-volume scheduling and interviewing tools
Our retail hiring insights report found that the current average time-to-hire in the industry is around 16 days.
Still, it's days too slow for holiday recruiters who need help now. To get your best candidates through the process fast, consider automating your interview scheduling and offering virtual interviews. Both work around the candidate's schedule, making the entire process seamless.
Here's how it works: Once talent teams have engaged with candidates, they can send pre-built screening questions that will assess who can move to the next stage of the process. Then, with the simple click of a button, the most qualified candidates can schedule their interview right then and there. And with in-person and virtual interview options, the candidate can choose one that aligns best with their schedule.
When done right, this process can cut that 16-day time-to-hire in half.
Getting budget for hiring tools in a tight economy
But how do you choose the right platform for your needs? And how are you supposed to get a budget for a new tool when resources are tighter than ever?
We asked Valeria Stanga, a seasoned retail TA leader who previously served as a TA Partner for Zalando and now works as a Senior Talent Acquisition Partner at HelloFresh. She told us, "You have to start with why. Why are you looking for something? What problem are you trying to solve?" Answering these questions, she says, will not only make it easier to select the right platform, but will also help you set up a case for procuring budget later on.
Then, it becomes about being able to clearly calculate the ROI of a recruitment platform. In Valeria's case, when she procured GoodTime, they were looking to do 2 specific things:
Improve the speed of scheduling interviews
Reduce rescheduling rates
"Before the implementation of GoodTime, it took me 25 minutes to schedule a final interview with 3 separate interviewers — 1 hour each," she said. "After, it was just over 3 minutes. It was such a huge change and that was still during the pilot phase!"
Watch the video below for more advice from Valeria on securing a budget for hiring technology.
Think beyond short-term opportunities
In 2022, Vicki Salemi, a career expert at Monster, said in an interview with Human Resource Executive that 36% of applicants wanted to turn a seasonal position into a full-time role. And USA Today reported that 44% of Americans currently work in (or plan to work in) seasonal jobs.
What's happening here? It's likely due to an increased cost of living over the last few years. In fact, according to the 2023 Global Workforce Survey, 69% of people say they're working multiple jobs because they need extra income.
Retail TA leaders, this is your chance to turn your best seasonal workers into full or part-time employees. Admittedly, retail has traditionally gotten a bad rap when it comes to employee turnover. But it's time to change that narrative.
Investing in your employee experience now (not just your candidate experience!) will pay off long-term. Start by creating an atmosphere that appreciates the hard work employees contribute. If seasonal hires love where they work, the ones interested in long-term work won't want to leave.
Read more about how to up-level your employer brand.
Raise compensation for holiday hires
The average hourly wage for retail workers sits at just $15 per hour. And many job seekers are no longer okay with trading hard work for subpar pay — especially in today's economy. Employees are up against high cost of living and a low hourly pay just won't cut it anymore.
Do you want to attract and land quality candidates? Then check your compensation offers to make sure they're enticing. A Salary.com report shows that half of employers plan better budget increases in 2023 compared to the previous year. Another report shows as many as 80% of employers plan to up their compensation in 2023.
So before you start hiring, make sure your pay is competitive. This will likely be a big driving force behind your candidate acceptance rate.
And I get it — you have a limited budget and resources for seasonal hires. You can't just raise compensation indefinitely. But think about it this way — what is the cost of all the time you and your hiring teams have to put into the process to fill a low-pay role? How much faster would it be to fill a role if the compensation was a little higher? How many of those employees would you be able to retain instead of spending more time addressing turnover? Pretty quickly, pay raises start to make sense budgetarily.
Build a network of seasonal hires
Think about all the connections you've made as you've interviewed and hired seasonal workers over the years. If you've made a good impression, past seasonal hires would likely be open (and even excited!) to come back next year.
This will ensure you have a pool of qualified seasonal candidates every year — cutting hours of recruiting, assessing, and training time.
Once the season is done, create a database of your best seasonal workers. Include details about their skills and past performance. Then, stay in touch.
Take it up a notch and create private social media groups for your seasonal workers, and send regular company updates and newsletters to keep them in the loop. To go a step further, consider hosting alumni events. This maintains healthy relationships and keeps them engaged, even in the off-season.
Make this your best holiday hiring year yet
If there's one takeaway you get from me today, it should be this: the best seasonal hiring strategy will include a variety of recruitment methods — from newer tech-based platforms to the old in-person standbys.
To reach (and serve) seasonal hires in today's modern world, consider starting with a comprehensive hiring solution that boosts your team's productivity so you can hire faster in a competitive market.
Start by checking out GoodTime's retail recruitment software. It attracts and engages candidates with SMS and WhatsApp — so you can quickly push candidates to the next stage of the process (the interview). It will also automatically send these candidates an interview scheduling link so they can pick the best time for their busy schedules. And yes, it's all done in a matter of minutes. All you have to do is focus on interviewing and hiring the best possible seasonal candidates.
Even with an unstable economy and leaner resources, you can still meet your hiring goals this year. With the right combination of strategy, processes, and tech, you can make 2023 your best seasonal hiring year yet!