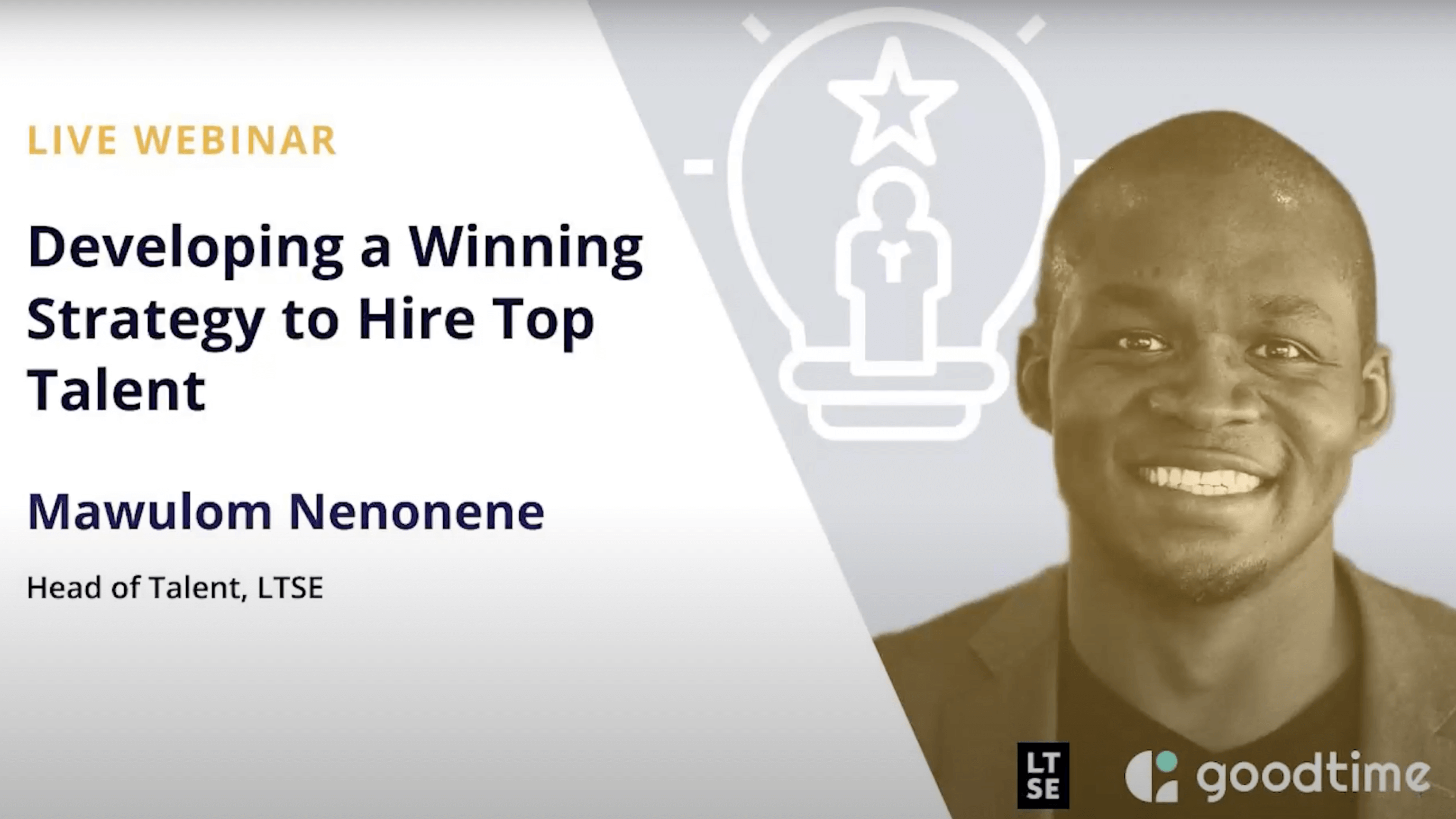 We've all seen the data: candidates want to know they're considering a company that makes DEI a true pillar in its company culture, and that culture begins with hiring. We partnered with Mawulom Nenonene, head of talent at LTSE, to chat about what it takes to develop a winning strategy to hire top talent. You can watch the full webinar here, but for the TLDR, here are the seven key takeaways to learn how to practice diversity in hiring.
Building a Foundation for Equity
LTSE entrenches DEI into its talent acquisition process. They teach hiring managers to leverage pipeline data to drive strategic top-of-funnel sourcing planning. This allows consistency and reduces biased hiring.
Templates, Templates, Templates
At LTSE, role templates are a central source of truth in helping hiring managers find the best talent for each role. Specifically, they don't simply write out the job description and mirror the template to the JD— the team does additional discovery to learn the goals of a specific role and what expertise the talent in question needs to have. Nenonene shares that these goals being understood and outlined are as equally important as any formal education requirement.
Actionable Tip: Increase your number of templates and train your team on how to use them. GoodTime platform data shows that increasing template usage can increase the monthly volume of unique candidates by nearly 150%.
Promote Why It Matters
Representation matters because it's the right thing to do, but also, the data just doesn't lie. Team members are more likely to execute and promote a diverse hiring strategy when they align on most the mission and the goals surrounding all hiring team objectives, and this includes knowing how having a diverse work culture directly impacts the success of the company.
Nenonene points to the Gartner research that shows 75% of organizations with decision-making teams reflecting a diverse and inclusive culture will exceed their financial targets through 2022.
Gender-diverse and inclusive teams outperformed gender-homogeneous and less inclusive teams by 50% on average.
In a Deloitte survey, Nenonene points out that 83% of millennials reported higher levels of engagement when they believe their company fosters an inclusive culture.
Actionable Tip: Create a blueprint so every hiring manager can get it right with their talent acquisition strategies. There are many types of diversity, so evaluating the current team's viewpoints, experiences, and backgrounds paves the way for hiring an all-inclusive team ready to fill in the gaps.
The Anatomy of a Skills-based Job Description
There's no one-size-fits-all skill for every job description. Hiring managers who prioritize skills-based hiring need to have clear, actionable steps for guidance.
Actionable Tip: Review every job description for inclusion. Tools for inclusive job description development include Hemingway, Textio, and Mathison.io, which analyses job descriptions for bias and exclusionary terms.
The Rooney Rule
The Rooney Rule has been around for some time and requires that a hiring manager interview one individual from the underrepresented candidates for a role. At LTSE, this rule is modified to also require that the hiring team interview at least two women and two underrepresented candidates before extending an offer.
The empirical data that Nanonene observed across several was that unless that URG candidate had a truly life-changing experience suring their interview, the Rooney Rule was largely ineffective in cultivating diversity in hiring. Enter the development of the Mo-rule.
The Mo-rule
The Mo-rule in practice requires an equal distribution of underrepresented and represented candidates at the in-person interview stage. The hiring teams at LTSE approach this by identifying what crop of underrepresented candidates are missing from their team and dedicating their resources to finding talent that matches those profiles.
They also ensure there's a one-to-one ratio of underrepresented and represented candidates.
Actionable tip: Review the representation data after each hire with your team to continually reiterate the hiring strategy.
Building the Hiring Team
LTSE focuses on assembling interviewers with the perspectives, training, and insights required to qualify each candidate for the skillsets needed.
Nenonene's team then develops an interview panel comprised of employees who are well versed in the importance of the candidate experience. This focus is developed through monthly training sessions for all interviewers to empower them to conduct structured interviews.
Actionable tip: Create a lights-on monthly training program to both grow your interviewer pool and to also keep your existing interviewers well trained.
Delivering on the Candidate Experience
LTSE's approach is focused on the candidate relationship, and getting to know the candidate at the first interview call. The interviewers share unique information about their teams and walk the candidates through the position's requirements.
Actionable tip: Be as transparent as you can with your candidates, with both the good as well as the challenging. A realistic expectation is far more appreciated that a hype session that will invariably leave a new employee feeling duped. A lack of information about essential aspects of a role or the company may hinder delivering the best candidate experience. LTSE provides each candidate with unique documentation outlining everything they need to know about the role being considered so that each candidate has a clear picture of role expectations, the team dynamic, and the company culture.
Be sure to check out our ebook on the importance of solid candidate relationships in your hiring strategy.