If you're a TA professional, there's a high chance that the economy is at the forefront of your mind — and it's easy to see why. As the challenging economic climate forces companies to tighten their spending, talent teams everywhere have gotten leaner, and the pressure has mounted to operate more strategically and efficiently than ever before.
With mounting concerns for the economy and increasing pressures to "do more with less" — as if you haven't heard that phrase enough already — you're probably putting a lot of thought into how you can drive success in recruiting during a recession (Is that what's happening?), and what TA should even look like now.
For starters, you can breathe a sigh of relief: experts say we're not actually in a recession. But still, we're in lean times that call for greater resourcefulness and efficiency. TA leaders must adjust their strategies to the current market if they want to meet their goals.
Want to learn how to run a successful TA program even in a lean economic environment? Keep reading.
An expert's take on the role of recruiting in lean times
While a downturn certainly isn't ideal for TA teams, Socotra's Head of Talent Acquisition Dubi Ben-Shoham believes that it also presents opportunities for talent leaders to become more strategic, focused, and efficient.
And if you ask us, we trust his advice. Dubi's team hasn't missed a hiring goal in four years. Meanwhile, the 531 organizations surveyed in our Hiring Insights Report missed over half of their hiring goals on average last year.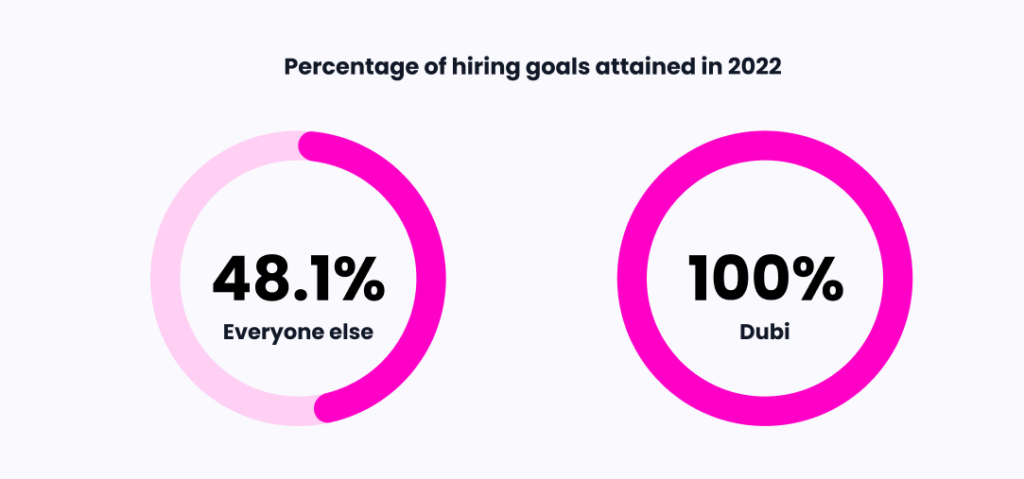 Dig into the video below to hear Dubi's full perspective on recruiting during tough economic times.
The state of the tech industry
What goes up must come down. After 2021's rapid-fire hiring, soaring startup valuations, and wild rides on Wall Street, the tech industry's growth is losing momentum. With evidence of declining sales and profit margins across the US, and worries that they might've hired too rapidly and expanded too much last year, tech companies are bracing for rough waters.
Companies have trimmed their budgets and their workforces to cope with the economic uncertainty. Each passing month brings more high-profile tech layoffs. In 2023, over 167,000 workers in the tech industry have been laid off. Twitter, Netflix, Snap, and Robinhood are among the organizations that have made cuts.
1 in 5 tech companies feels they are not prepared for a recession. There's palpable stress and confusion in the air ("Is this a recession?" "What's even going on?"). Yet talent teams should take comfort in knowing that the economy is constantly ebbing and flowing. The sooner that teams learn how to navigate the tides, the better off they'll be.
Read more of what the experts had to say about addressing tech hiring challenges.
So you're recruiting in a potential recession. Now what?
No matter if your company is hiring in full force or if you've slowed down your operations, now isn't the time to sit around. Tech recruitment will inevitably rebound. And when it does, you'll want to be in the best position possible to secure the top candidates.
The tech downturn offers a golden opportunity to optimize your hiring process to guarantee future success.
When recruiting during a recession or downturn, we recommend that you focus your efforts on these areas:
Optimize the hiring process
When recruiting during a downturn, talent teams need to go full throttle on optimizations. Now is the time to audit your current processes and identify opportunities for improved recruiting efficiency and other approaches you can take to optimize workflows.
"It becomes more strategic," Dubi says. Look for ways to free up your team's bandwidth and save valuable time and money. For instance, automation-based HR tools eliminate manual tasks so that teams can shift their focus to high-value projects that will create better business outcomes.
"Being able to do the job is not a high enough bar. We need to say, 'We cannot afford to not hire this person.'"

– Dubi Ben-Shoham, Head of Talent Acquisition at Socotra
Focus on in-house recruiting
In-house recruiting is an essential component of TA for companies of all sizes, and it's even more critical when you need to function as a lean, mean, hiring machine. Keeping everything in-house helps you attract the best talent possible with skilled TA professionals who have intimate knowledge of your company's needs, culture, and values.
And when budgets are tight, bad hiring decisions become even more costly. Hiring a new employee costs around 1.25 to 1.4 times the base salary; you need to make every new hire count.
"Being able to do the job is not a high enough bar," Dubi said. "We need to say, 'We cannot afford to not hire this person.'"
Dubi's team does everything in-house. They combine the expertise of a hybrid recruiter/RC (who spends a lot of time leveraging GoodTime's interview scheduling) and a sourcer. According to Dubi, relying on external recruiting firms wouldn't yield the same high-caliber of candidates that they aim for.
Get strategic with behavioral interview questions
Another way to make the best hiring decisions possible during this downturn is to equip your interviewers with the right resources. Here's one crucial tool for their toolbox: behavioral interview questions that perfectly align with the attributes of your ideal candidates.
Dubi wanted to ensure his interviewers evaluated candidates with the right traits in mind, and he set out to achieve just that. To start, he had all of Socotra's executives fill out a questionnaire about the traits they think their teams should have. Then, Dubi took those traits and turned them into behavioral interview questions.
Aligning your interview questions to your ideal candidate might seem like a minor task, but trust us — it comes with a big payoff. Not only do you stand a better chance at hiring the most qualified talent, but you're also more likely to produce an efficient process by avoiding delays caused by misalignment.
"Connecting with a candidate on the first call is such a difference maker when it comes to the candidate experience in the process. Have a lot of fun with that call."

– Dubi Ben-Shoham, Head of Talent Acquisition at Socotra
Remember: the candidate experience still matters
When there are fewer job openings and more job seekers, the job market tends to shift towards an employer's market. Candidates might not have the upper hand as they did before, but make no mistake — the candidate experience still matters in the recruiting industry during a recession or downturn.
The quality of your hiring process can make or break a candidate's hiring experience (yes, the pressure is on). One of the most telling signs of a high-quality process is its ability to create strong relationships between candidates and your hiring team.
Candidates expect to be seen as more than just a number; they want to feel that their time and talents are valued.
Keeping the candidate experience top of mind reflects positively on your employer brand and helps you stand out to in-demand talent who are interviewing at multiple companies. At Socotra, they deliver a memorable candidate experience by creating a personable, warm first impression.
"Don't underestimate the importance of having senior recruiters do phone screens," Dubi said. "Connecting with a candidate on the first call is such a difference maker when it comes to the candidate experience in the process. Have a lot of fun with that call."
Dubi tries to research the candidate before he speaks with them so that he can bond over their background and interests. It's all about making interviews feel less intimidating and formal, and more welcoming and human.
Where to improve your candidate experience
If all hiring teams had time to improve their candidate relationships, then everyone would do it. That's the endless struggle for these teams: too many initiatives to implement, and not enough time.
Luckily, today's slower-paced tech hiring environment opens the door for teams to focus on this task (thanks, tech recession).
Here are several ways to help your candidate relationships flourish:
Train all interviewers on proper interviewing etiquette. They're your brand ambassadors!
Collect candidate feedback. How else will you know if your relationships are translating?
Be ready to get transparent; candidates don't want to beat around the bush on salary expectations.
Use AI for an efficiency boost
AI in recruiting is the latest hot topic in the TA community, and for good reason. AI-powered tools come with substantial benefits, especially when "doing more with less" is imperative. AI automates your most tedious recruitment tasks so you can save time and money, reduce your time-to-hire, and maximize your resources.
Dubi is a fan of AI in recruitment when leveraging AI for communication. For instance, he likes to use AI for efficiently drafting repetitive candidate emails. He's also asked ChatGPT to assist him in writing an elevator pitch for Socotra that would entice candidates to work for them.
But still, Dubi recognizes the immense value that human recruiters add to the hiring process, a value that AI can't replicate. AI can speed up workflows and improve productivity, but recruiting is a human-oriented endeavor that requires a human touch. AI is most useful when it's used as a recruiter's assistant — not their replacement.
Read more about why AI won't replace recruiters.
The data on hiring efficiency
Our Hiring Insights Report found that in the past year, improving overall hiring efficiency was the main focus area for tech companies (39%). Likewise, this is still their biggest priority for the next 12 months (41%).
Greater efficiency reduces your time-to-hire. So, where did the tech industry's focus on improving efficiency lead them? Here's a hint: probably not where they'd like to be. The majority of talent teams in tech said that their time-to-hire increased. Less than 3% saw it decrease.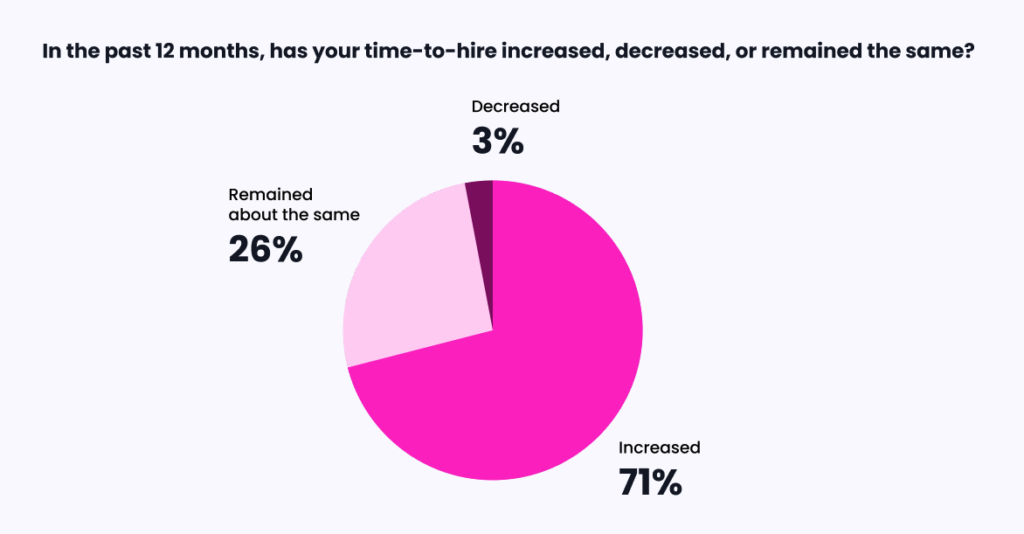 Where tech hiring must improve
Whether economic conditions have shifted your attention from hiring fast to hiring with precision, or if hiring at the speed of light is still your goal, hiring efficiency shouldn't sit on the back burner.
Speed to hire should always be a critical KPI for tech companies. Here's how to optimize your hiring efficiency:
Automate, automate automate. Implement interview scheduling software to reduce the time spent coordinating interviews. (The right tool can help you save major time and money along the way.)
Use email templates to standardize your communications with top talent.
Make data your best friend; dig into your hiring analytics to identify efficiency gaps.
Making the case for HR tech during budget cuts
When recruiting budgets are being slashed, it may seem counter-intuitive to look for new software, but that's not often the case. We spoke with Valeria Stanga, Senior Talent Acquisition Partner at HelloFresh, about why she believes it's crucial to seek new tech-forward solutions during a downturn.
Hit a recruiting high note, even during a downturn, with advanced HR tech
If you're barely keeping pace with your TA goals in this challenging economy, you're not alone. Times might be tough, but that doesn't mean you have to let your recruiting projects flounder and your productivity plummet.
Adopting smart strategies, like thoughtfully curating your interview questions and using AI as a helping hand, is crucial to running a TA program that creates meaningful business outcomes. And just as important — if not more — is upgrading your recruitment tech stack.
When TA teams want to do more with less, they use GoodTime Hire. Hire helps you schedule interviews 78% faster, hire 50% more efficiently, and 5x team productivity. No simple scheduling tools here.
Discover how AI-powered interview scheduling software can supercharge your recruiting process.
Does interview scheduling automation make sense for my team?
ROI is key. This is not a time to invest in software that won't bring you immediate value. So let's eliminate the guesswork with our free ROI calculator.