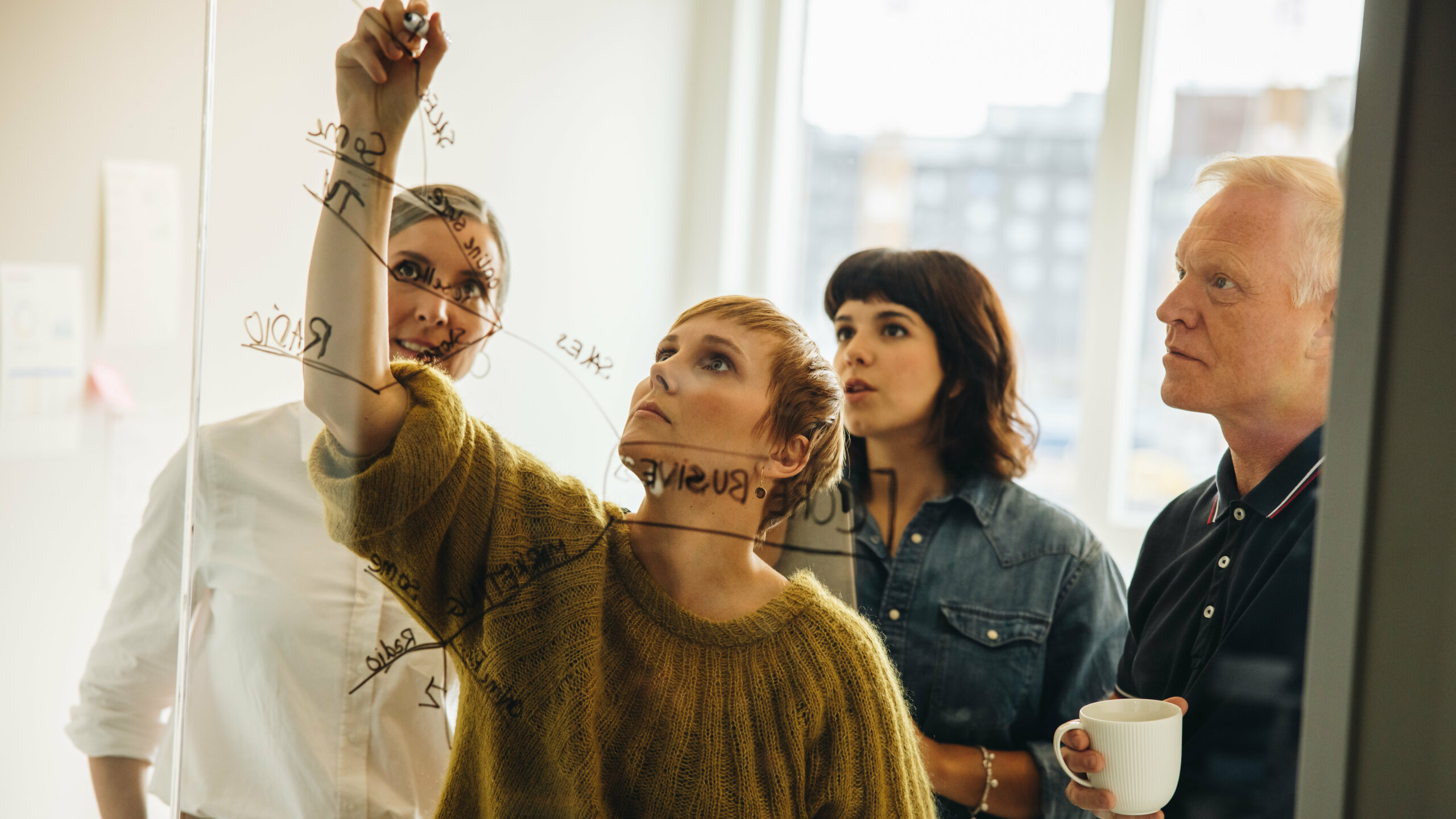 As the U.S. prepares for a looming economic crash, layoffs and hiring freezes sweep through the tech industry. With a possible tech recession on the horizon (yes, we said the "R" word), Big Tech and startups alike are battening down the hatches.
Now that tech companies are reeling in or freezing their hiring, the role of recruitment is in flux. How would a tech recession affect recruiting operations? And most importantly, how should talent acquisition professionals ride out the storm?
The State of the Tech Industry
What goes up must come down. After 2021's rapid-fire hiring, soaring startup valuations, and wild rides on Wall Street, the tech industry's growth is losing momentum. With evidence of declining sales and profit margins across the US, and worries that they might've hired too rapidly and expanded too much last year, tech companies are bracing for rough waters.
Companies have trimmed their budgets and their workforces to cope with the economic uncertainty. Each passing month brings more high-profile tech layoffs. Thus far in 2022, over 120,000 workers in the tech industry have been laid off. Twitter, Netflix, Snap, and Robinhood are among the organizations that have made cuts.
1 in 5 tech companies feels they are not prepared for a recession. There's palpable stress and confusion in the air ("Is this a recession?" "What's even going on?"). Yet talent teams should take comfort in knowing that the economy is constantly ebbing and flowing. The sooner that teams learn how to navigate the tides, the better off they'll be.
So You're Facing a Potential Tech Recession: Now What?
No matter if your company is hiring in full force or if you've slowed down your operations, now isn't the time to sit around. Tech recruitment will inevitably rebound. And when it does, you'll want to be in the best position possible to secure the top candidates.
The tech downturn offers a golden opportunity to optimize your hiring process to guarantee future success. Yet our 2022 Hiring Insights Report: Technology Industry data shows that tech companies have a pattern of too much talk and too little execution. (Recruiters outside of tech are guilty of this, too.)
They recognize what actions will help them hit their hiring goals, but they rarely actually take action. If tech companies want to make the most of this hiring downturn, inaction is not an option.
We recommend that you focus your tech recruitment efforts on these three areas:
1. DEIB
Female, Black, and Hispanic workers make up just a fraction of the tech workforce. Men hold 73% of tech jobs in the US, and white Americans hold 62% of tech jobs. Even though Black Americans make up 14% of the population, they occupy just 7% of tech jobs.
Today's Distance Economy opens up talent pools to a wide range of candidates from underrepresented groups (URGs). Those candidates expect to see an emphasis on DEIB in the hiring process.
The Data on DEIB
The tech industry at least sees the value in diverse candidates. Respondents from our report said that "diversity of candidates" is the second most important metric to their company, only after quality of hire. But is this all just…talk?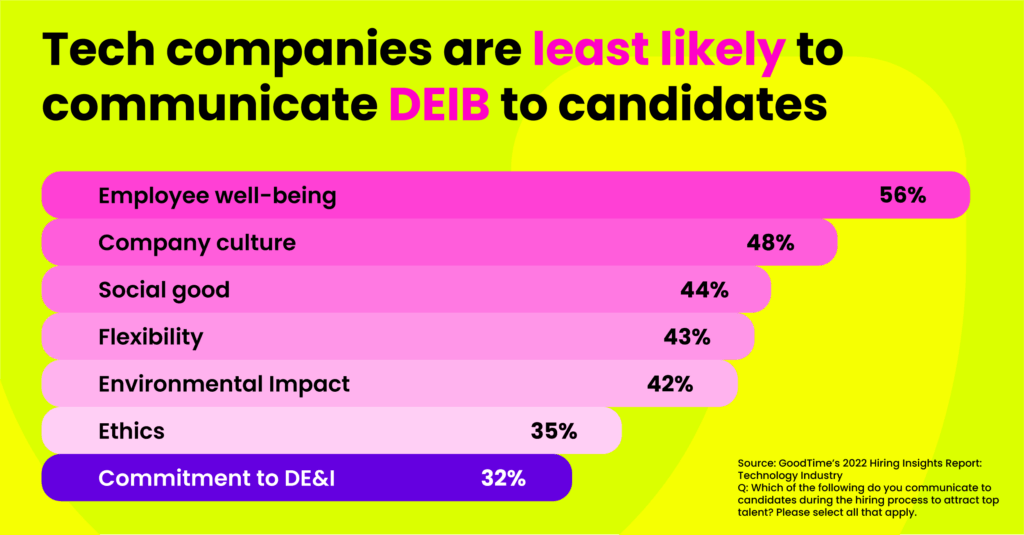 When asked which aspects of their hiring process they plan to improve in the next 12 months, prioritizing DEIB was the second lowest response at 34%. Respondents were also least likely to communicate DEIB to candidates during the hiring process (32%).
Where Tech Hiring Must Improve
We know what you're thinking, and you're right: creating effective DEIB initiatives is a heavy lift. Most companies spent last year rapidly hiring, which made uplifting DEIB seem impossible.
Yet for many tech companies right now, hiring has cooled down. With a tech downturn towering over the landscape, refining the hiring process is a growing priority. Now is the perfect time to give DEIB the attention that it deserves.
Here are several ways to do exactly that:
Train interviewers on acknowledging and reducing their own biases (we can help with that).
Diversity matters. Ensure that the employees in your interview panels are diverse, not homogenous.
Audit away your job descriptions. Remove any exclusionary language.
2. Candidate Relationships
The quality of your hiring process can make or break a candidate's hiring experience (yes, the pressure is on). One of the most telling signs of a high-quality process is its ability to create strong relationships between candidates and your hiring team.
Candidates expect to be seen as more than just a number; they want to feel that their time and talents are valued.
The Data on Candidate Relationships
Thankfully, talent leaders in tech recognize that candidates want to be prioritized. Forty-seven percent of tech companies from our report agreed that in the past 12 months, meaningfully connecting with candidates has become crucial.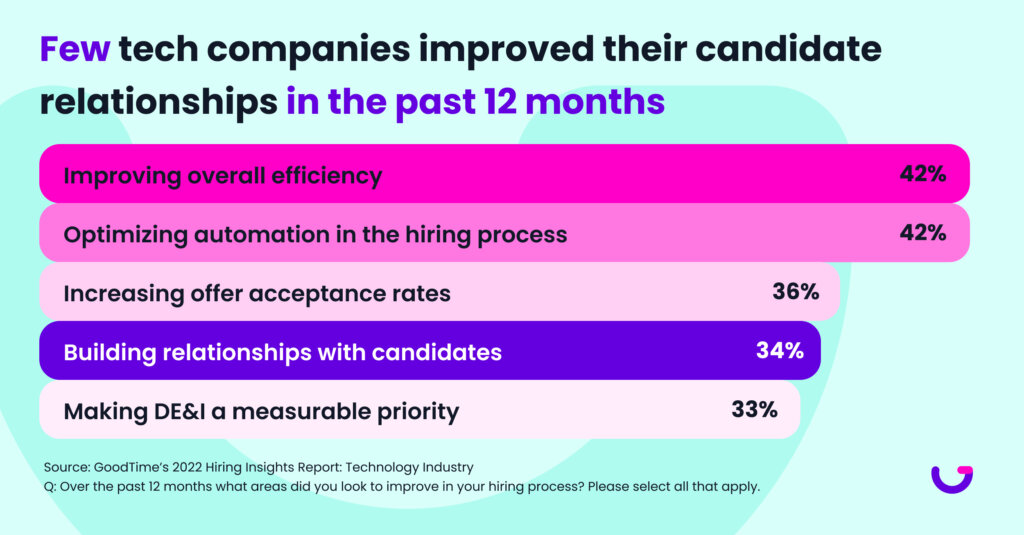 Yet here's where the problem arises: only 34% of tech talent teams built better candidate relationships. Only 35% plan on improving relationships with candidates in the months ahead. To make matters worse, the majority of respondents (67%) ignore a crucial pillar of healthy candidate relationships: candidate well-being.
Where Tech Hiring Must Improve
If all hiring teams had time to improve their candidate relationships, then everyone would do it. That's the endless struggle for these teams: too many initiatives to implement, and not enough time.
Luckily, today's slower-paced tech hiring environment opens the door for teams to focus on this task (thanks, tech recession).
Here are several ways to help your candidate relationships flourish:
Train all interviewers on proper interviewing etiquette. They're your brand ambassadors!
Collect feedback from candidates. How else will you know if your relationships are translating?
Be ready to get transparent; candidates don't want to beat around the bush on salary expectations.
3. Hiring Efficiency
We can't highlight hiring quality without giving attention to its gutsy sibling: hiring efficiency. Hiring efficiently and fast is a must-do, no matter the industry's climate.
Regardless of hiring volume, the competition for quality talent isn't going anywhere. The best candidates get snatched up in as little as 10 days. You need to move fast on candidates, or else another hiring team will swoop in.
The Data on Hiring Efficiency
In the past year, improving overall hiring efficiency was the main focus area for tech companies (42%). Likewise, this is still their biggest priority for the next 12 months (41%).
Greater efficiency reduces your time-to-hire. So, where did the tech industry's focus on improving efficiency lead them? Here's a hint: probably not where they'd like to be. The majority of talent teams in tech said that their time-to-hire increased. Less than 10% saw it decrease.
Meanwhile, talent leaders in tech possess different perspectives on hiring efficiency. Sixty-five percent of C-Suite executives rated their process as very efficient while only 33% of directors stated the same. Evidently, employees with closer proximity to the hiring process have a different perspective on business efficiencies.
Where Tech Hiring Must Improve
Whether economic conditions have shifted your attention from hiring fast to hiring with precision, or if hiring at the speed of light is still your goal, hiring efficiency shouldn't sit on the back burner.
Speed to hire should always be a critical KPI for tech companies. Here's how to optimize your hiring efficiency:
Automate, automate automate. Implement scheduling automation to reduce the time spent coordinating interviews (the right tech can help with that).
Use email templates to standardize your communications with top talent.
Make data your best friend; dig into your hiring analytics to identify efficiency gaps.
Want More Tech Recruiting Trends?
If you want to succeed amid this period of uncertainty—and for years to come—you need to keep your finger on the pulse of the industry's latest hiring trends. Our 2022 Hiring Insights Report: Technology Edition is here to give you the inside scoop.
---
Download the report today to see how tech companies are adapting their hiring.