Anyone else still have whiplash from these past few years? The remote work era—and the changes that came with it—sent shockwaves throughout the hiring landscape. Four in five companies now offer remote or hybrid work, and 82% of employers now opt for a remote interview when speaking with candidates.
Recruitment teams have had to alter their practices to adapt to this new normal, including their interview scheduling methods. How exactly has interview scheduling changed? One word: flexibility.
As the rigid all-day onsite interview format fades away, flexible scheduling capabilities in your tech are no longer a nice-to-have—they're a requirement. You can't successfully coordinate a complex remote interview without incorporating flexibility into your scheduling.
But first, let's examine how we even reached this current moment in time.
The New Normal for Interview Scheduling: How Did We Get Here?
The way that recruiters hire people, the frequency of meetings, and the degree of candidate availability are now wildly different. These changes have introduced levels of complexity to the interview process that no team—without the proper tools—can manage effectively. Here's what's changed in the hiring landscape:
The Death of the Onsite Interview
Remember when employers would routinely fly candidates out to their companies for a packed day of onsite meetings and office tours? With the surge in remote work and remote recruiting, the onsite interview is now a thing of the past (hello, remote interview).
In-person interviewing allowed panels of employees to swap in and out for multi-stage, all-day interviews with candidates. Now, remote hiring has laid in-person interviewing to rest.
A New Meeting Culture
If you find yourself sitting in meetings more often than ever before, you're not alone. Remote work created a culture of constant meetings; professionals spend up to a third of their workweek in meetings.
Blocking off a full day to have large groups meet with candidates is now almost impossible. Interview scheduling becomes even harder when you have employees based across the globe, a reality that is increasingly common in the distance economy.
Difficulties With Engaging Candidates
Candidates aren't easy to come by; there are two jobs for every available worker. Many are passive candidates who are already employed, which makes it difficult to fit a complex series of interviews into their workday.
Not all passive candidates can afford to take a day off of work to interview in an all-day session—and they certainly can't show up in person.
Interview Scheduling Must Now Be Flexible
Now, are we all caught up to speed? Due to the changes prompted by the remote work era, scheduling all-day onsite interviews is increasingly less common.
The new norm of scheduling is evolving to look like this: scheduling a series of remote interviews spread out over several days.
Scheduling complex multi-day interviews comes with several challenges that didn't exist with the all-day onsite interview. It multiplies the number of meetings to coordinate, broadens the interview timeline to keep tabs on, makes it difficult to reschedule or adjust specific meeting times, and more.
This interview format isn't easy to schedule—unless your scheduling tool has the right capabilities. Coordinating these remote interviews calls for a heightened level of flexibility. Here are several reasons why flexible scheduling is a requirement for today's recruiting teams and candidates:
From Your Recruiting Team's Perspective
With calendars more jam-packed than ever (on both the interviewer and candidate side), interviews must be spread out over several days. Without this flexibility, it's incredibly difficult to find available times when key interviewers can get together with a candidate.
Working across teams and time zones makes calendar coordination all the more complex, once again prompting recruiting coordinators to schedule over the span of a few days to locate availability. Long story short: it's tough to get an interview on the books without flexibility in scheduling.
From Your Candidate's Perspective
Remember how we said that many candidates are already employed? With their limited availability, these candidates need to book their interviews over their lunch hour, in between meetings, or during any other free moment in their workday.
If you want them to go through a series of panel interviews, you'll need to break it up over several days to make their participation possible.
Above all, today's candidates need to be accommodated if you want to attract and win the best of the bunch (it is a candidate's market, after all). That requires talent acquisition tech that can adeptly schedule beyond the confines of the one-day interview structure.
Does interview scheduling automation make sense for my team?
ROI is key. This is not a time to invest in software that won't bring you immediate value. So let's eliminate the guesswork with our free ROI calculator.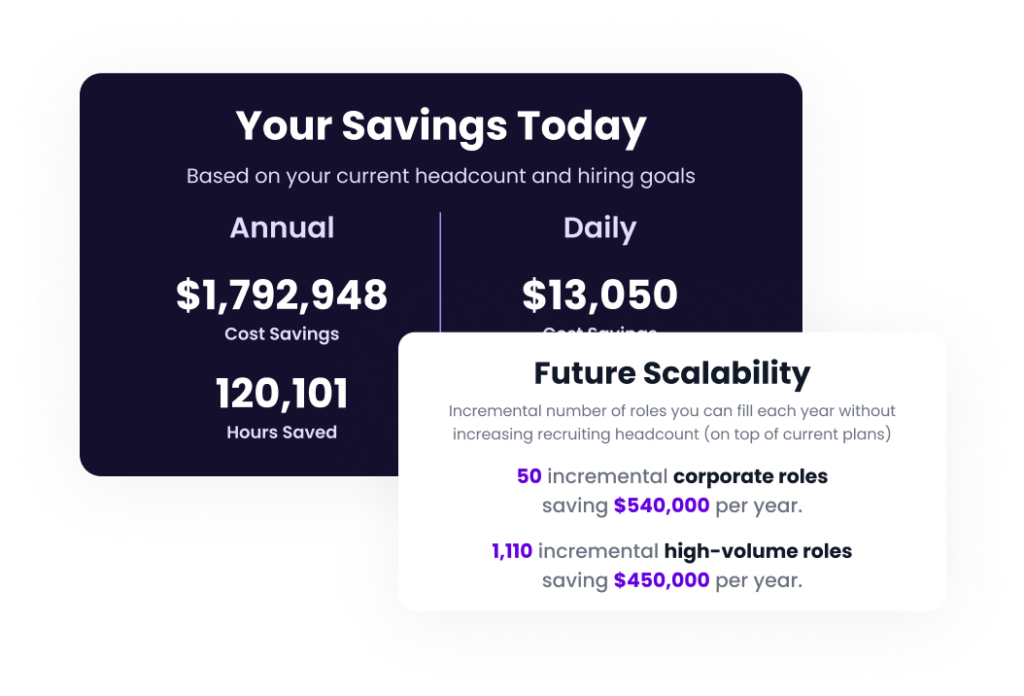 Effortlessly Schedule Your Next Remote Interview
As the norms of scheduling interviews evolve, your recruiting tech stack must evolve with them. Recruiting teams now face a new remote recruiting reality, with new interview scheduling challenges requiring new tech.
You need a tool with scheduling flexibility that can coordinate complex panels of interviews fast enough to keep candidates engaged. And as the cherry on top, you must provide a holistically compelling hiring experience.
No existing tools can provide this—until now. GoodTime Hire delivers the flexibility that's missing from your HR tech stack. Recruiting teams can schedule interviews over one or multiple days; they have complete control over meeting event times, dates, breaks, attendees, and priority.
Learn more about how interview scheduling software can revolutionize the way that you coordinate interviews.