Imagine you're putting together a jigsaw puzzle. You feel pretty confident in your abilities to build the perfect puzzle; after all, you have the finest puzzle pieces on the market. But once you get down to business, you find that the pieces don't align.
HR leadership is like a jigsaw puzzle. While your leaders may be amazing individual contributors, your company is headed for trouble if they're not in sync on the most critical matters. Misalignment among HR leaders means bad news for your hiring goals.
Our 2022 Hiring Insights Report surveyed 560 HR leaders across seniority levels to understand their perceptions on the most pressing challenges facing their teams, and how to succeed in a candidate's market. The data shows that C-suite executives and directors disagree on multiple grounds, from the status of the hiring landscape to the conditions of their own recruitment operations.
Different Outlooks on the Hiring Landscape
Interested in learning how HR leaders perceive the state of the hiring landscape? We got you covered— but don't expect a straightforward answer. The perceptions of C-suite executives and directors greatly differ.
When asked how they would say that the hiring landscape has changed in the past 12 months, the majority of C-suite executives (45%) said that the hiring landscape has become less competitive due to an increase in available talent. Meanwhile, the majority of directors (50%) said that it has become more competitive due to an increased demand for talent.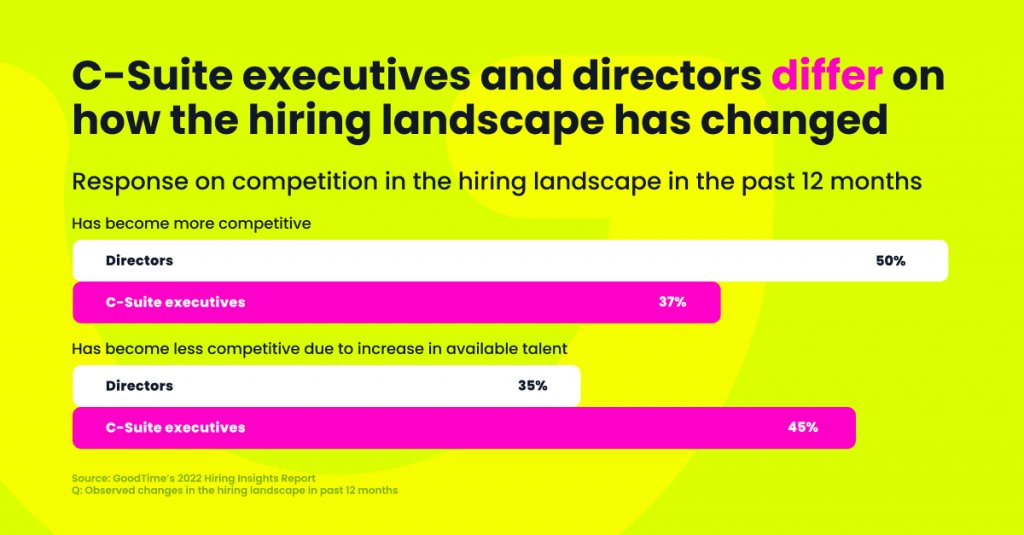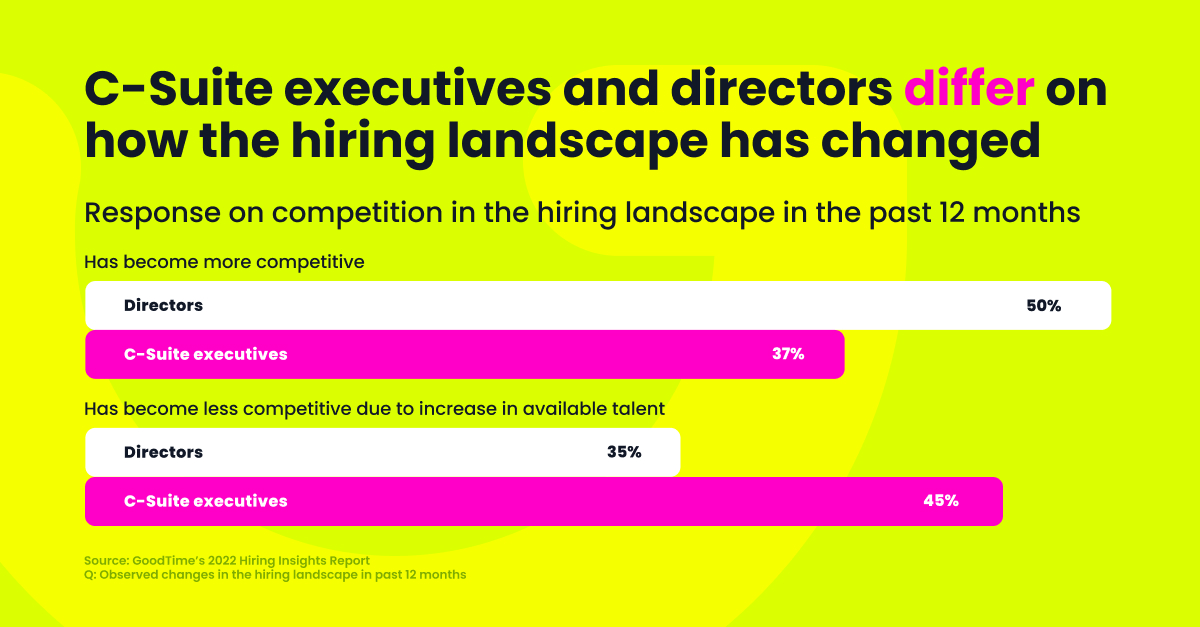 This pattern held true when asked how they believe the hiring landscape will change in the coming 12 months, with most directors believing that the landscape will remain more competitive, and most C-level executives believing it will still be less competitive in the future.
If you browse through recent headlines and analyst reports, you'll see that they align with the opinions of directors—those who are more entrenched in the day-to-day recruiting. It seems like almost everyone's in the know on the ruthlessness of the hiring landscape…except for CHROs. In short, employees who have a closer connection to daily recruitment operations have a different perception of business functioning.
Disconnect on the Status of Their Hiring Process
Directors' closer proximity to the hiring process also impacts their understanding of their own process and operations. When asked how their acceptance rate has changed over the past few months, C-suite executives rated it more favorably than directors. 74% of CHROs said their acceptance rate has increased. In contrast, 49% of directors—25 percentage points lower—said the same.
Our survey also evaluated their general attitudes on their recruiting process. The majority of C-level executives (53%) rated their overall process as excellent, while the majority of directors (58%) rated their process as good.
C-suite executives remained more optimistic than directors when asked about the efficiency of their talent acquisition process. Sixty-seven percent of C-suite executives rated their process as very efficient, compared to 41% of directors. 
Does interview scheduling automation make sense for my team?
ROI is key. This is not a time to invest in software that won't bring you immediate value. So let's eliminate the guesswork with our free ROI calculator.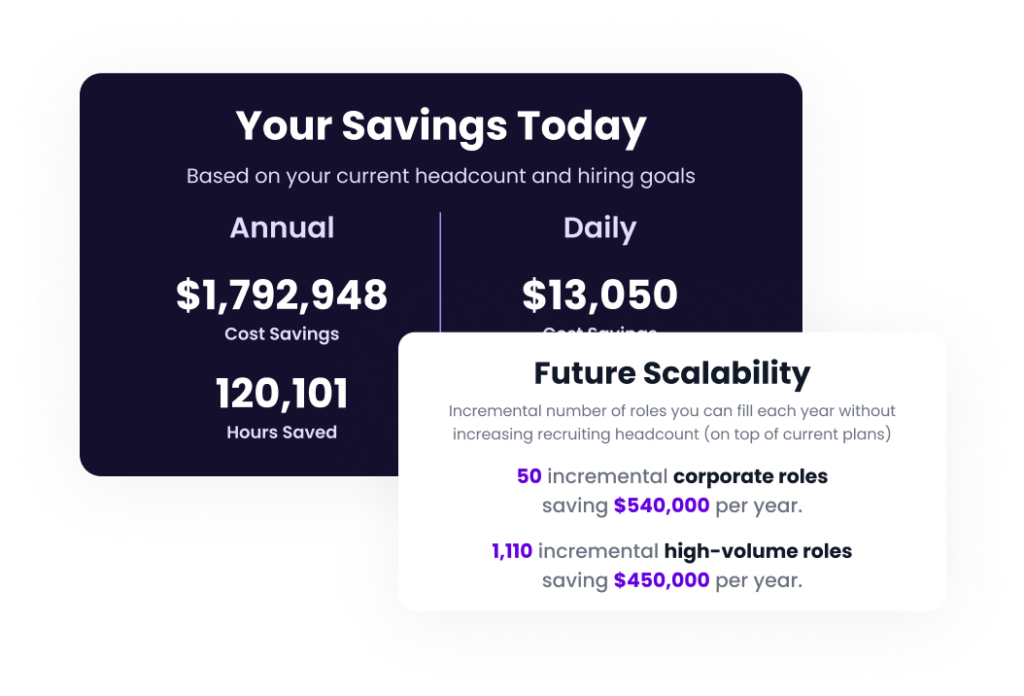 Don't See Eye-to-Eye on DEIB
Diverse teams reign supreme. It's a known fact that diverse employees boost revenue and innovation. However, the C-level executives and directors from our survey differ on their prioritization of DEIB.
When identifying which areas of their hiring process they looked to improve in the past 12 months, and which areas they plan on improving in the future, "making DE&I a measurable priority" was the second most popular answer both times for C-suite executives.
CHROs are highly focused on DEIB, while directors aren't. DEIB was the least popular answer for directors, both for the past and for the future (24% and 29%). Instead, directors are reportedly hyper-focused on boosting efficiency.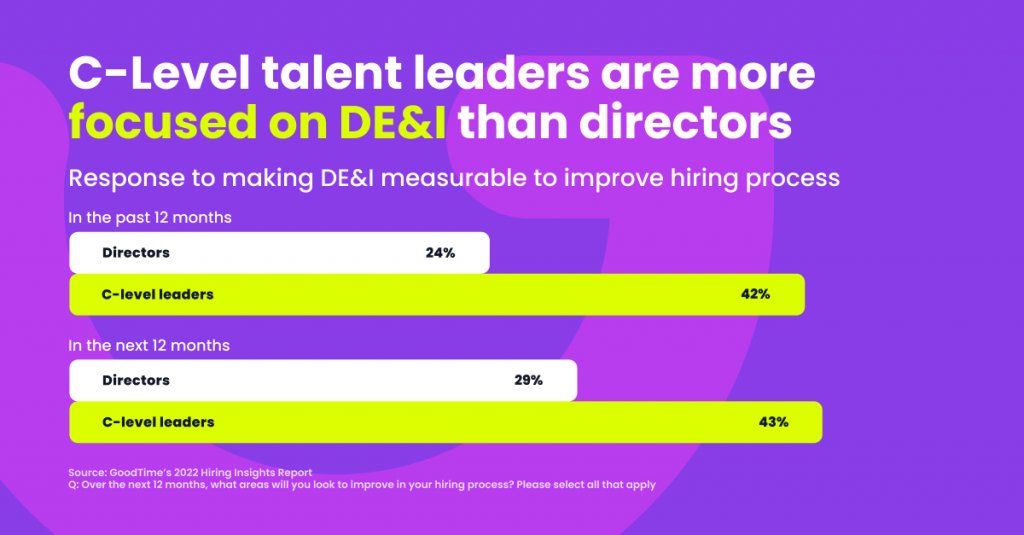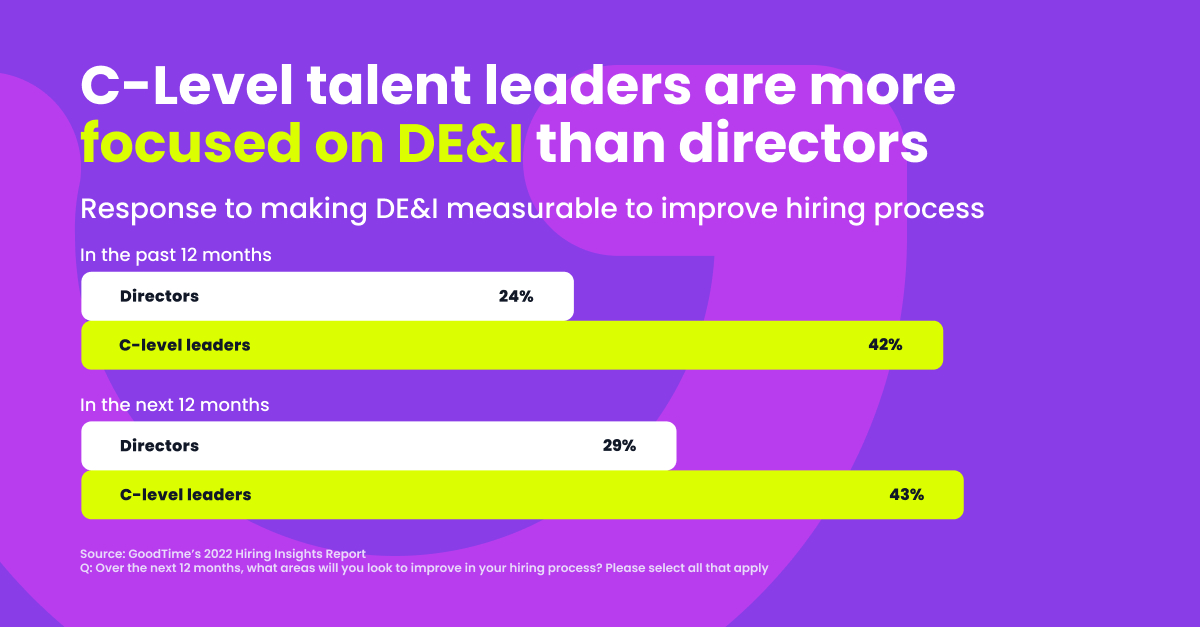 Now, don't be fooled: this doesn't mean that directors believe that improving DEIB is a waste of time. Since directors typically have a closer relationship to the hiring process than C-level executives, they understand how much time and resources it takes to properly prioritize DEIB. Directors know that creating successful DEIB initiatives is a lot easier said than done.
Want the Latest Insights? Read the 2023 Hiring Insights Report
Reaching alignment among the HR leaders at a company doesn't just happen magically. It takes work—but it's worth it. Trust us. Especially in today's ever-evolving, intense hiring landscape, leaders need to become a unified force in order to conquer each challenge that comes their way.
Want to catch up on the latest hiring trends? Get excited: our 2023 Hiring Insights Report is now available. 500+ HR leaders, 1,000s of real findings, 1 industry-leading report. Read the report today.