For many job seekers, tech is where they want to be. Tech industry jobs commonly promise good pay, a decent work-life balance, and attractive career progression. Yet despite this allure, the majority of hiring teams in tech haven't been doing too hot.
In fact, the tech companies surveyed in our 2022 Hiring Insights Report hit just 46% of their hiring goals in 2021.
Why has tech taken a tumble? Is the industry losing its sparkle? Or are hiring teams tripping up?
We dug deeper into our report's data and found the answers.
Dropping the Ball on Candidate Relationships
Today's candidates expect to feel a mutual bond with your hiring team and your company. If they don't feel a connection, then they won't join. Neglecting to prioritize your relationships with candidates means bad news for your hiring goal attainment. In this sense, it's no wonder that hiring teams in tech missed the mark on their goals.
To start on a positive note, 47% of tech companies agree that in the past 12 months, meaningfully connecting with candidates has become crucial. Likewise, 45% agree that this will remain a priority in the coming months.
But here's the catch: only 34% of respondents looked to build better candidate relationships in the past 12 months, and just 35% plan on improving these relationships in the coming months.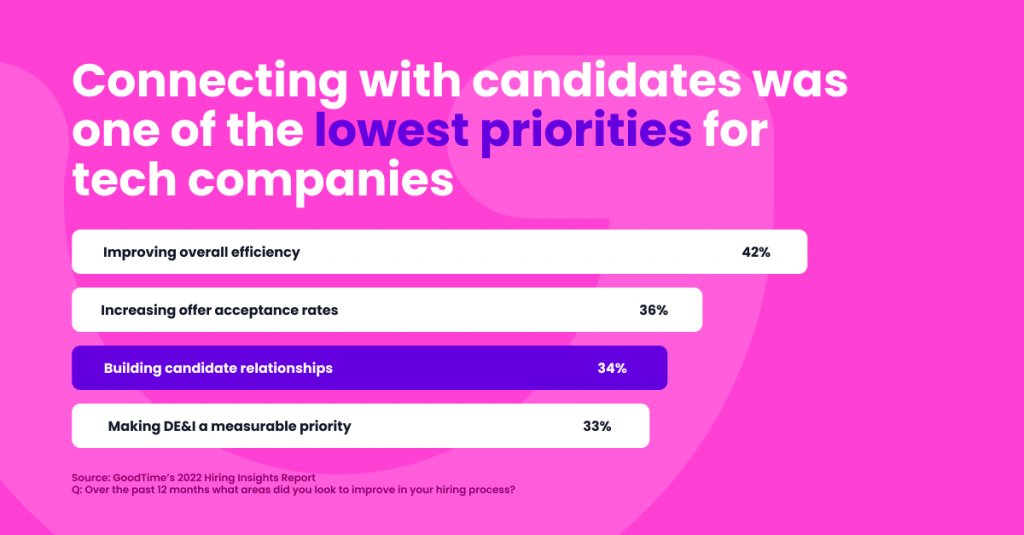 When it comes to connecting with candidates, tech companies have great intentions but struggle with the execution. And yet, it's not just tech companies that are struggling; this problem remained evident across all companies that we surveyed. The importance of candidate relationships is increasingly widely known. Now, it's time to take action.
Lack of Focus on DEIB
It's no secret that tech hasn't always been the most welcoming industry for underrepresented groups. Female, Black, and Hispanic workers have historically made up just a small fraction of the tech workforce. But with the increased buzz surrounding DEIB in hiring over the last couple of years, one would think that tech would've made great strides…right? Our data isn't hopeful.
When asked which aspects of their hiring process they looked to improve over the past 12 months, making DEIB a measurable priority was the lowest response (33%). The next 12 months don't look promising: prioritizing DEIB was the second lowest response at 34%.
Yet at the same time, tech companies say that the diversity of candidates is the second most important metric to measure in the hiring process. Is it just us, or is something not adding up?
To make matters worse, when asked, "Which of the following do you communicate to candidates during the hiring process to attract top talent?" only 32% of tech companies said that they convey a commitment to DEIB.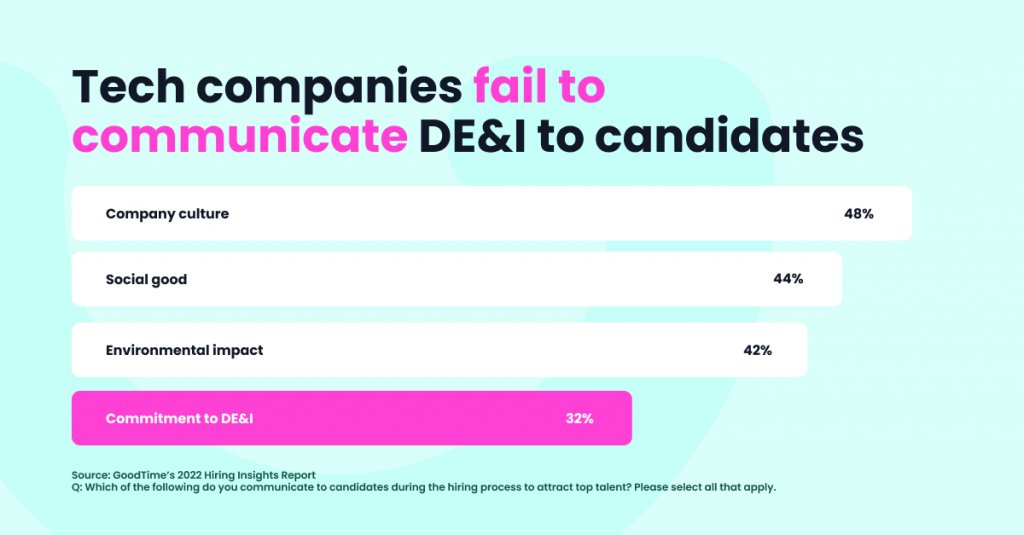 Today's Distance Economy opens the talent pool to a wide range of diverse candidates. Those candidates don't just want to see an emphasis on DEIB in the hiring process—they expect it. And if tech companies don't deliver? Candidates will run the opposite way, and hiring goal attainment will falter.
Hiring Efficiency Needs Improvements
In today's competitive job market, efficiency is everything and hiring fast is essential. While a streamlined interview process is sure to wow candidates, a clunky experience can prompt them to turn down an otherwise desirable offer.
The more efficient your hiring process is, the shorter your time-to-hire will be. Unfortunately for tech companies, 58% said that their time-to-hire increased over the past 12 months. On top of that, 52% of tech respondents rated their talent acquisition process as just "somewhat efficient."
Meanwhile, HR leadership at tech companies possess skewed perceptions on efficiency. Sixty-five percent of C-suite execs said their hiring process is very efficient, and just 33% of directors said the same. Directors have closer connections to daily recruitment operations than the C-suite, so it's no wonder that their views reflect the reality of tech's increasing time-to-hire.
None of this bodes well for tech companies' hiring goals. The best candidates disappear from the market in just 10 days. If you don't hire swiftly and efficiently, you can bid top talent good-bye.
Does interview scheduling automation make sense for my team?
ROI is key. This is not a time to invest in software that won't bring you immediate value. So let's eliminate the guesswork with our free ROI calculator.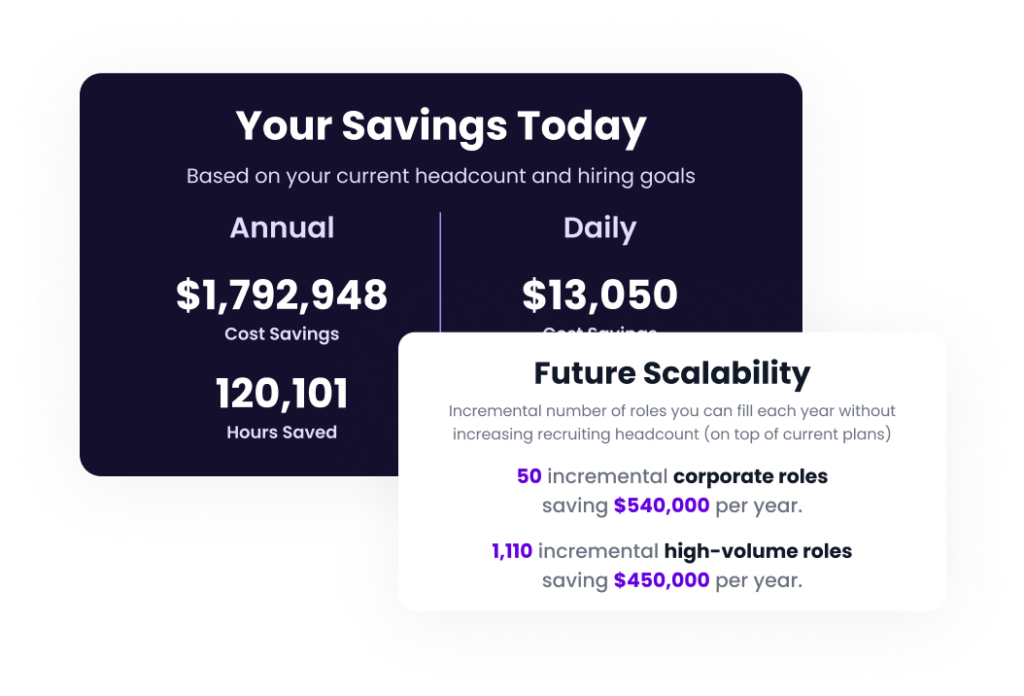 Interested in Tech Hiring Tips from the Experts?
A short supply of recruiter-candidate relationships, sparse DEIB efforts, and inadequate levels of efficiency create a perfect storm for low hiring goal attainment. Needless to say, hiring teams in tech have some work to do if they want to stay ahead of the competition.
Read what high-performing tech TA leaders recommend doing today to address tech hiring challenges.