Get excited: our team is always hard at work in making GoodTime the best it can be, and we're here to share the latest product updates from May 2023. Expect some exciting GoodTime Hire automation features, enhancements to Flexible Scheduling, and new GoodTime Meet company admin controls. Buckle up, let's review!
Watch the Full Product Updates Walkthrough
Want the entire scoop on our latest and greatest product updates? Check out May's product update webinar below. Keep scrolling to read the biggest highlights.
GoodTime Hire Updates
We've amped up the logic behind GoodTime's algorithm, introduced additional features to help large enterprises hire with greater efficiency, and more.
More Time Slots
The processing power and logic of GoodTime's algorithm got a major boost. Now, GoodTime's Flexible Scheduling produces more time slot options than ever before. That means more flexibility, faster interview scheduling, and reduced time-to-hire.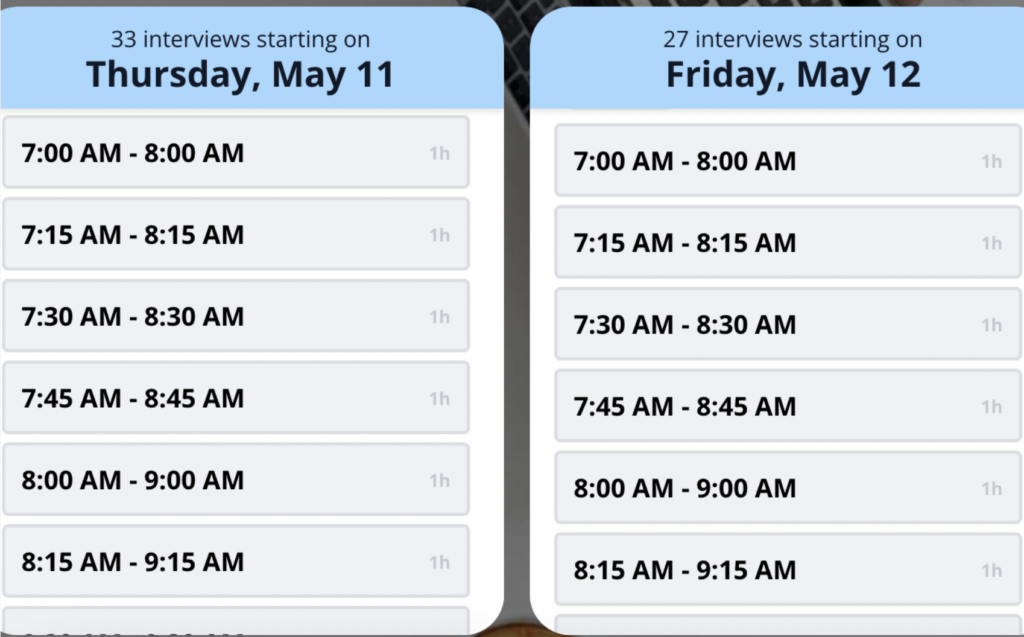 Optimization for Large Tags
We've now revamped the way tags operate. Interviewers who are low on interviews and closer in time zone get prioritized until enough times are found. Candidates now get time slots that are most suitable for their time zone and all interviewers get a chance to contribute.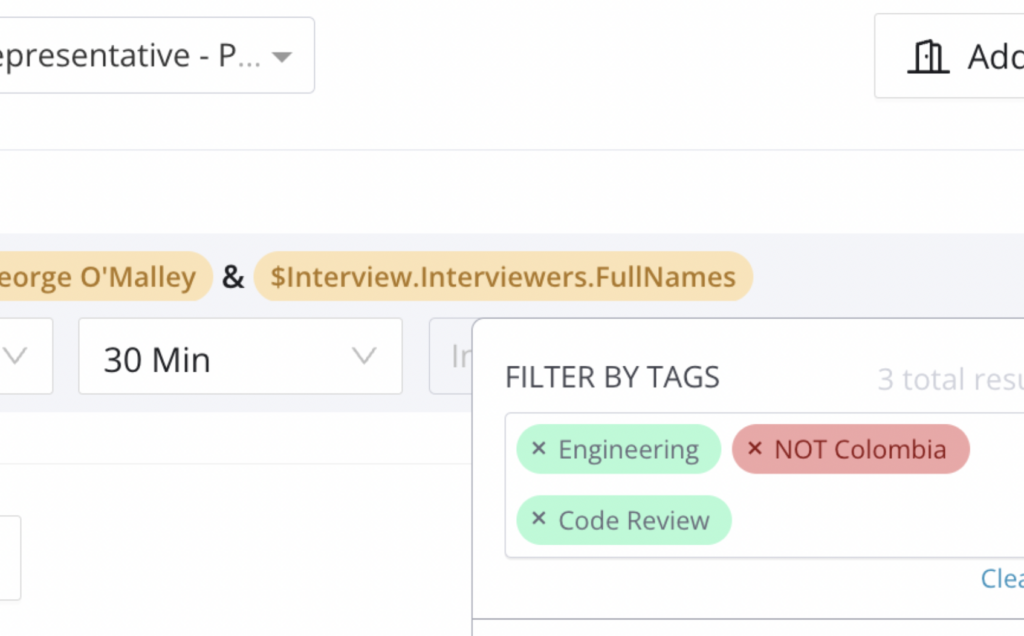 Multiple Calendar Tenants Support
Large enterprises often have a number of subsidiaries or business units that are on separate domains and calendar services. Talent teams can now serve multiple subsidiaries within the corporation, as GoodTime supports calendar visibility across various calendar tenants.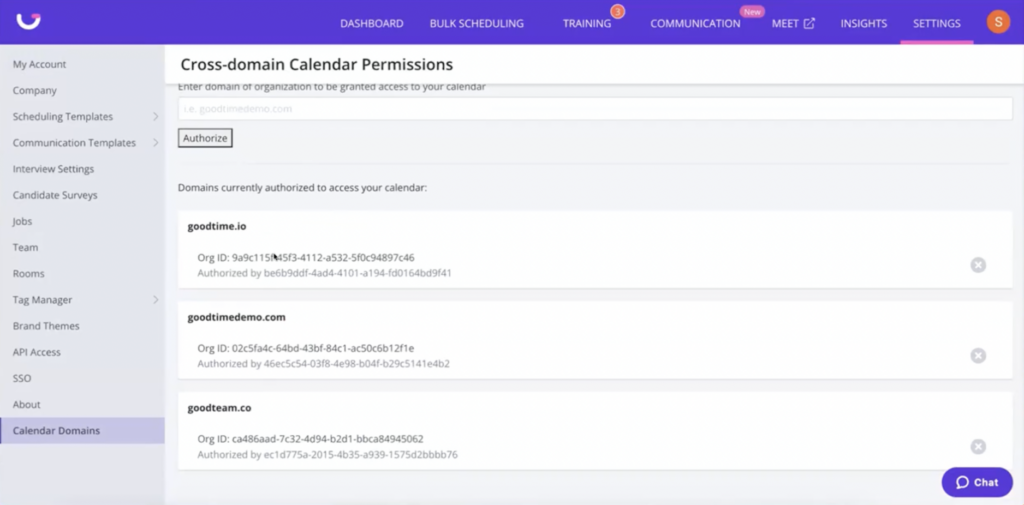 Other Notable Updates
Auto Load Time Slots: Days and times now automatically open as the candidate uses their Request Availability link
Time Zone Mandatory for Onsite Interviews: When you make an interview or template "onsite" it is now mandatory to set a time zone. This prevents the suggestion of inappropriate times.
More Accurate Assignment of Candidate Time Zone: GoodTime now reassesses the time zone of each candidate every time they open the Request Availability link. This keeps details more up-to-date than ever for accurate scheduling.
GoodTime Hire for High Volume Updates
We've introduced a new automation feature, implemented additional support for emailing in bulk, and more.
Workflow Automation
Automate as little or as much of your recruiting process with Hire for High Volume's newest feature, Workflow Automation. You can automate tasks such as sending an interview request as soon as a candidate enters a stage.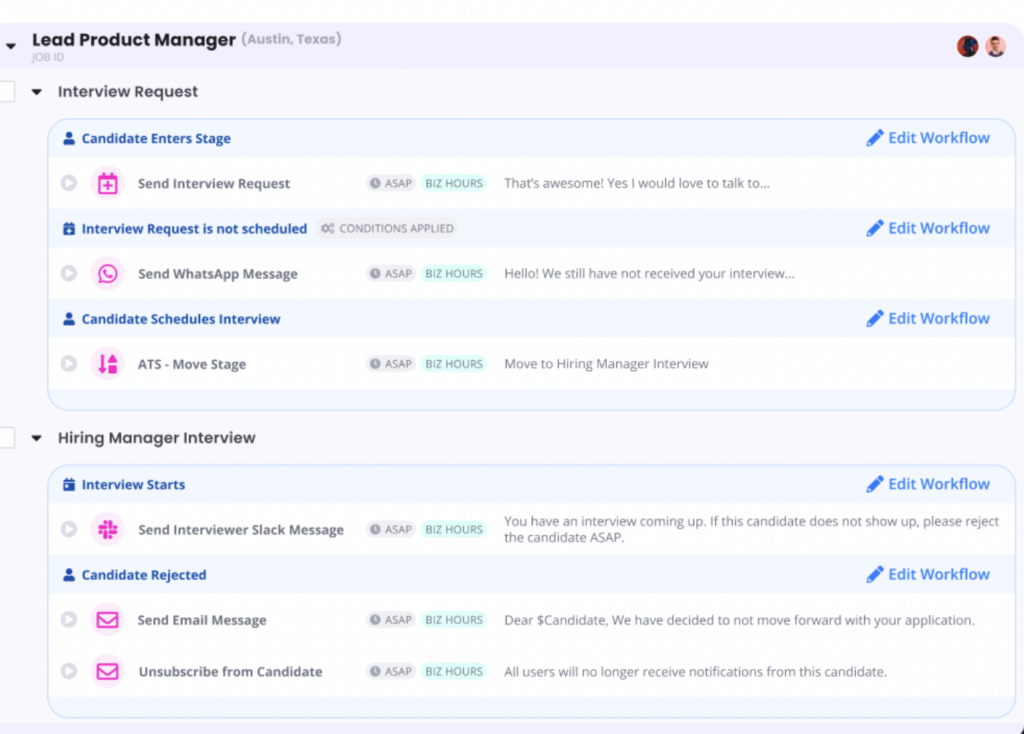 Trigger Actions in Business Hours
Workflow Automation also allows you to trigger actions to only occur during business hours. For instance, set communication with your candidates to only occur during Monday-Friday, 9 a.m.-5 p.m.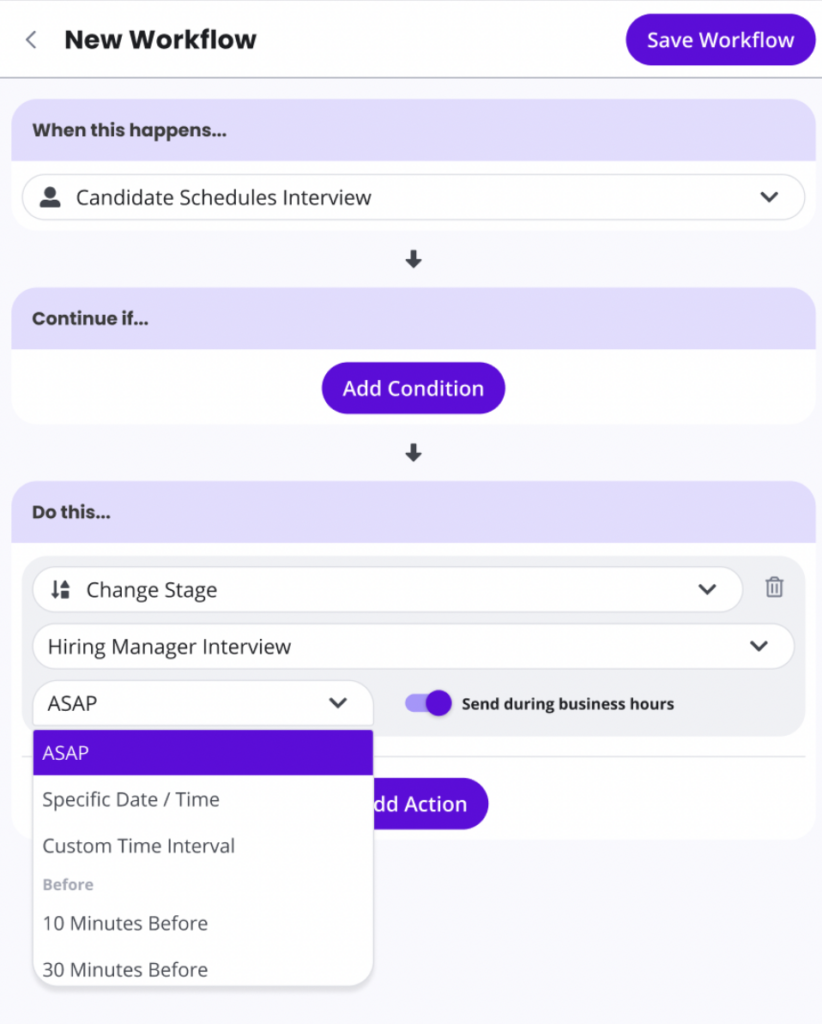 Bulk Email Support and Chrome Extension
Quickly send 1:1 emails to candidates via the Chrome extension or dozens of emails to dozens of candidates at once through our new Bulk Email feature.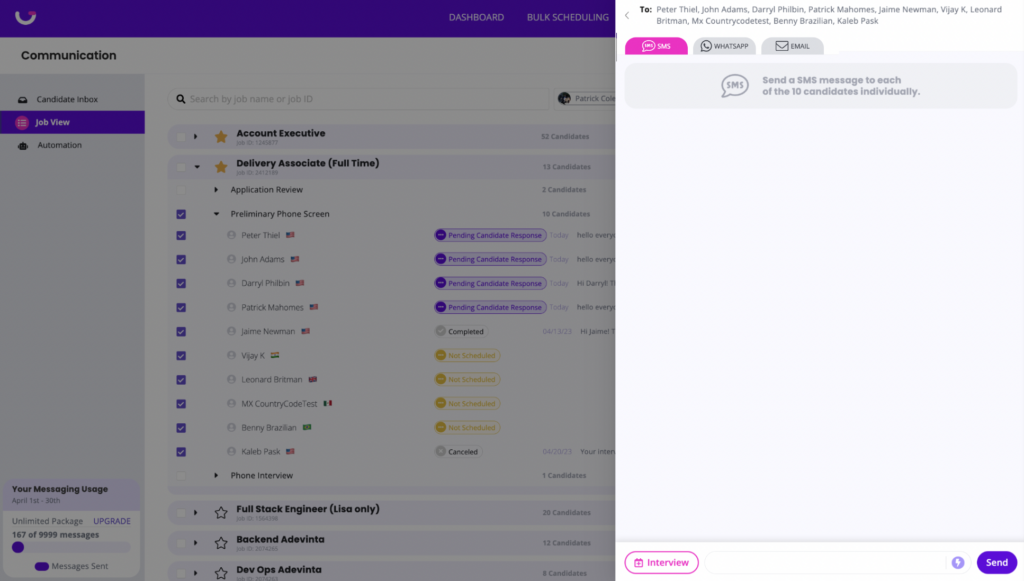 Other Notable Updates
Updating Phone Numbers Before Workflow Automation: We'll ensure candidates receive your messages by updating their phone numbers
Multiple Reminders Delivered: Candidates receive reminders 24 hours before an interview and one hour before an interview
Display Icons for No Phone Number/Invalid Phone Number: See in the Job View page when a candidate has no phone number versus an invalid phone number
GoodTime Meet Updates
Company admins, feast your eyes on some new updates just for you. Plus: enjoy a new interface for taking a quick peek at your calendar.
Company Agenda Templates
Company admins can create agenda templates to share with the entire company. Maintain consistency and save your team's time.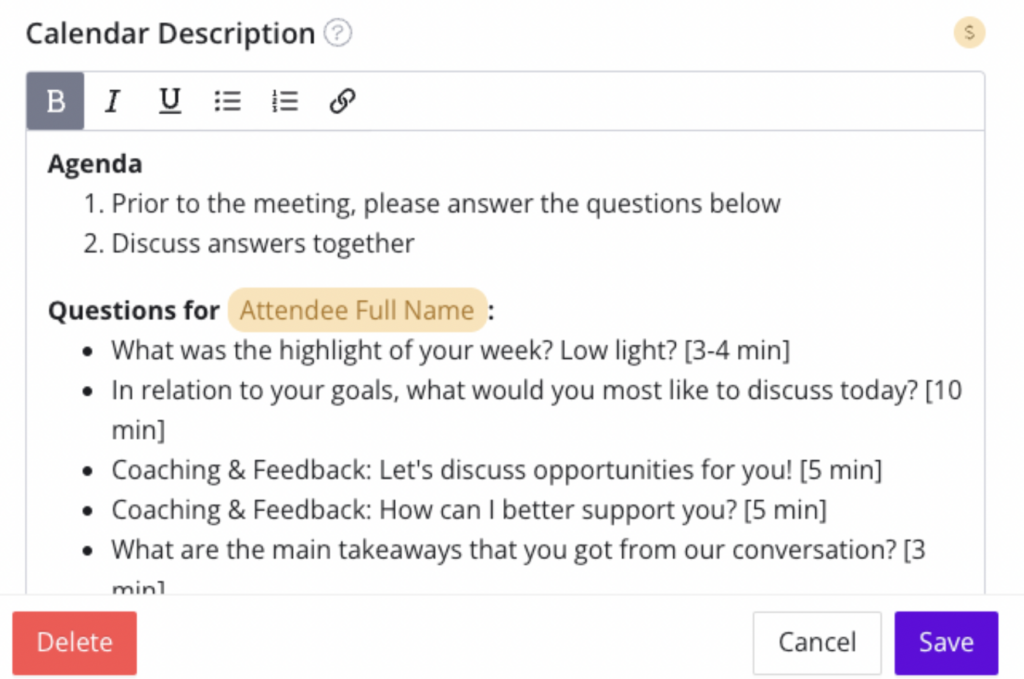 Company Branding
Company admins can set branding default images and colors used by the entire company. Ensure all employees use the same branding when sharing Meet scheduling links.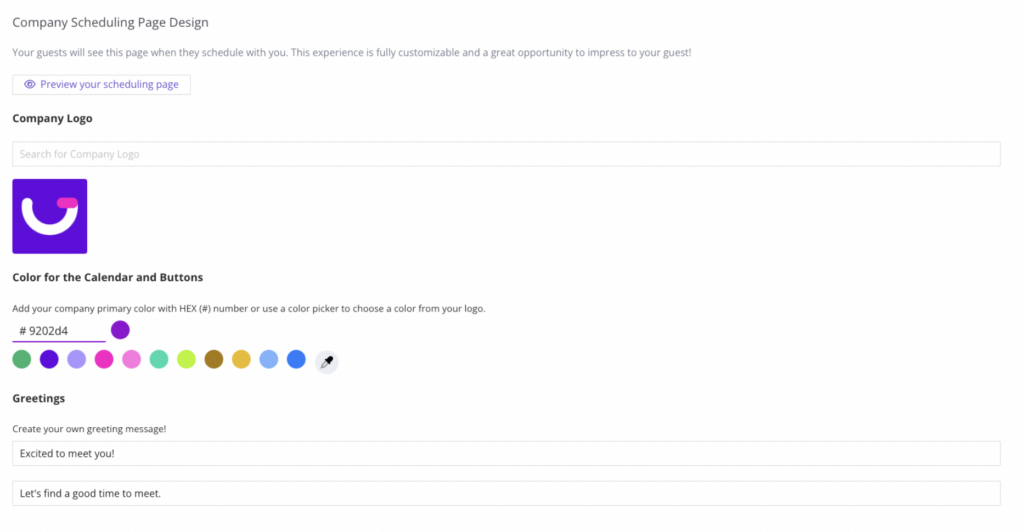 Calendar Quick View
View the most important details on your calendar events in a fresh new interface. Join meetings in a single click, quickly update RSVPs, reschedule meetings, and get back into action without wasting time.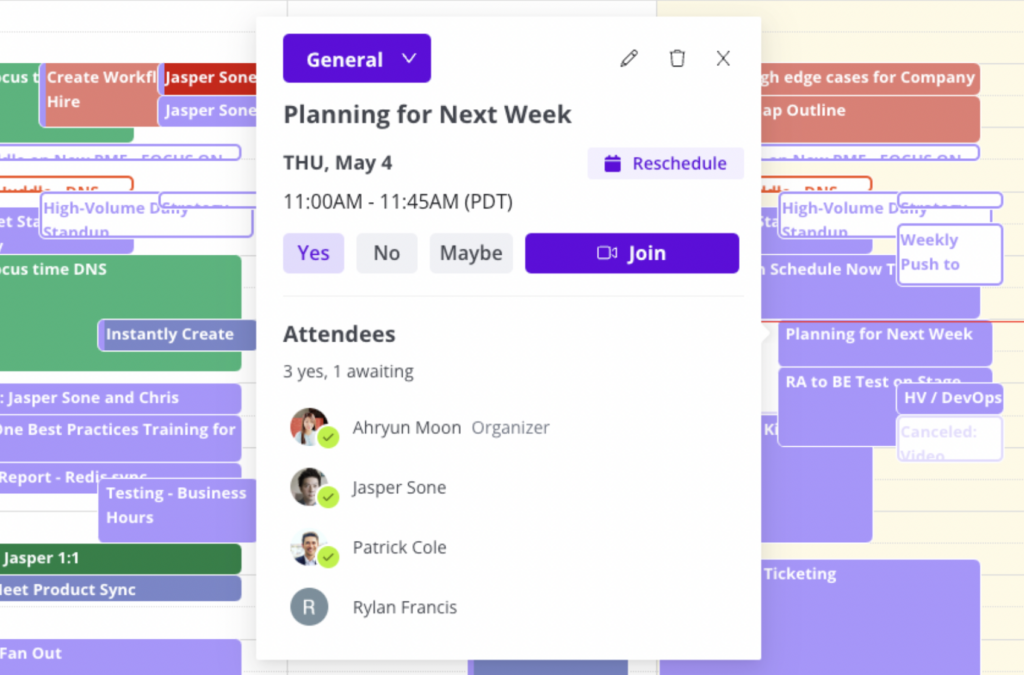 Other Notable Updates
Meet Calendar Performance Updates: We've made several performance updates to decrease loading times for calendar pages
Meet Calendar Event Edit Updates: Add more capabilities to the calendar event edit page such as adding rooms, rescheduling, marking events as public/private, changing the calendar written to, and much more.
Not Part of the GoodTime Family Yet?
It's time to change that. With GoodTime, you can get better outcomes from your company's most important meetings. For interviews, GoodTime Hire helps you schedule 40% faster, hire 50% more efficiently, and 5x team productivity. (Seriously.) For every other meeting, GoodTime Meet provides beautifully-branded scheduling links to schedule internal and external meetings faster than ever.
Learn more about how Hire can transform your interview scheduling.
Learn more about how Hire for High Volume can revolutionize your high-volume hiring.
Learn more about how Meet can revamp your meeting scheduling.