The end of 2023 is approaching fast, but our Product team isn't showing any signs of slowing down. We're pushing out plenty of GoodTime updates for you to be thankful for, including:
Lead Time Report – Move fast to secure the strongest talent! The Lead Time Report shows you how close in time interviews are booked and how rescheduling affects the wait.
Training Report – Training Paths are used to maximize your organization's interviewing capacity. With the all-new Training Report, you can track the performance of each path to understand where focus needs to be placed and be better prepared for upcoming demands.
Customized Automations– Customize the default automations to meet the needs of your organization!
Event & Interview Day  Scheduling – Our dashboard has gotten an overhaul along with more functionality to support more types of events.
Internal Candidate Scheduling – Visually see when you are communicating and scheduling with internal applicants.
Plus a whole lot more. Watch our full video walkthrough of this month's new features below, or keep scrolling for a quick look at the highlights.
Watch the November 2023 GoodTime product updates webinar
Lead Time Report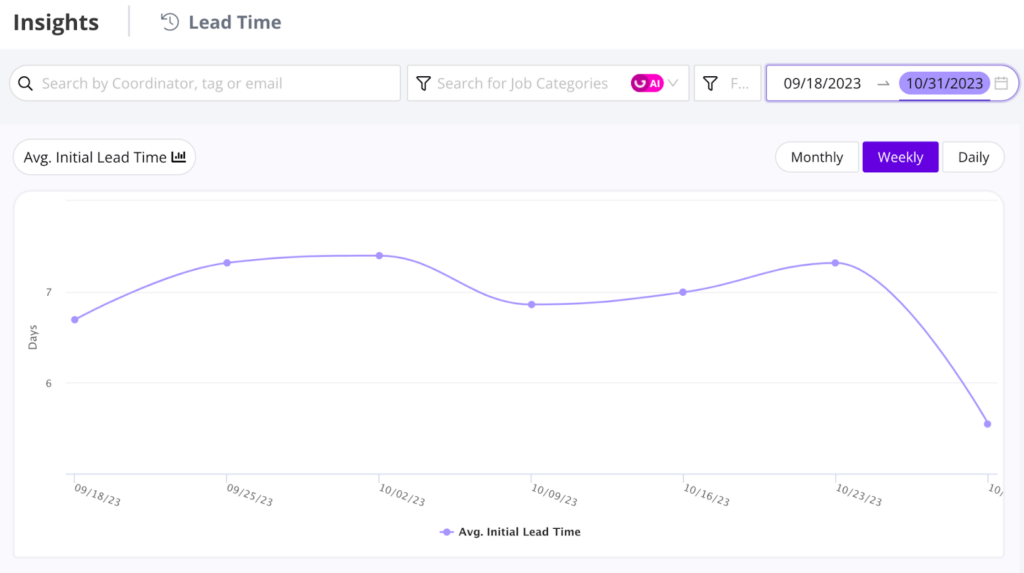 The GoodTime Lead Time Report helps you track how far into the future your confirmed interviews are scheduled.
Why this is awesome: The number 1 way to lock down top talent is to schedule fast. Monitor the lead time by job type, coordinators, and specific roles to identify areas where improvement is needed.
Training Report
The Training Report is finally here – a one-stop shop to track enrollments, graduations, path volume, and average time to graduate!
Why this is awesome:  If you want to plan accurately for hiring the right people, it all starts with training the right interviewers. The Training Report ensures that you monitor the progress and react properly in order to meet your hiring goals.
Enrollment and Graduation emails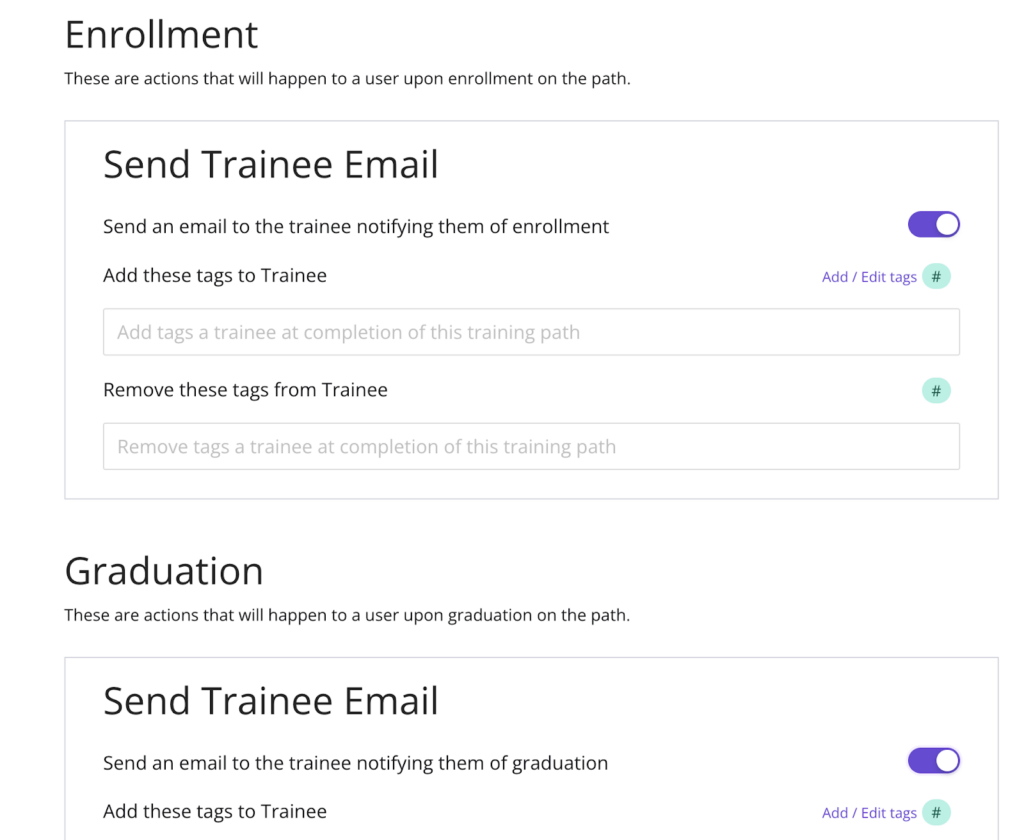 We are all about automating your work for you! Now you can let GoodTime automatically notify your trainees when they are enrolled in your program, and when they graduate!
Why this is awesome: With automated tagging & untagging, enrollment emails, graduation emails, and auto-enrollment into the next path! All it takes is that first enroll and your company is on its way to fully autonomous & perpetual training. In other words, endless opportunity!
Event & Superday scheduling
The Interview Day dashboard has gotten an overhaul along with more functionality to support more types of events!
Why this is awesome: Dashboards are now personalized to individual users running events. We also now support multiple interview blocks for presentation interviews and removing interviewer groups from blocks.
Internal candidate scheduling
See inside the scheduling workflow when you are communicating and scheduling with an internal applicant.
Why this is awesome:  Tailor your communication and scheduling based on whether a candidate is a current employee or an external applicant.
Customized automation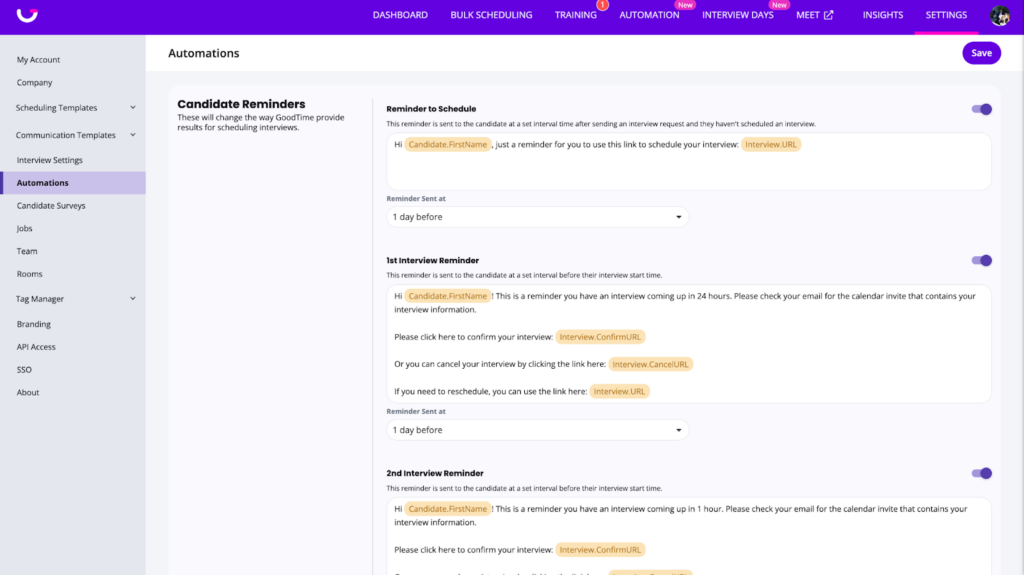 You can now customize the default automations to meet the needs of your organization!
Why this is awesome: Adjust the content, timing, and if a certain automation is disabled/enabled to cater to the unique needs of your workflows.
Even more updates!
For Hire:
Automatic fallback to current user as coordinator if none is specified
If no coordinator is specified in your ATS and you start scheduling an interview, GoodTime will auto-select you as the coordinator to save time.
New variable: $interview.interviewlength
With this new variable, you can insert the total length of a multi-panel interview into your communications.
Revamped Replace Trainee sidebar
The sidebar for switching trainees has been completely revamped and now shows important information such as which tag the interviewer came from, load limit status, and better functioning conflict control.
For Hire for High Volume:
Text forwarding to email
When candidates send SMS or WhatsApp messages, users receive emails notifying a candidate has sent a message. We've also made our messenger mobile-friendly so you can reply to messages right from your phone. This setting can be disabled if you do not want to be notified via email.
Workday Chrome Extension
Workday ATS users can now use our GoodTime Chrome Extension to open candidates up directly inside of the ATS. Workday users can also now message candidates and schedule interviews without having to leave the ATS
Are you making the most of GoodTime's latest features?
We want to help you evolve and take full advantage of the latest upgrades and improvements to our platform. Check out the GoodTime support center for tutorials and tips to help you stress less and get more done!