We did it again. GoodTime just got smarter, better, faster, and stronger — so you can do the same. This month, we've crossed more features off your wish list and made them a reality, including:
Cancellation & Reschedule Reasons Report – Last month, we introduced the ability to record the reason for the rescheduling and canceling of interviews. Now, you can access the results in a super simple, but powerful report.
Pulse Benchmarking – The brand new Pulse Report now offers benchmarking! GoodTime is now the only objective way to measure & compare candidate satisfaction against the true industry standard.
Training Revamp – The Training module has been overdue for a refresh, and with the help of trusted customers, we have made a series of powerful improvements.
Event and Interview Day Scheduling – Candidates can now self-schedule for events and Interview Days. Utilize our new request availability workflow to automate scheduling these types of interviews.
Screener Questionnaires – Leverage knock-out questionnaires to pre-screen candidates before scheduling.
Plus, there's more! So let's dive right into it. As always, you can catch our full video walkthrough of this month's new features below, or keep scrolling for a quick look at the highlights.
Watch the October 2023 GoodTime product updates webinar
Cancellation & Reschedule Reasons Report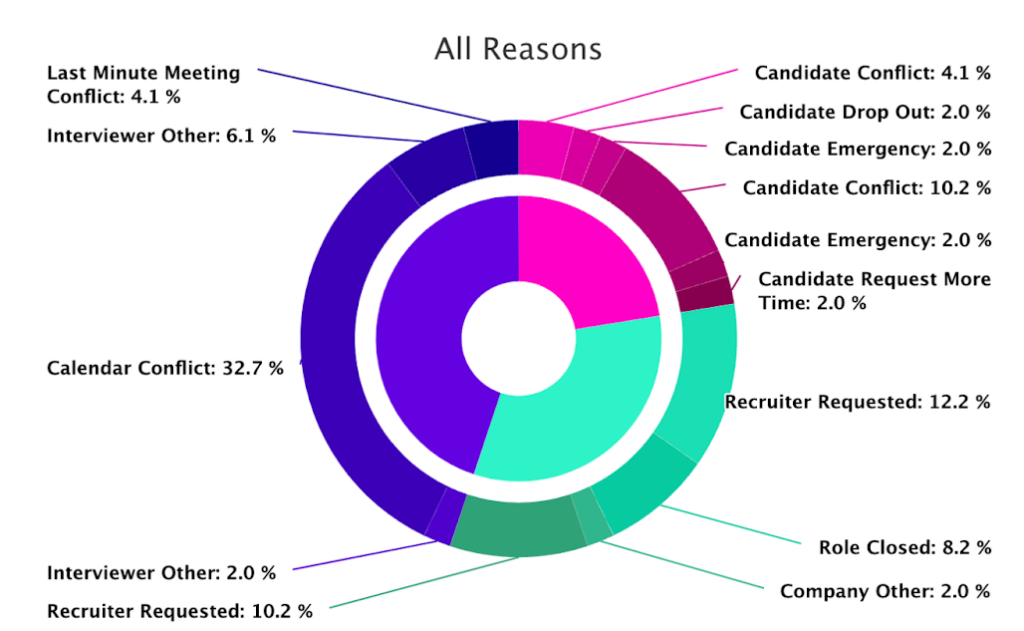 The GoodTime Cancellation & Reschedule Reasons Report shows a precise breakdown of what caused both actions. You can dissect the data by high-level reasons, and detailed reasons. 
Why this is awesome: Anyone can agree that reschedules and schedules are necessary, but not great. Drilling down to what causes them is the first step to improving your process.
Auto-tag trainees upon enrollment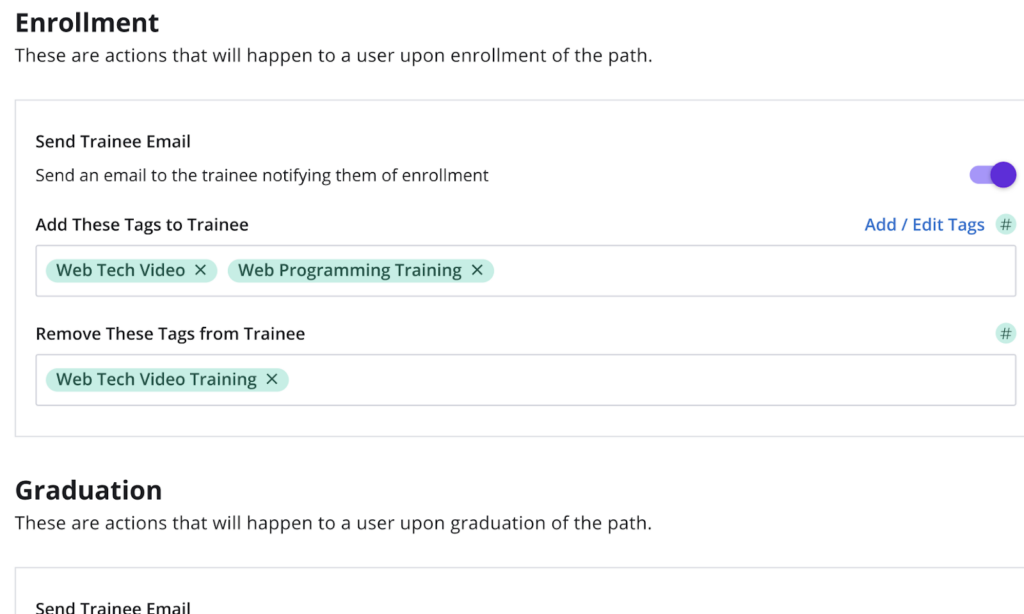 Now you can configure your training paths so that trainees are automatically assigned a tag upon enrollment.
Why this is awesome:  Trainees are best nominated for interviews through the use of tags. Auto-tagging trainees when they enroll eliminates a whole step of the training process by automating it according to your specific needs.
Pulse benchmarking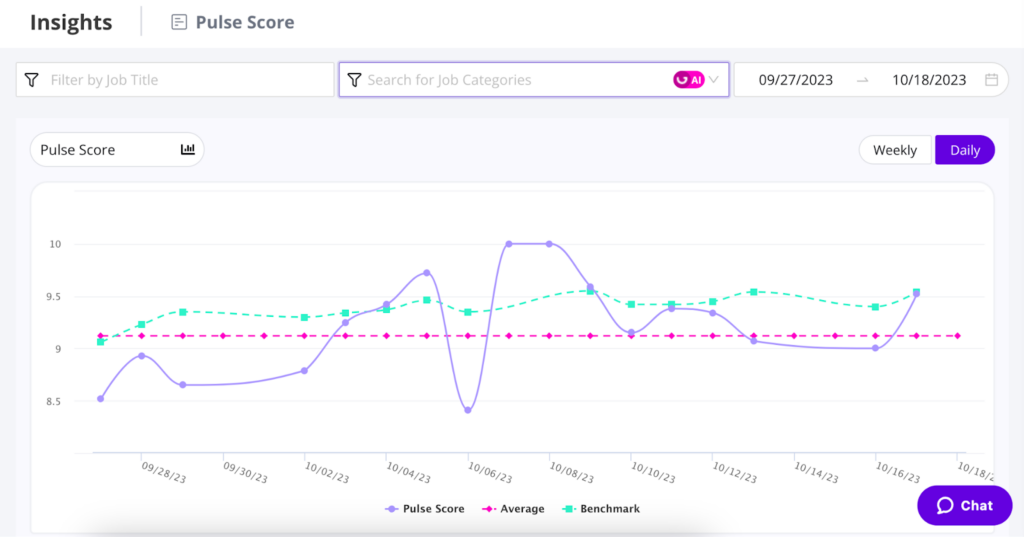 The brand new GoodTime Pulse report now offers benchmarking!
Why this is awesome: The Pulse score is the most objective and standardized way to track candidate experience and helps you improve over time. But only GoodTime benchmarking allows you to measure that improvement objectively against the true industry standard.
Event & Superday scheduling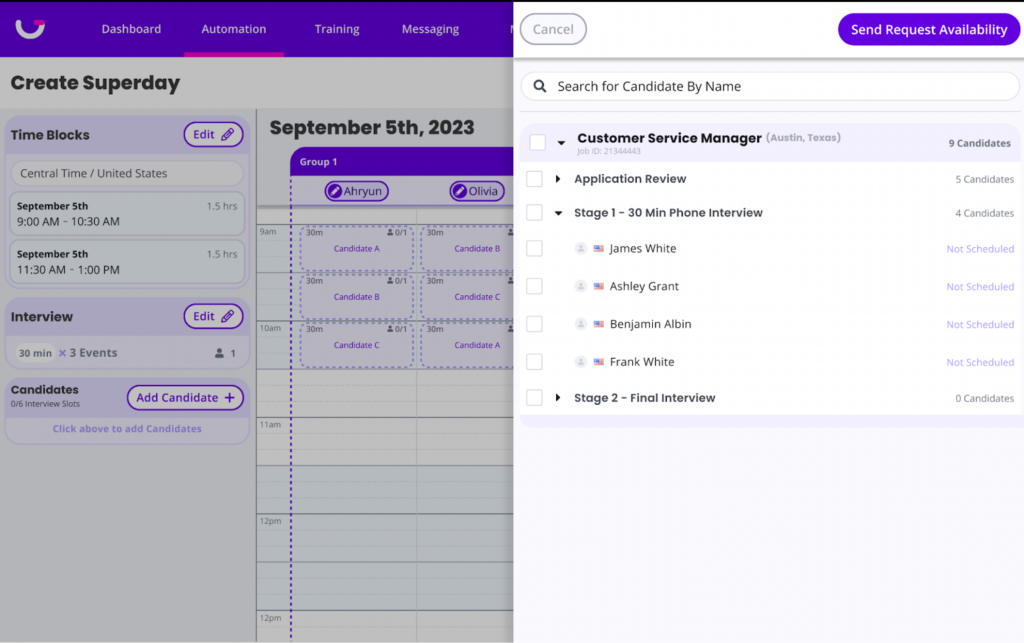 Candidates can now self-schedule for superday and interview day interviews using the same Request Availability flow they love and know!
Why this is awesome: Even more automation is brought to our Interview Day scheduling flow! No more Excel spreadsheets and manual emails to get scheduling done.
Screener questionnaires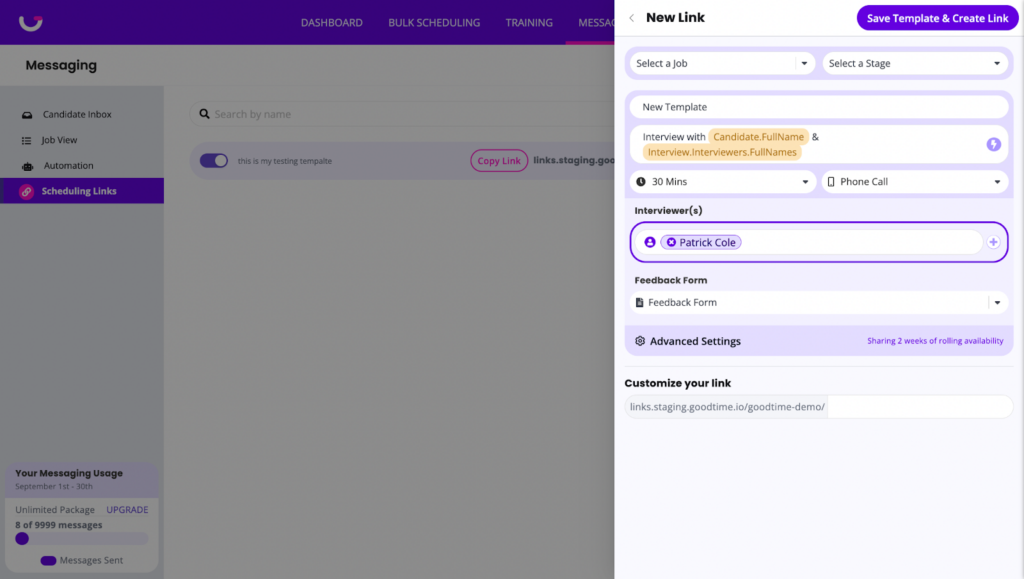 You can now create custom questionnaires that exist in the scheduling flow! Use this to collect important information from candidates and disallow candidates who are not a good fit from scheduling their interviews.
Why this is awesome: Save a ton of time for recruiters, hiring managers, and candidates by pre-screening them before scheduling!
Even more improvements!
For Hire:
Custom labels for Interview Blocks
Now you can label your blocks "GTIB…" or "GoodTime Interview Block.." followed by anything you need.
Improvements to tag-picking logic for Request Availability
– Increased randomization
– Increased pool size
Specific Time for 4 days or more
While multi-day options were historically limited to 3 days or less, now you can configure the most complex interviews over however many days & weeks you need.
Training Path names
Now you can easily see the training path names for alternates when pulling out the "change trainee sidebar".
For Hire for High Volume:
Multiple candidate creation
We now support multiple candidates with the same phone number and email address. This supports creation and messaging to these candidates instead of a popup alerting you a candidate already exists
Interview day enhancements
You can now update interviewers after an interview has been scheduled. This will automatically update the interviewer across all interviews.
You can also schedule with empty interviewers and update after scheduling.
Enhancements for Settings & Templates
Leverage variables to place the candidate's resume and interviewer scorecard wherever you want in the calendar invitation ($Candidate.Resume.URL and $FeedbackForm.URL)
Use the new Zoom Meeting ID variable to provide interviewers with the Zoom ID when in meeting rooms ($Interview.Zoom.MeetingId)
Generate the video links inside of the location field with our new setting
Now display OR and AND between pills across the application
Are you making the most of GoodTime's latest features?
We want to help you evolve and take full advantage of the latest upgrades and improvements to our platform. Check out our support center for tutorials and tips to help you stress less and get more done!