Do you have your eye on a fantastic job candidate? If you want to win their heart, consider taking inspiration from the speed dating world. (Yes, you read that right.)
On the surface, speed dating and interview scheduling couldn't seem more different. Yet these two spheres are strikingly alike, and there's a lot that they can teach each other.
Especially amid today's hot talent market, where there are two jobs for every available worker, recruiters should borrow this crucial lesson from speed dating: success comes from moving fast.
The faster a recruiter gets their talent team in front of candidates, the better their chances of landing a great new hire before another company secures them.
The major common denominator in successful speed dating and interview scheduling is speed. How else are recruiters similar to singles looking to mingle—and what can recruiters learn from them?
Learning #1: Prompt Scheduling Creates a Great First Impression
You're gazing across the room, and there they are: someone who might be "the one." You can feel it. You can't wait until they rotate to your table for a quick one-on-one; you simply can't leave without speaking with them.
Time is of the essence when you see that special someone, and the same applies when you're a recruiter sifting through applications. That's why talent teams have no time to waste when they come across a compelling job applicant. Getting an interview on the books as soon as possible is the name of the game.
Acting with a sense of urgency gives a great first impression. It lets the other party know that your interest in them is serious. And when your goal is to create a genuine connection, first impressions are everything.
In fact, a survey found that 48% of candidates are deterred from applying for jobs after poor first impressions. Set the right tone with candidates from the get-go by reaching out for an interview the moment that you realize they'd be a superb new hire.
Learning #2: You're Not Your Candidate's Only Admirer
You're speaking to someone and you're really hitting it off. You get swept up in the moment…but then the bell rings and it's time to switch tables. You watch as they move on to talk to another person, and it looks like they're also hitting it off. Ouch.
There are plenty of fish in the sea, plenty of singles at speed dating events, and plenty of companies in the world (and remote hiring has only increased the number of employers vying for your candidate). In other words, you're probably not the only one that your candidate has their eyes on.
The average number of applications that job seekers send is 13. With candidates interested in such a variety of roles, talent teams need to differentiate themselves if they want to stand out from the competition.
To get a leg up on other companies, go the extra mile for your candidates. When communicating with them, respond to their concerns in a timely manner. But don't forget to come prepared for the interview; you need to know your stuff when they ask questions! Fast interview scheduling isn't impressive if the interview itself is shabby.
Does interview scheduling automation make sense for my team?
ROI is key. This is not a time to invest in software that won't bring you immediate value. So let's eliminate the guesswork with our free ROI calculator.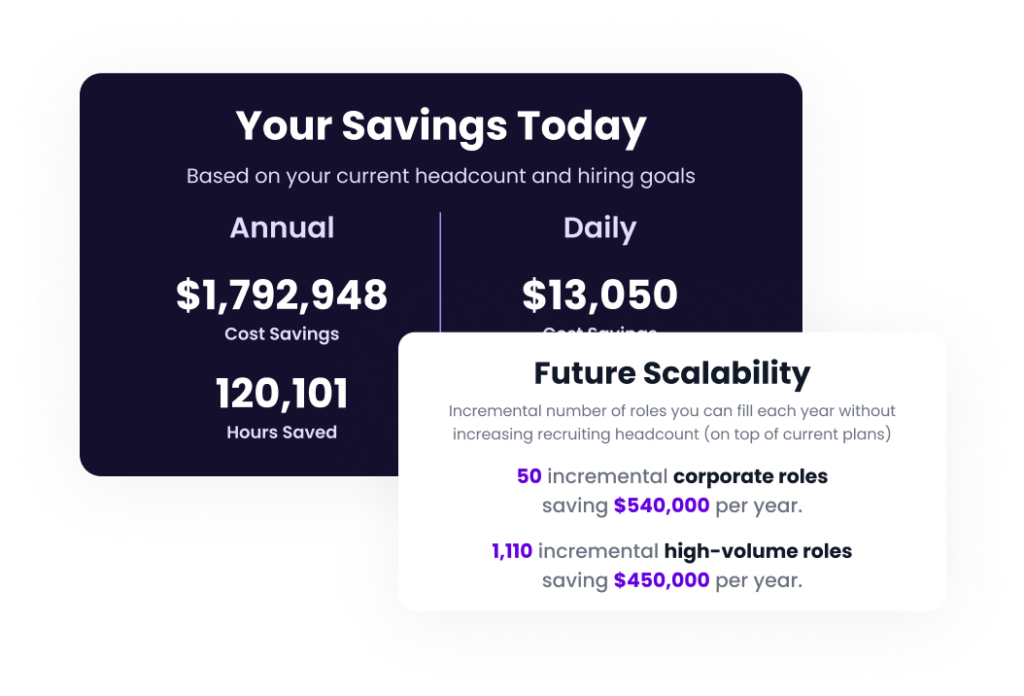 Learning #3: The Post-interview Follow-up Is Crucial
You've conversed with a few interesting people, yet no real stunners. Then suddenly, you meet the perfect match! But tread lightly: your next few actions are just as important as your first encounter with them.
After you interview a star candidate, take a page out of the speed dating world's book and immediately act on the next step: the post-interview follow-up. If you're really interested in a candidate and want to keep them engaged, you have to show it.
And if you don't? They'll flock to the other options that they have on the table. Nearly one-quarter of workers lose interest in an employer if they don't hear back from them within one week after the first interview, and 46% lose interest if they don't receive communication within one-to-two weeks post-interview.
Keep the enthusiasm going by getting the next meeting scheduled as quickly as you can. By minimizing the wait time in between interviews, your company will remain top of mind for candidates, and you'll reduce your candidate drop-off rate. They'll be just as engaged in the second interview as they were in the first.
Woo Your Candidates With Agile Interview Scheduling
In the recruiting world, the pressure to impress and win candidates is at an all-time high. If you don't act fast enough, another employer will sweep them off their feet.
But by scheduling each interview with a healthy dose of speed, you'll spark a connection with talent and make a lasting impression on them before the competition can even get a word in.
GoodTime Hire's new Flexible Scheduling intelligently optimizes interviews across teams, tools, and timezones in seconds, saving time and getting you in front of candidates faster with an incredible experience, no matter the complexity.
Learn more about how Hire's Flexible Scheduling can revolutionize the way you schedule.