Think it's no longer a tight labor market? Think again. While the hiring landscape is constantly in flux, the shallow talent pool has remained consistent. When there's a lack of candidates and an abundance of vacant roles, recruitment teams must think differently about the ways that they hire. Old processes and workflows cannot remain the same.
Here's what recruiters must know to successfully navigate this (still) tight labor market, make the most of their candidate pipeline, and fill their vacancies.
Population Ages and Labor Supply Shrinks
People are aging out of the workforce in droves. In the next decade, the supply of working-age people in the U.S. will decline by 3.2%. The number of people over 65 years old will reach 1.3 billion in the next 20 years.
The aging population coupled with the pandemic's lasting effects on the labor force creates a perfect storm. There are over 3 million fewer Americans in the labor force today than there were in February 2020. Even if every unemployed person in the U.S. found employment, there would still be 4 million open jobs.
Unemployed workers who lost their jobs during the pandemic cite a variety of reasons as to why they haven't returned to work. Some (27%) say that the need to care for their family members has made it difficult to return to the workforce, and others (28%) say that their own declining health stands between them and a new job.
What does all of this mean for talent acquisition professionals? In short, qualifying and hiring enough candidates to fill their vacancies won't get easier anytime soon.
It's a Candidate's Market—and You Must Adapt
With employers chomping at the bit to fill their vacancies, candidates have the upper hand. It's not just a tight labor market—it's a candidate's market, and they have a robust wish list for recruitment teams and future employers.
What Candidates Want From the Hiring Process
Before candidates even consider accepting a job offer, candidates have specific expectations about the interview process. Whether the hiring experience lives up to expectations heavily dictates if talent teams can turn their offer into a "yes":
Respect their time. Candidates want to interview at times that are convenient for them. They appreciate it when recruiting teams ask for their availability first. Scheduling a disruptive all-day interview leaves a bad impression; they'd rather interview in chunks scheduled across a week.
Smooth out your process's kinks. Speed and efficiency win candidates. They won't stick around for a long, drawn-out hiring process. The more that you optimize your operations to deliver the most efficient experience possible, the better. (Hint: automation and standardization can help with that.)
Practice salary transparency. Waiting until the last moment to disclose a role's salary is a risky move. Candidates want to do meaningful work, but they also want to be paid well in the process; they want to discuss dollar signs in early conversations to know if they're wasting their time.
Define what a "great work-life balance" means. Your job description might applaud your company for offering employees a work-life balance, but what does that really mean? Interviewers should come prepared to provide anecdotal evidence on how their company follows through on this promise.
Show diversity through your interview panels. No one likes someone who's all talk and no action. You can't just say that you value DE&I—you have to show it. One way to do this is by ensuring that your interview panels consist of a diverse range of interviewers. This will give candidates a glimpse into the diversity of your company's employees.
Does interview scheduling automation make sense for my team?
ROI is key. This is not a time to invest in software that won't bring you immediate value. So let's eliminate the guesswork with our free ROI calculator.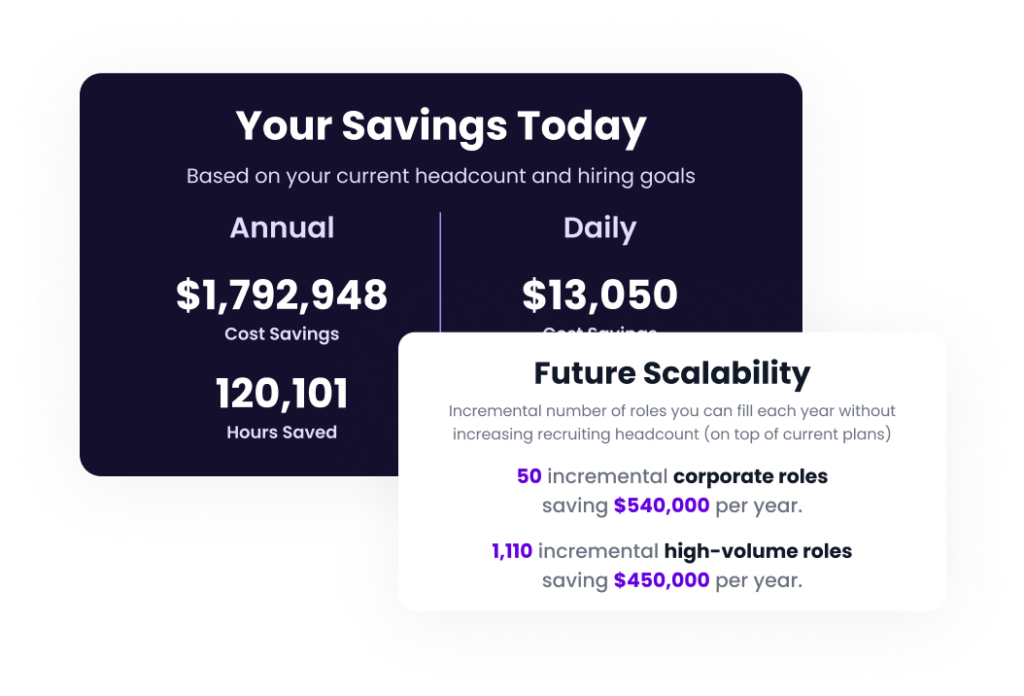 What Candidates Want From Their New Roles
Even after a candidate accepts an offer, talent acquisition professionals aren't in the clear just yet. Acquisition and retention are two sides of the same coin, both equally important.
If talent teams want to not only acquire but retain their new hires, they should get familiar with what candidates value in the workplace. Here's how candidates rank their priorities:
Compensation & benefits
Work-life balance
Remote & flexible work arrangements
Opportunities for upskilling
Opportunities for career advancement
Work that creates a real impact
Job security
Happy coworkers
Helpful management
Culture of innovation
Ways To Widen the Talent Pool You (Likely) Haven't Tried
What's a talent team to do when there's a shortage of qualified candidates? Have no fear—there are several strategies for widening the candidate pool that you likely haven't tested:
Emphasize university recruiting. As older employees leave the workforce, new graduates enter it. Young prospective workers with fresh skills and perspectives are viable targets for recruitment teams in a talent drought.
Give returning citizens a chance. With recruiting teams scrambling to find talent, more companies are providing opportunities to formerly incarcerated individuals. While workers with criminal records face negative biases, research shows that they tend to have longer tenures and are less likely to voluntarily quit their jobs.
Hire across the globe. Candidates are hungry for remote work—and your talent team is hungry for candidates. To meet in the middle, consider hiring remote candidates. We know, remodeling to accommodate remote talent is a big lift, but boy does it pay off.
Prioritize continuous candidate engagement. Practicing continuous candidate engagement means engaging and re-engaging candidates before, during, and after the hiring process. You'll have a pool of quality, pre-vetted candidates to consider for opportunities. This way, you won't have to source new candidates every time a role opens up.
Thrive in the Tight Labor Market With Quality Recruiting Tech
Still scratching your head and wondering how to succeed in today's tight job market? The right recruiting tech can alleviate all of your hiring headaches in one fell swoop.
GoodTime Hire allows you to maintain a high-quality candidate pipeline, move fast on the best talent, and effortlessly crush your hiring goals. Hire automates the entire interview scheduling process to create the optimal schedule for candidates and interviewers and get to the offer stage faster than ever.
Discover how Hire's interview scheduling software can transform your recruiting process today.