Recruiting coordinators make the talent world go 'round. As the unsung heroes of the hiring process, recruiting coordinators act as a candidate's first impression of a company. RC's juggle multiple tasks at once to keep this impression pristine and move the hiring process along. Yep, it's a pretty big role.
However, as with any job—especially ones that involve a high workload (and stress)—mistakes happen. No matter if you slip up when emailing candidates, or stumble when coordinating interviews, the most important thing you can do is evaluate what went wrong and steer clear of it in the future.
Here are five common mistakes recruiting coordinators make, and how to avoid them to create an extraordinary hiring experience.
1. Sending Candidates Lackluster Communications
When sending message after message to candidates, it can be easy to go on autopilot and phone it in. We get it—coordinating interviews isn't the most exciting task.
But truth be told, the communication between RC's and candidates plays a pivotal role in the hiring process. The last thing you want to do is send a robotic email riddled with errors. Even quick text exchanges with candidates should be scrutinized for high quality.
These messages inform candidates of your company's tone of voice and can either increase or decrease their excitement for their upcoming interview.
How Recruiting Coordinators Can Avoid This
Whether you're sending a message to gather a candidate's availability or to confirm their upcoming interview, there's several steps you should take to refine this communication.
To add a layer of empathy to your communications, direct candidates to an email and/or phone number to reach out to if they have any questions. You never know what's going on inside a candidate's head.
Above all, always review your responses for the ABC's of communication: accuracy, brevity, and clarity. That way, your messages will contain the most important information, will be an appropriate length, and will be abundantly easy to digest. Now, your response is ready to be sent out into the world.
2. Failing to Give Candidates Scheduling Flexibility
Flexibility is a growing priority for those in the world of work. In fact, 96% of US professionals say they require flexibility.
Asking candidates to adapt to your hiring team's schedule, or to make themselves available within a narrow time frame, conveys that flexibility is not a priority for your organization.
How Recruiting Coordinators Can Avoid This
Make your hiring process flexibility-focused by putting candidates in the driver's seat. Instead of expecting candidates to move their schedules around for your company, ask for their availability. Show that you respect their time by letting them schedule their interviews for whenever works best for them.
At the end of the day, your candidates are likely chatting with multiple other companies. They're more likely to remember and value your interview process—and you as an RC—if you act with flexibility and understanding.
Does interview scheduling automation make sense for my team?
ROI is key. This is not a time to invest in software that won't bring you immediate value. So let's eliminate the guesswork with our free ROI calculator.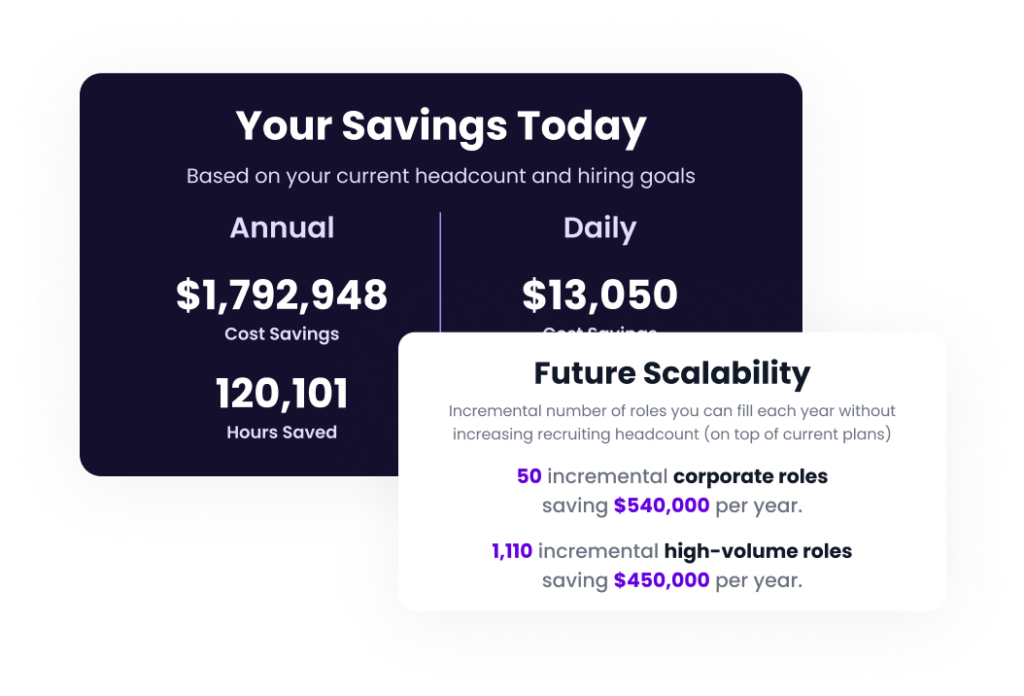 3. Coordinating Interviews Manually
If you're still manually scheduling and coordinating interviews, you're doing something wrong. (Too harsh?) Daily recruiting coordinator tasks become highly tedious and inefficient when they're done without the help of technology. And when your head is stuck in calendars and spreadsheets, you have even less time to spend on high-value tasks that will actually move the needle.
Today's candidates have little patience for clunky hiring processes that rely on manual operations. An inefficient process does nothing but degrade the candidate experience and weigh down your hiring metrics.
How Recruiting Coordinators Can Avoid This
The best way to keep up with candidate expectations and remain competitive in the talent landscape is by leveraging a tech solution that offers recruitment automation. Speed is crucial to a hiring process; automation gives you an edge by allowing you to coordinate in minutes, not hours. (Plus, your team will save major time and money.)
Leveraging an automated hiring solution creates a quick and easy hiring experience. This sends the message that you value your candidate's time. With less bandwidth spent on scheduling and coordination, you'll have more bandwidth to focus on what matters: better connecting with candidates.
4. Treating Candidate Relationships as Transactional
RC's who have a transactional mindset interact with candidates with the sole purpose of turning them into new hires to fill open reqs and boost their hiring stats. Too many recruiting coordinators operate this way, and it's a problem.
Candidates don't want to be viewed as just a number. They want to form a genuine connection with your recruitment team built on trust, transparency, and flexibility. Navigating with this transactional mindset is sure to push them away.
How Recruiting Coordinators Can Avoid This
Nurture the recruiting coordinator-candidate relationship. Spend some time learning what candidates look for when interacting with a hiring team, and apply those insights to your daily RC involvements.
Here's an insight to start off with: 62% of employees cite well-being support as their top priority in their job hunt. Checking up on candidates and offering yourself as a resource if they have any concerns are both excellent, low-effort ways to show that you care about their well-being.
You could also block off time to brainstorm what's missing from the hiring process that could boost your team's candidate relationships. For instance, if you don't collect feedback from candidates, now is the time to do so. Let candidates speak their minds and remind them that you value their opinions.
5. Neglecting to Prioritize Upskilling
The life of a recruiting coordinator is sometimes downright overwhelming. With all of the tasks on your plate, making time to progress your skills and learnings can seem practically impossible. Or, you might even feel guilty at the thought of putting aside the tasks on your to-do list to focus on your own career development.
How Recruiting Coordinators Can Avoid This
If any of this resonates with you, know this: you must always fill your own cup. A hiring team that truly supports the success of their teammates understands that it's crucial for everyone to invest in their own skills and knowledge once in a while.
Block off time on your calendar, notify your team that you'll be heads-down and focused on upskilling, and ask your teammates if they could help out with any urgent tasks while you work on career development, if necessary.
There's a variety of online classes and certifications for recruiting coordinators. Some of the popular ones include LinkedIn Learning, The Recruitment Education Institute, Alison, and Recruiting Toolbox.
Hey, RCs—Ready To Elevate Your Hiring Process?
Hundreds of companies have leveled up their recruitment process to stand out in the talent landscape. Patreon reduced their time-to-hire by 50%, Box reduced their time spent scheduling by 40%, and Deliveroo hired 700+ employees.
How'd these talent acquisition teams do it? Simple: they used GoodTime. And you can, too.
GoodTime Hire automates interview scheduling, builds relationships during interviews, and provides actionable insights to continuously improve your hiring process.
---
If you want to take your recruitment process to the next level, learn more about Hire's advanced interview scheduling software.