Retail recruiters, we feel for you. Filling endless high-volume retail roles is never an easy task. Yet lately, amid the abysmal economy, it seems that retail recruiting has only gotten harder. And that's without even getting into holiday hiring.
The big question is: how can retail recruiters overcome their challenges to hire and retain talent this year and beyond? Fortunately, we've got you covered.
After surveying 531 talent acquisition leaders across sectors for our 2023 Hiring Insights Report, we've released the report's retail edition. Based on responses from 108 talent leaders in retail, the report highlights how they're attracting and retaining talent amid today's obstacles (and many more hiring insights).
Our report's data shows that while formidable challenges lie ahead, retail talent leaders have identified key strategies for winning and keeping the best talent on the market. So, what's their master plan? Read on.
Retail Hiring's Upcoming Challenges and Changes
Before hiring teams at retailers can develop strategies for success, they must identify and reflect on the biggest upcoming challenges and changes in retail's recruitment landscape. Recognizing what's on the horizon helps teams create actionable plans that guarantee the greatest chance of hitting their goals.
Most Crucial Obstacles
The top hurdle expected in the coming months is the challenge of adapting the interview process to a remote setting (25%). Retailers must now venture into the remote world to meet the ever-changing expectations of today's job seekers.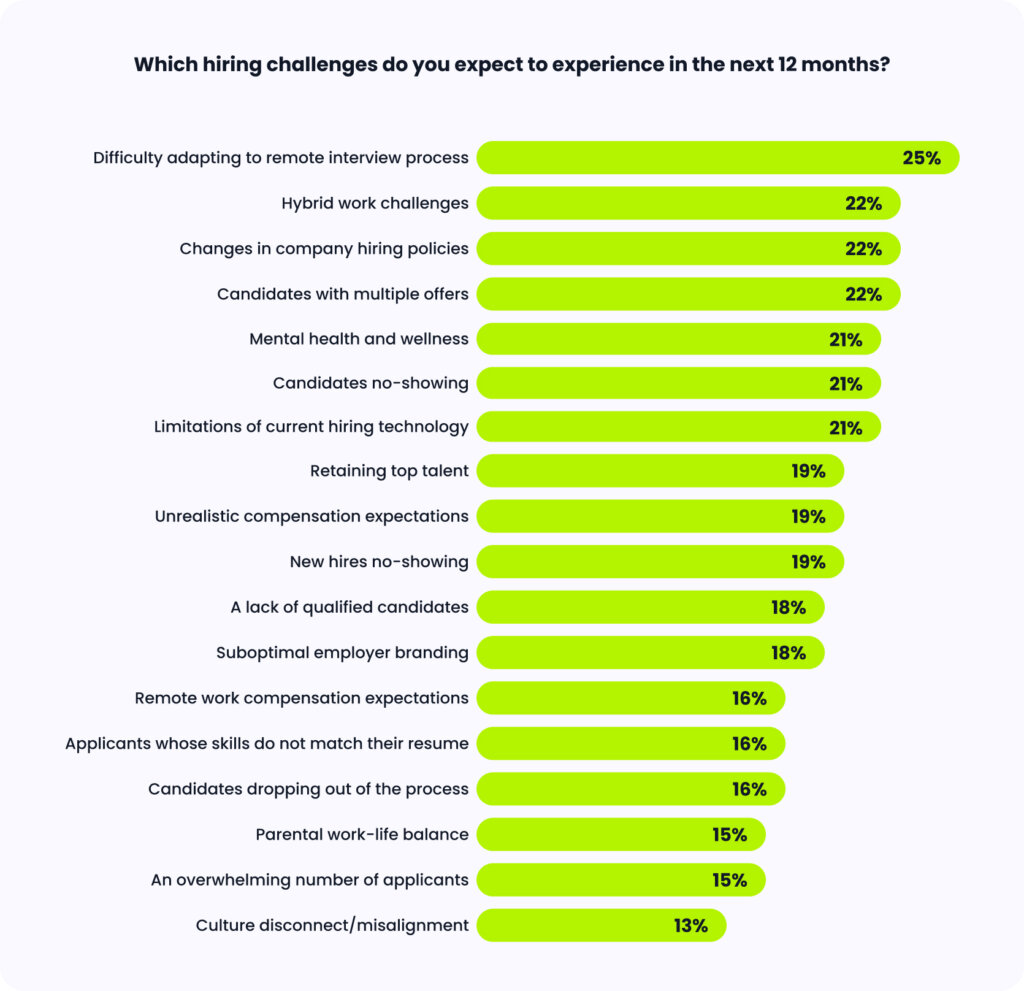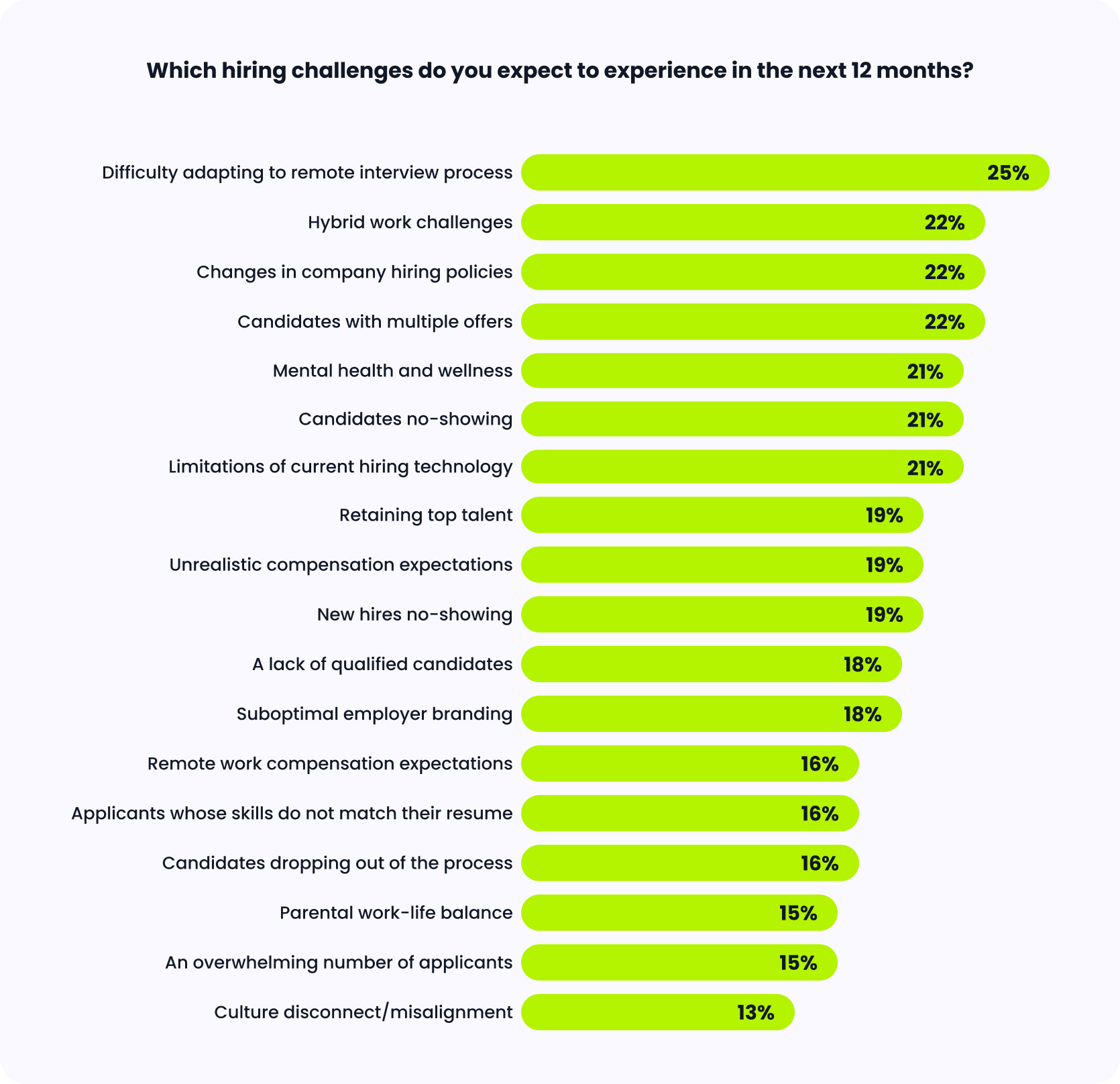 Traditionally, on-site interviews are customary for retail positions, particularly when hiring for in-store roles. Yet times are changing. Candidates seek more flexibility in their job hunt, including the option to interview remotely from their own homes. With this, retailers are tasked with evolving the interview process.
Hybrid work challenges (22%) is tied for the second biggest upcoming obstacle. The rise of remote interviewing and hybrid work within retail signifies a transformative period. In response to the current world of work, companies in retail are swiftly adjusting their hiring methods and operational models.
Shifts on the Horizon
In spite of the economic downturn, many retailers are still hiring as usual. However, their reduced talent teams could pose challenges. Looking ahead, hiring leaders in retail foresee that high recruitment team turnover will affect their ability to handle the influx of candidates in the hiring process (41%). This is the biggest change expected in the coming months.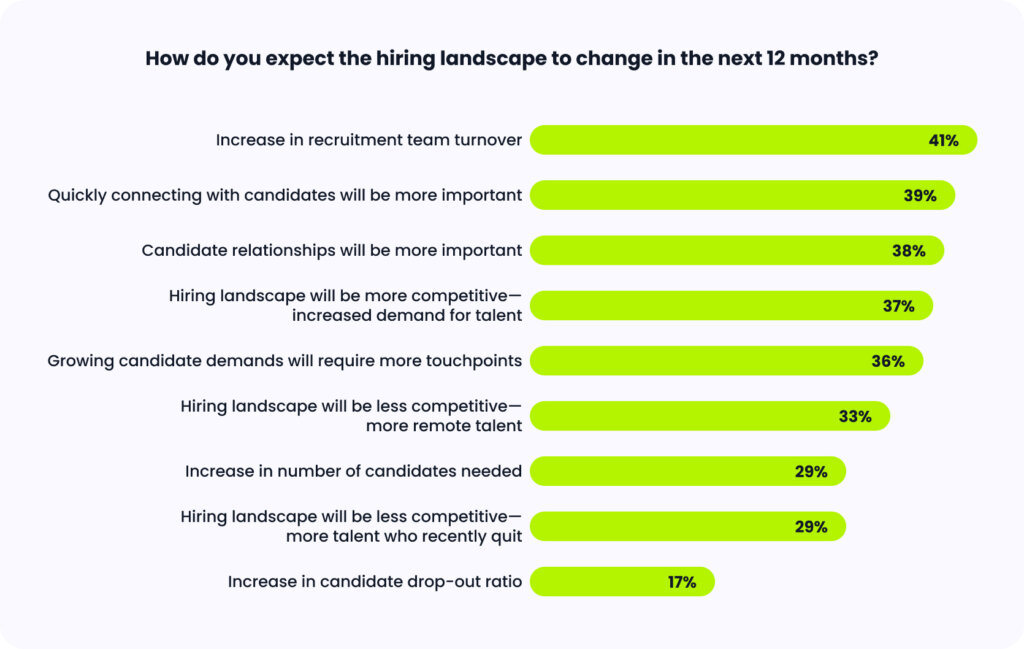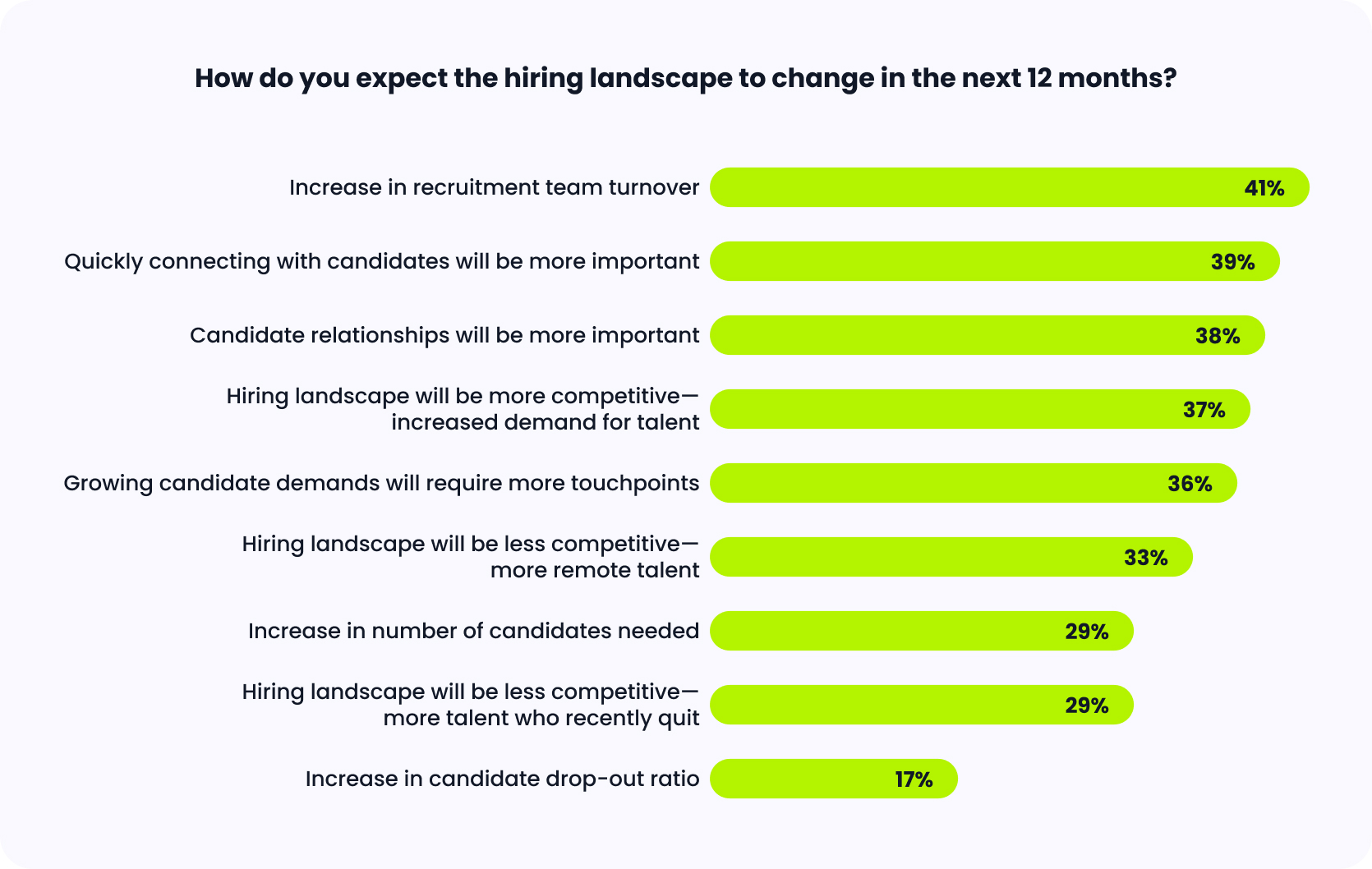 As for the second and third biggest shifts, leaders anticipate that quickly connecting with candidates (39%) and creating candidate relationships (38%) will be crucial. Candidates expect an efficient hiring process that also allows them to form authentic relationships with the hiring team. Overlooking these two areas means talent teams risk losing candidates to companies with better-aligned processes.
How Retail Recruiters Can Come Out on Top
Talent teams in retail face a challenging hiring environment: a volatile economy, a difficult hiring landscape, and a changing world of work. To overcome these circumstances, inaction simply isn't an option.
Want to know how you can successfully hire and retain top talent this year? Based on the data from our Hiring Insights Report, here's how retail talent leaders plan on persevering and hitting their goals.
Revamping Hiring with Tech
Ranking closely within two percentage points of each other, retail talent leaders aim to enhance five aspects of the hiring process: personalization (34%), candidate experience (34%), efficiency (33%), automation (33%), and offer acceptance rates (33%).
Fulfilling these ambitious goals means retail talent leaders must revamp the hiring process entirely. So, how can talent teams tackle all five elements? The solution lies in upgrading their retail recruitment software, and 29% of respondents already plan to do so.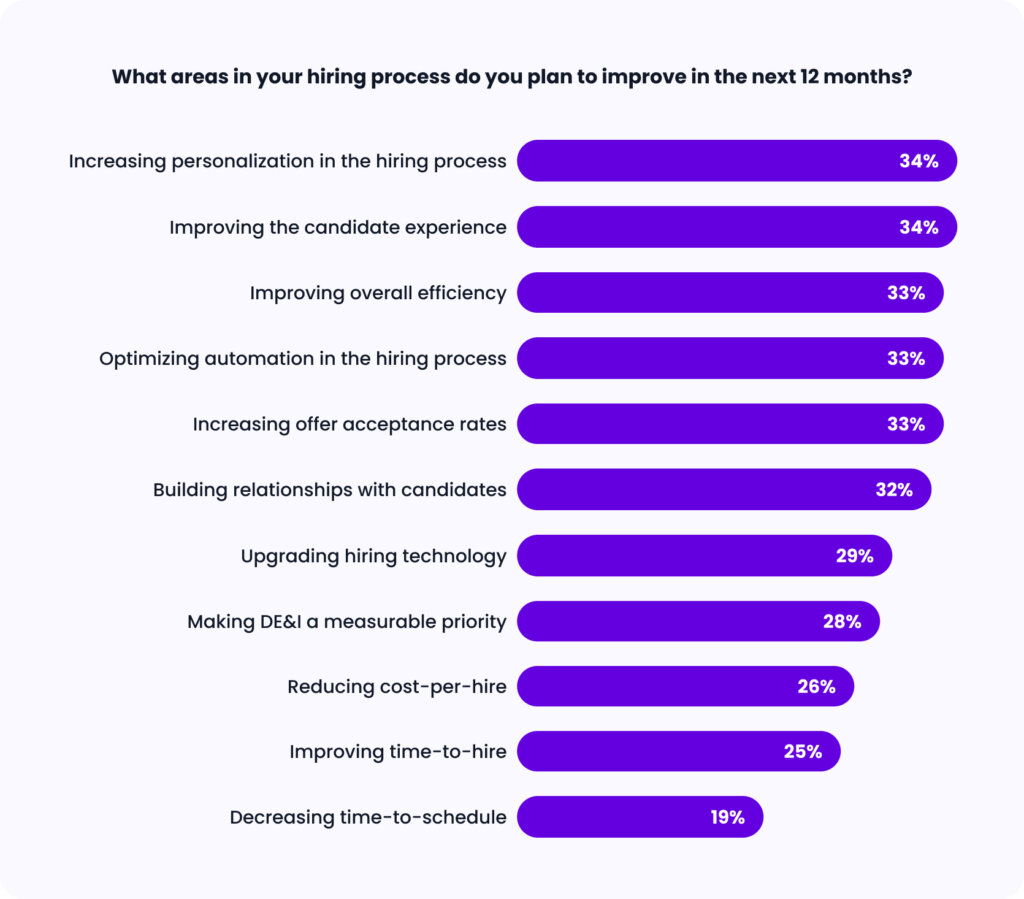 Optimal hiring technology helps teams improve their joint productivity and deliver a memorable candidate experience, regardless of the number of applicants they must juggle. In turn, tech solutions help retailers stand out from competitors' processes—all without overwhelming their hiring teams.
Communicating to Top Talent
Winning candidates over in a sea of fierce competition requires hiring teams to convey values that resonate with talent. When asked what they communicate to candidates to reel them in, retail talent leaders say they emphasize social good (48%) and flexibility (46%) the most.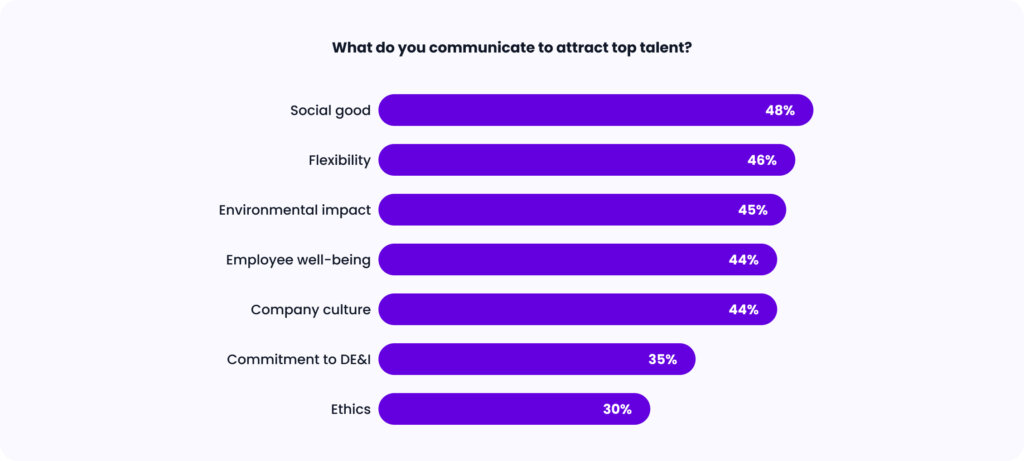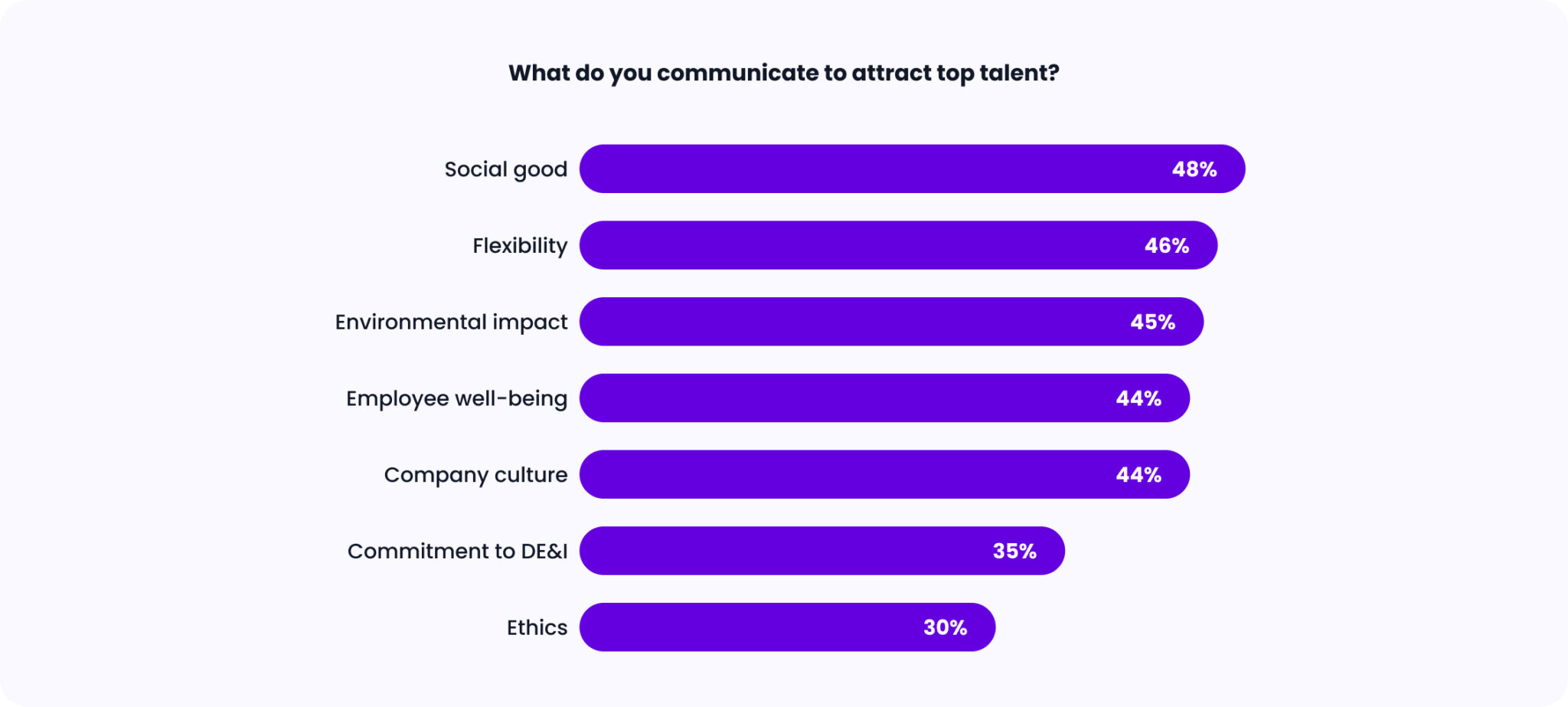 Human well-being and workplace flexibility are high on candidates' wishlists. Discussing both values provides prospective hires with important insight into an organization's culture. It's a way to differentiate from the vast competition and leave a lasting impression on job seekers.
Streamlining the Hiring Experience
When asked how they try to create a faster, simpler hiring experience for candidates, talent leaders in retail said that their top method is emphasizing transparency in the interview process (47%). Transparency helps give candidates greater clarity on proceedings, reducing the chance of misunderstandings and delays.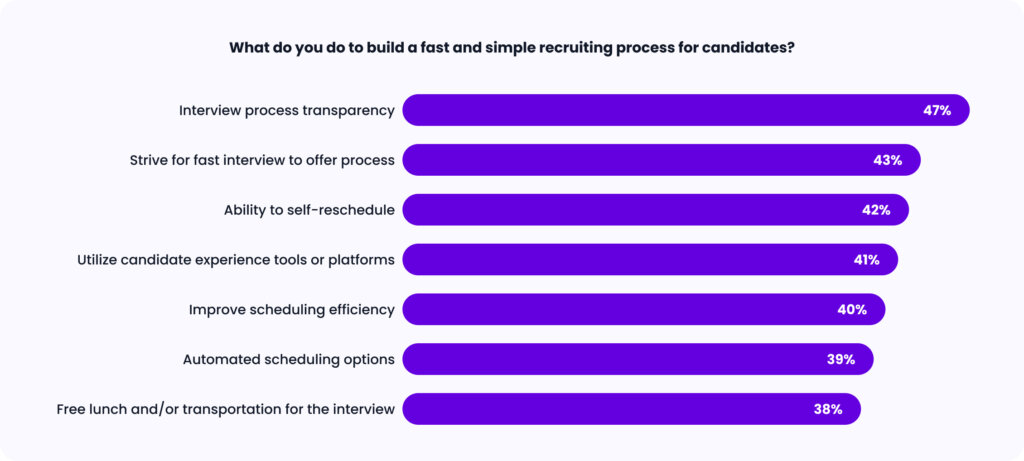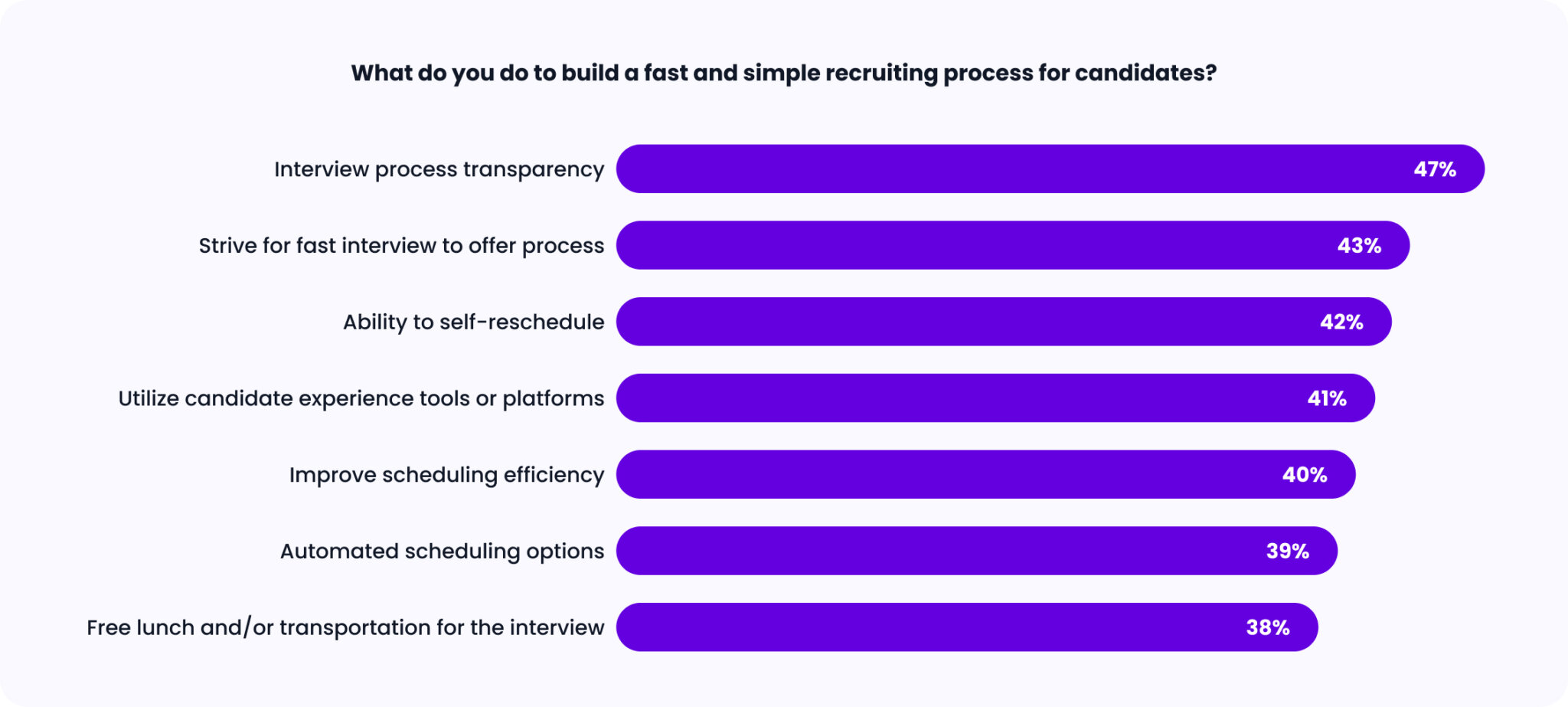 The top-selected responses from talent leaders all speak to the importance of the recruiter-candidate relationship. Exhibiting transparency establishes trust, creating a fast interview process (43%) ensures a candidate's time isn't wasted, and self-rescheduling (42%) puts candidates in control. Mixing all of this together forms a genuine candidate relationship.
Does interview scheduling automation make sense for my team?
ROI is key. This is not a time to invest in software that won't bring you immediate value. So let's eliminate the guesswork with our free ROI calculator.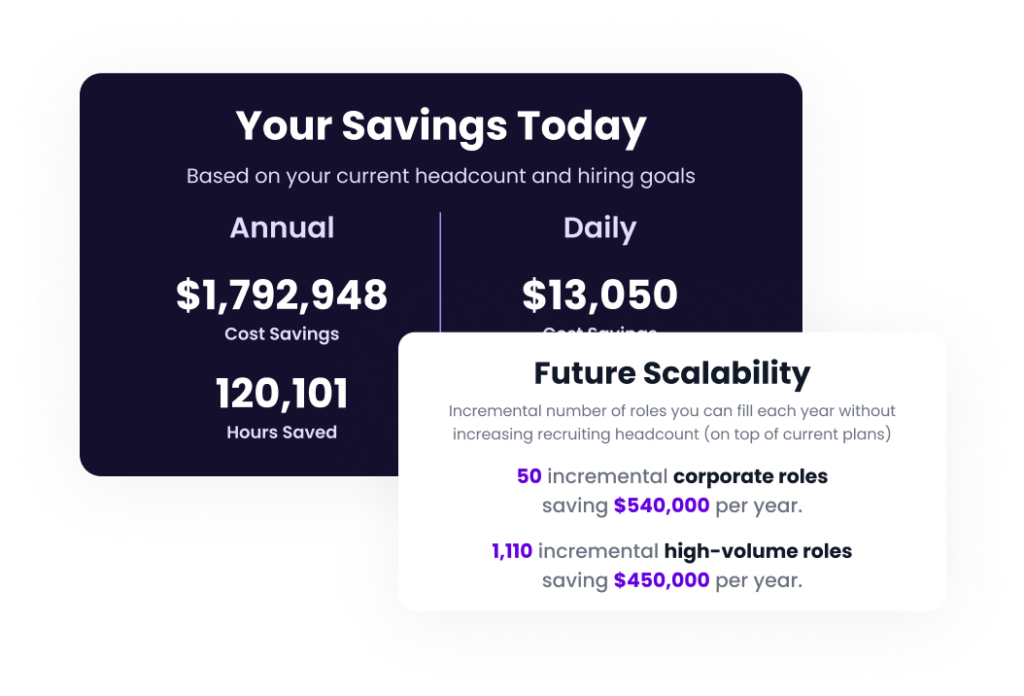 Optimizing With Data
As teams prepare for the upcoming hiring challenges, they'll be doing so while closely monitoring the value each new hire brings to their organizations. Talent leaders agree that out of all the metrics they measure, quality of hire is the most important (30%). This result is fitting; recruiting teams must not only hire quickly but also secure the very best talent on the market.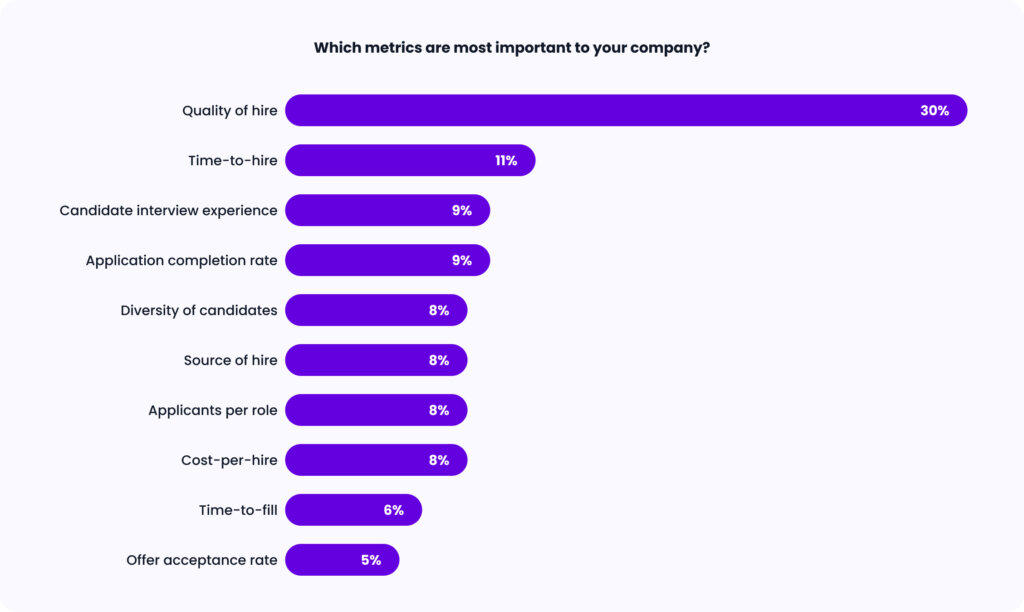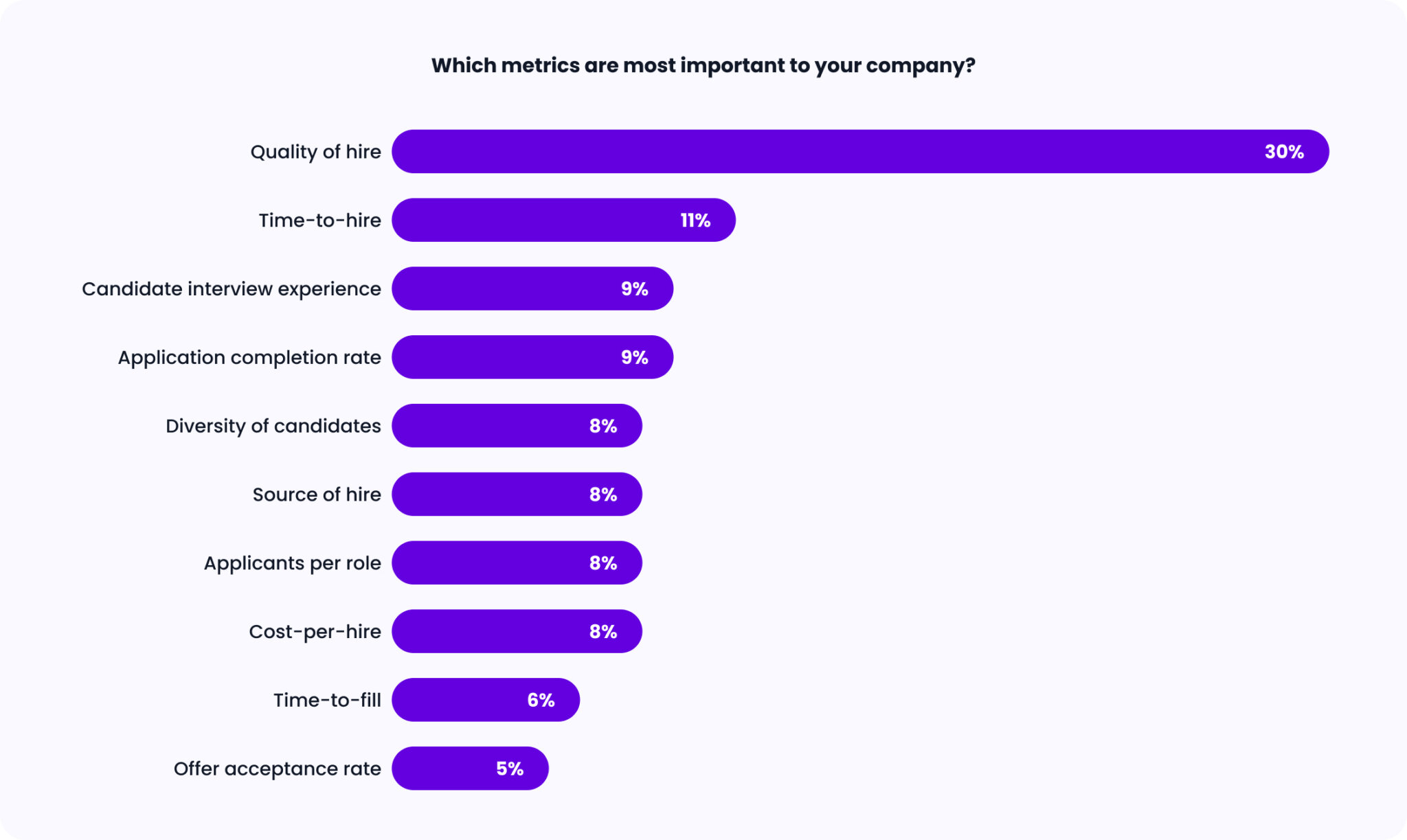 Tracking quality of hire is essential to the success of any hiring team in retail. With ongoing talent acquisition woes and perpetual job vacancies, teams must hire the most capable, motivated candidates. After all, a company is only as good as the people that comprise it; hiring the right people is key to withstand any obstacle.
Hey, Retail Recruiters: Want More Insights?
2022 brought a shaky economy, sweeping reductions in force, and a challenging hiring landscape. Now in 2023, retail recruiters are met with a perfect storm of challenges. The pressure is on to attract qualified candidates, deliver an efficient hiring process, and leverage hiring tools that drive success. Are you ready to conquer 2023?
To dive deeper into these insights and much, much more, get the retail report today.