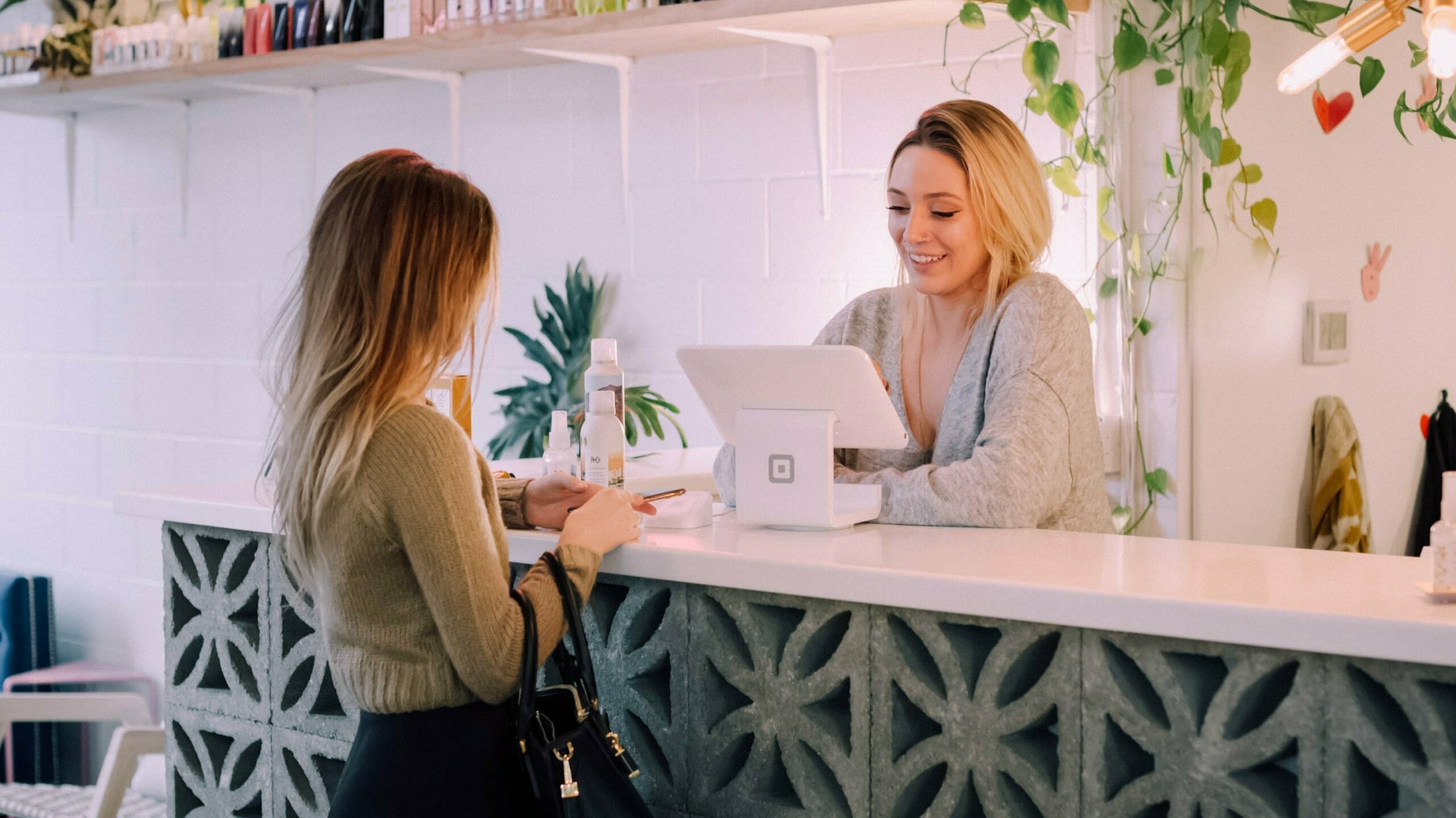 If one thing's certain amid the hiring landscape's uncertainty, it's that retail recruiting won't get any easier. Recruiters face a multitude of obstacles in the path ahead, including a constant stream of vacancies, high turnover rates, seasonal hiring demands, and the pressures that come with high-volume hiring.
What lies ahead for the retail hiring landscape in 2023? This year brings new challenges and economic obstacles, but we're here to help make sense of it all.
After surveying 531 talent acquisition leaders across sectors for our 2023 Hiring Insights Report, we've released the report's retail edition. Based on responses from 108 talent leaders in retail, the report highlights how they're attracting and retaining talent amid today's obstacles.
For the TL;DR of the report, here's a roundup of the six key takeaways your team must know to successfully weather 2023's retail recruiting storm.
1. Hiring Goals Lag Behind
Over the past year, retail recruiters encountered significant obstacles in their efforts to recruit a large number of candidates and keep current staff on board. Speaking to the severity of their struggles, retail companies were only able to meet less than half (47%) of their hiring goals in 2022.
As the retail industry continues to grapple with talent acquisition and retention challenges in 2023, the possibility of achieving this year's hiring goals becomes increasingly uncertain.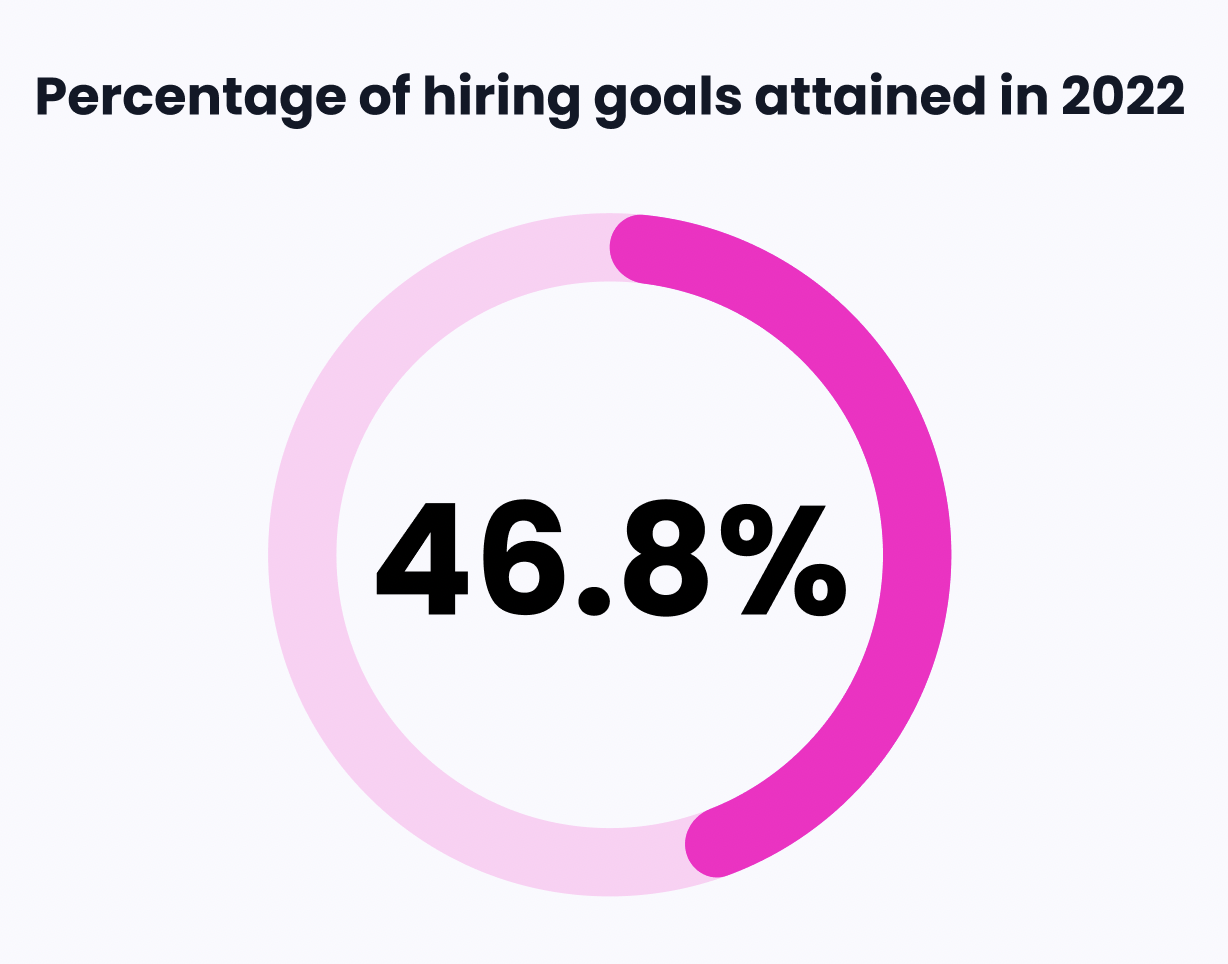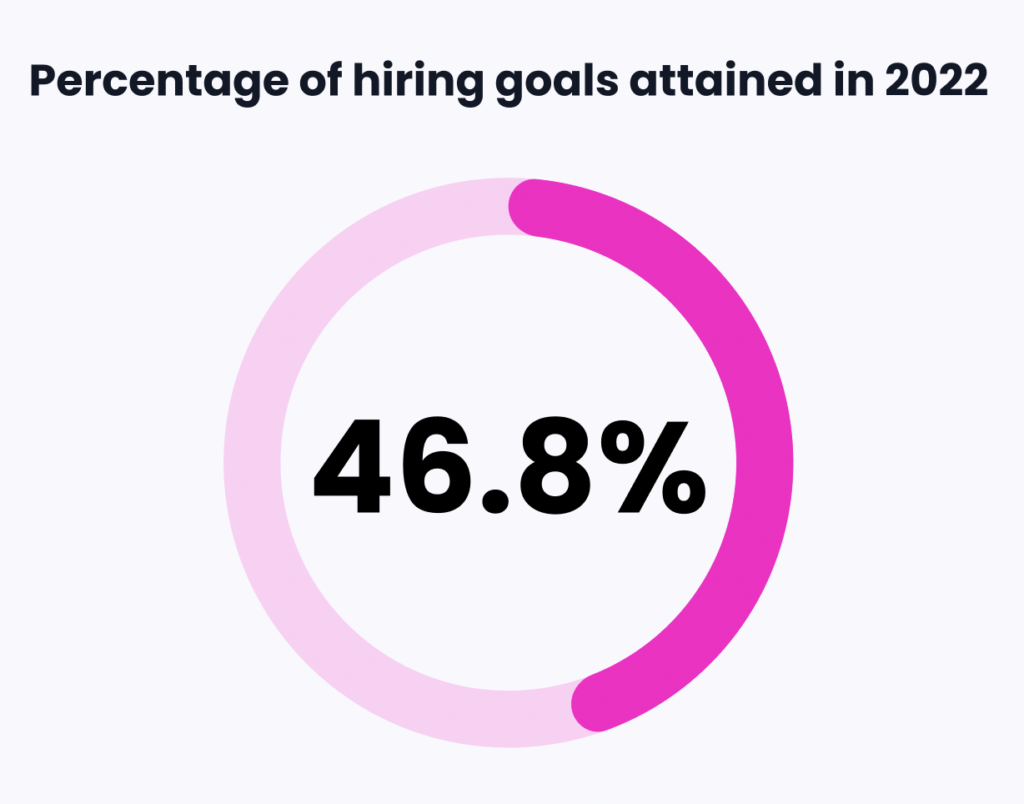 2. Top Previous Change: Growing Candidate Demands
As retailers struggle to fill their constantly revolving door of vacancies, candidates hold a significant advantage. They are in a secure position to demand more from the hiring process. This advantage has manifested in the biggest shift observed over the past year: an increase in candidate demands that necessitated more touchpoints in the hiring process (41%).
Coming in second place, talent leaders also felt the impact of recruitment team turnover on their ability to manage the candidate pipeline (39%). To exacerbate these difficulties even further, leaders saw that the intense hiring landscape called for more candidates in the funnel for teams to stand the greatest chance at filling vacancies (38%).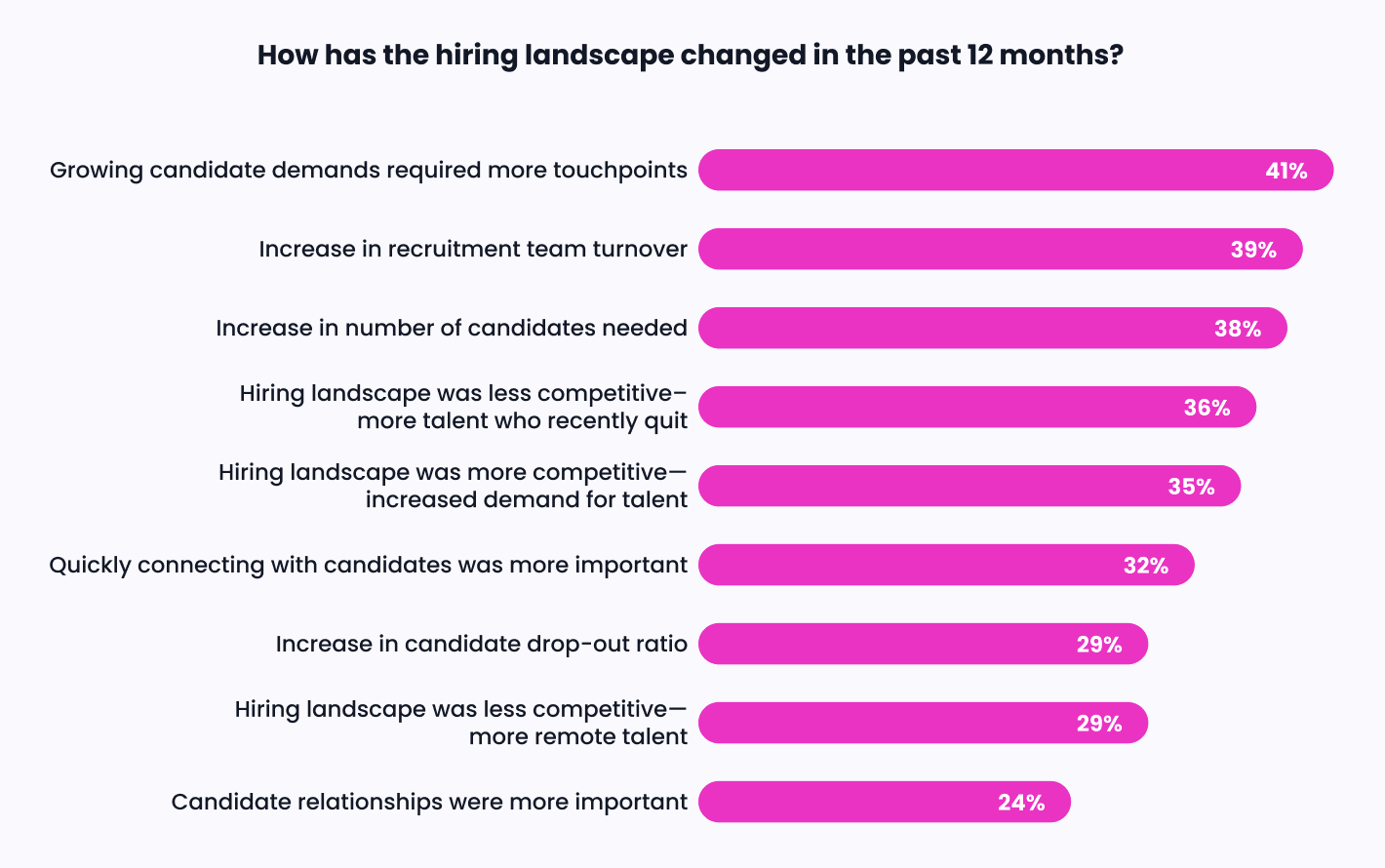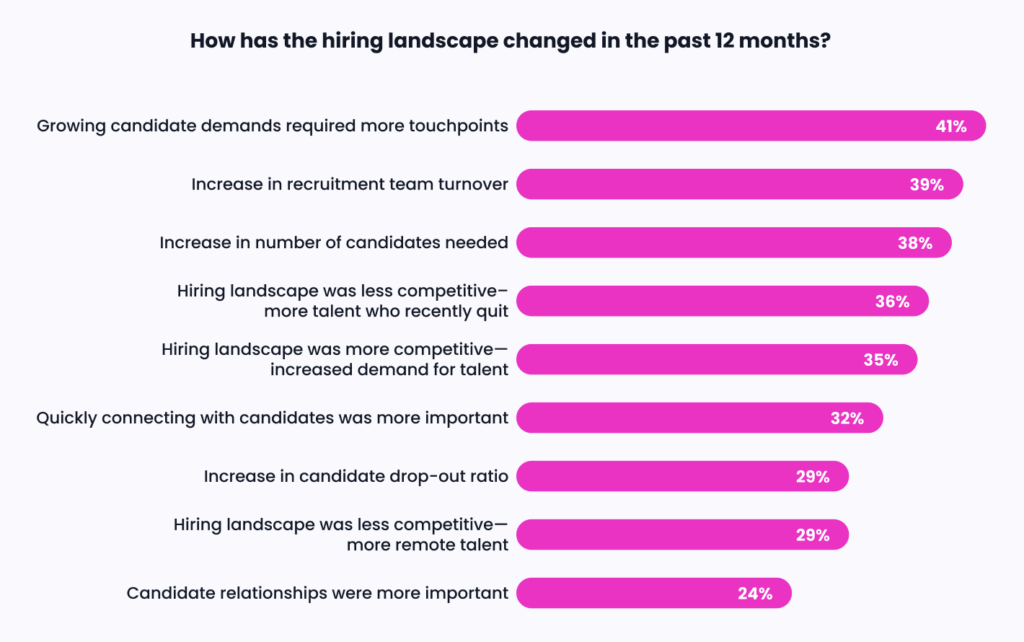 3. Layoffs Hit Retail Hard
The retail sector's layoffs have by far received less attention than the upheaval in the technology industry, yet their consequences carry significant weight. A staggering 70% of retail companies reported layoffs last year. One-third of impacted companies cited headcount reductions of 10-14% and 32% reported reductions of over 20% of their workforce.
For hiring teams already struggling to navigate a competitive hiring landscape, layoffs only add fuel to their recruitment woes. The reality is that retail candidates—who often have multiple offers on the table to begin with—are less likely to consider a company with a track record of job cuts.
In this vein, it's crucial for talent professionals to prioritize revitalizing their employer brand and improving candidate perceptions post-layoffs. Teams can make headway in these areas with a focus on culture and the candidate experience, starting with the first touchpoint to the final offer.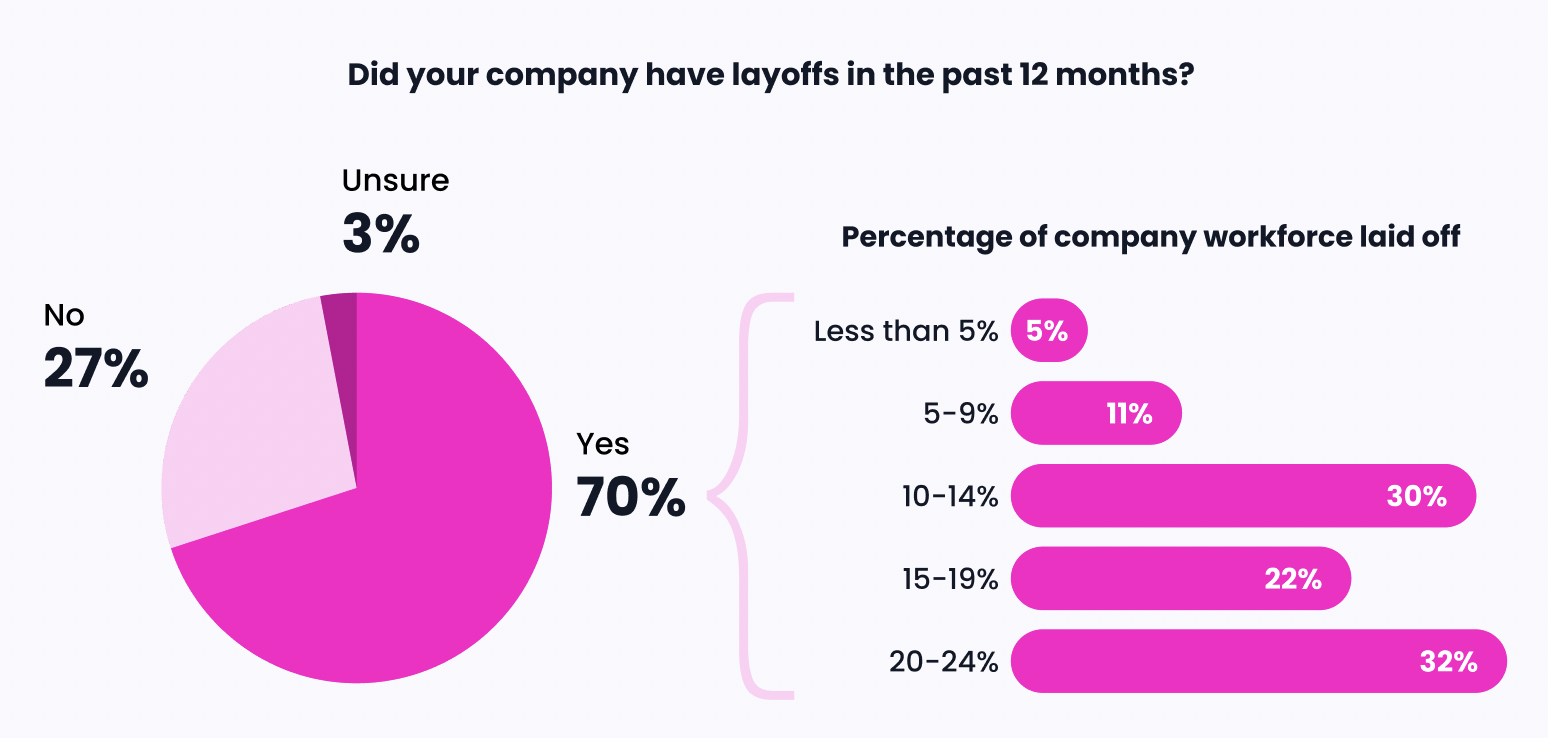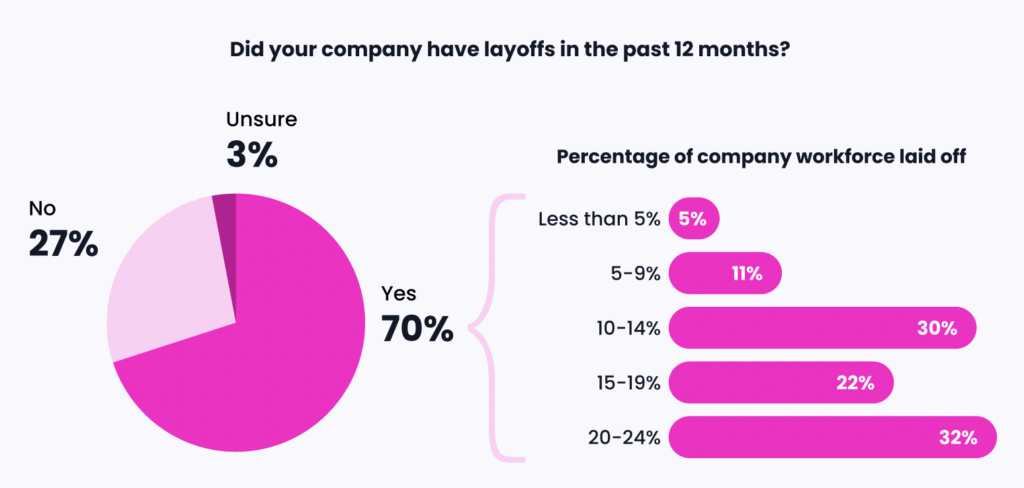 4. Top Expected Challenge: Navigating Remote Interviews
"Difficulty adapting the interview process to a remote environment" is the top challenge expected in the year ahead (25%). This marks a significant jump in the rankings from the previous year, where talent leaders ranked it at the bottom of their list of concerns in second to last place.
Historically, on-site interviews are the norm for retail roles, especially when hiring for non-corporate, in-store positions. But while retailers were comfortable with this on-site interview format in the past, times are changing. Candidates demand more flexibility in their job hunt, including the option to interview remotely from their own homes. Retailers are now tasked with venturing into the remote world to meet the ever-evolving expectations of job seekers.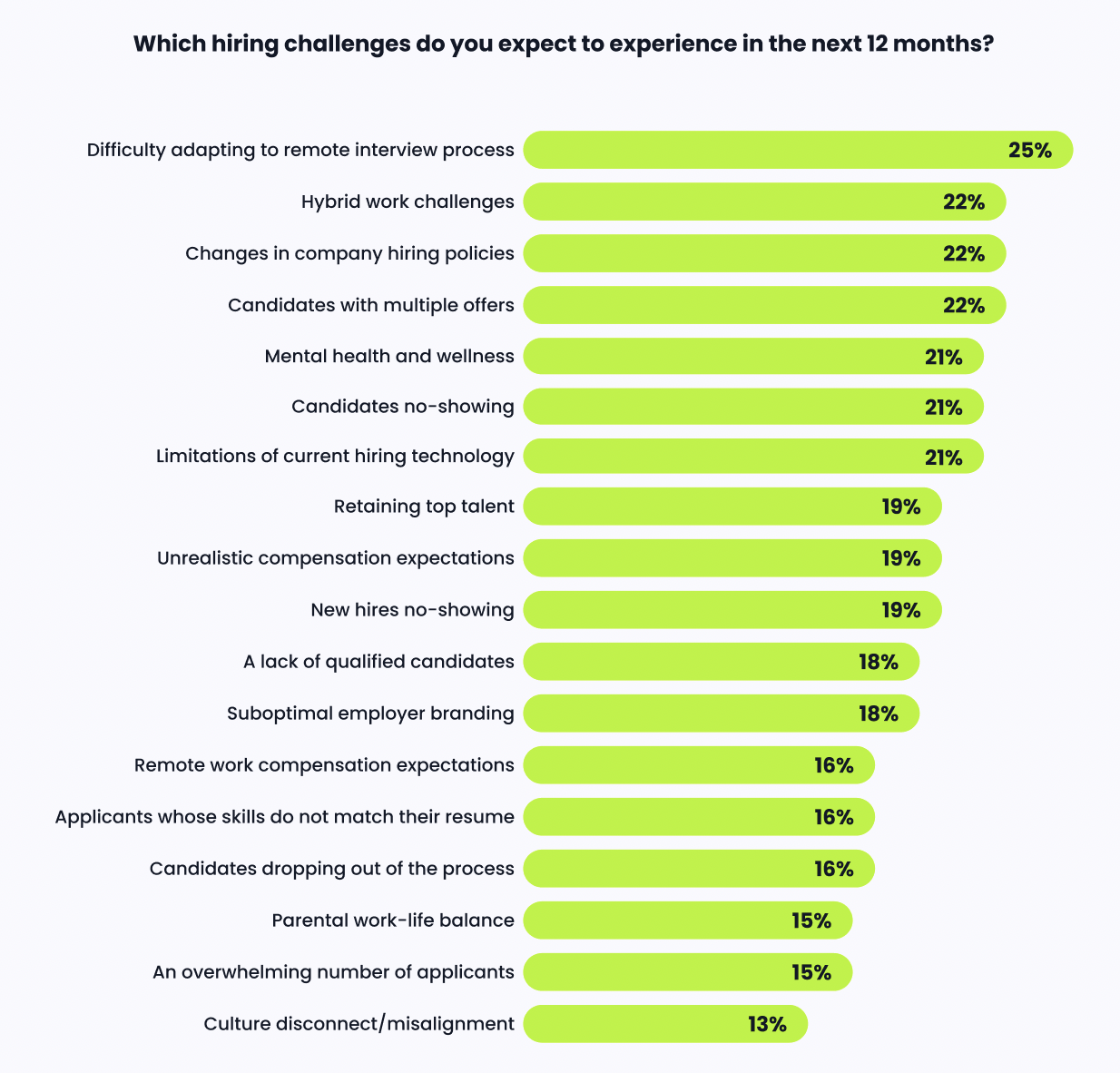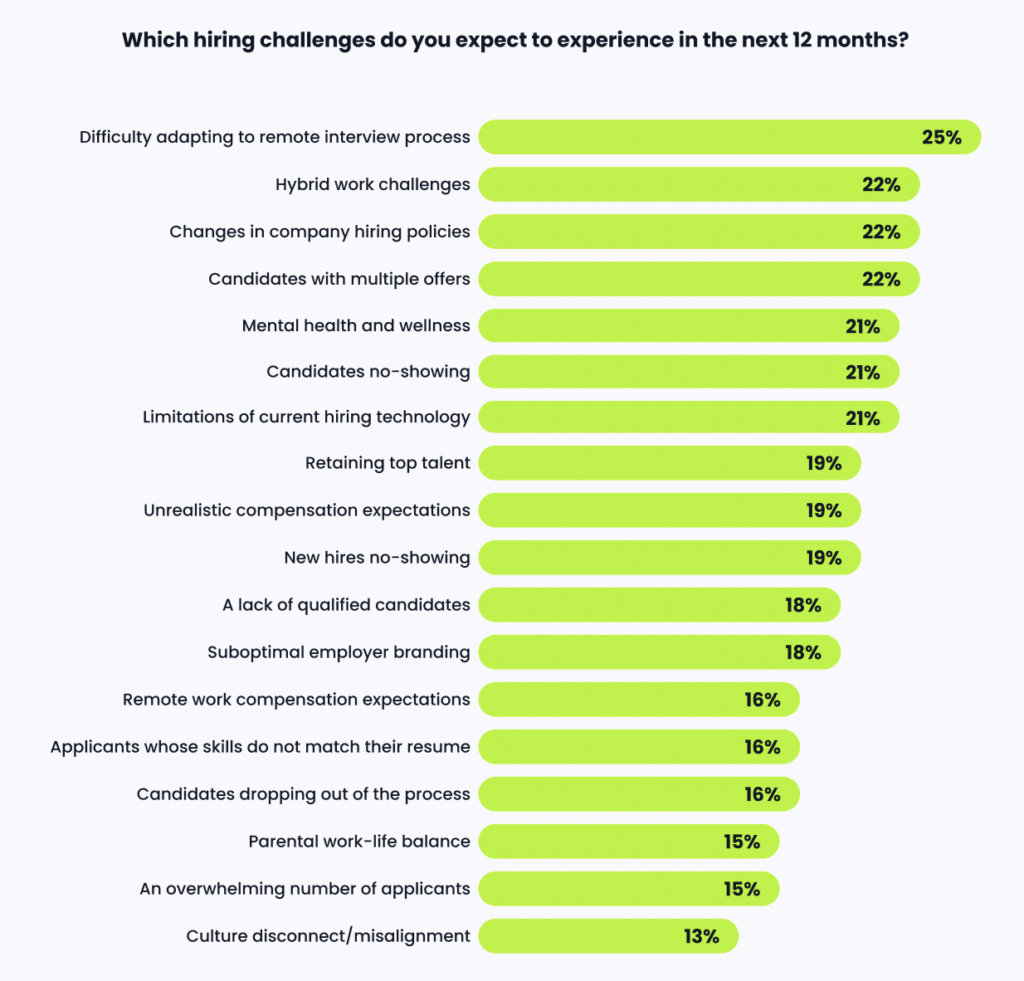 5. Top Expected Change: Increase in Recruitment Team Turnover
Despite the ongoing economic slump, many retail recruiting teams are still ramping up their hiring efforts. However, their diminished talent teams could create spell trouble for their hiring operations. Looking ahead, hiring leaders anticipate that the high turnover rates among recruitment teams will affect their ability to manage the overwhelming influx of candidates in the hiring process (41%).
Talent leaders also recognize that the ability to connect with candidates quickly (39%) and establish meaningful candidate relationships (38%) will be crucial for success. Candidates expect a hiring process that is both efficient and conducive to genuine connections. Neglecting these areas may result in losing top candidates to companies, or sectors, with more effective hiring processes.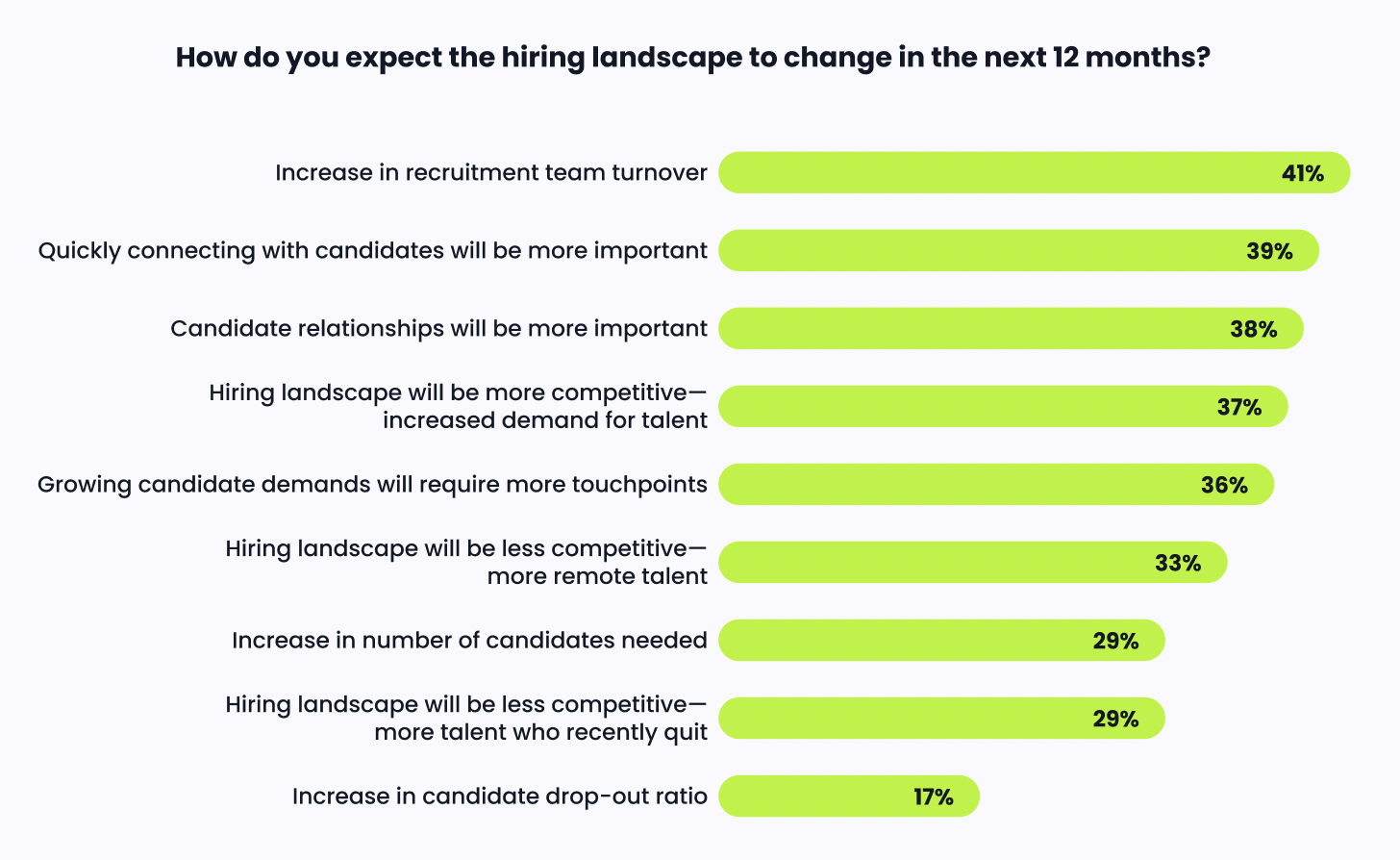 6. Overhauling the Hiring Process With Tech
Ranking within two percentage points of each other, retail talent leaders plan to improve five aspects of the hiring process: personalization (34%), candidate experience (34%), efficiency (33%), automation (33%), and offer acceptance rates (33%).
To fulfill these ambitious goals, retail talent leaders must undergo a complete overhaul of their hiring process. And still, the question remains: how can talent teams tackle all five areas? Upgrading the existing tech stack is the optimal solution, with 29% of respondents already planning to do so.
With the right hiring technology, teams can increase productivity and create an exceptional candidate experience, regardless of the hiring volume. As a result, tech solutions and their ability to refine the hiring experience can help retailers differentiate from competitors' processes—all without overburdening their recruitment teams.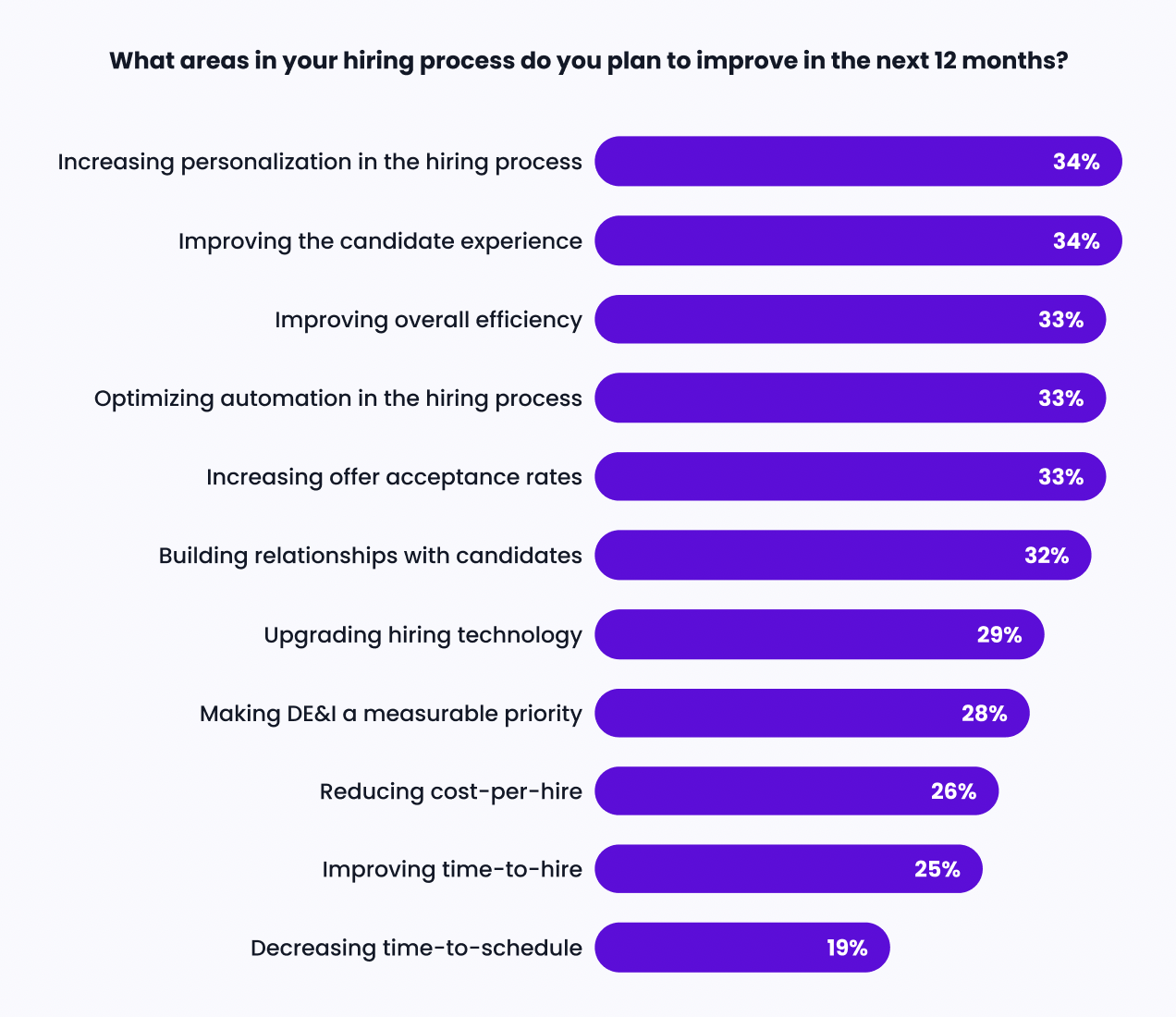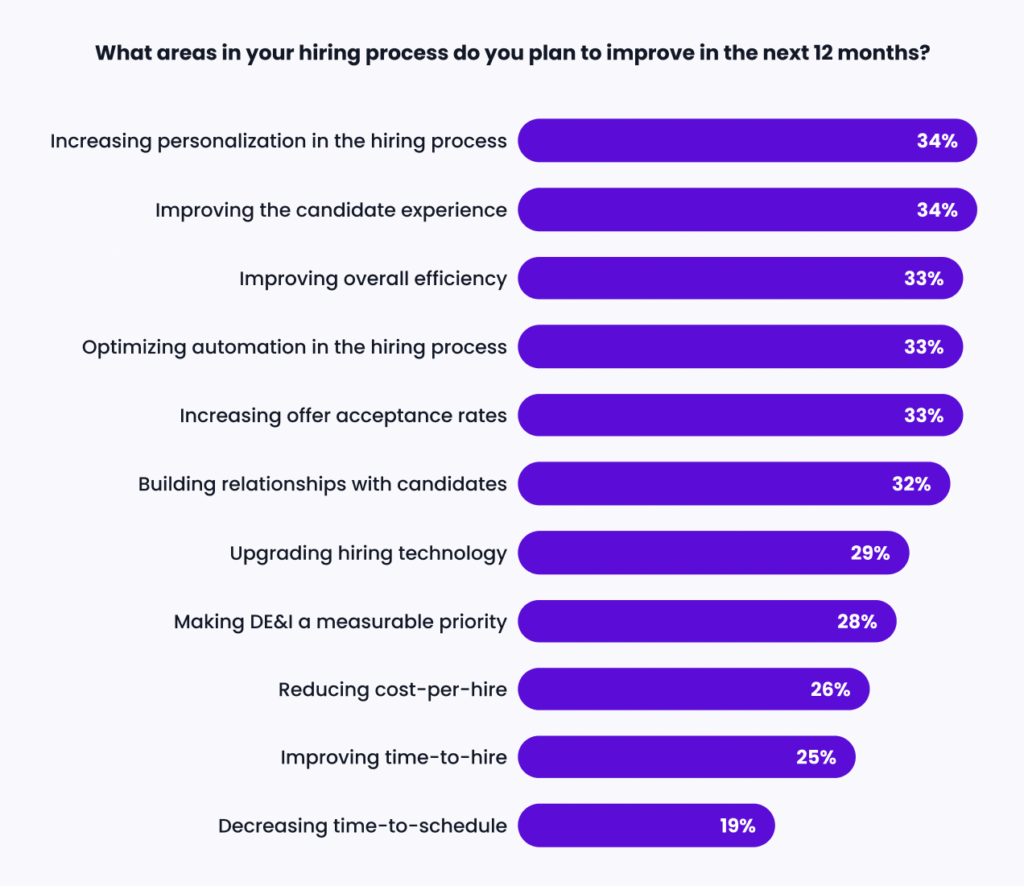 Retail Recruiting Teams: Want More Insights?
2022 brought a shaky economy, sweeping reductions in force, and a challenging hiring landscape. Now in 2023, retail recruiters are met with a perfect storm of challenges. The pressure is on to attract qualified candidates, deliver an efficient hiring process, and leverage hiring tools that drive success. Are you ready to conquer 2023?
To dive deeper into these insights and much, much more, get the retail report today.