It's an exciting time to be a recruiter, but let's be honest — in 2023, it's been challenging. Talent acquisition and recruiting teams are leaner and the economic environment requires that they be laser-focused on strategy, super-efficient, and above all, make amazing hires quickly.
The best recruiting conferences out there can help you relate with peers at other companies, hear how they're adapting to the recruiting challenges of 2023, and inspire you to evolve your strategic vision for your own team.
But not all conferences are equal. We've been around the recruiting conference block a few times, and below have compiled just the best conferences to look out for in the remainder of 2023 and into 2024. There's a good mix of in-person, virtual, and hybrid conferences that are worth checking out. And yes, several are completely free of charge!
Why attend a recruiting conference?
If you're a recruiter or a talent acquisition leader, you already know about the challenges the sector has faced in the last couple of years. First, it was an extreme candidates market during the great reshuffle, where everyone was battling it out for top candidates. Then, the economic environment got tighter, teams became leaner, the number of candidates per open role skyrocketed, and at the same time, it became more important than ever to make the right strategic hire.
It's a lot to keep up with. The recruitment world has had to become incredibly agile and adapt to continuous shifts. Our own hiring insights report found that on average, companies hit just 48.1% of their hiring goals in 2022.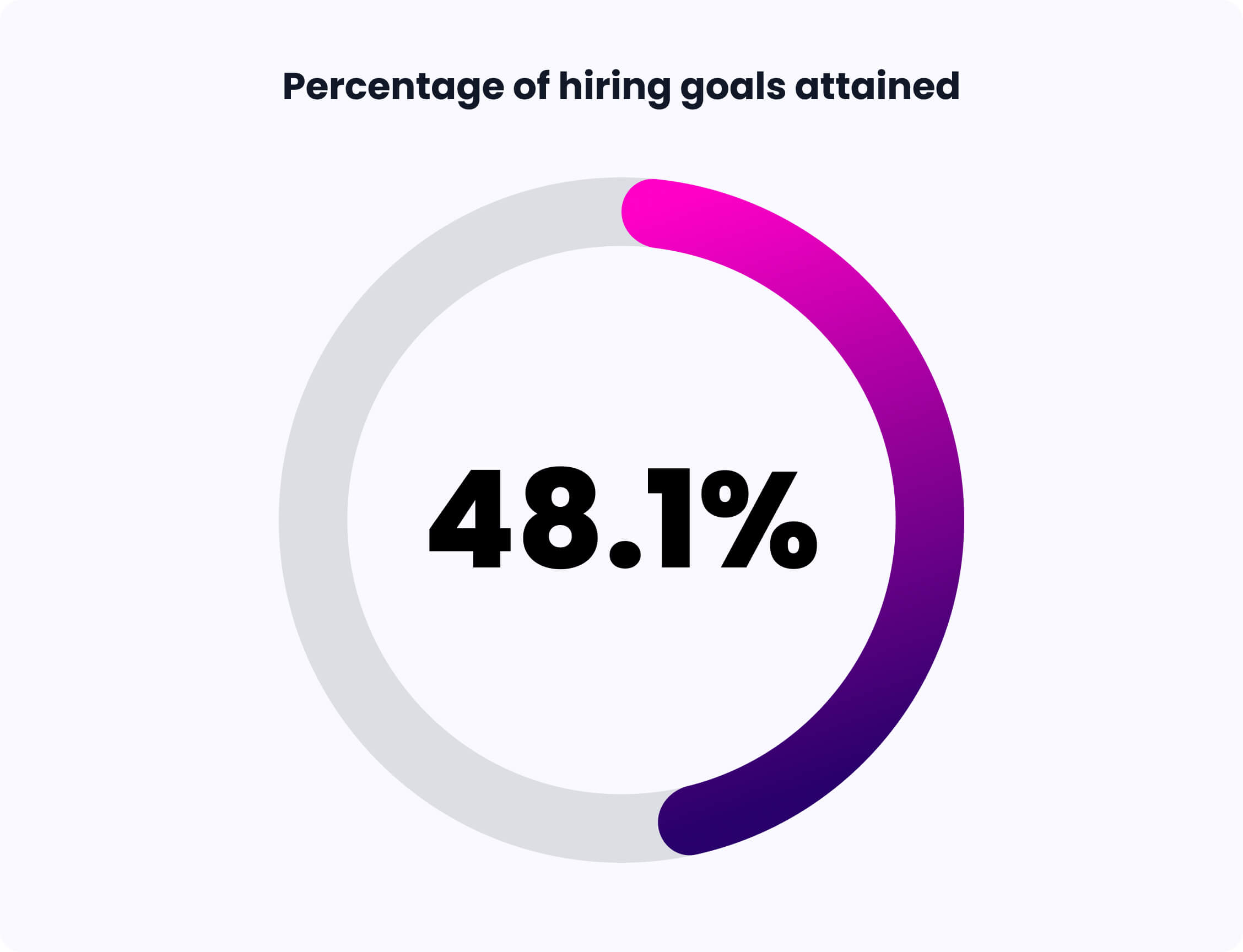 But not everyone is struggling. Some Talent Acquisition teams are still hitting their goals. These conferences are where leaders reveal their secrets to success, and you can steal their formulas. In fact, you're expected to — that's kind of the point of them sharing! So don't go it alone. The community has your back, and so do we.
More specifically, here's why you should make time for recruiting and TA conferences:
Stay updated: Get the latest recruitment trends and strategies from industry experts.
Expand your network: Connect with professionals for potential partnerships and future job prospects.
Gain inspiration: Hear from motivational speakers and discover fresh ideas.
Access expert knowledge: Learn directly from experienced professionals.
Professional development: Earn credits, attend workshops, and enhance your skills for career advancement.
Topics to watch for at the 2023 and 2024 recruiting conferences
There are going to be a lot of sessions to choose from. Here are some of the hottest topics the recruiters we talk to are most interested in hearing about:
How teams are thoughtfully leveraging AI recruiting
How teams deal with worker shortages in industries like manufacturing and healthcare
What software is most important to have in today's recruiting environment
How to succeed in high-volume recruiting
Does interview scheduling automation make sense for my team?
ROI is key. This is not a time to invest in software that won't bring you immediate value. So let's eliminate the guesswork with our free ROI calculator.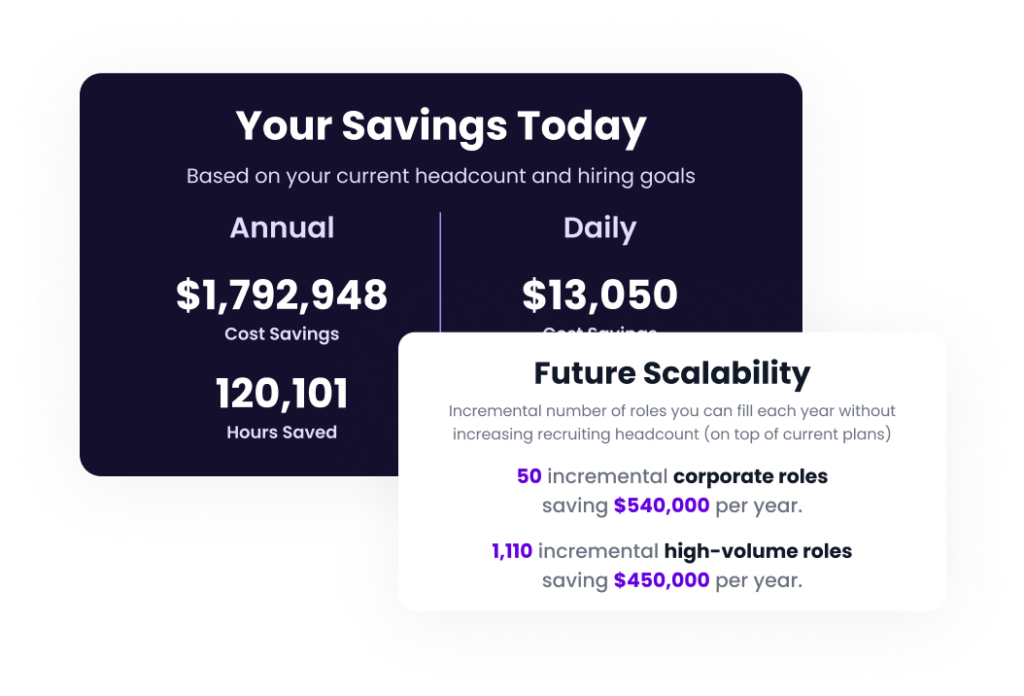 2023 recruiting conferences by month
July 2023
Webinar: How to Scale Your Tech Recruitment Process the Smart Way
Date: July 27, 2023
Location: Virtual Webinar
Price: Free
This one's for all the tech recruiting folks out there. GoodTime is teaming up with Coderpad for a webinar dedicated to unlocking efficiency and scaling processes in tech recruitment. Our expert panelists will share strategies and techniques to save time, reduce costs, and hire the very best tech talent for your organization.
Watch on-demand or read our recap.
September 2023
Heads up — September is packed with great recruiting conferences. These aren't even all of them, just the ones our community thinks are the best.
Exec Roundtable: Healthcare Recruitment in the Face of Labor Shortages
Date: September 12th at 1:00 PM ET
Location: Online
Price: Free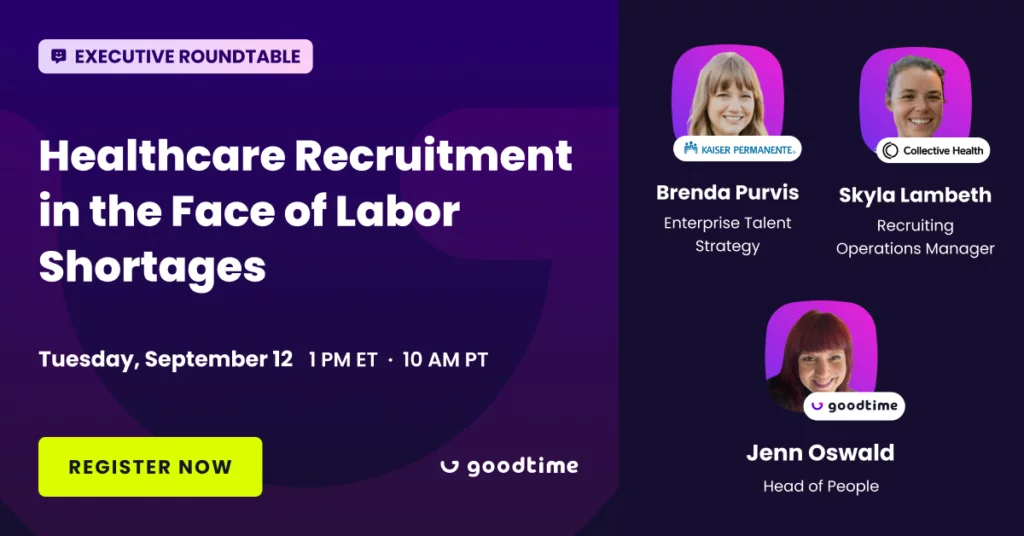 Healthcare TA leaders are grappling with a long-brewing labor shortage that has accelerated in the last 3 years. Healthcare recruiting pros are invited to join our live executive roundtable discussion to hear how other TA leaders are shifting strategies and adopting new tactics to hit their goals, even amidst a growing healthcare labor shortage.
This is not your typical webinar; it is a unique opportunity for industry leaders to share experience-based advice on critical focus areas for 2024, tools they use to keep high-volume roles filled continuously, and how they're slashing time-to-hire without compromising on quality.
Exec Roundtable: How to Run Resilient Tech TA in Tight Times
Date: September 14th at 1:00 PM ET
Location: Online
Price: Free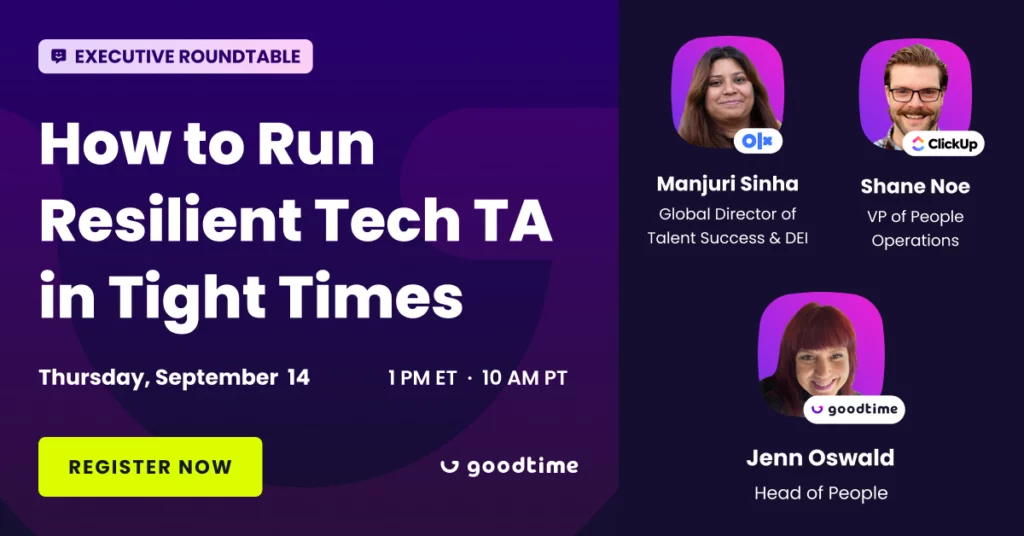 Navigating the tech TA and recruitment whirlwind in recent years has felt like riding on a giant yo-yo. We've experienced everything from the frantic pace of explosive growth to the unpredictability of the great reshuffle. Now, it's become a balancing act of maintaining leaner TA teams, managing surges of candidates, and ensuring every hire is a perfect strategic fit.
Join us for a live executive roundtable discussion, just for tech TA leaders like you. This is not just another generic webinar, but an exclusive gathering of thought leaders ready to share, learn, and chart the path forward.
Talent Summit
Date: September 20, 2023
Location: Virtual
Price: Free
The demand to elevate Talent Acquisition into a strategic powerhouse has reached unprecedented levels.
Join our partner Gem's Talent Summit 2023 and unlock the secrets to success in Talent Acquisition in today's market. Learn from visionary leaders, discover innovative solutions, and connect with an expansive network of Talent Leaders shaping the future of recruiting. This event is definitely one to attend if you can, and features TA leade3rs from all-star companies like Nissan, Capital One, and Visa.
Indeed FutureWorks
Date: September 20-21, 2023
Location: Atlanta & Virtual
Price: $299 for in-person or free virtually
Experience the future of work transformation at Indeed FutureWorks, an industry-leading event for talent leaders. Gain inspiration from captivating keynote speakers, engage in interactive panel discussions, explore the practical applications of AI, and seize the opportunity to connect directly with leaders from Indeed.
Oh and by the way, the keynote speaker this year is Viola Davis! We're definitely keeping our eye on this one.
Diversity Recruitment: Strategies for Hiring with Equity
Date: September 20, 2023
Location: Virtual
Price: $195
Forward-thinking recruiting teams have unlocked innovative approaches to tap into untapped talent pools and platforms where underrepresented individuals can be discovered. Check out this conference to see proven methods for crafting a successful recruitment strategy that combines the latest tools and technology to ensure DEI goals are met and that your search includes all qualified candidates.
By attending this conference, you will gain insights on how to:
Employ novel strategies to identify and attract a diverse array of job candidates
Harness the power of analytics to optimize your recruiting process
Implement skill-based hiring techniques to bridge talent gaps and ensure a well-rounded workforce
Workday Rising
Date: September 26–29, 2023
Location: San Francisco, California and Online
Price: $1,895 for an early bird pass, $299 for a digital pass, or free for a Digital Essentials pass
Workday Rising offers a unique blend of cutting-edge technology, groundbreaking advancements in AI and machine learning (ML), and an exceptional global community, all aimed at empowering you to lead the way in shaping the future of work.
Immerse yourself in the Workday Rising experience, where you can connect with a vibrant community of customers and partners who share your passion. Discover how we are harnessing the potential of AI and ML responsibly to bring unprecedented value, intelligence, and efficiency to your daily operations. Get ready to dive in, roll up your sleeves, and engage in hands-on sessions that will leave you equipped with practical skills and knowledge.
October 2023
Talent Connect
Date: October 2-4, 2023
Location: New York City and Online
Price: Free
Join the foremost talent leaders, innovators, and influencers at LinkedIn Talent Connect 2023. Explore the future of work through two avenues:
Summit (In-person): An exclusive event for leaders to collaborate on industry challenges and strategies. Network and build solutions for driving business outcomes.
Show (Online): Connect virtually with global peers. Access exclusive content, speakers, and Summit highlights.
With speakers like Spike Lee, Ryan Roslansky, and Jennifer Shappley, this is going to be a high-profile event that all TA pros will want to make time for — even if you can only join virtually!
Talent Success Conference
Date: October 4, 2023
Location: Virtual
Price: Free
The Talent Success Conference 2023 is a must-attend event for Talent Acquisition professionals. It offers insights, strategies, and networking opportunities to stay updated on the latest trends and technologies in talent acquisition. Perfect for both experienced recruiters and newcomers, the conference is a hub of valuable resources and connections for driving excellence in recruitment.
HR Technology Conference & Exposition
Date: October 10-13, 2023
Location: Las Vegas, Nevada
Price: $495 for an Expo Pass or $1,975 for All Access
HR Tech is dedicated to helping HR teams leverage technology to smash their goals, discover new tools, and learn about the strategies and processes necessary for success.
Not sure which sessions to attend? All breakout sessions are organized into learning tracks that are focused on key HR issues. These include DE&I, employee experience, HR digital transformation, and people analytics, among others.
November 2023
Find New Candidate Pools with Recruitment Analytics
Date: November 15, 2023
Location: Las Vegas, Nevada
Price: $195
This is the conference for those of you who aren't yet leveraging data to optimize your recruiting strategies (or those who want to learn to leverage it more meaningfully)! With the right recruiting analytics, TA teams can exceed their goals, driven by data that serves as the foundation for well-informed hiring decisions, discovering untapped talent, and enhancing the overall quality of your hires. With the right data at your disposal, analytics can even facilitate the influx of a significant number of qualified candidates, monitor your talent pipelines, and identify any bottlenecks in the system.
Whether you're embarking on your data journey or seeking to refine your existing analytics practices, this conference will equip you with the knowledge and strategies you need to succeed.
Looking ahead to 2024's recruiting conferences
Currently, there's limited information available about these conferences, but check back here as we'll update this list as more details are released.
HR Vision New York
Date: January 17-18, 2024
Location: New York City
Price: $1,499.00
This event offers a valuable opportunity to gain insights into the evolving landscape of HR, particularly in relation to technology-driven advancements in people management. The conference's emphasis on the future of work, coupled with discussions about digital transformation and HR analytics, provides TA professionals with a chance to learn about innovative strategies for talent acquisition, engagement, and development. Moreover, the event offers networking opportunities, allowing TA professionals to connect with peers, benchmark practices, and build connections that can contribute to their ongoing success in navigating the ever-changing HR landscape.
SHRM Talent Conference & Expo 2024
Date: April 14-17, 2024
Location: Las Vegas & Virtual
Price: $1,895 early bird pricing for non-SHRM members
The SHRM Talent Conference & Expo 2024 is a vital event for Talent Acquisition professionals. It addresses the need for innovative talent management in today's dynamic job market. Connect with experts, explore data-driven strategies, and adapt your approach for success. Gain actionable insights, build meaningful relationships, and access cutting-edge solutions. With 7 content tracks, it covers recruitment, talent selection, data analytics, diversity, and more. This event empowers you to excel in an ever-evolving job landscape.
Greenhouse Open
Date: April 18-19, 2024
Location: New York City
Price: TBA
Open, hosted by Greenhouse, offers a unique opportunity for talent professionals, business leaders, and industry experts to engage in two days of interactive learning, hands-on experiences, and networking. With a history of growth since its inception in 2016, the conference attracts thousands of attendees globally who share a common goal of unlocking human potential at work. Participants can expect to gain insights from innovative leaders, explore strategies for better hiring, and connect with a diverse community of professionals, all aimed at enhancing their talent acquisition endeavors.
Stay ahead of the curve on recruiting technology
With the challenges TA teams faced in recent years, these gatherings offer a chance to connect, learn from peers and experts, and reshape strategies. The carefully curated selection for 2023 and a glimpse into 2024 covers topics from AI to coping with industry-specific shortages, providing opportunities for growth and innovation. These events are transformative, equipping professionals to excel in recruitment and shape the future of talent acquisition.