If you're like most recruitment teams in healthcare, you're feeling the pressures of the industry. Few recruiters, an abundance of open roles, and a major talent shortage create a perfect storm for today's talent teams. And the secret to successfully navigating the rough waters? Enlisting the help of healthcare recruiting software.
The right technology allows healthcare recruiters to streamline their processes for efficiency and scale their interview volume—even when facing limited resources. But with a variety of software options out there, how can you ensure you're investing in the right one?
Use our 10-point checklist to help you choose the best healthcare recruiting software:
1. Compatibility With Your Existing Systems
First things first: the software that you choose should be compatible with your existing systems. You'll want to ensure that the software can seamlessly integrate with your ATS and any other critical systems that help you move your recruitment process along. The last thing you want is the inability to use your current systems or to transfer your data between your old and new tech; that's simply an unnecessary headache.
2. Ease of Use
Software that's intuitive and easy to use is a must-have. This will help get your talent team up and running to use the tech quickly without intensive training. Scheduling conversations with the sales team to get a live demo and understand the product's interface is a great way to gauge how user-friendly it is.
3. High-volume Features
Many healthcare recruiters find themselves faced with a revolving door of vacancies and endless roles to fill. Overcoming the challenges of high-volume hiring requires recruiting software with specific features. This includes bulk communication and scheduling, self-scheduling, and SMS recruiting, all designed to handle a high level of reqs and a large candidate pool.
Go beyond bandaid solutions to hit your healthcare hiring goals consistently
Automate your healthcare hiring process, increase candidate engagement rates, and fill open roles 50% faster.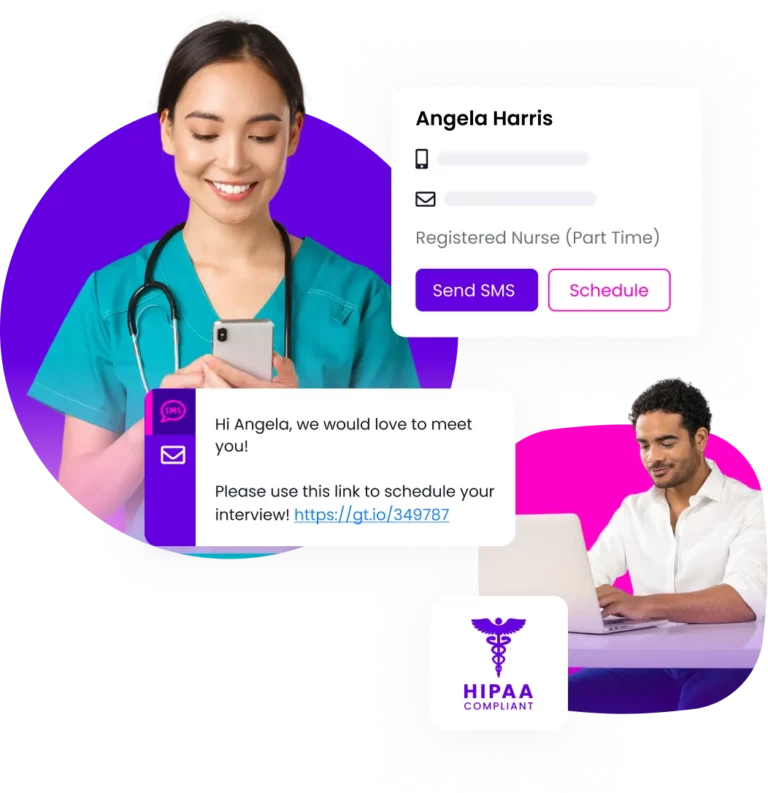 4. Recruiting Process Automation
72% of employers predict that parts of their talent acquisition will be automated within the next decade—and we believe them. Automation is a recruiter's best friend. It cuts down time-to-hire by reducing the time spent on tedious tasks, and when you're an overburdened healthcare recruiter, an increase in bandwidth is always appreciated.
Look for tech that can automatically load balance interviews and select interviewers, schedule interviews, generate communications, and send out calendar invites and reminders to candidates and interviewers.
5. Reporting and Analytics
Your healthcare recruiting software should give you visibility into the metrics that you need to succeed. For starters, you'll want to have access to a robust analytics dashboard to reference the status of candidates and see where they're at in the talent acquisition funnel. Software that also allows you to view data on your hiring team, such as each RC's total schedules, provides your team with even more valuable insights to use when refining your operations.
6. Customization and Personalization Options
It's also wise to look for software that offers customization and personalization options. Note: your new software should automate all customizing and personalizing to avoid creating more work for yourself. Even when sending out quick text messages to healthcare applicants, adding a bit of personalization to your messages via custom communication templates goes a long way in uplifting the candidate experience.
7. Branding Abilities
Want to maintain a consistent brand image throughout your recruitment process? Then you'll want to look for software that allows you to customize the branding and appearance of the platform. This may include adding your company logo, choosing your own color scheme, and adding company photos.
8. Security
Security is a top concern regarding software, and it's especially important for an industry as scrutinized as healthcare. You'll want to do thorough research to ensure that the software you choose has robust measures in place to protect user information and maintain data security. Look for information on how your team can manage users, permissions, and login to the software, and what access users get with regard to sensitive information and calendars.
9. Customer Support and Services
It's a good idea to consider the level of customer support offered by the software vendor. Onboarding new tech isn't always a cakewalk; you'll want access to experts that can guide your success from day one and help you maximize your ROI. Access to an appointed customer success professional and technical support will help you ramp up your team quickly and resolve any issues that arise.
10. Pricing
And then there's the elephant in the room: pricing. Yet conversations on pricing should go beyond discussing what your team is willing to spend. You don't just want software that fits within your budget; you want software that gives you the highest ROI possible. But how do you determine this? It's time to research.
Sift through customer testimonials and reviews on popular software review sites, such as G2, that illustrate the output that a particular software generated for other talent teams. Pay careful attention to companies that also fall under the healthcare umbrella to more closely predict how your own team might fare if you invested in the software.
Heal Your Hiring Process With Healthcare Recruiting Software
By taking the time to carefully evaluate each of these factors, you'll ensure that you choose the right healthcare recruiting software for your organization's specific needs and goals. But we get it—it's hard to feel confident in investing in software when there are so many elements to consider and so many options on the market.
With GoodTime Hire, healthcare companies feel confident that they can meet their business needs. Hire helps healthcare recruitment teams schedule interviews for roles up to 67% faster.