Let's cut to the chase: manufacturing isn't known for being on the cutting edge. The sector is typically slower to adapt to changes in the world of hiring. And these days, hiring seems to evolve at the speed of light—leaving most manufacturing recruiters in the dust.
Recruiters must contend with new work structures, hiring policy standards, and expectations from candidates. AKA: your hiring team's current way of doing things probably isn't up to snuff. But don't stress yet; we're here to show you the way forward.
After surveying 531 talent acquisition leaders across sectors for our 2023 Hiring Insights Report, we've released the report's manufacturing edition. Based on responses from 106 talent leaders in manufacturing, the report shows how they're winning talent in the modern world (and much, much more hiring insights).
What challenges will define manufacturing? How will hiring change? And most importantly: how can manufacturing recruiters evolve their processes to overcome whatever is thrown their way?
We've rounded up all of those crucial insights. Read on.
The Difficult Future for Manufacturing Recruiters
Another year, another set of obstacles. According to our survey, respondents expect to get hit by new challenges and shifts in the landscape this year.
If manufacturing recruiters want to overcome these forces, they'll have to reassess their current processes. But first, what can teams expect in the evolving world of hiring?
Manufacturing's Biggest Challenges
Limitations of Hiring Technology
Talent leaders in the manufacturing sector anticipate a major challenge in the coming year:
"limitations of current hiring technology" (27%). This ranked as their top concern.
Talent teams within manufacturing and beyond have faced considerable turnover and budget cuts. In the aftermath, teams recognize that without the assistance of an airtight tech stack, they will struggle to meet their goals.
Slow, outdated technology acts as a massive roadblock for a high-volume hiring sector like manufacturing, where speed is the name of the game. But with purpose-built manufacturing recruiting software that enables efficiency and productivity, teams can keep candidates engaged and win them over in record time.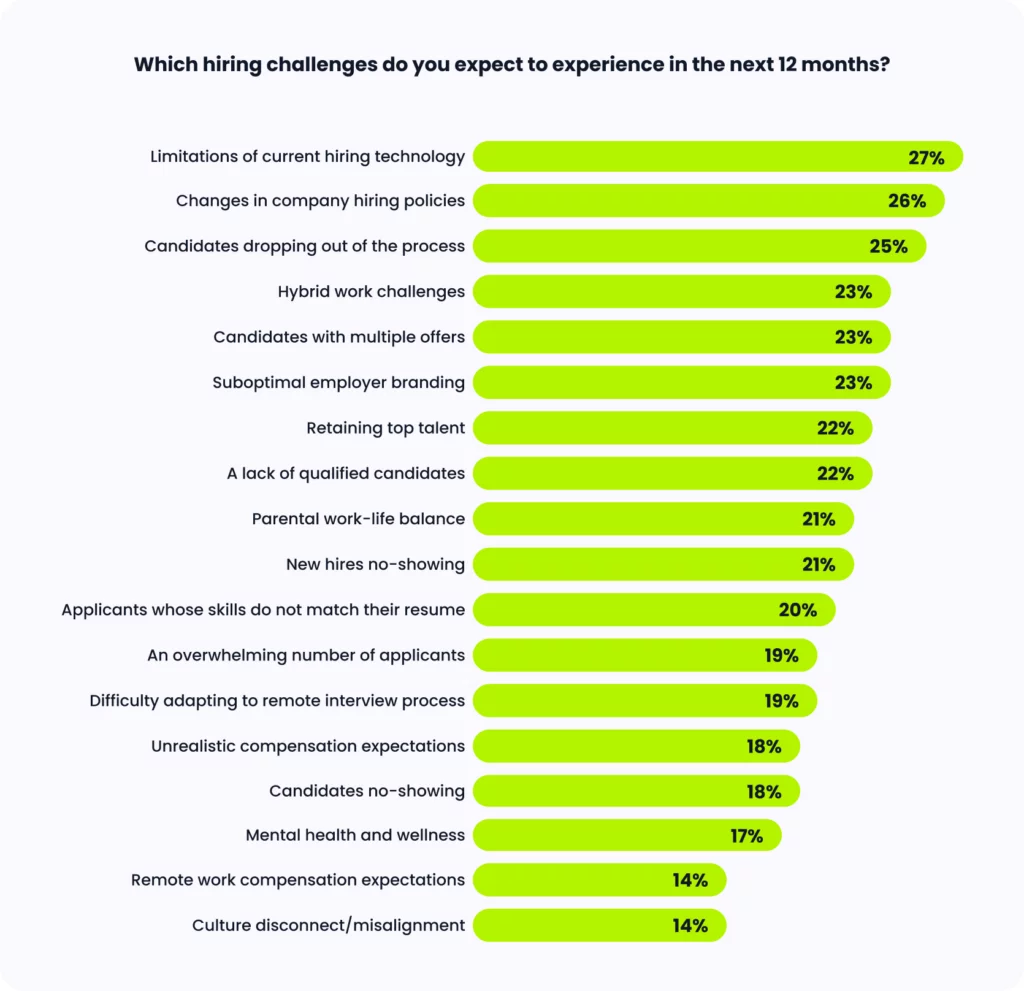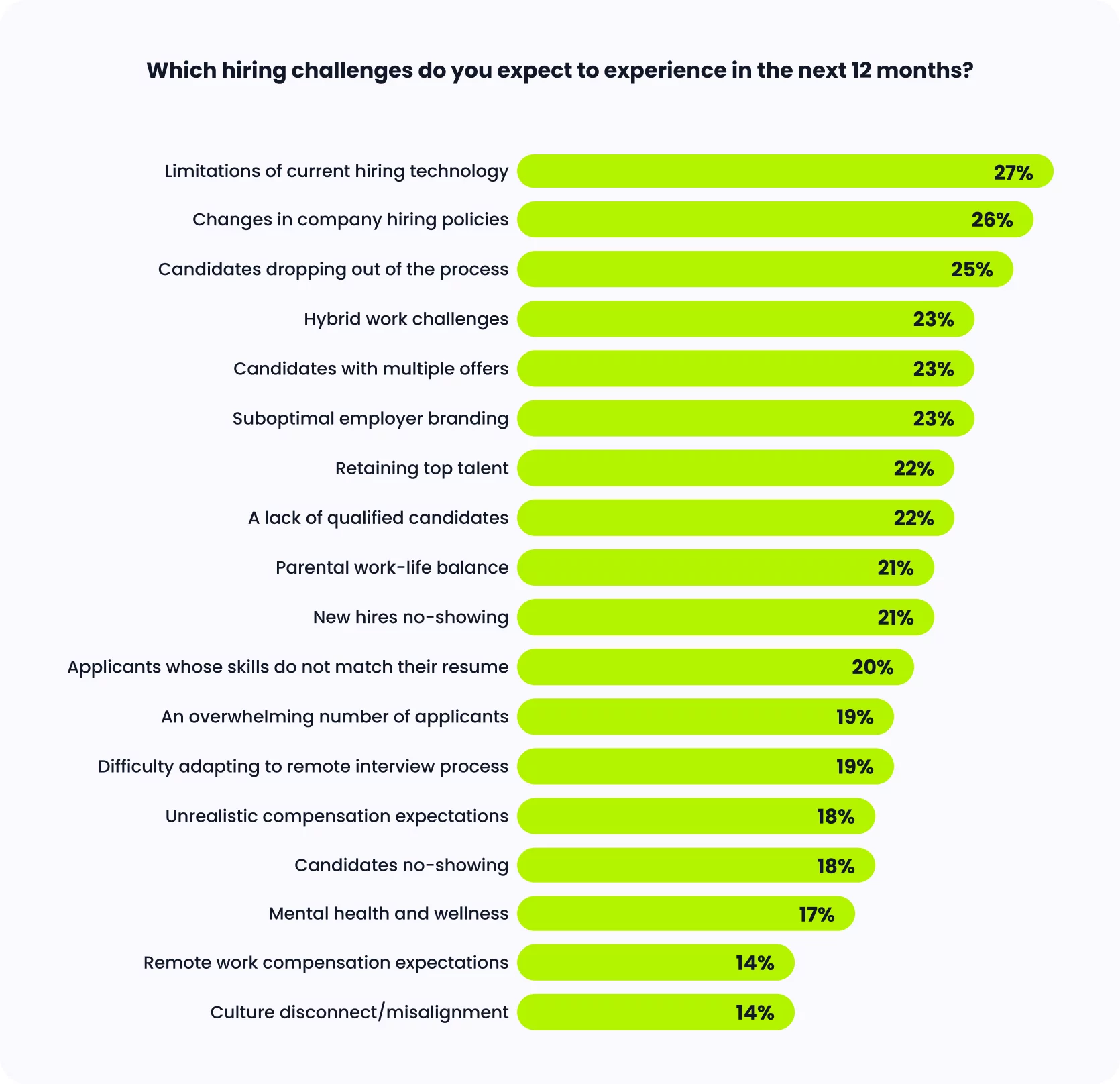 Changes in Company Hiring Policies
In today's shifting hiring landscape, manufacturing companies need to stay agile and adjust their hiring policies accordingly. Talent leaders are well aware of this; they ranked "changes in company hiring policies" as their second biggest upcoming challenge (26%).
It's only natural for hiring policies to evolve in response to a transforming landscape, especially in a sector that has already undergone significant changes. Manufacturing no longer resembles what it was years ago. Traditionally viewed as an "in-person sector," companies are slowly but surely embracing remote and hybrid work models.
This newfound flexibility in work structures gives manufacturers a competitive edge in attracting candidates and aligning with the values of emerging talent in the market. Yet to effectively support remote and hybrid work, hiring and HR teams must establish the right policies.
Does interview scheduling automation make sense for my team?
ROI is key. This is not a time to invest in software that won't bring you immediate value. So let's eliminate the guesswork with our free ROI calculator.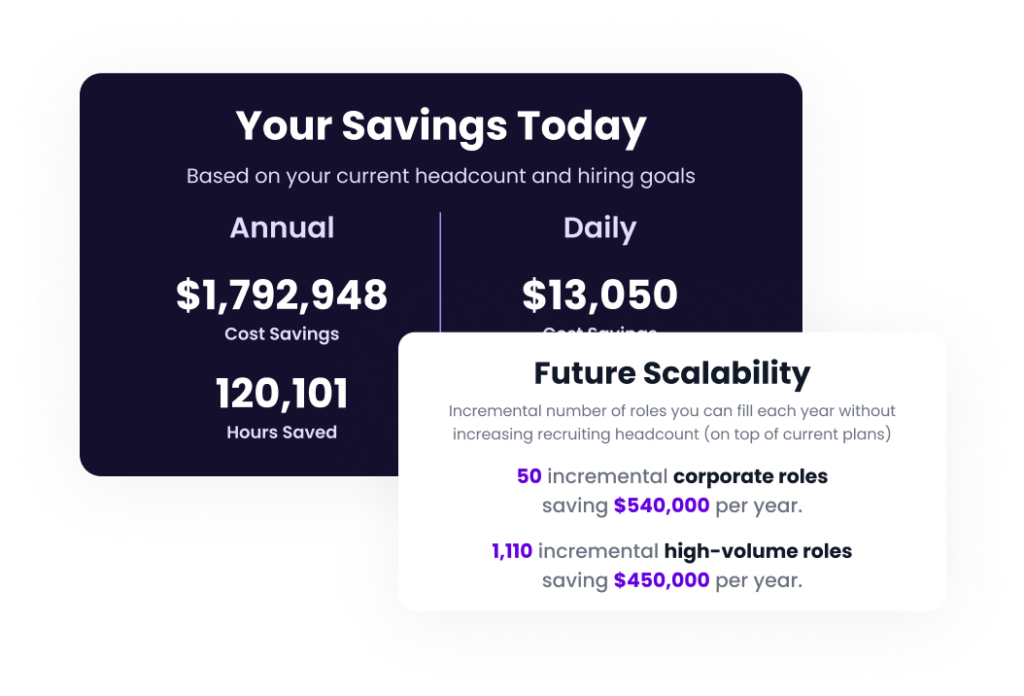 Manufacturing's Biggest Shifts
Competitive or Uncompetitive Landscape? It's Up for Debate
When it comes to upcoming changes in the hiring landscape, talent leaders have mixed opinions that really highlight the divide.
On one hand, 44% believe that the landscape will become less competitive because of the increase in available remote talent. On the other hand, 43% believe that the landscape will actually become more competitive due to the rising demand for talent as a whole.
With new challenges looming, the future feels quite uncertain to today's teams.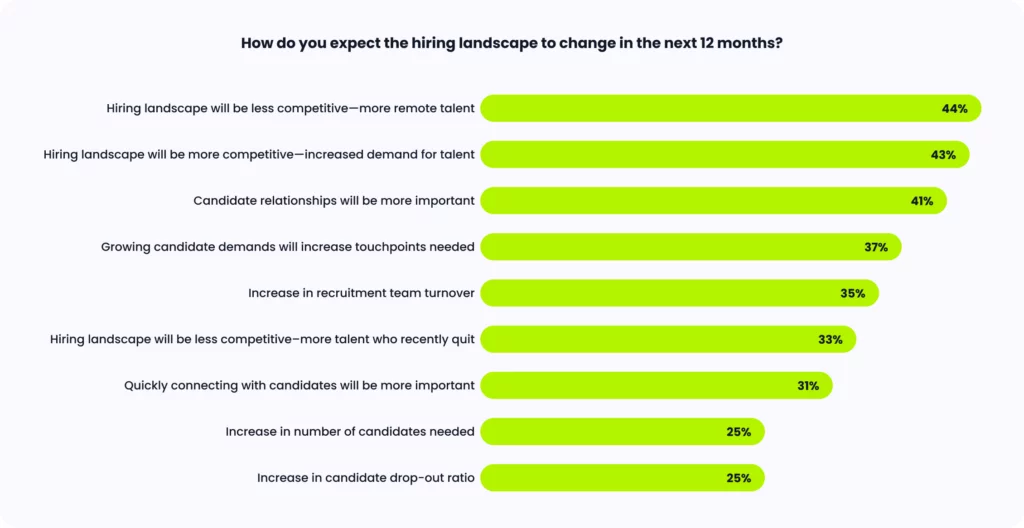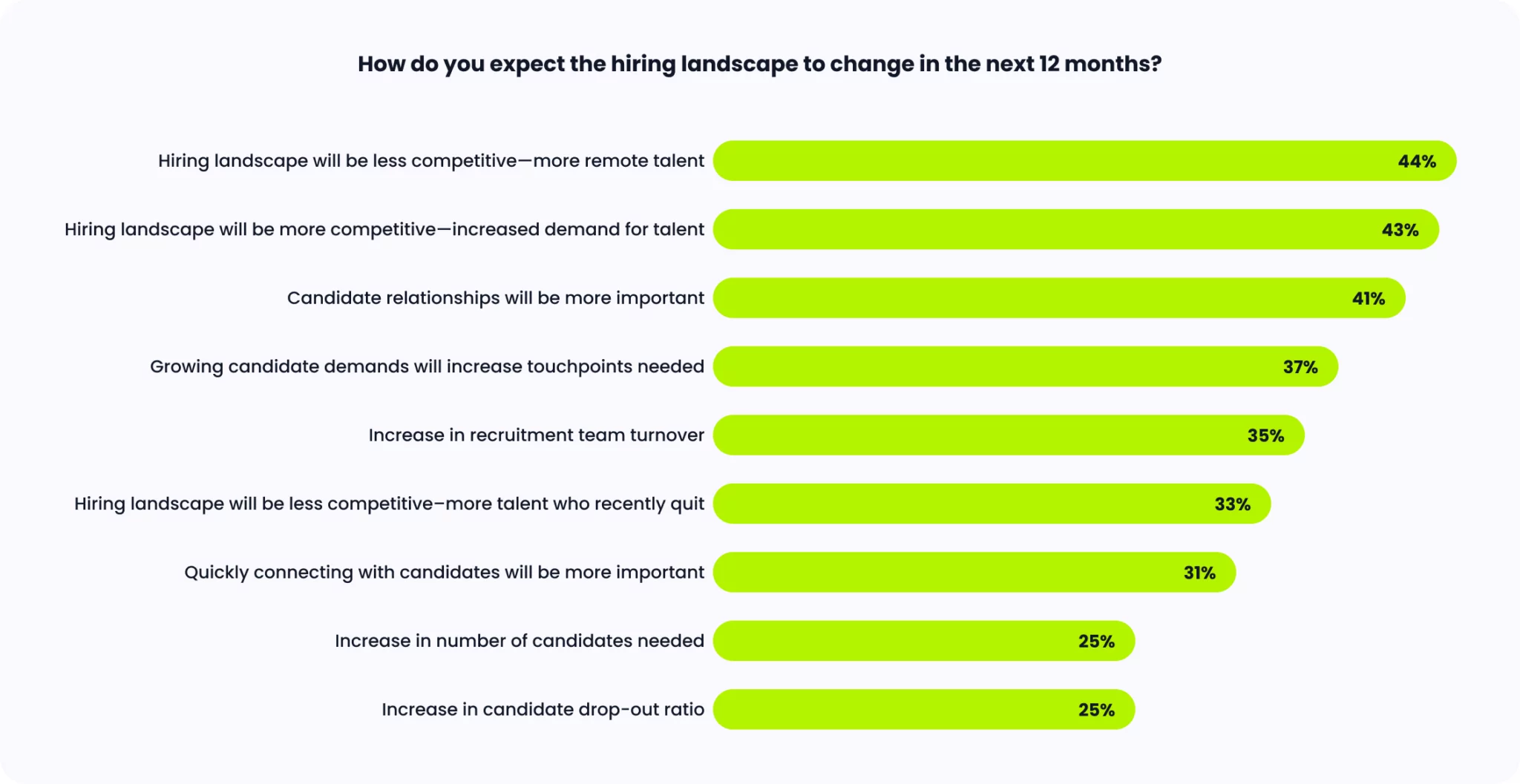 Directors and the C-Suite Say…
When we look at the data broken down by seniority level, we see an intriguing split. Let's analyze.
Most directors believe that the landscape will become more competitive because of the growing demand for talent (50%). However, most C-suite executives think that the landscape will become less competitive as remote talent becomes more available (46%).
It's worth noting that directors have good reason to anticipate increased demand for talent. They understand the ongoing impact of the current skills shortage and the increase in job vacancies resulting from retirements and the sector's rapid expansion.
C-suite executives are banking on the surge in remote talent to alleviate competition. But here's the question: Are they ready to embrace remote work within their own organizations? Manufacturing is still new to the concept of flexible work; the C-suite might be more optimistic than directors about their progress in establishing remote structures.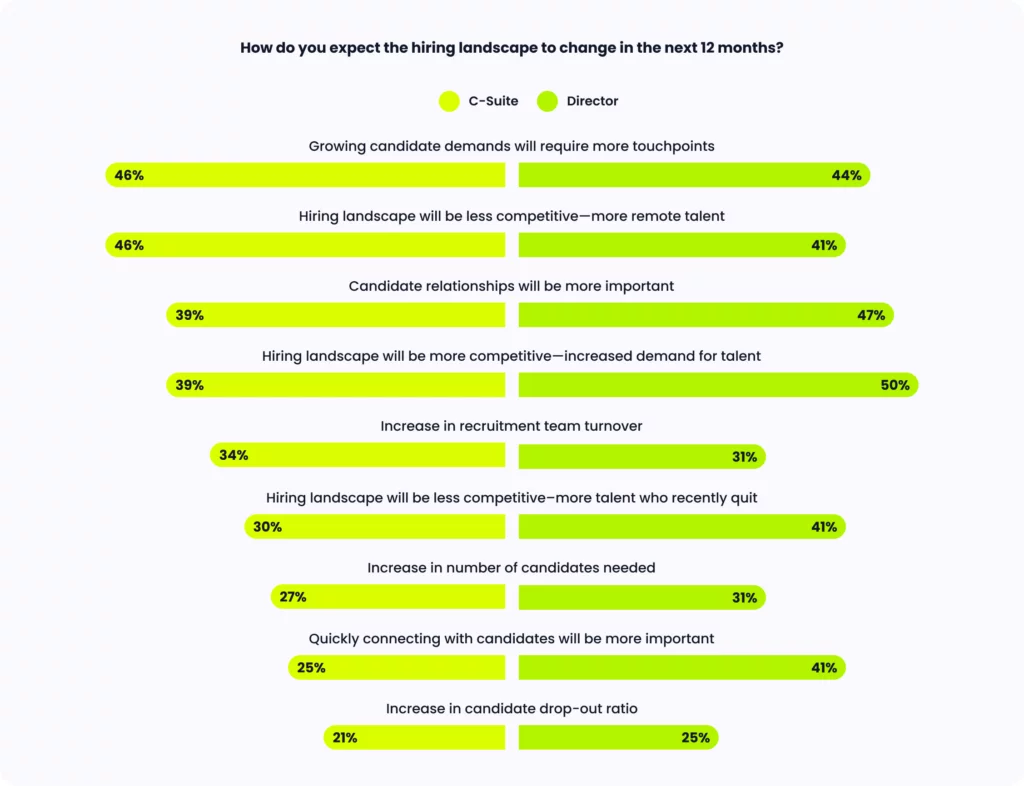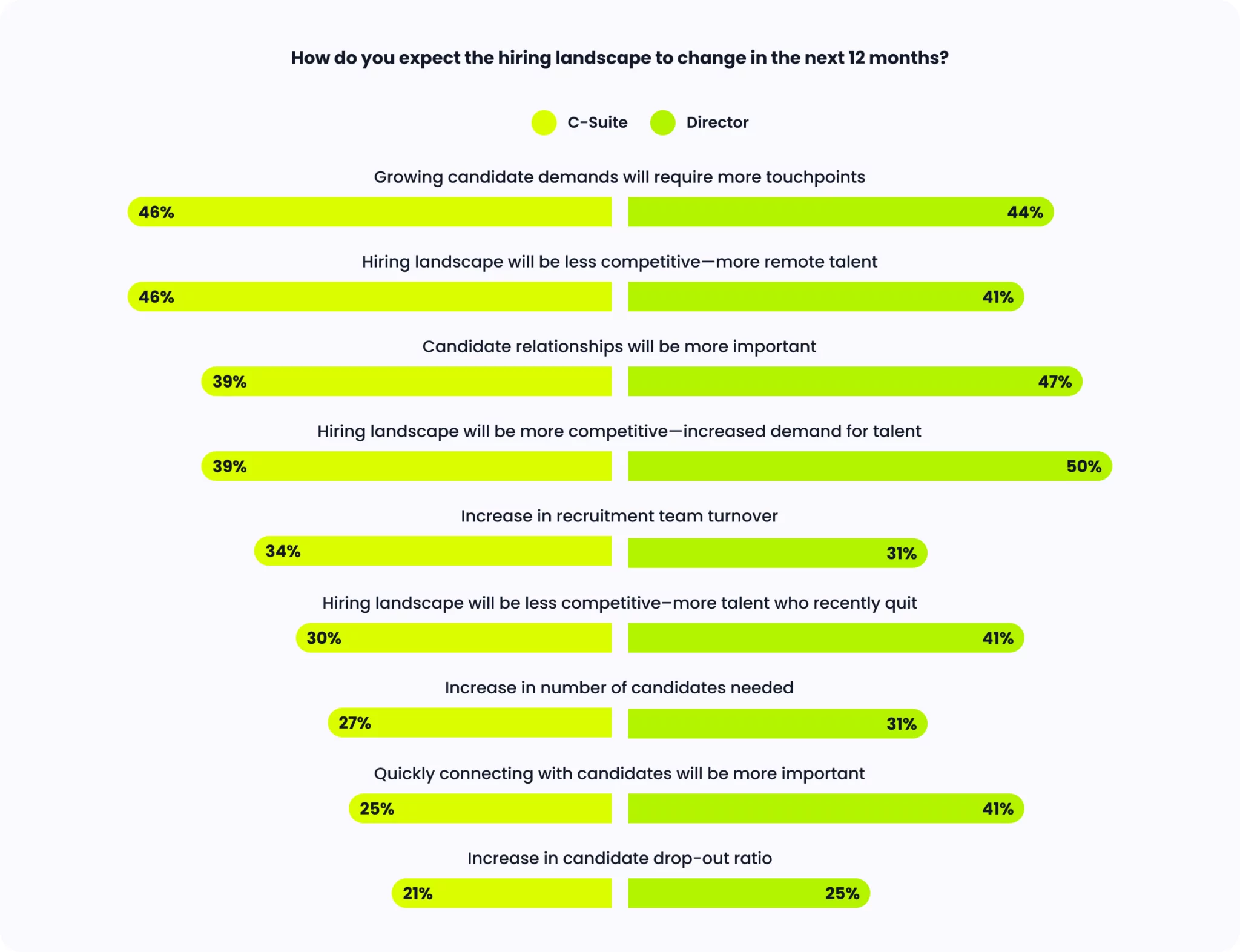 How Manufacturing Recruiters Must Respond
We now have a feeling for what's ahead in the hiring world. So, what's a recruiter to do? To help inform your strategies moving forward, here's how talent teams from our report plan on conquering recruitment.
Emphasize Time-to-Hire and Candidate Relationships
Topping the list at 36% each, talent leaders believe that reducing time-to-hire and fostering candidate relationships are the key areas that they must prioritize in the coming months. By improving these aspects, teams can establish a well-rounded hiring process.
Candidates want a process that moves swiftly, signaling that they are a priority and their time is valued. But speed alone isn't everything. Candidates also crave the opportunity to establish a genuine connection with the hiring team and get a glimpse into the company's work culture and its people.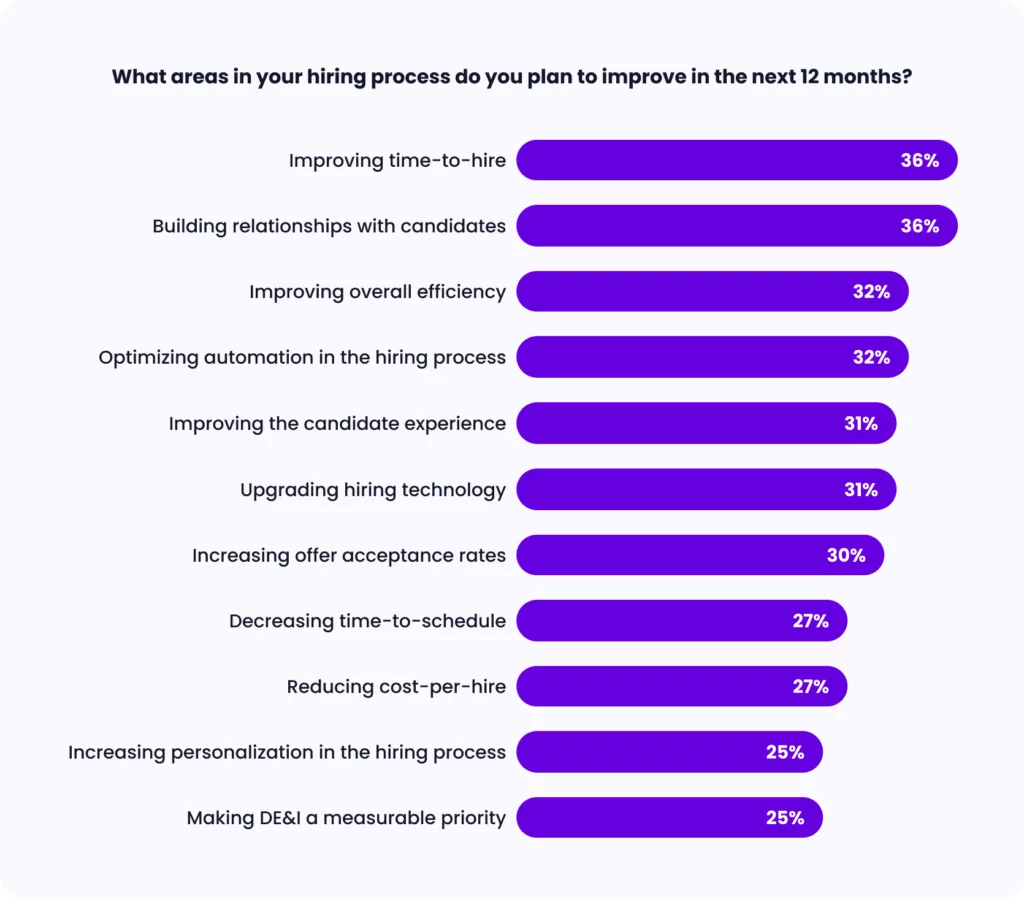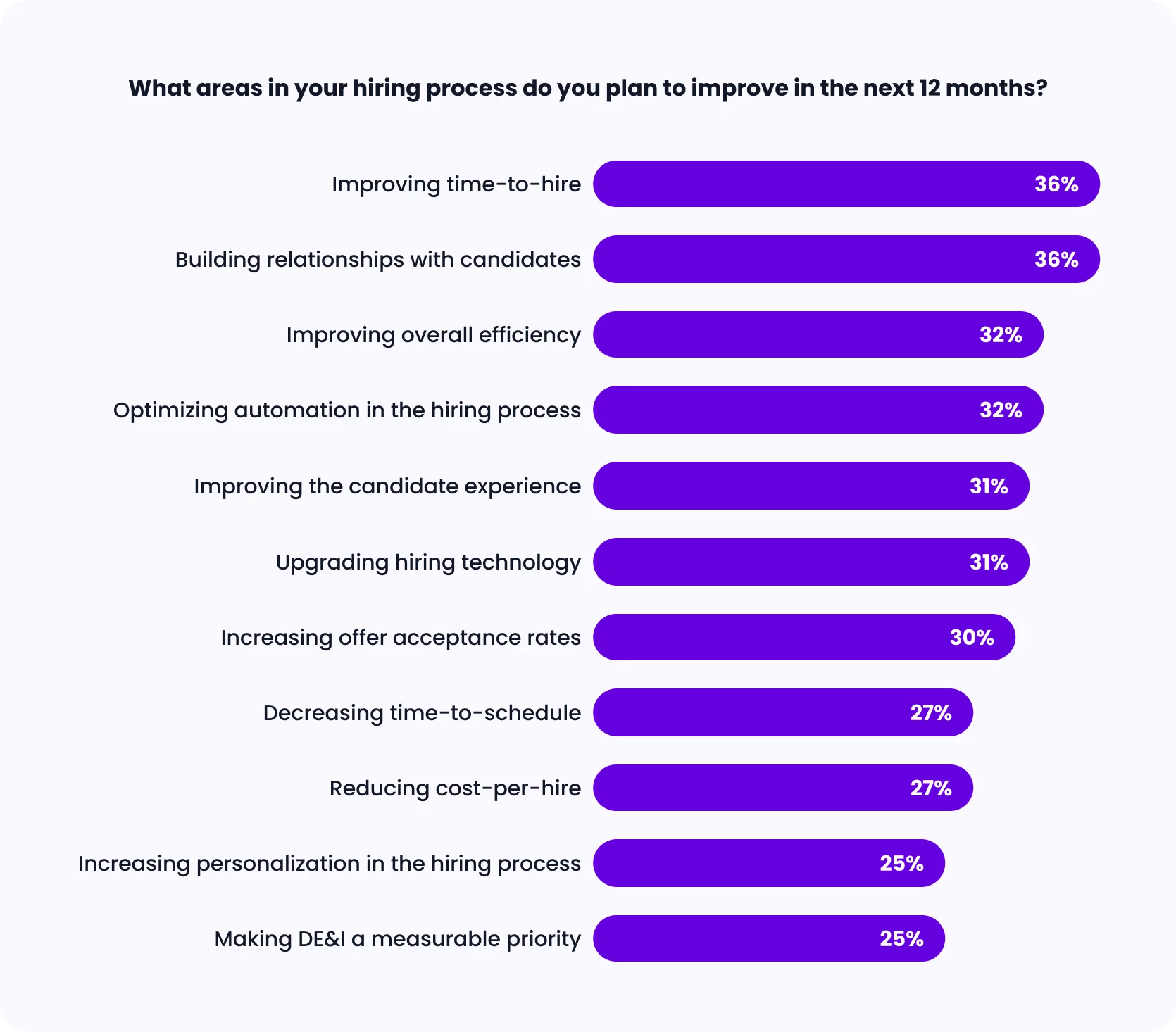 Don't Forget About the Tech Stack
To create this comprehensive candidate experience, teams have another priority in mind: upgrading their tech solutions, which comes in at 31%. Utilizing advanced tech tools would actually help teams improve all of the top five areas they plan to focus on.
An upgraded hiring tech stack streamlines the hiring process for candidates and boosts the efficiency of hiring teams. As a result, teams can dedicate more time to building meaningful connections with potential hires.
And the big payoff? Ultimately, this effectively addresses talent leaders' biggest anticipated challenge: the limitations of their current hiring technology.
Manufacturing Recruiters: Want More Insights?
2022 brought a shaky economy, sweeping reductions in force, and a challenging hiring landscape. The pressure is on to attract qualified candidates, deliver an efficient hiring process, and leverage hiring tools that drive success. Are you ready to succeed in 2023?
To dive deeper into these insights and much, much more, get the manufacturing report today.