For today's hiring leaders, the talent landscape can feel a lot like the wild, wild west: untamed, unpredictable, and downright lawless. Now in 2023, talent acquisition teams once again face new hiring challenges and economic obstacles. But don't get lost in the dust just yet: to help teams make sense of all this uncertainty, we've released our 2023 Hiring Insights Report.
The report features data on 500+ surveyed hiring leaders and explores how they're attracting and retaining talent amid today's obstacles. If your talent team wants to thrive now and for years to come, consider it required reading.
For the TL;DR of the report, here's a roundup of the 10 key recruiting statistics your team must know to successfully weather 2023's hiring storm.
1. Hiring Goal Attainment Fell Short
Our previous Hiring Insights Report found that organizations hit an average of 50% of their hiring goals in 2021. Unfortunately, their luck hasn't turned around. Since then, hiring goal performance has declined by two percentage points, dropping to 48% in 2022.
In the past year, U.S. job openings declined while the number of Americans seeking employment remained steady. Based on this context, one might expect that hiring would've become easier with fewer jobs to fill. So, where did this 48% come from? Other factors, like increased candidate demands and a deficit of desired skills, can pose significant challenges to hiring goal attainment.


2. Top Previous Challenges: Resume Padding and Hiring Policy Shifts
The biggest challenge faced by hiring teams in the past 12 months? A disconnect between real skills and what's on applicants' resumes. The prevalence of candidates padding their resumes only further emphasizes the importance of rigorously screening applicants.
Ranking in second place, 25% of surveyed talent leaders said they faced difficulties with ever-evolving company hiring policies. A range of factors triggered these policy updates, including remote work, return-to-office mandates, and a shortage of qualified talent.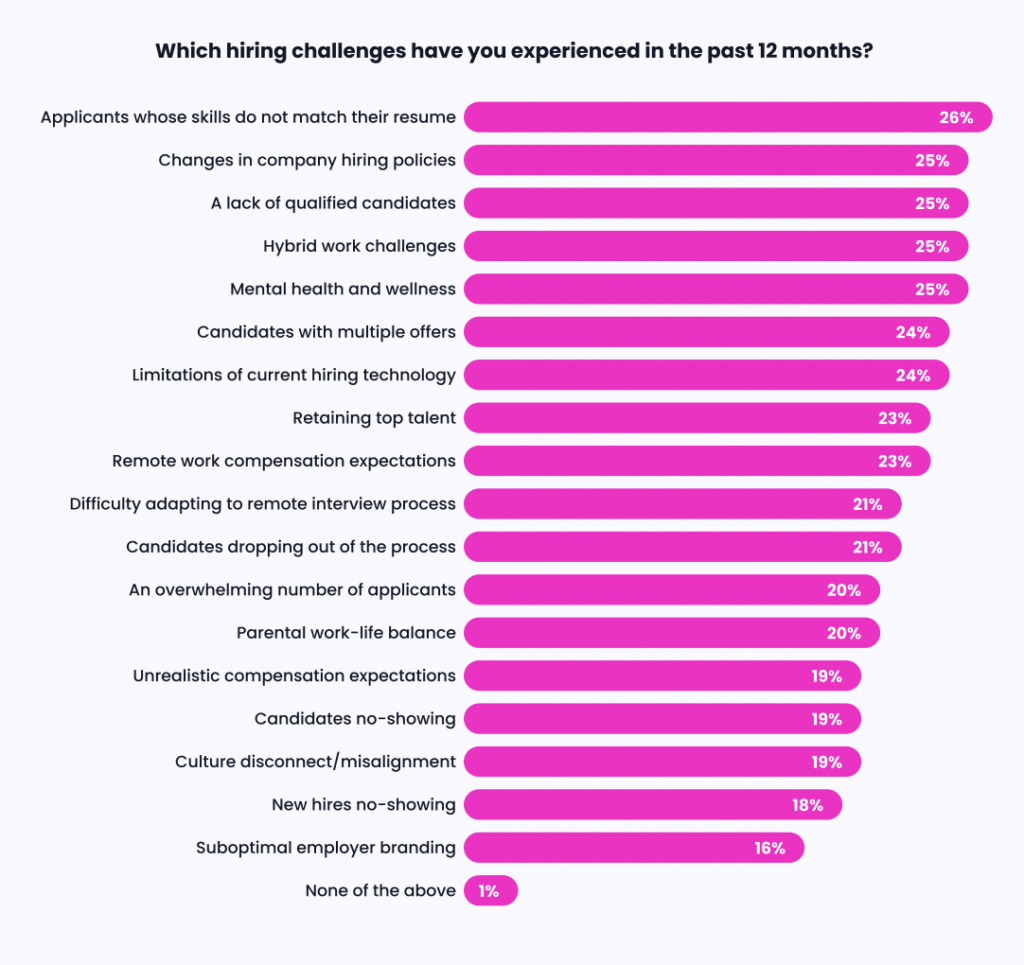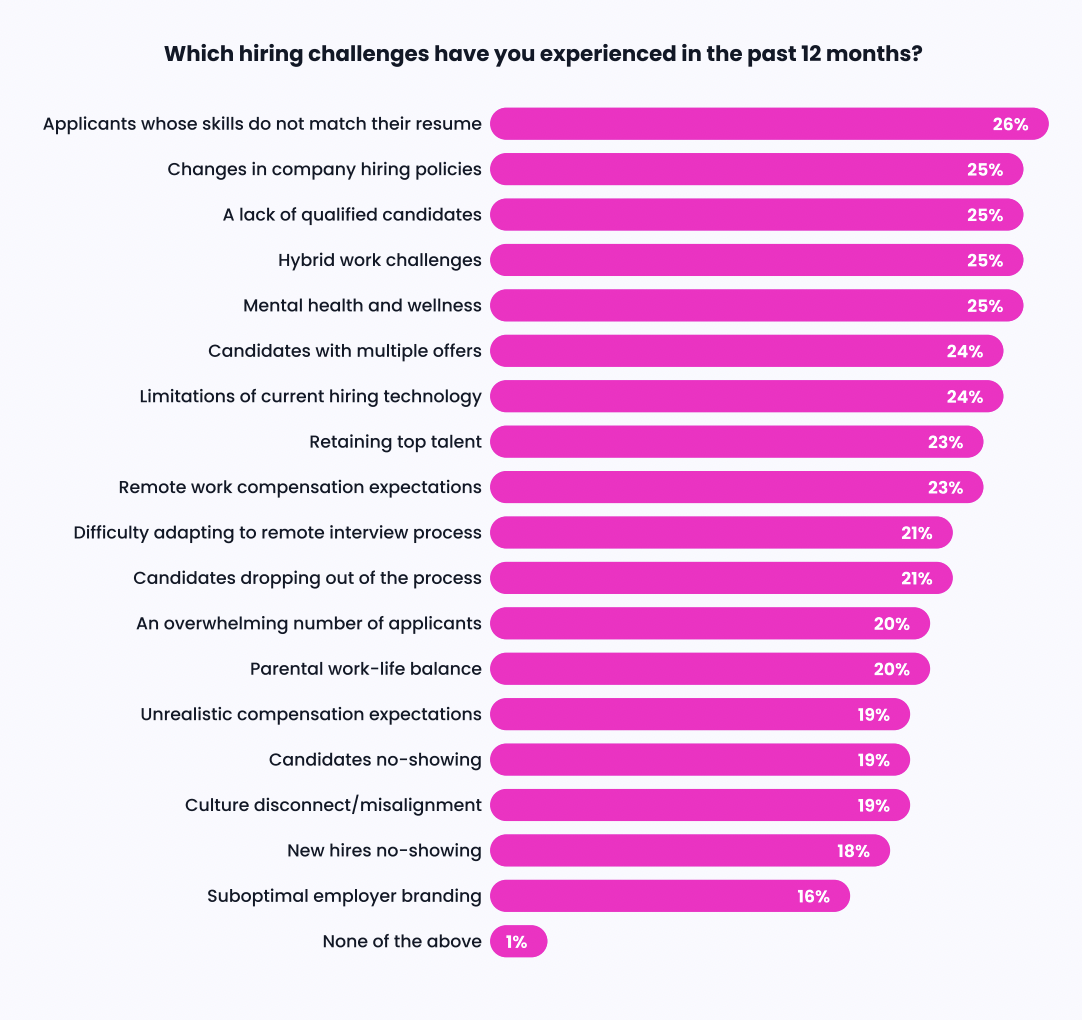 3. Layoffs Thrashed the Hiring Landscape
Overall, layoffs impacted 65% of companies last year. The tech sector's waves of layoffs dominated the news; 57% of surveyed tech companies reported going through layoffs in the past 12 months.
However, tech wasn't the only sector that conducted widespread workforce reductions. In fact, the financial services and retail sectors led the pack with the most dismissals at a staggering 71% and 70%, respectively.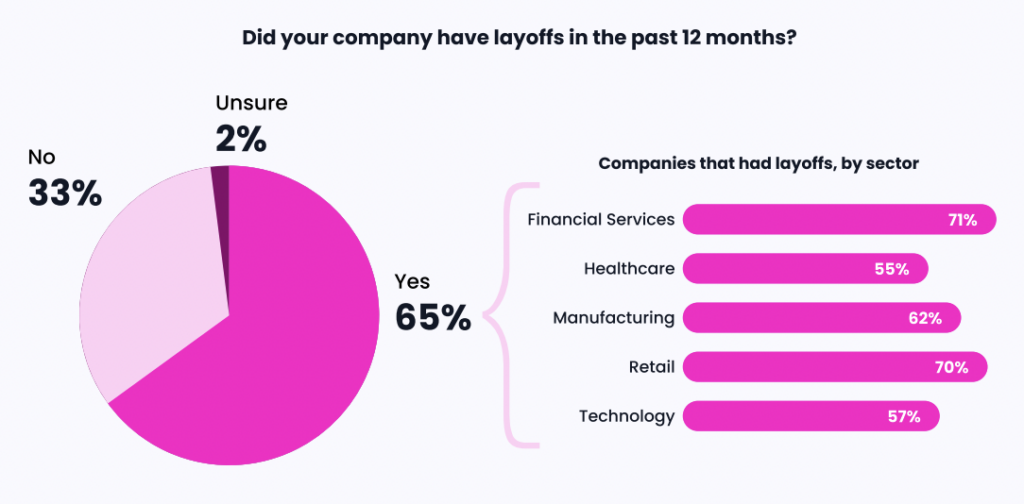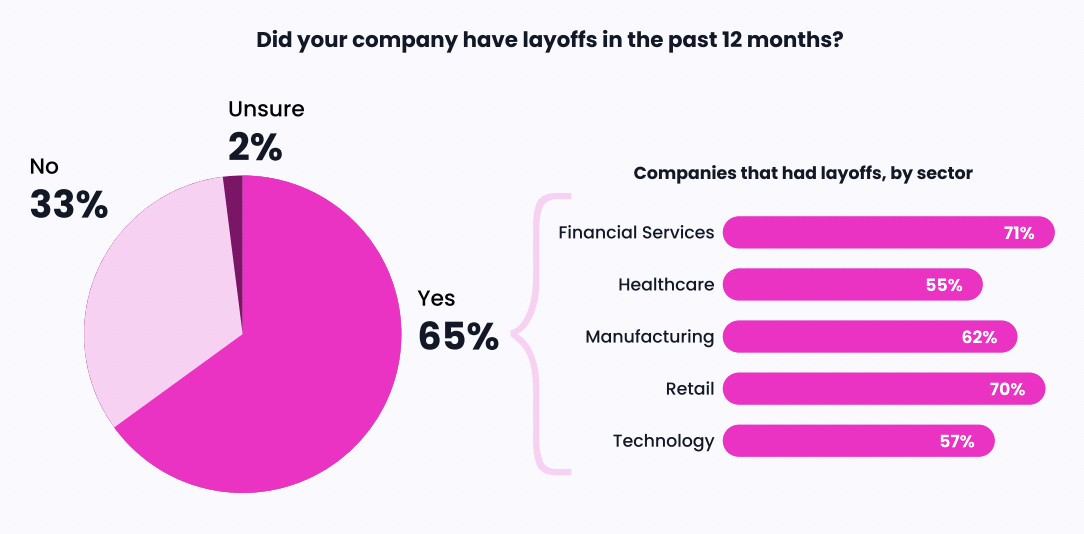 4. Turnover Rocked Hiring Leaders
Nearly half of hiring leaders (44%) were impacted by increased recruitment team turnover, making this the biggest change that hiring teams experienced last year. Fewer talent acquisition professionals means fewer people that can move the hiring process along—and slower operations.
While the majority of talent leaders agreed that turnover dealt a heavy blow to their teams, they were split on whether the landscape has become more or less competitive, underscoring the turbulent nature of last year's hiring landscape.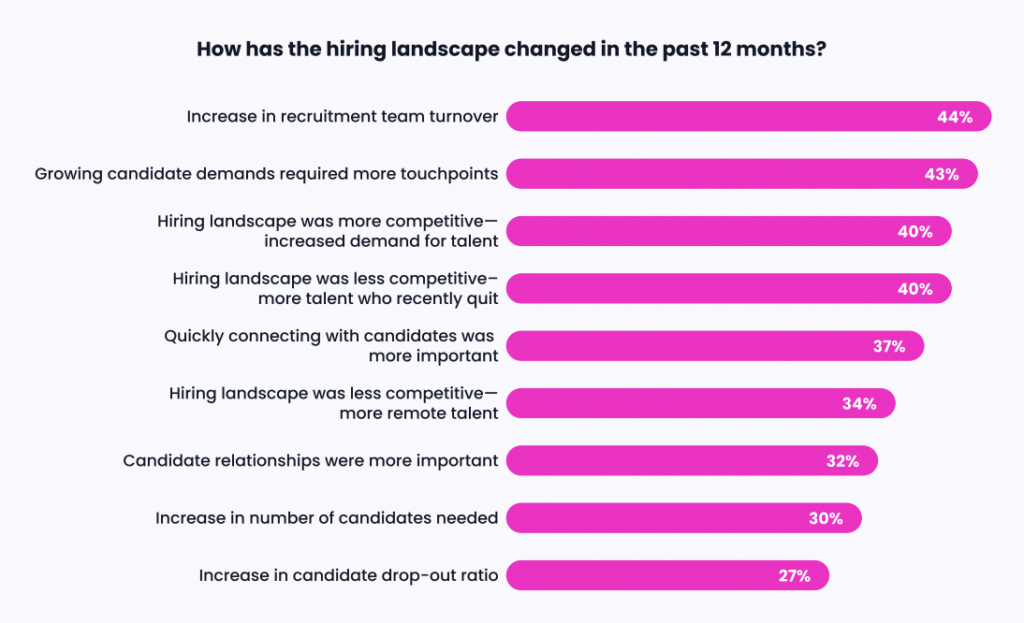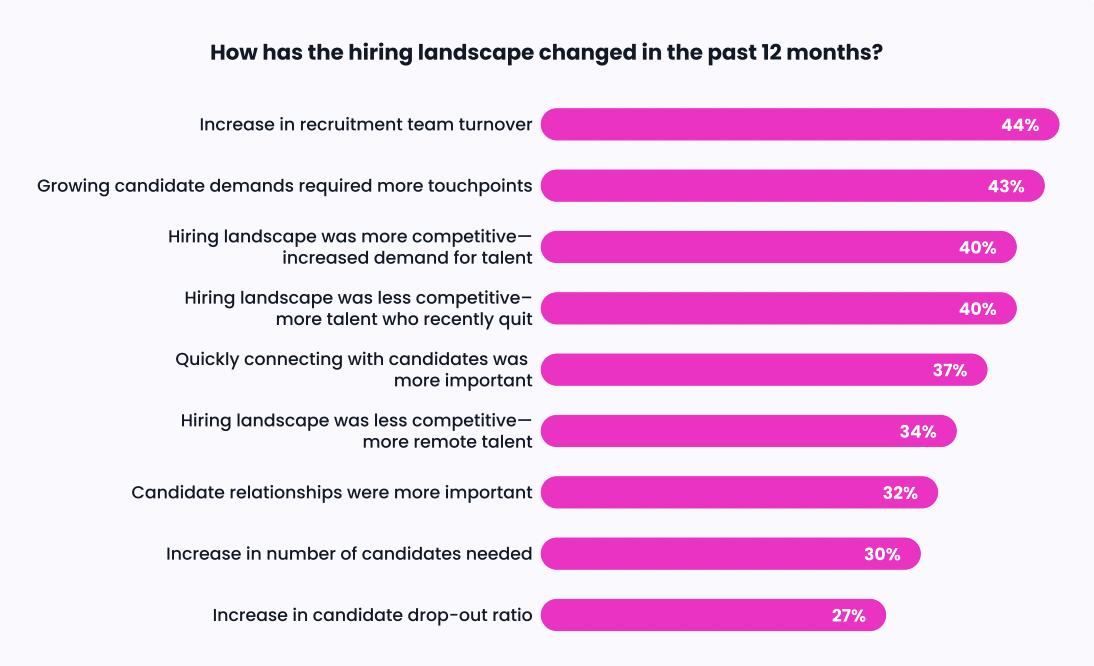 5. Top Expected Challenges: Limiting Hiring Tech and Hiring Policy Shifts
In the year ahead, hiring teams expect to confront two major hurdles. For one, teams predict that their hiring technology, which needs to adapt to their ever-changing needs, will fall short of expectations (27%). The right hiring technology can unlock a level of productivity and efficiency that teams didn't even know was possible—yet most teams don't have the tech needed to attain success.
Teams also anticipate facing difficulties in adjusting to alterations in their company's hiring policies (26%). Sound familiar? This was also one of the top challenges that teams faced in the past few months. Talent acquisition and retention become all the more challenging when your efforts are hindered by the need to constantly adjust policies to stay aligned with the landscape's evolutions.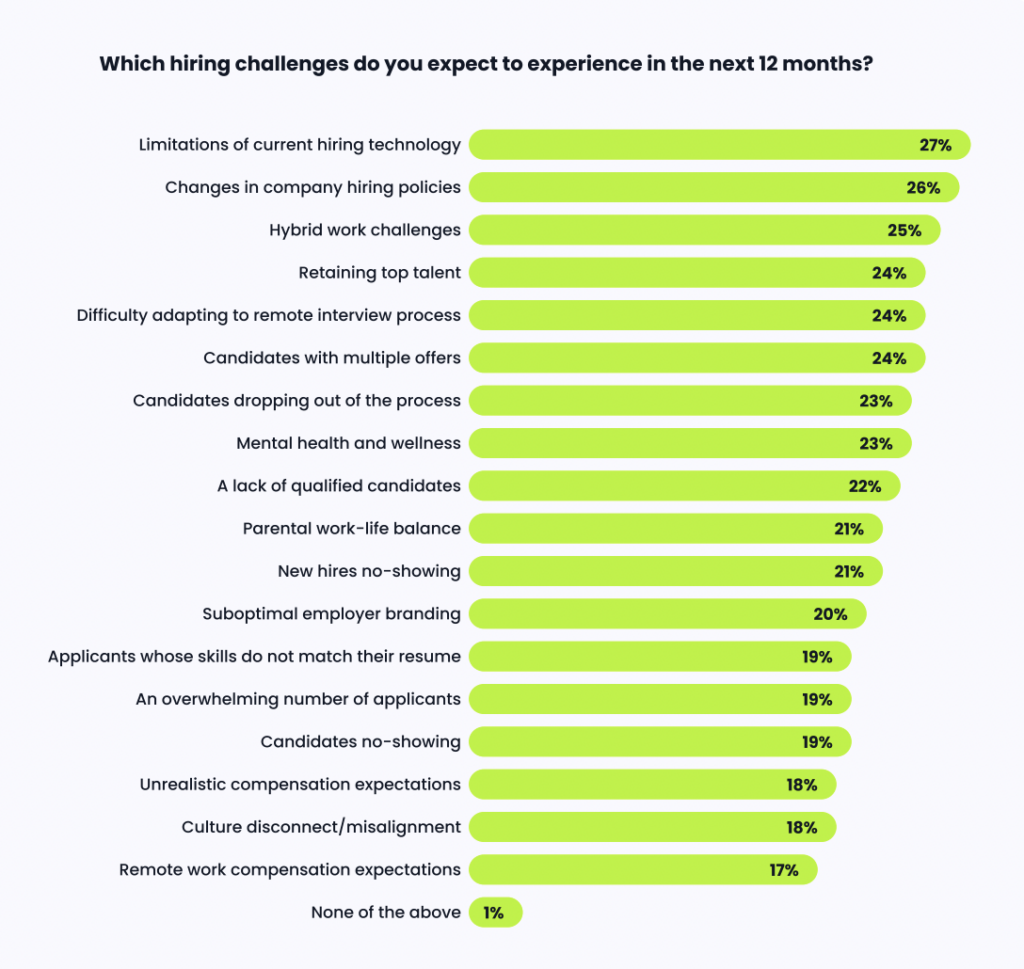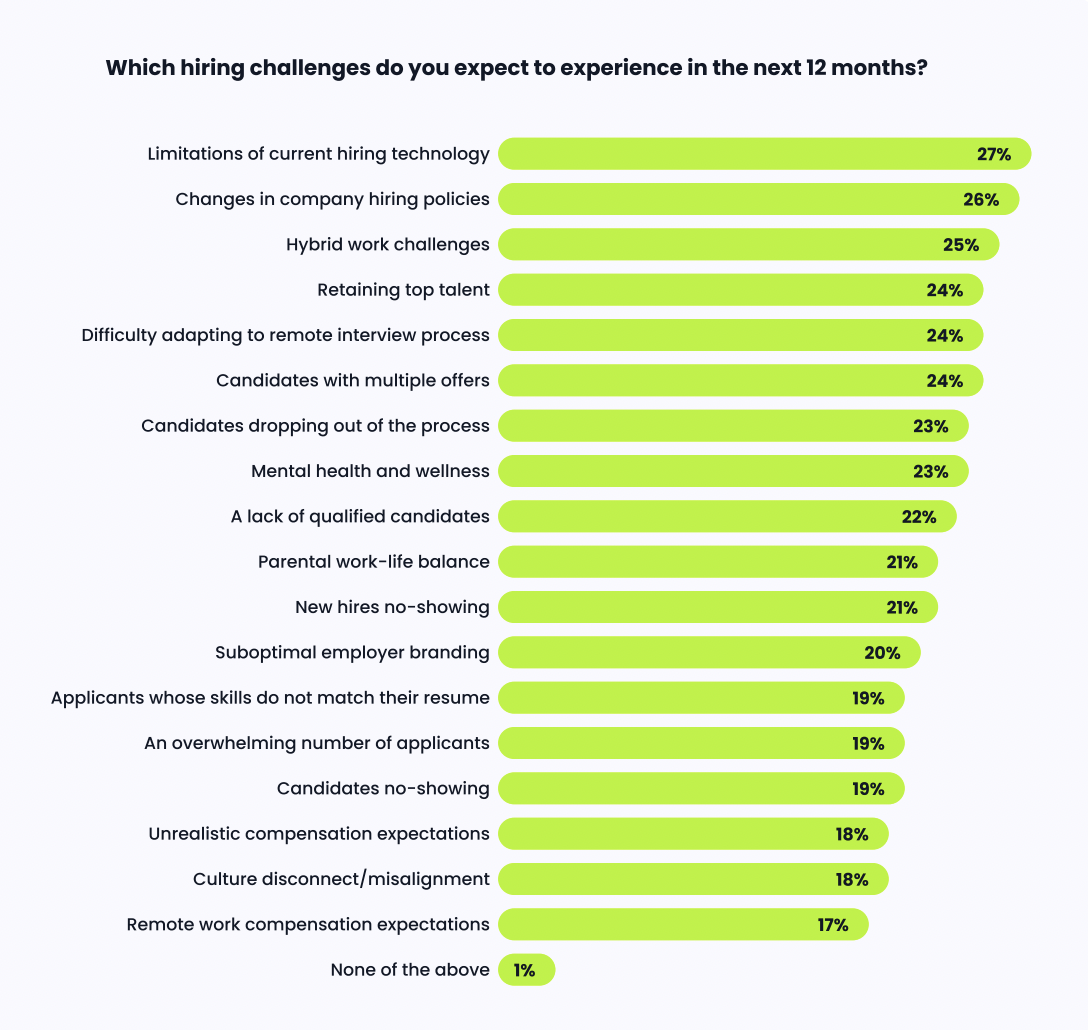 6. Competitive or Uncompetitive Landscape? You Decide
Once again, talent acquisition leaders can't reach a consensus on the state of the landscape. While 45% say the hiring landscape will become more competitive due to an increased demand for talent, 41% say it will become less competitive due to an increase in available remote talent.
Drilling down the data by sector, respondents were still at odds—except for the financial services sector. The majority of financial services hiring leaders (53%) believe that competition will intensify in the landscape. Burnout and high turnover in frontline retail banking roles could be contributing to these results.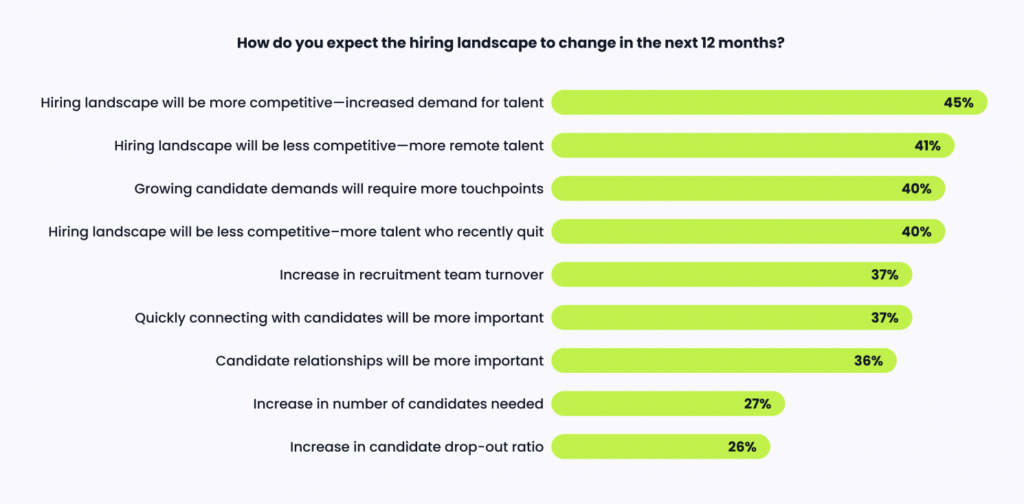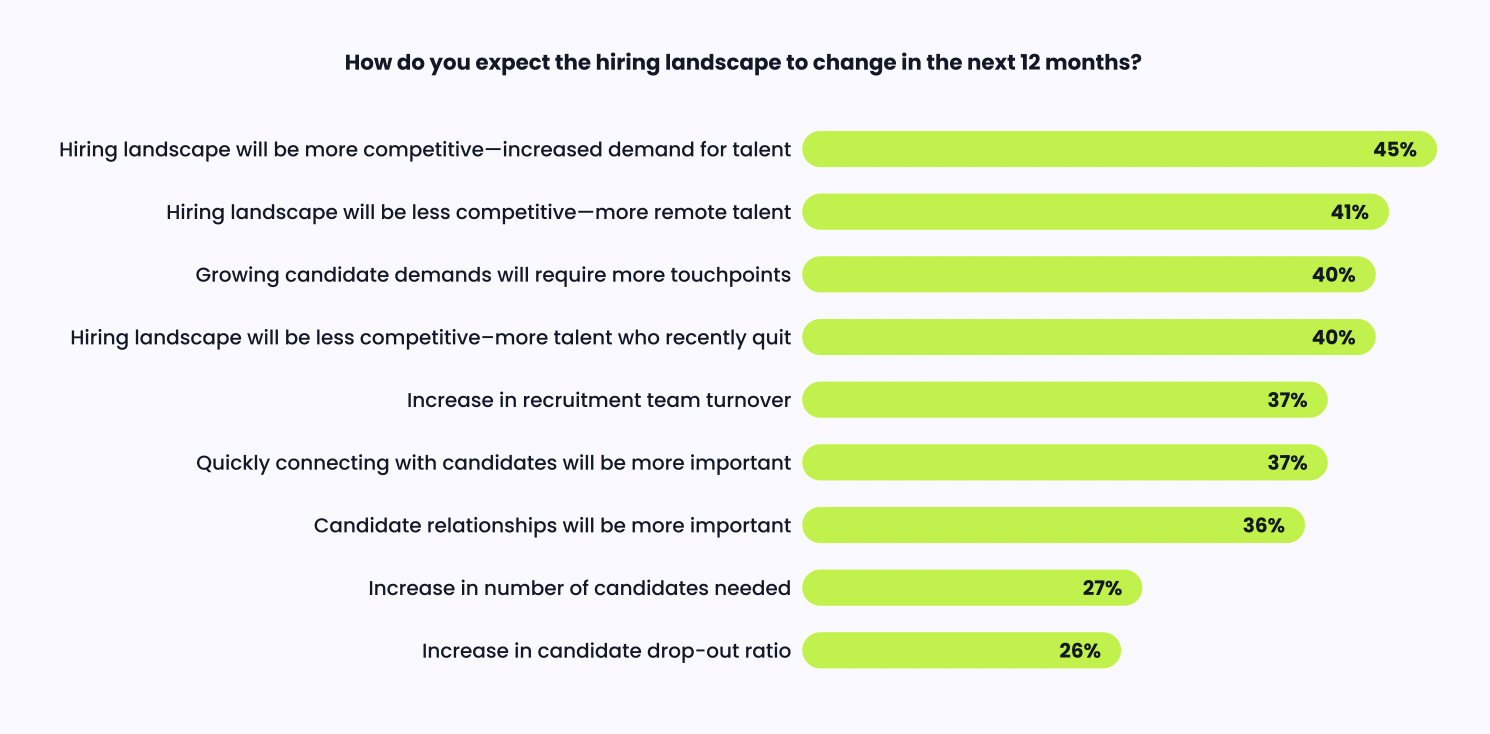 7. Efficiency and Automation Reign Supreme
Amid an unstable economy and numerous hiring obstacles, teams plan on weathering the storm through the power of efficiency and automation. For the second year in a row, efficiency (39%) and automation (37%) came out on top as talent teams' biggest focus areas for the future.
Does interview scheduling automation make sense for my team?
ROI is key. This is not a time to invest in software that won't bring you immediate value. So let's eliminate the guesswork with our free ROI calculator.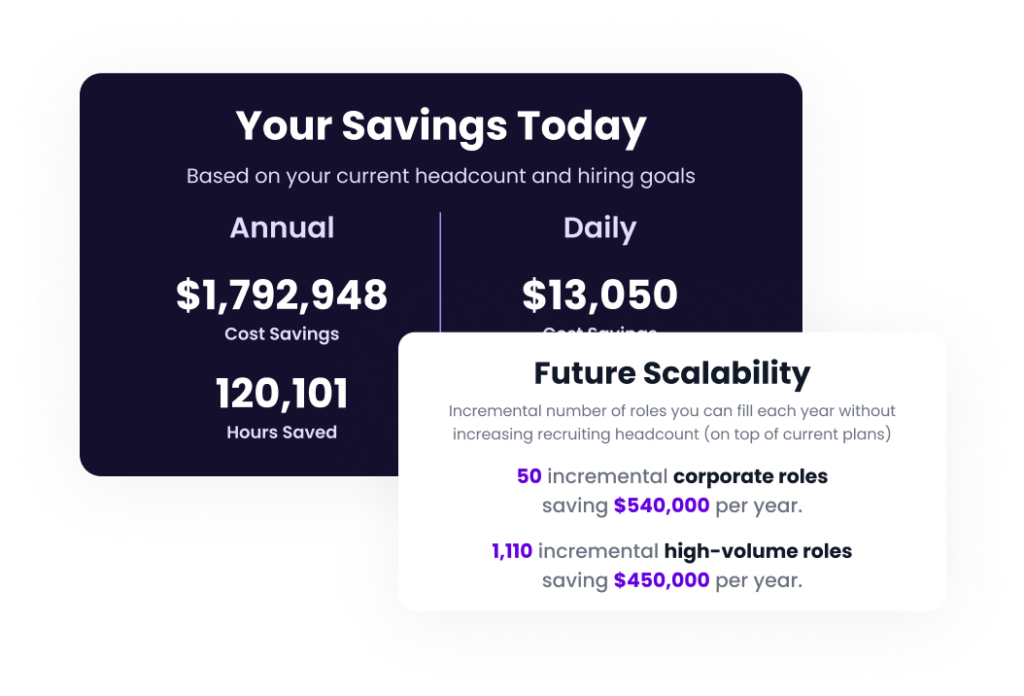 Streamlining the hiring process and automating manual tasks is a win-win for everyone involved in the process. Talent teams get to reap better hiring outcomes, such as increased offer acceptance rates and improved time-to-hire. Meanwhile, candidates get to enjoy an impeccable hiring experience that demonstrates genuine care and interest in what they can bring to the table.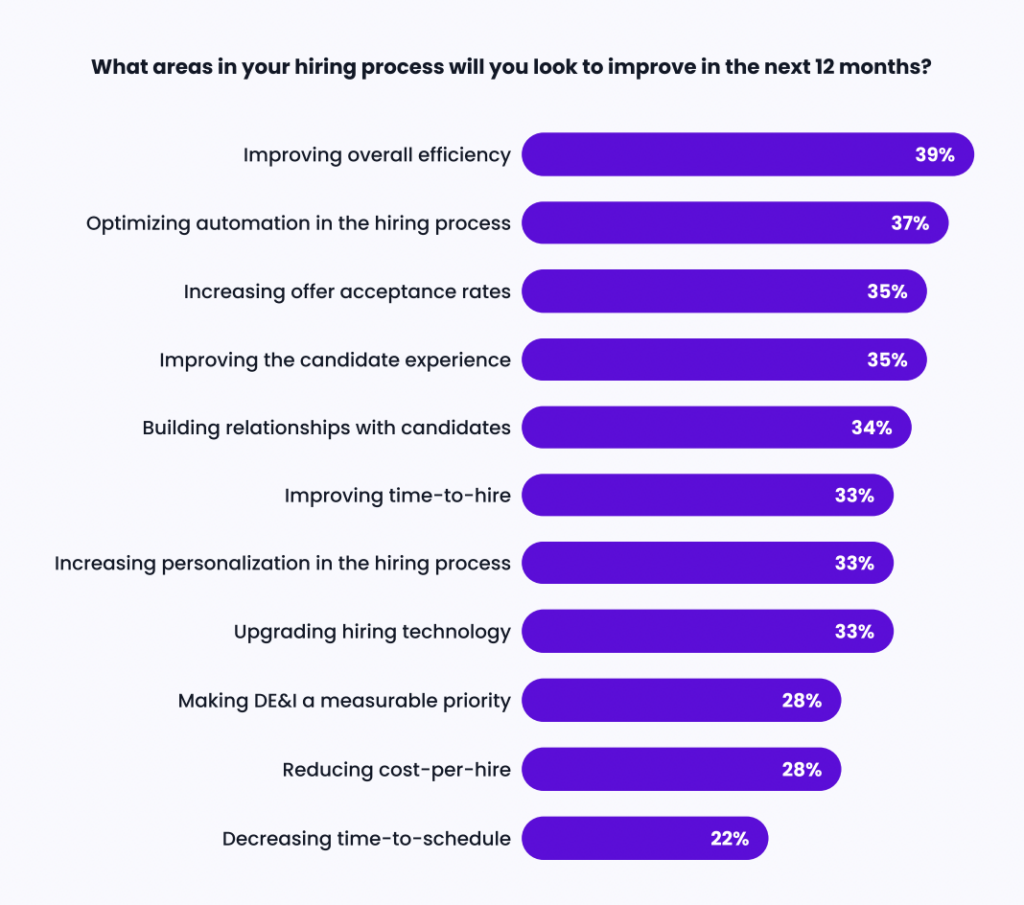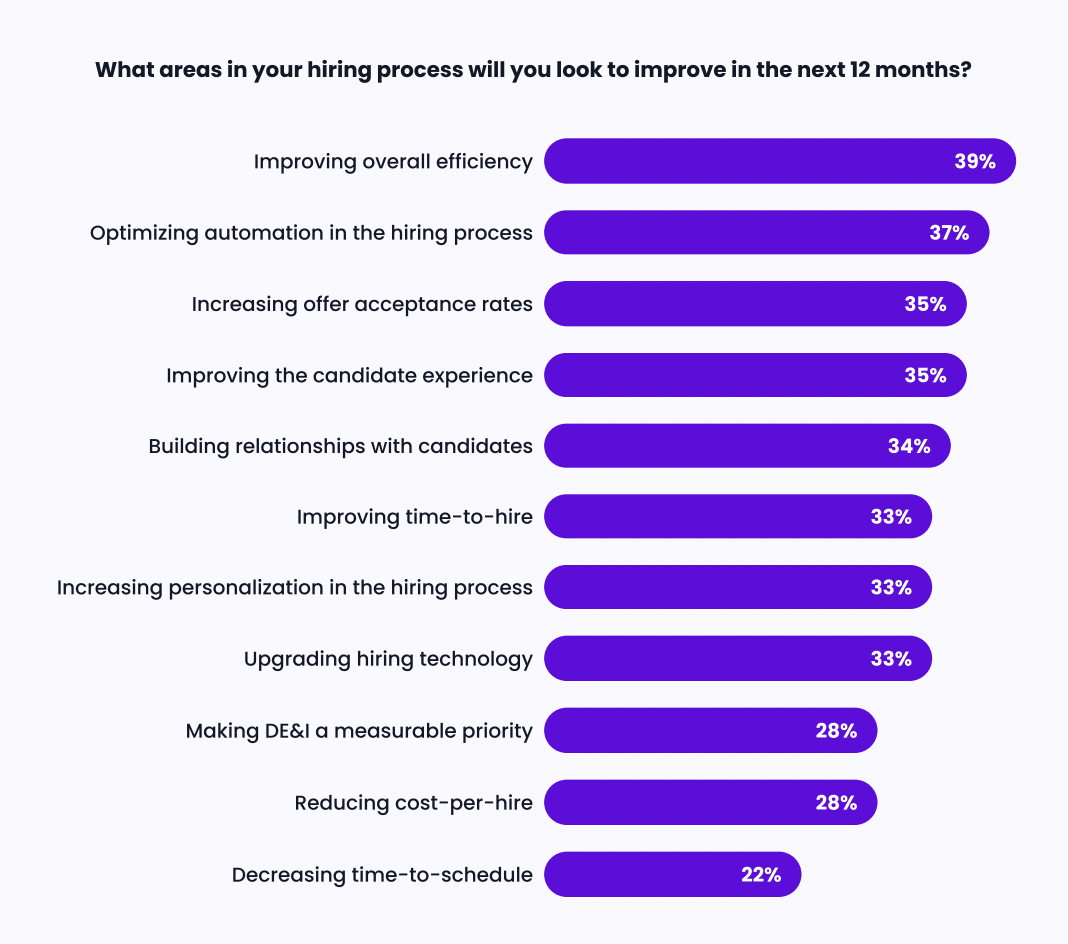 8. Quality of Hire Comes Out on Top
As hiring teams traverse 2023's rough waters, they'll be doing so while closely monitoring quality of hire. The majority of talent leaders ranked it as their number one most important metric (25%). This result is fitting; one of the core objectives of recruiting is to not only hire quickly but to hire the best talent possible.
However, teams will have to contend with the difficulties of measuring quality of hire. Measuring this metric is notoriously challenging, as it carries its own subjectivity and qualitative nuances.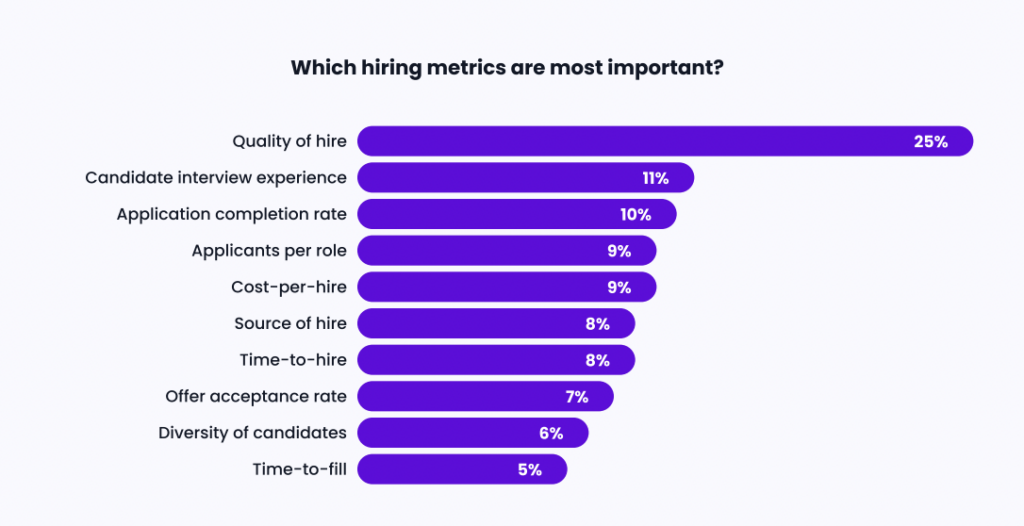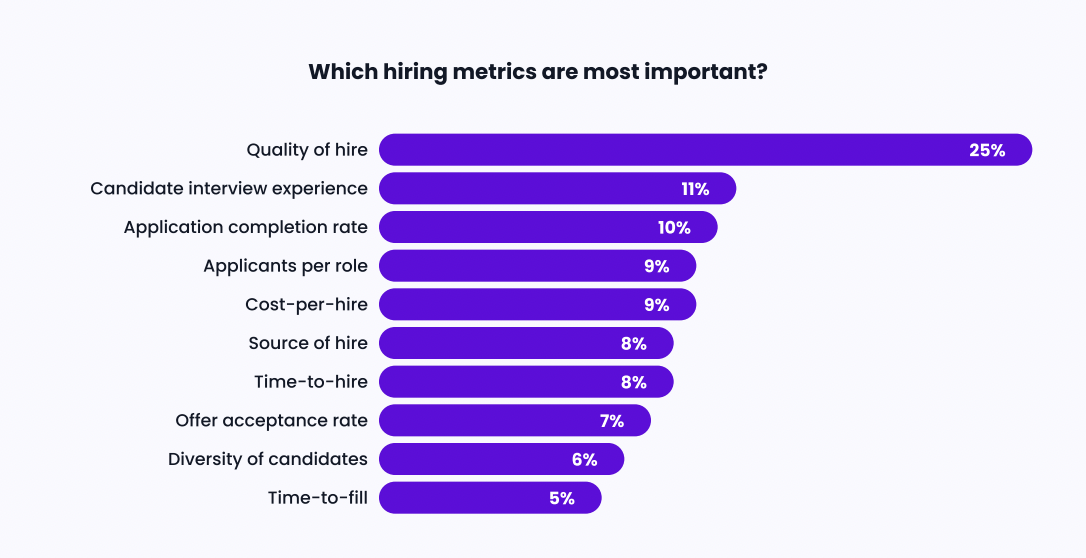 9. Winning Candidates With Flexibility
What do top candidates want? If you ask our respondents, more than half (54%) will say that candidates seek flexibility above all else. Prospective new hires want to feel reassured that their desired roles will grant them enough flexibility to lead fulfilling and healthy lives amid their professional responsibilities.
Companies might consider allowing employees to work from anywhere within (or outside) the office, take lunch breaks whenever they'd like, or skip lunch altogether to head home early. Yet still, there's no one-size-fits-all for flexible work policies; companies must assess their own circumstances to determine the best approach.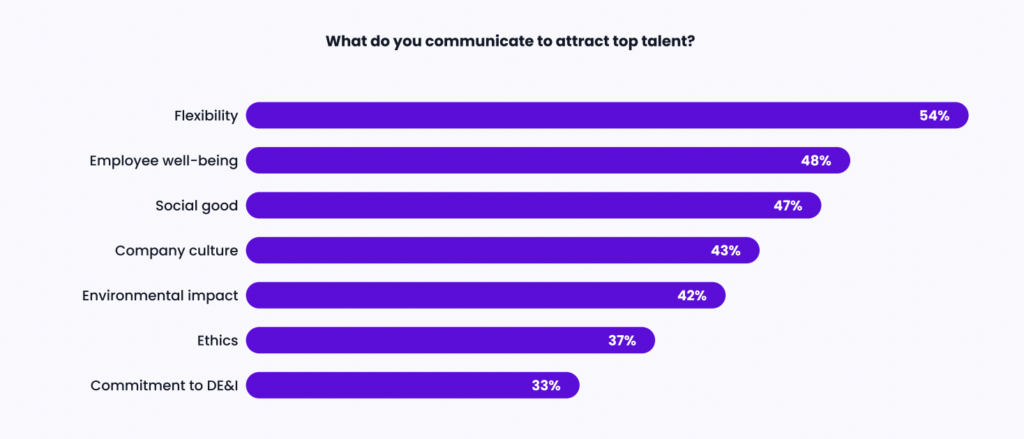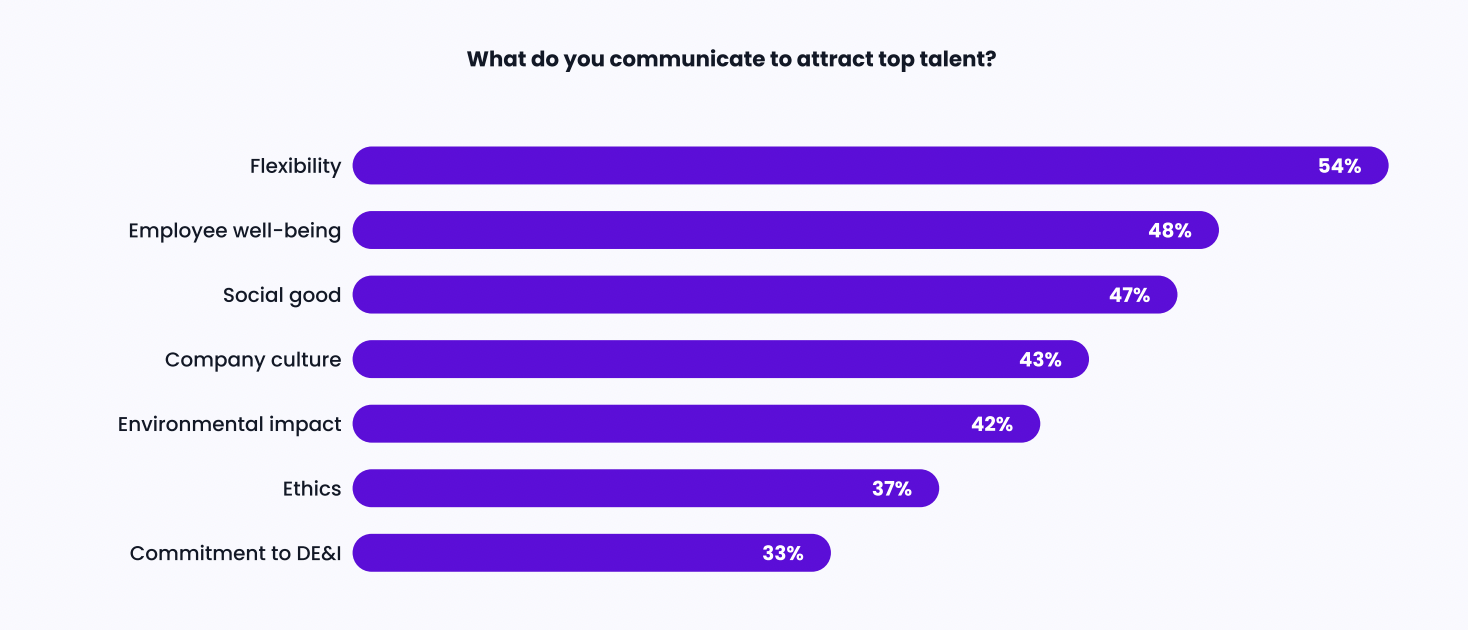 10. Better Scheduling, Better Connections
One in two companies (50%) identified improving scheduling efficiency as their primary strategy for giving candidates a faster and simpler hiring experience. A streamlined, bottleneck-free process not only helps hiring teams smash their goals, but also cultivates a positive candidate experience that can blossom into stronger, more memorable candidate relationships.
Rounding out the top three are candidate-driven scheduling (46%) and a fast interview process (45%). These capabilities closely align with the preferences of today's consumers. Half of consumers would rather live chat than pick up the phone; evidently, people want immediate help in their time of need without having to reach out to someone.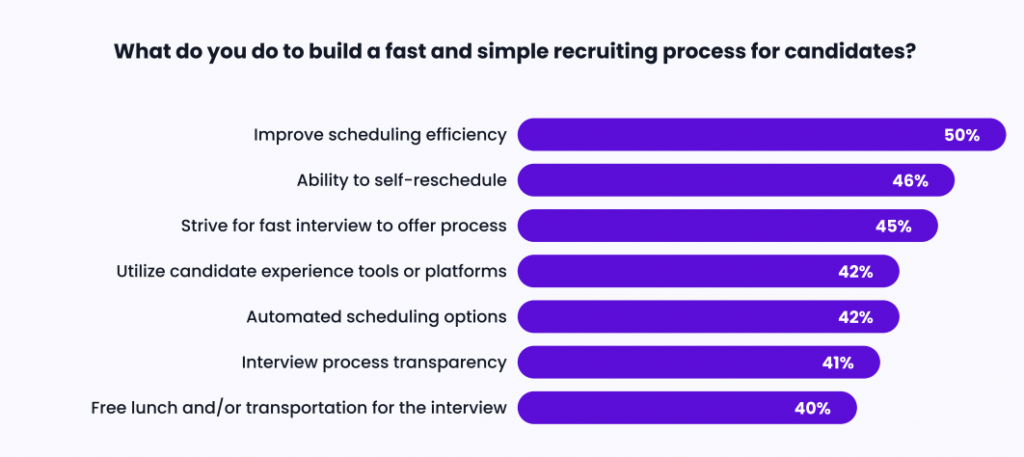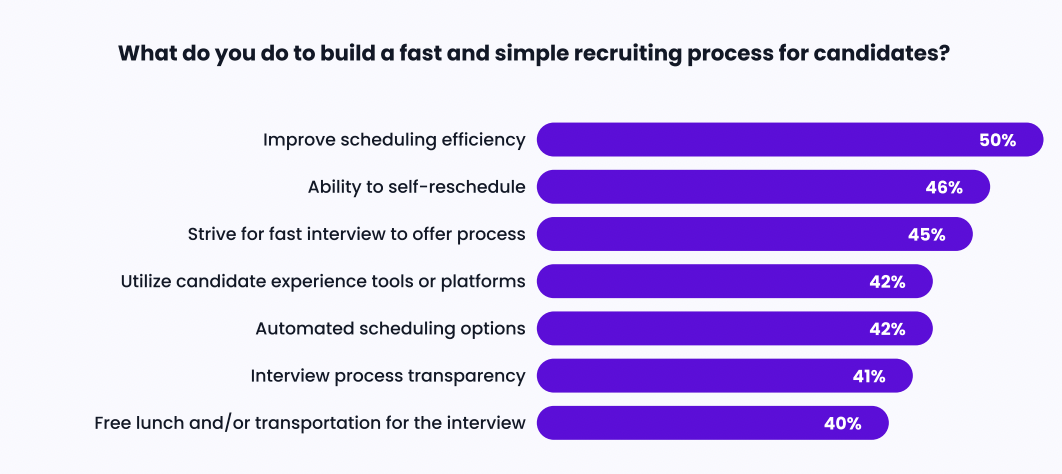 Hey, Hiring Leaders: Want Our Full Collection of Recruiting Statistics and Insights?
2022 brought an uncertain economy, sweeping reductions in force, and increased candidate demands, creating a perfect storm for hiring teams this year. The pressure is on to find and attract qualified candidates, deliver an efficient hiring process, and leverage hiring tools that drive teams toward success. Are you ready to conquer 2023?

To dive deeper into these insights and much, much more, get the full report today.