Fasten your seatbelts, financial services recruiters. It's been a bumpy ride, and there's still turbulence ahead. The past year brought economic instability, talent acquisition challenges, and retention difficulties. But that's just the tip of the iceberg.
With layoffs sweeping through the sector and impacting HR and recruiting departments, teams must now find a way to hit their goals despite reduced budget and headcount. That's right—they must "do more with less."
The big question is: how can you maintain a refined and memorable hiring process with fewer resources? Fortunately, we've got you covered.
After surveying 531 talent acquisition leaders across sectors for our 2023 Hiring Insights Report, we've released the report's financial services edition. Based on responses from 109 talent leaders in financial services, the report highlights how they're attracting and retaining talent amid today's obstacles (and much, much more).
Our report's data shows that while layoffs and budget cuts hit financial services hard, hiring teams have devised a roadmap to success. If you want to transform "doing more with less" from a burden into a superpower, you've come to the right place. Keep reading to learn more.
The Aftermath of Financial Services' Layoffs
Workforce reductions weren't kind to the financial services sector. A whopping 71% of financial services companies surveyed reportedly experienced layoffs. In total, 60% of impacted companies reported that job cuts affected 10-19% of their headcount and 26% reported layoffs of over 20% of their workforce.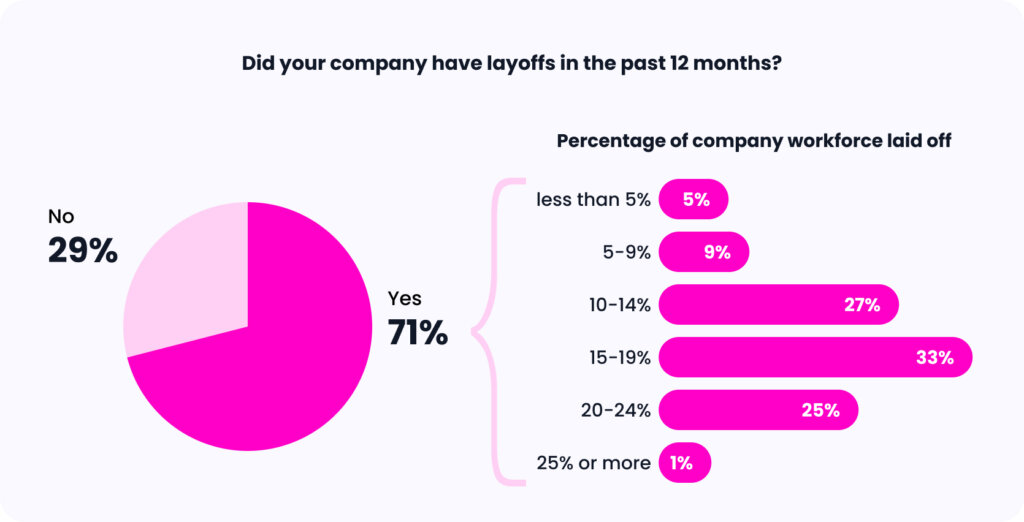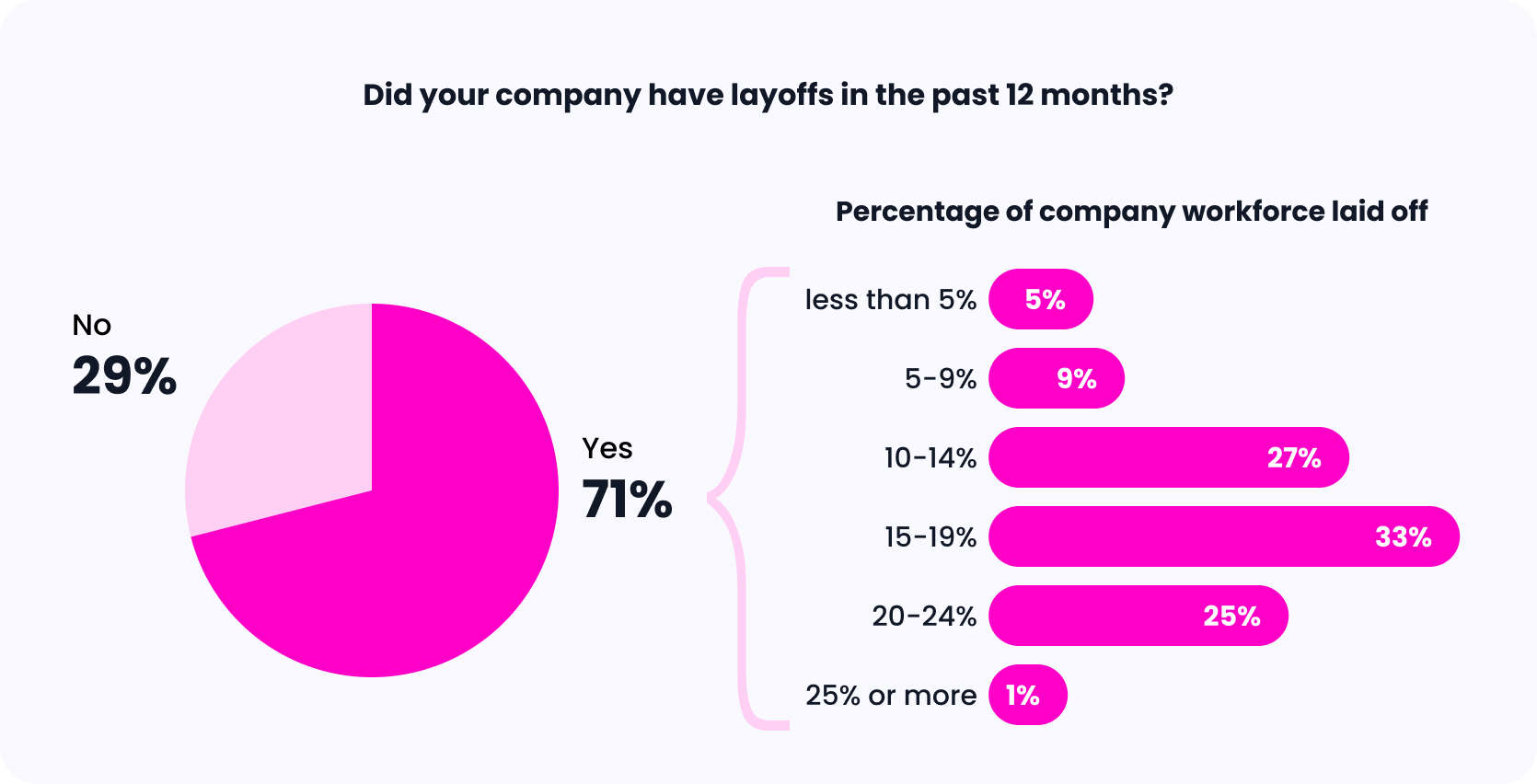 Even if a company hasn't laid off employees, most financial services organizations in today's economic landscape find themselves under some degree of pressure to remain conservative in their spending. This, in turn, means that the vast majority of hiring teams are expected to deliver on their goals without all of the familiar resources and budgets that they use to achieve success.
And if your company isn't currently hiring due to economic restraints, you can guarantee that hiring will bounce back before you know it. In the meantime, the best course of action is to refine the hiring process and maximize your available resources for present and future hiring success. But how do you do that?
Strategies for Doing More With Less
Hit Goals With Efficiency and Productivity
In the thick of the topsy-turvy economy, talent teams at financial services companies plan on reaching for success by emphasizing efficiency and productivity. Specifically, talent leaders have four priorities for the coming months: improving efficiency (44%), optimizing automation (43%), increasing personalization (42%), and upgrading hiring technology (42%)—all interconnected by the theme of driving productivity.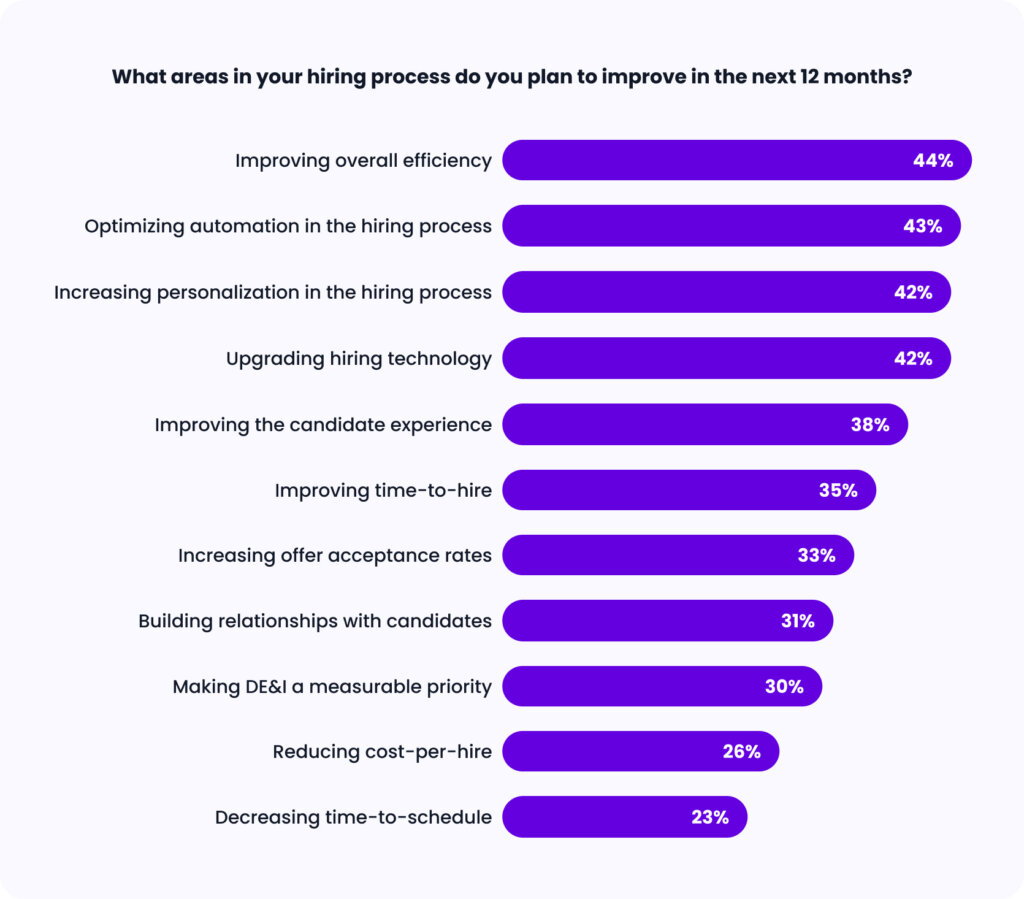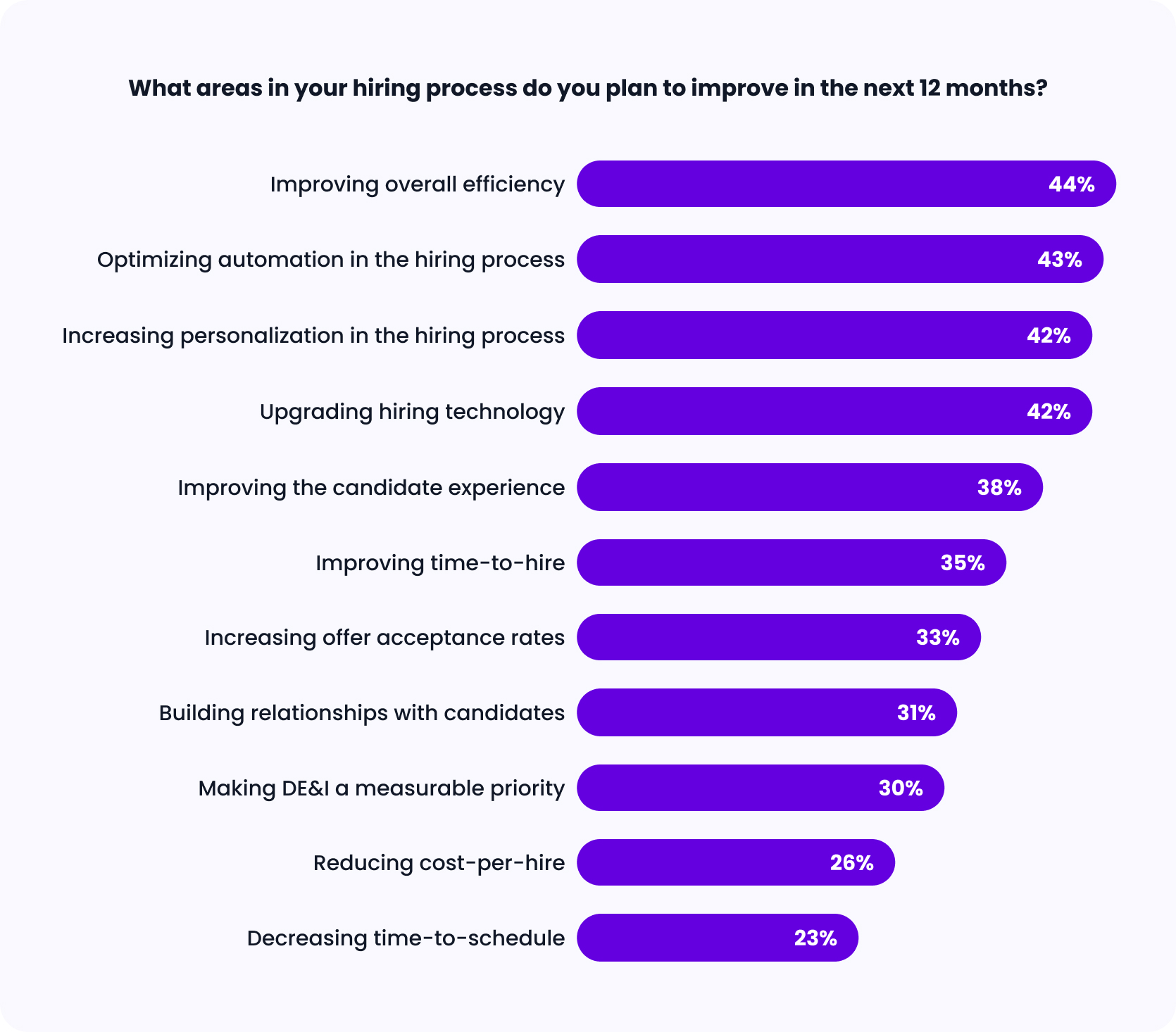 Efficiency and automation are crucial to creating a smooth, fast hiring process with limited resources and bandwidth. Improving personalization takes this process one step further by making candidates feel appreciated. As the cherry on top, upgrading the tech stack allows for an even more effective process. Hiring technology not only streamlines operations without increasing the workload of hiring teams but also enables teams to achieve more without hiring additional staff.
But there's just one problem. According to our data, "limitations of current hiring technology" is the biggest challenge expected in the next 12 months. In other words, teams' hiring technology can't keep pace with their evolving needs. In the future of "doing more with less," replacing inadequate tech solutions must be a top priority for teams to effectively reach their goals and deliver on the top four areas they look to improve.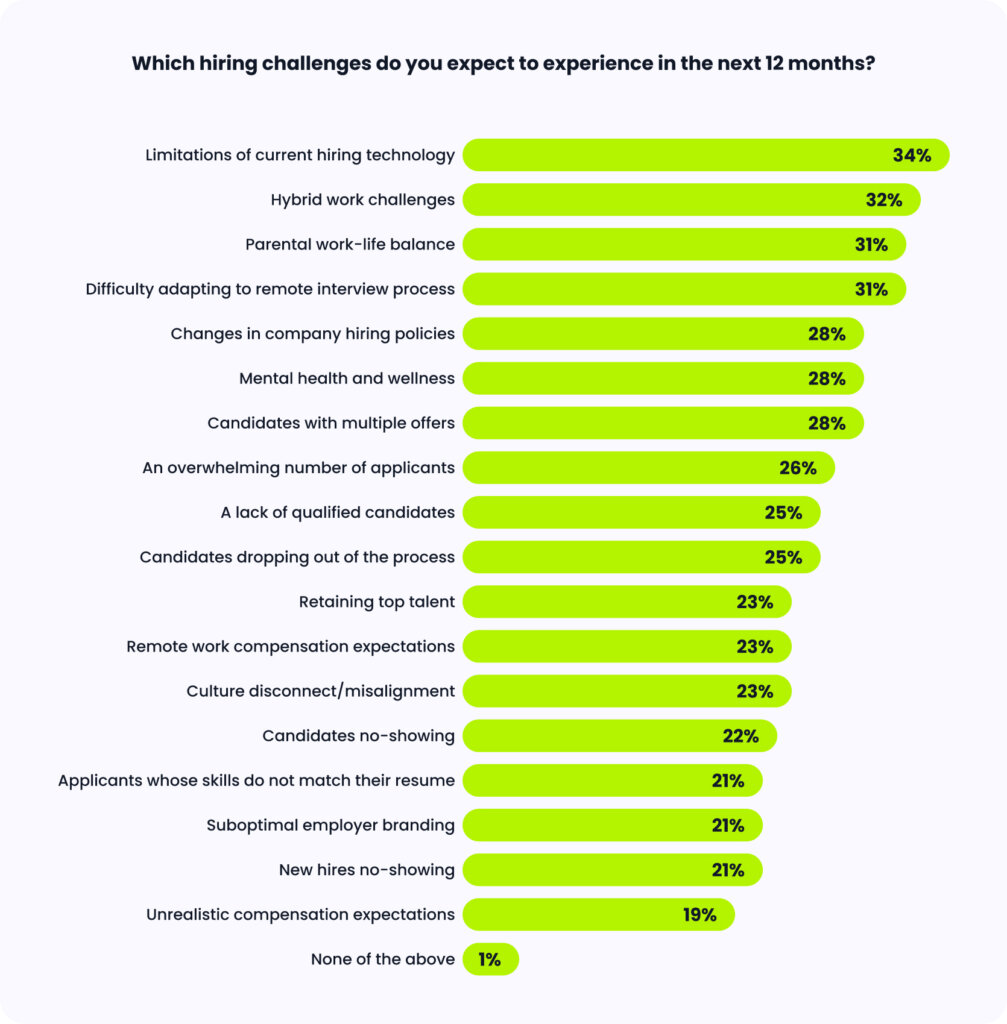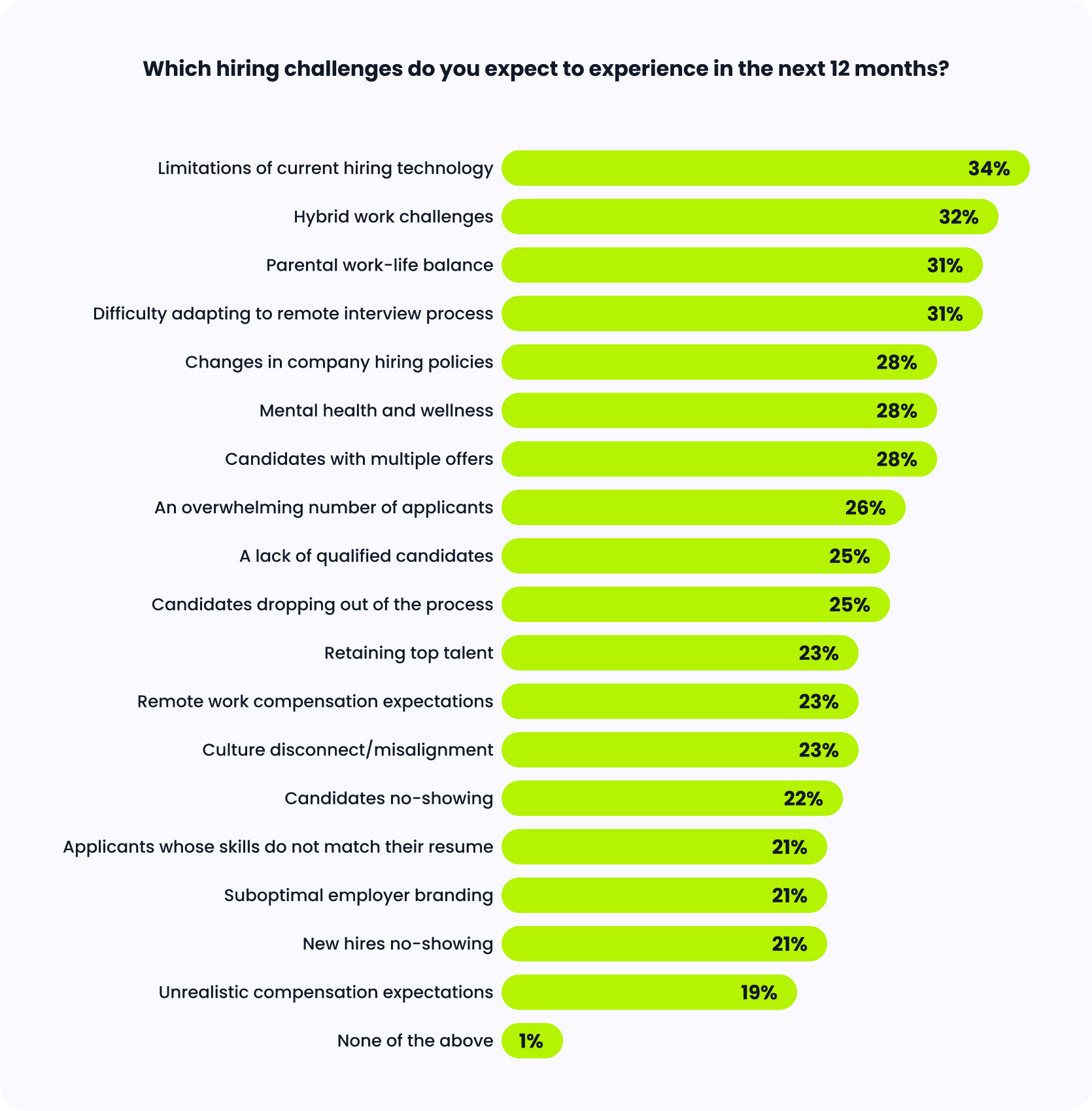 Make the Most of Every Candidate
"Doing more with less" doesn't just mean optimizing the technical side of your hiring operations. It also means identifying innovative ways to meaningfully connect with talent and make the most of every candidate. When asked what they communicate to candidates to form a relationship and win them over, the vast majority of talent leaders (66%) say that they emphasize flexibility.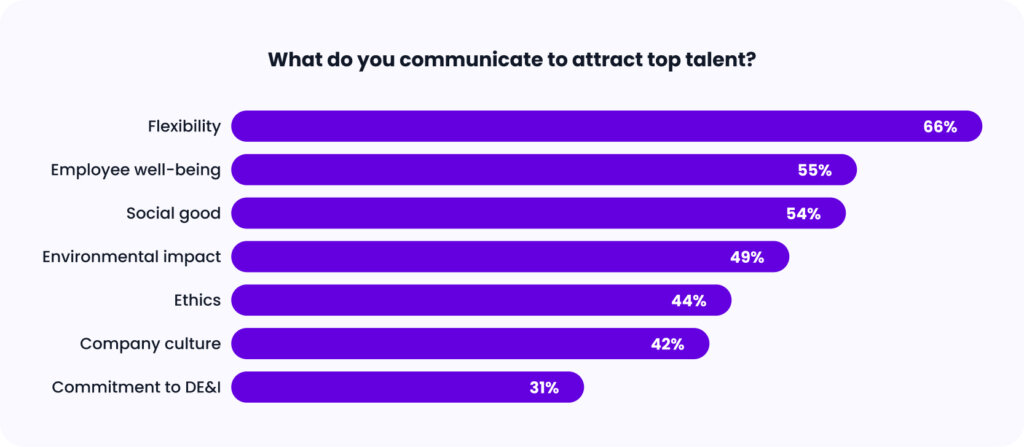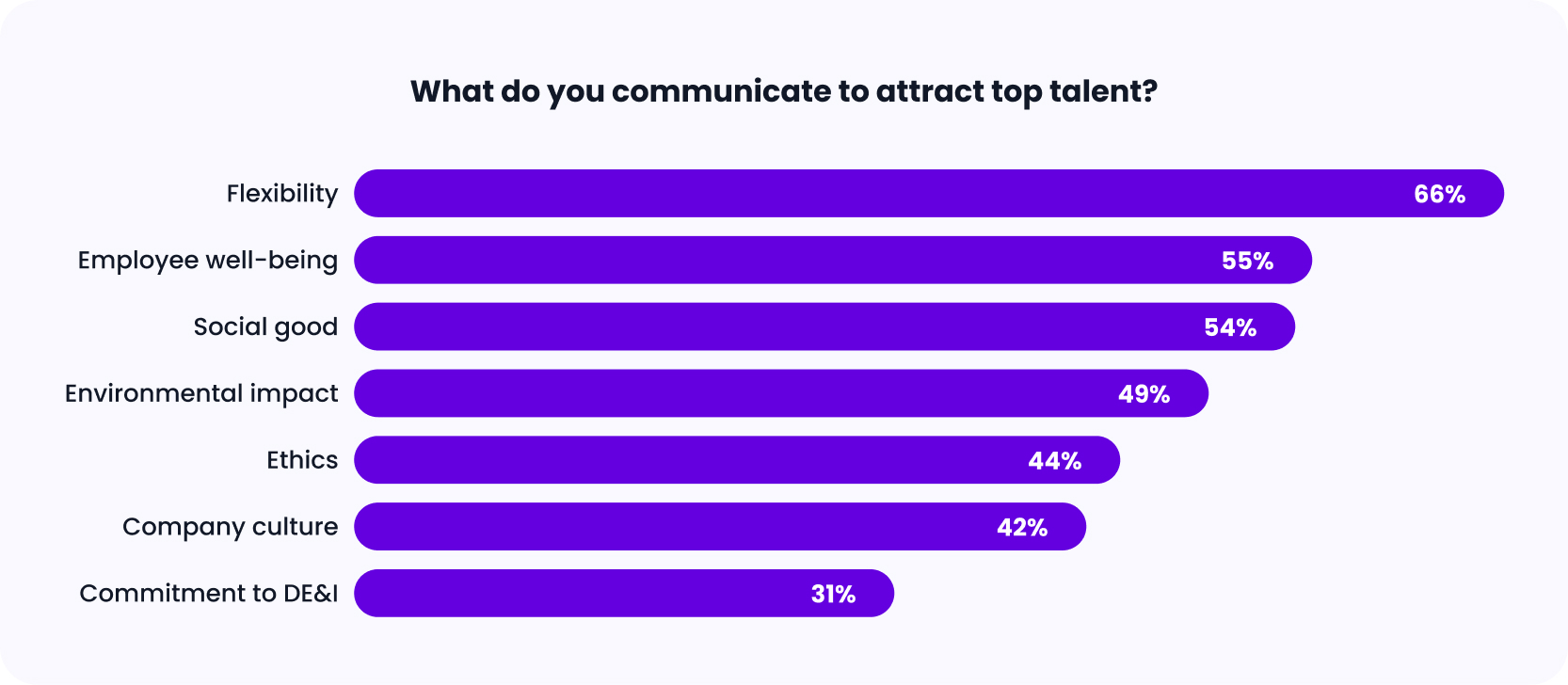 If talent leaders in financial services wish to secure skilled new hires and retain existing employees, they must consider the desires of talent, and that includes flexibility-based work policies and benefits. This focus on flexibility becomes even more relevant when you consider two of the sector's biggest challenges on the horizon: hybrid work struggles and remote interviewing complexities.
Giving talent the ability to participate in remote or hybrid work and remote interviewing are both ways that financial services companies can practice what they preach. This goes beyond simply communicating flexibility to talent and instead demonstrates their genuine commitment to flexibility.
Leverage Quality of Hire
In today's economy, no one can afford to haphazardly throw things at the wall and hope that some solution sticks. When the going gets tough, there's always one thing you can rely on to steer you in the right direction: your hiring analytics. Scrutinizing your metrics allows you to locate issues in your hiring process and determine the most suitable solutions without wasting money and resources on fruitless endeavors.
So, what metric do talent leaders plan to double down on in the coming months? None other than quality of hire (20%). This emphasis is fitting; one of the broad goals for hiring teams is not only to hire quickly but to acquire the best possible talent. This is especially relevant to the financial services sector, where hard-to-find, digital-based skills are needed to match the sector's shift toward new financial innovations.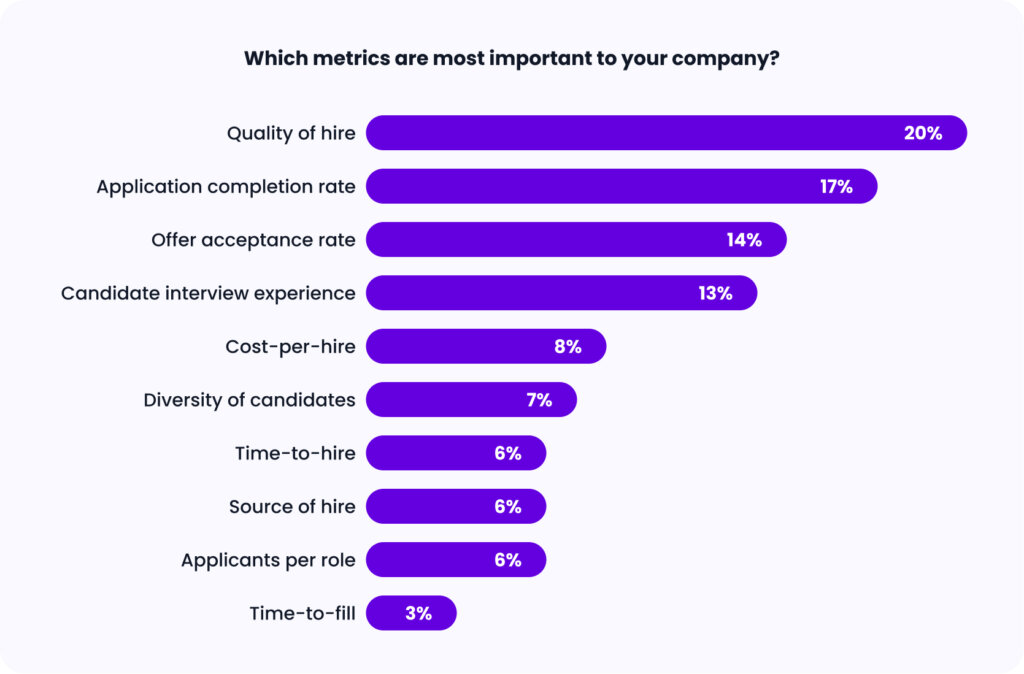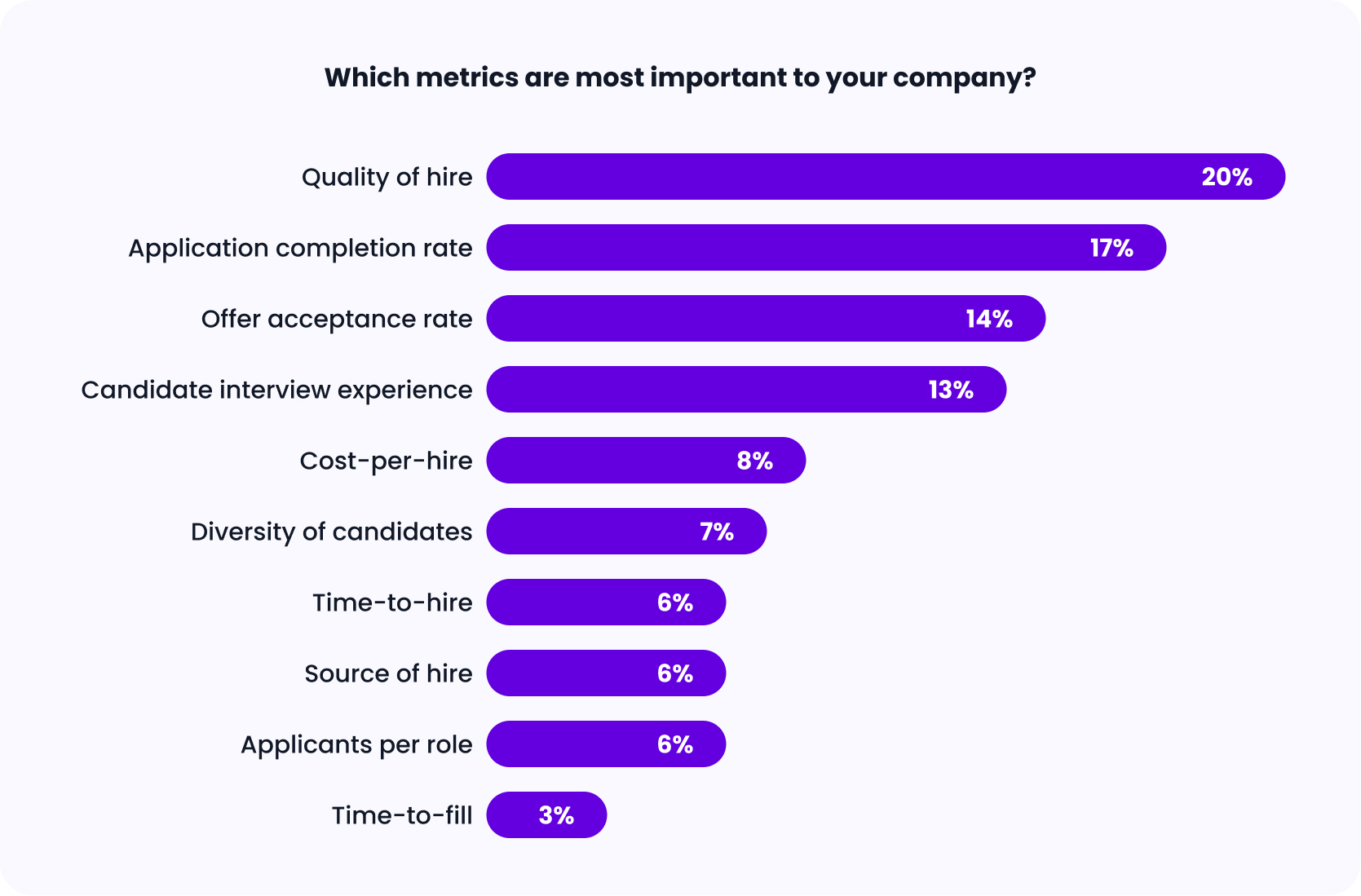 Met with a declining economy, an increasing number of recruiters at financial services companies turned their focus to quality over quantity in recent months. The secret to assessing the effectiveness of these hiring decisions is to closely monitor the quality of each and every new hire. In the end, a company comprised of the most qualified employees can overcome any obstacle in the landscape.
Hey, Financial Services Recruiters: Want More Insights?
2022 brought a rocky economy, sweeping reductions in force, and a difficult hiring landscape, creating a perfect storm for financial services recruiters this year. The pressure is on to find and attract qualified candidates, deliver an efficient hiring process, and leverage hiring tools that drive teams toward success. Are you ready to conquer 2023?
To dive deeper into these insights and much, much more, get the financial services report today.