Resignations and remote work policies and layoffs, oh my! The ever-changing talent acquisition landscape is enough to make anyone's head spin. In order to stay afloat, talent teams must get comfortable with change.
So, what does the future of the talent acquisition landscape look like? We went on the hunt for answers.
Our 2022 Hiring Insights Report surveyed 560 HR, talent, and recruiting decision makers across the U.S. We uncovered their perceptions on the most pressing challenges facing their teams, and how to succeed in the future of the hiring landscape.
The findings? Leaders expect for retaining talent, meaningfully connecting with candidates, and improving hiring efficiency to define the future of talent acquisition. Let's dig into the data.
Candidate Relationships Grow in Importance
We asked respondents how they would describe the changes they've observed in the hiring landscape over the past 12 months. The majority (47%) said that the landscape has become more competitive due to an increased demand for talent. Trailing closely behind, 46% said that creating genuine relationships with candidates has become crucial.
Looking to the future, talent leaders agreed that connecting with candidates will remain of utmost importance. The ability to create meaningful candidate relationships topped the list of how HR leaders expect the landscape to change in the next 12 months.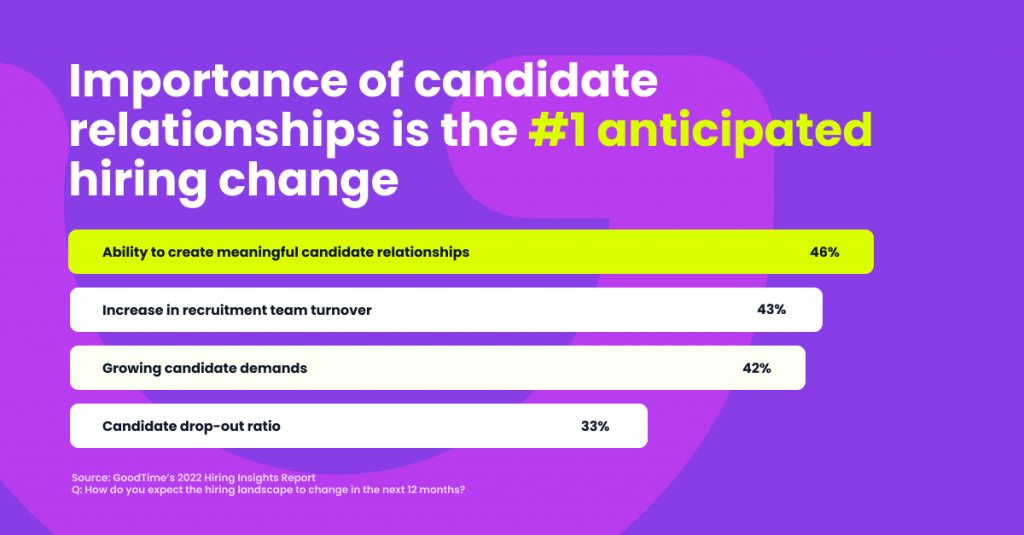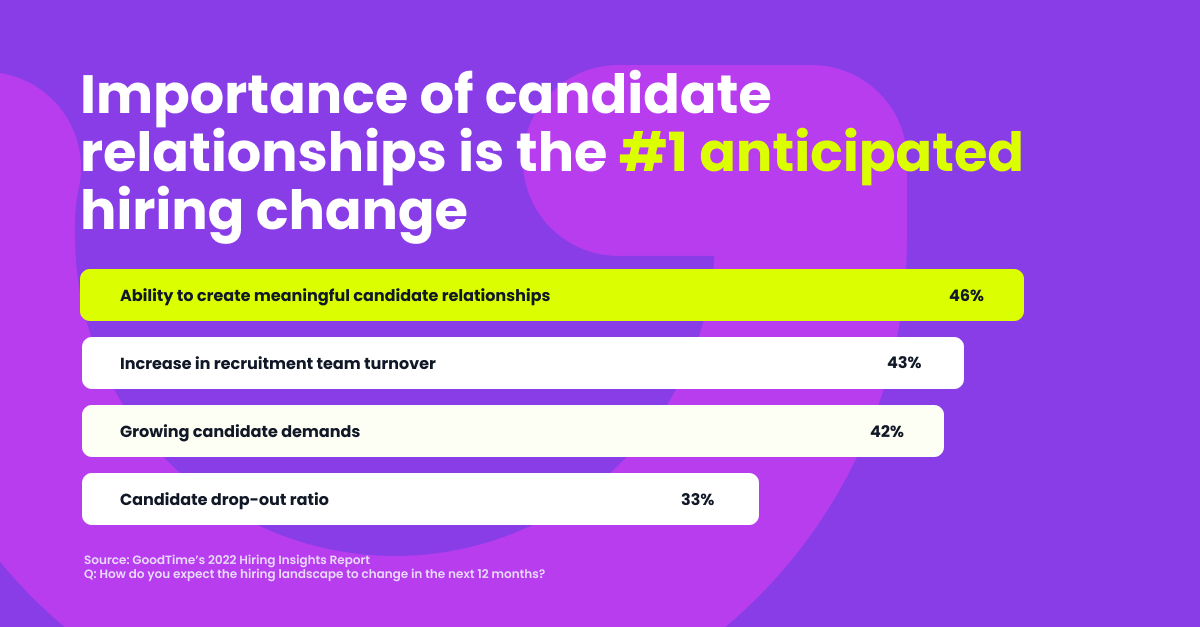 The takeaways? If recruiting teams want to compete with the talent landscape, they must invest time and energy into forming a bond with candidates. For instance, instead of spending all of your energy on learning what candidates can offer your company, spend a little bit more time learning what candidates look for in a role.
Challenges With Talent Retention on the Horizon
When asked which hiring challenges they've faced in the past 12 months, talent leaders ranked "retaining top talent" as their biggest obstacle. In 2021, a whopping 47 million Americans quit their jobs as part of the Great Resignation. Needless to say, our report's finding comes as no surprise.
Our respondents expect talent retention to remain their biggest challenge in the next 12 months as well. Here's where things get interesting. Talent leaders agree that connecting with candidates will remain a key component of a successful hiring process. Yet creating candidate relationships isn't just important for talent acquisition. It's also crucial for talent retention.
So, if you want to master talent retention, know this: retaining talent starts from the first moment that a candidate speaks to a recruiter. Cultivating genuine connections with potential new hires sets the stage for a meaningful experience at your company—and higher retention down the line.
Improving Hiring Efficiency Remains Paramount
The majority of talent leaders (46%) said that in the past 12 months, their main concern when refining their hiring process was boosting their overall efficiency. Hiring efficiency proved to be absolutely essential amid 2021's tight labor market, as teams scrambled to backfill roles.
Likewise, the majority of respondents agreed that improving efficiency is still their biggest focus area when diving into the future of the talent landscape. This isn't the least bit shocking; enhancing hiring efficiency will never go out of style.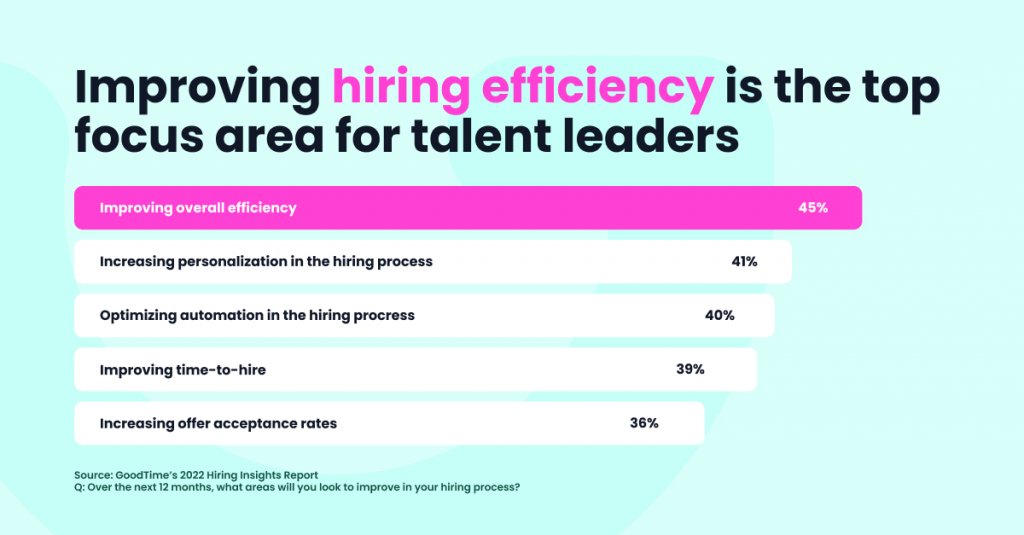 To remain agile within the constantly changing landscape, teams must put the proper systems in place so that they can boost efficiency, do more with less, and remain prepared for anything that the talent world throws their way.
Does interview scheduling automation make sense for my team?
ROI is key. This is not a time to invest in software that won't bring you immediate value. So let's eliminate the guesswork with our free ROI calculator.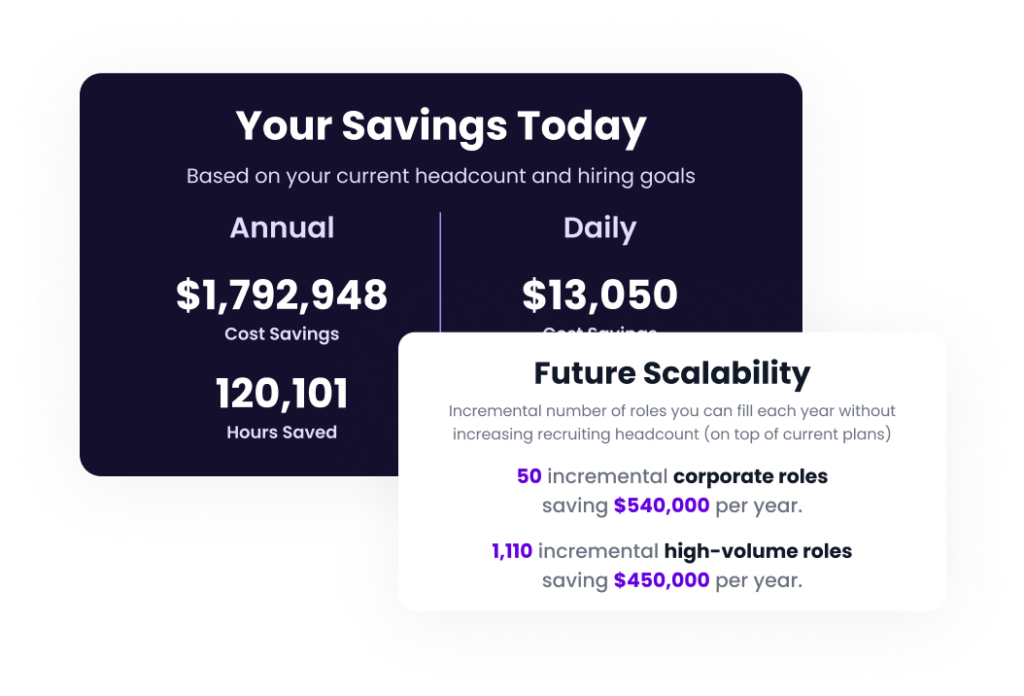 How To Succeed in the Talent Acquisition Landscape
So, you want to know how to prepare for the future of talent acquisition? Well, here's the answer, tied up in a neat little bow, straight from the minds of the U.S.'s talent leaders.
Focus your attention on improving hiring efficiency, boosting talent retention, and improving candidate relationships, and you have yourself a masterful talent acquisition strategy.
If you lay the groundwork for an efficient hiring process, you create more space to connect with candidates. Strong candidate relationships give rise to lasting new hires. These lasting new hires result in better talent retention. Boom.
Keep Up With the Latest HR Trends
In a tumultuous environment like talent acquisition, it pays to have a pulse on the latest happenings in the landscape. If you're looking to gain a better understanding of the challenges facing hiring teams and best practices for refining your strategies, you came to the right place.
---
Download our 2022 Hiring Insights Report today to learn more about the state of hiring, and what must be done to win over candidates.