Break out those fireworks, talent teams, because 2023 is almost here. But if you want to start the year with a bang, you can't go into it blind. To thrive in the new year, you must prepare for what the next twelve months have in store—and that means getting familiar with the upcoming 2023 talent acquisition trends.
We're not psychics, but based on where 2022 left off, we predict that these will be the seven more important trends in talent acquisition next year.
1. Labor Shortage Sparks Challenges
The supply of working-age people will continue to decrease throughout 2023. In fact, over the next decade, the number of working-age people in the U.S. will decline by 3.2%. On top of this, the pandemic still wields a visible impact; there are over 3 million fewer working Americans today than there were pre-pandemic.
When you combine the aging population with the pandemic's effects, you have a significant labor shortage. Sorry to say, but attracting and hiring candidates won't get any easier.
Two Strategies for Success:
Diversify your candidate pool. Struggling to find candidates? Tap into different talent pools. For instance, advertise on diversity-driven job boards or take advantage of the fresh Gen Z candidates entering the workforce.
Set realistic expectations. Hot take, but the "perfect" candidate doesn't exist. If you're dead set on finding a unicorn candidate, you're likely overlooking plenty of other viable options (and you can't afford to do that in a labor shortage).
2. Retention Grows in Importance
About 40% of HR professionals said talent acquisition was a major priority for 2021. In 2022, that percentage dropped to 17%. Now, HR teams are focused on strategies that fuel talent retention: employee engagement, compensation, and L&D.
It's no surprise that retention is becoming a priority. When the job market is tight and finding talent is difficult, employee churn deals an even greater blow to companies. (Not to mention that replacing workers is expensive.)
Two Strategies for Success:
Emphasize internal mobility. Employees who move around within their own companies are more likely to stay for the long haul. Giving employees meaningful opportunities to grow and develop through internal moves leaves them with fewer reasons to leave.
Revamp your benefits and perks. Perhaps your employee benefits and perks could use a makeover. To ensure that what you're offering still aligns with what your employees value the most, ask for their feedback.
3. Rise of the Employer Brand
Your employer brand encompasses how others perceive your company. It'll be essential in 2023, yet for varying reasons depending on your industry and place in the hiring sphere.
Perhaps waves of layoffs have hit your company this year (we're looking at you, tech industry). Candidates value job security, and catching wind that your company laid off a sizeable chunk of its staff makes them weary. How does your organization plan on assuaging these fears and improving your public image in 2023?
Or maybe misperceptions of your industry have made it difficult to attract workers, specifically young candidates. This is especially true for the manufacturing industry; less than 50% of young workers see manufacturing as a viable career.
Two Strategies for Success:
Freshen up your employee value proposition. Remember: candidate values change all the time. Does your EVP still resonate with what modern candidates care about? If not, it's time to revamp it.
Actually commit to DEIB. Candidates want to know where you stand on DEIB before they accept a job offer. Audit your career page and hiring process for opportunities to showcase your DEIB initiatives and values.
4. Impending Recession Inflicts More Damage
The looming recession is the elephant in the room for today's strategy meetings. Companies have begun to trim their budgets and their workforces in response to economic uncertainty.
But while some companies are bracing for what's to come, most tech companies are already wondering, "When will this end?" Thus far, over 140,000 tech workers have been laid off. Each month, more and more high-profile workforce cuts make the headlines (sorry, not all talent acquisition trends can be fun). The bottom line: Recruiting in a potential recession is different and your processes will need to change.
Two Strategies for Success:
Refine your tech stack. Want to emerge from the downturn stronger than ever? Then implement recruitment technology. Tech tools that maximize your team's productivity to save you major time and money place you in the best position possible once you revert back to your normal hiring cadence.
Maximize what you have. When faced with a smaller budget and fewer resources, you must do more with less. Instead of spending time and money hiring external candidates, consider your current employees. And instead of throwing everything at the wall to see if it sticks, use your hiring data to make informed, precise decisions.
5. Skills Gap Continues to Widen
As technology continues its high-speed evolution, the global skills shortage worsens. Old skills die out just as fast as new skills emerge, and not every company can keep up. In fact, most companies worldwide—87%—say that they have a skills gap or will have one within the next few years.
Companies say that their skills gaps are the widest in the areas of data analytics, IT management, and executive management. Looking to the future, these same companies agree that the need for advanced data analysis and mathematical skills will grow dire.
Two Strategies for Success:
Upskill your current workforce. In the age of digital transformation, upskilling your employees is a must-do. Your company can't keep up with the latest trends if your employees don't have the latest skills.
Rethink how you evaluate candidates. Don't weed out promising talent just because of "red flags" that don't even reflect a candidate's abilities, like having gaps in a resume. When assessing candidates, focus on the knowledge, skills, and capabilities displayed in their application.
6. Automation Takes the Spotlight
Automation is a growing topic in the world of talent acquisition. It takes care of the time-consuming parts of your recruitment process so that you have more time to spend on high-value initiatives.
Looking to the talent acquisition trends ahead, automation adoption is sure to increase as more teams discover its benefits. And with a recession, labor shortage, and a workforce skills gap on the horizon, leveraging automation in hiring could mark the difference between talent teams that thrive and flounder.
Two Strategies for Success:
Don't wait to shop for tech. The sooner that you automate your workflow, the sooner you'll reap automation's rewards. Automating the interview scheduling process reduces your time-to-hire, delivers a better candidate experience, and moves you closer to hitting your goals.
Leverage the right automation. You've been warned: not all automation is created equal. Subpar scheduling automation can't handle the challenges of everyday scheduling. You want automation that can intelligently select interviewers, schedule for speed or for "best fit," and identify interview options spanning one or multiple days.
Does interview scheduling automation make sense for my team?
ROI is key. This is not a time to invest in software that won't bring you immediate value. So let's eliminate the guesswork with our free ROI calculator.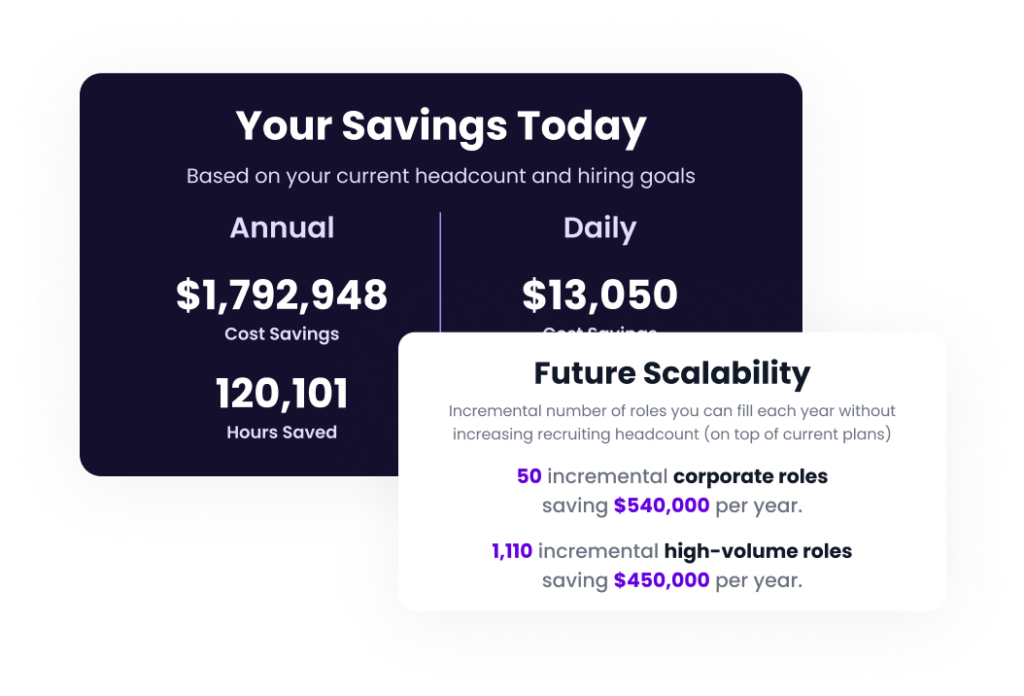 7. Evolution of Pay Transparency
Pay transparency made a splash in 2022. New York City joined the ranks of Colorado and Connecticut in requiring companies to include salary ranges in job postings, and California is soon to follow in 2023.
By the beginning of 2023, one-fifth of U.S. workers will be covered under pay transparency laws. As workforces and candidates demand discussions on salary, HR and talent acquisition must respond. Are you prepared?
Two Strategies for Success:
Determine your transparency level. Not every organization is ready to go all-in on full transparency. As a starting point for identifying where you want to be on the spectrum, survey employees to understand what they'd like to know about salaries.
Get real during the interview process. Don't wait until the last moment to disclose the true salary offer. Yes, candidates want to do meaningful work, but they also want to be paid well while doing it. They want to discuss compensation in early conversations to know if the role is worthwhile.
Stay Ahead of Talent Acquisition Trends With Powerful Recruitment Tech
Now that you're caught up on the biggest talent acquisition trends coming in the new year, we have one final suggestion to make 2023 your team's best year yet. Start the year off on the right foot with best-in-class recruiting tech.
GoodTime Hire helps reduce your time-to-hire, crush your goals, and deliver a seamless candidate experience. Hire automates the entire interview scheduling process to create the optimal schedule for candidates and interviewers and get to the offer stage faster than ever.
See how interview scheduling software can transform your recruiting process today.