Get pumped for some updates that will make your work life a whole lot easier. We've been hard at work rolling out some much-anticipated features this month, including:
A new Recruiting Leaderboard to give you performance benchmarks and actionable data at a glance.
Workflow automation for email so you can further automate interview requests, reminders, and even drip campaigns
International language support so all your messages and reminders can be sent in 10 different languages.
For Meet, AI-powered round-robin scheduling and lead routing lets you automatically set meetings with the right person at the right time and balance the meeting load across your teams.
We're excited to show it all to you, so let's jump right into it!
Watch the July 2023 GoodTime product updates webinar
Check out the full product update walkthrough below, or keep scrolling for the top highlights.
GoodTime Hire updates
Let's start with our flagship product — GoodTime hire. You know it and love it, but it's getting even better every month. Here are this month's highlights.
A new Recruiting Leaderboard
The all-new Recruiting Leaderboard lets you plot scheduling data on bar charts, for any of the metrics you chose like Schedules, Reschedules, Updates, and Cancellations.
You can also sort by any metric needed and compare your company average with industry averages.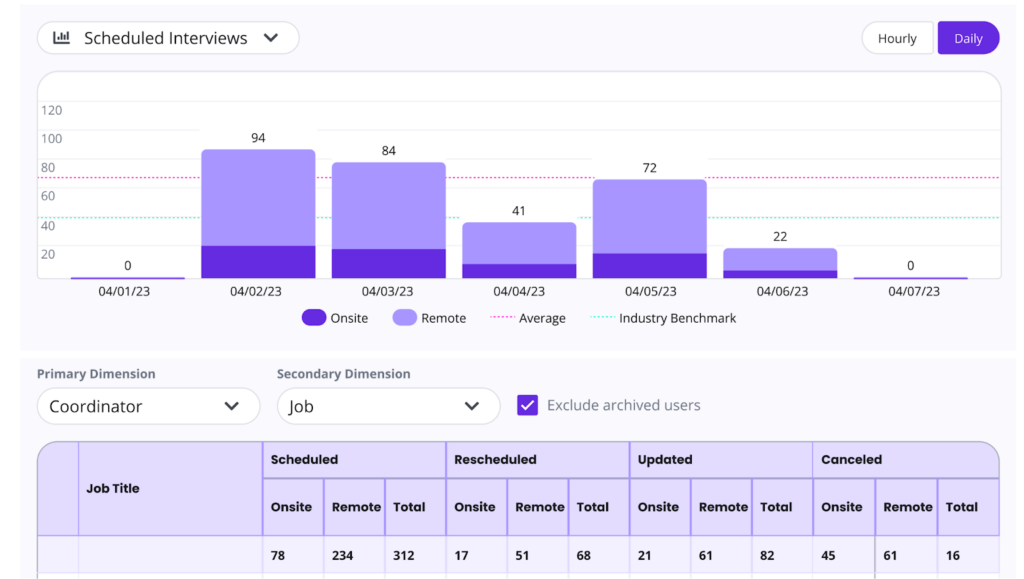 Why you'll love it:
Easily identify areas of high performance, and areas of need for improvement, as well as understand how your org performs to similar companies in your industry.
Enhanced trainee assignment
Assigning Trainees is now more straightforward with a clearer visual experience. It's now a breeze to select trainees and see their current progress.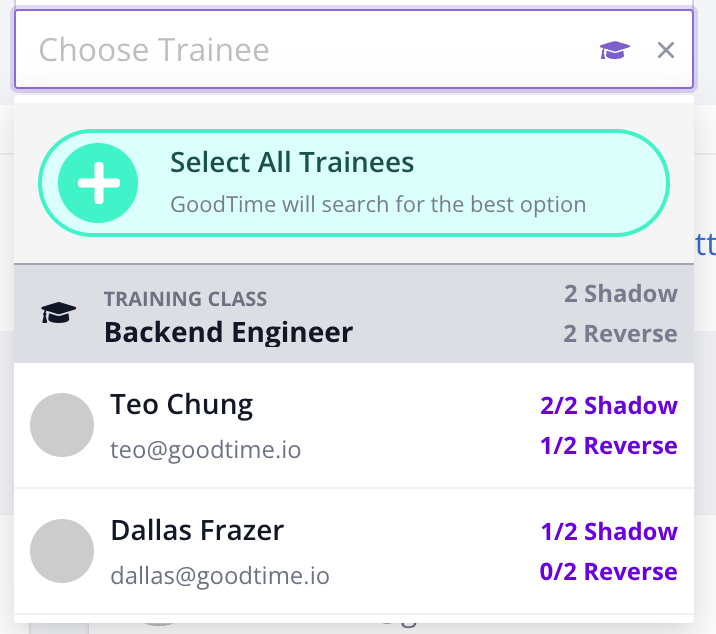 Why you'll love it:
This update makes scheduling training and shadowing sessions much faster and easier to understand.
Hire for High Volume updates
Are you using our high-volume hiring features yet? Because they're only getting better! Here are this month's updates.
Workflow automation for email
We now support workflow automation via email, including one-off emails, interview requests, and drip campaigns!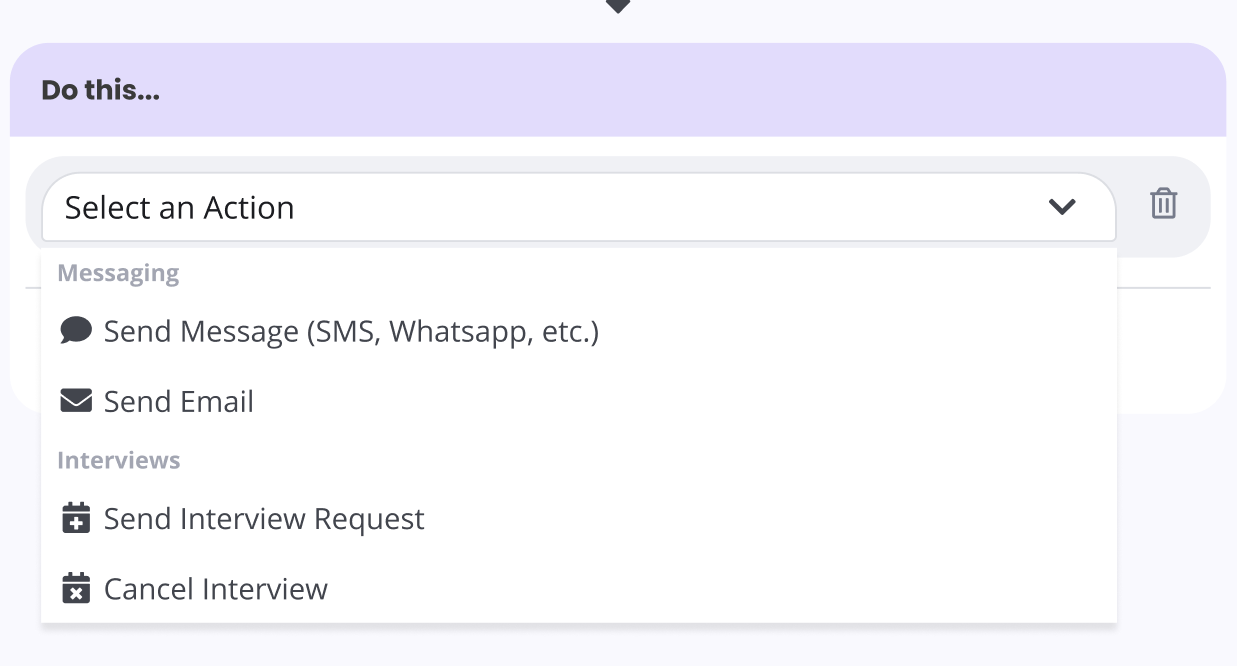 Why you'll love it: Create the same workflows you have in SMS/WhatsApp, but now through email if that is your preferred communication channel with candidates.
International language support
All system messages such as reminders, confirmations, and reschedule messages are now supported in 10 different languages.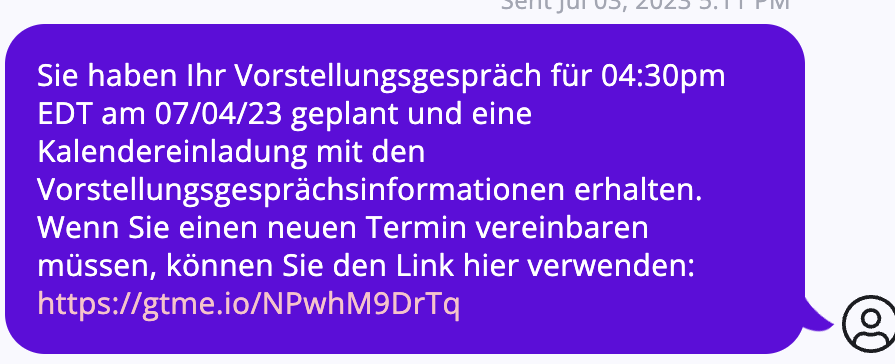 Why you'll love it: Companies with a global footprint can now conduct all candidate-facing communication in the candidate's respective language. It's a better experience overall and allows you to optimize your hiring process in more geos.
Enhancements to the Quick Menu
You can now insert files, emojis, variables, or message blurbs with one click from the Quick Menu.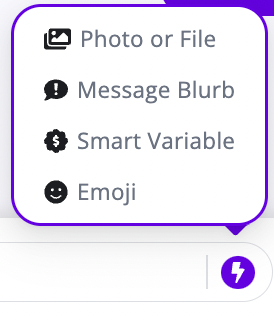 Why you'll love it: Set up Message Blurb templates to contain emojis, variables, and even files quickly and easily from the Quick Menu. This saves you even more time in bulk messaging and automating candidate communications.
More updates
Here are a few smaller, but mighty updates to Hire for High Volume.
Generate WhatsApp Templates inside the application
Create WhatsApp Message templates on the fly and see their approval status without needing to contact GoodTIme.
Mark Messages as Unread
Mark a message as unread with a candidate to remember to follow up at a future date.
Notifications when candidate numbers do not exist
Display and notify users when an SMS or WhatsApp number is not valid and a message could not be sent.
Meet updates
Our product team is on fire with the updates to Meet lately! We've got two major releases this month.
AI-Powered Round Robin scheduling
Round Robin links get a serious AI-powered update this month. You can now pick your favorite distribution algorithm, so you decide how to optimize for speed of scheduling versus load balancing.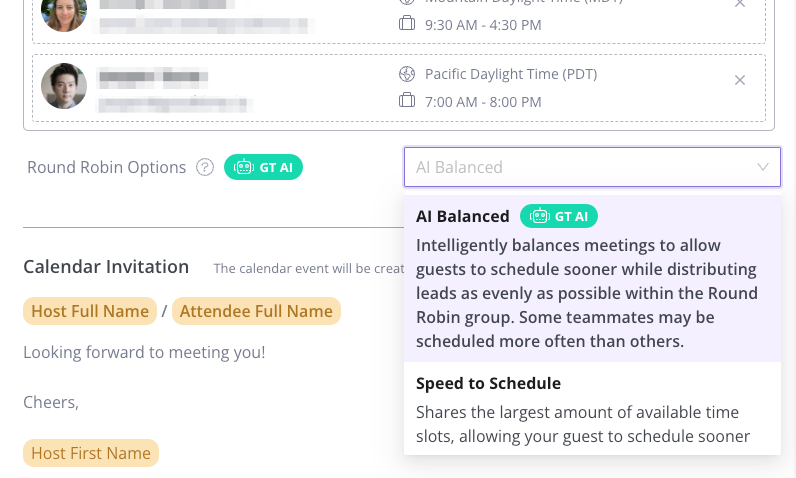 Why you'll love it: Using AI to balance Round Robin links allows teams to fairly distribute leads or inbound requests while providing the maximum flexibility for guests who are scheduling
Routing updates for Sales teams
We're continuing to build out and enhance the Routing functionality in GoodTime Meet. This month, we're introducing Salesforce Owner Sync.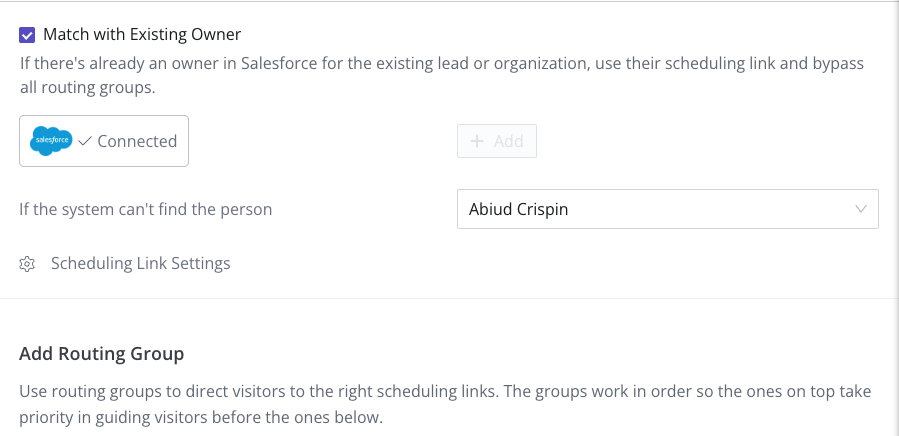 Why you'll love it: By automatically assigning leads to existing owners in Salesforce, operations teams can automate the process of lead assignment without worrying about double assigning a lead.
Even more updates to Meet
Embedebble GoodTime Meet lead capture forms
Create native embeddable custom forms that you can use to capture and route leads from your website.
Routing: Owner sync back to Salesforce
After routing a lead, the system can now sync the assigned owner back into Salesforce, further automating the lead routing process.
Routing: Deep linking
Deep linking to a route makes it easier for teams to collaborate. You can now share route settings with teammates via the browser URL.
Database Infrastructure Updates
With the increased demand on GoodTime Meet services, we upgraded our databases to better manage the additional traffic.
Still scheduling meetings manually?
You don't have to do that anymore! See you you can tap into all the features above and a whole lot more.
Here's how teams are crushing their goals with GoodTime:
TA teams use Hire to automate interview scheduling and hire 50% faster.
Recruiting teams use Hire for High Volume to optimize their high-volume recruiting process, connect with candidates on mobile devices, and keep your high-volume and seasonal roles filled.
Sales teams, CS teams, and individuals use Meet for smarter meeting scheduling, including load balancing, lead routing, and more.