Recruiting pros, when you think about AI, what's the first tool that comes to mind? If you're like most people, it's ChatGPT. From the moment it surfaced, it dominated headlines, causing a frenzy of positive and negative opinions.
It's certainly the most prevalent and accessible AI tool out there, but it also has its limits. For example: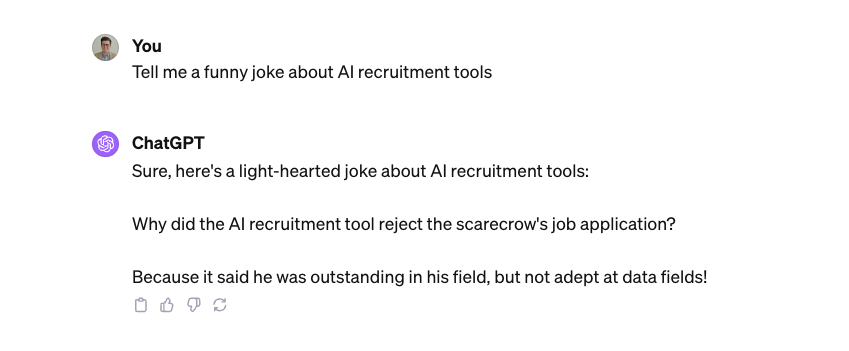 Yet, even before the ChatGPT craze, AI recruiting tools had already made their way into businesses across the globe. And it continues to grow at lightning speed. In 2017, only 20% of businesses used AI in some sort of capacity in their business according to McKinsey's Global Survey on AI. Today, that number has more than doubled.
While Forbes reports that only 26% of companies have leveraged AI to support talent acquisition, for those who have, the results speak for themselves.
85% say it saves time and increases efficiency
44% say it helps them find top candidates
30% say it helps reduce biased decisions
18% say it increases diversity among candidates
If this tells us anything, it's that more talent teams need to jump on board with tech and automation to help them find their best workers.
And this is truer now than ever before. Our 2023 Hiring Insights Report shows that on average, talent teams are hitting less than half of their hiring goals. Likely due to recent team reductions and leaner budgets, talent teams are struggling to do the same amount of work with fewer resources.
They need extra hands — a problem technology can solve. AI won't replace recruiters, but help them hit their goals with less time and resources. But when it comes to tech for recruitment, it can be hard to tell what's beneficial and what's just a good marketing ploy.
So where do talent teams begin?
Stay tuned as we cover the top 6 AI recruitment tools every talent team should know about.
1. Interview coordination: GoodTime Hire
We may be biased, but for good reason. With GoodTime Hire's AI-powered interview scheduling, teams hire up to 50% faster. And in today's hiring landscape, faster is always better.
But that boost in efficiency comes from much more than basic scheduling. GoodTime offers quick communication through text and WhatsApp, workflow automation, candidate screening questions, actionable insights, and interviewer coordination so teams can scale and fill high-volume roles in half the time.
But don't take my word for it. Allie Scheu, Recruitment Coordination Manager at Hubspot can back me up. After implementing GoodTime for her team, she stated, "GoodTime makes the process so much easier for the recruiting coordination team because it really eliminates a lot of the back-and-forth that we would have been previously going through between interviewers, candidates, and hiring managers." You can read HubSpot's full story for more details.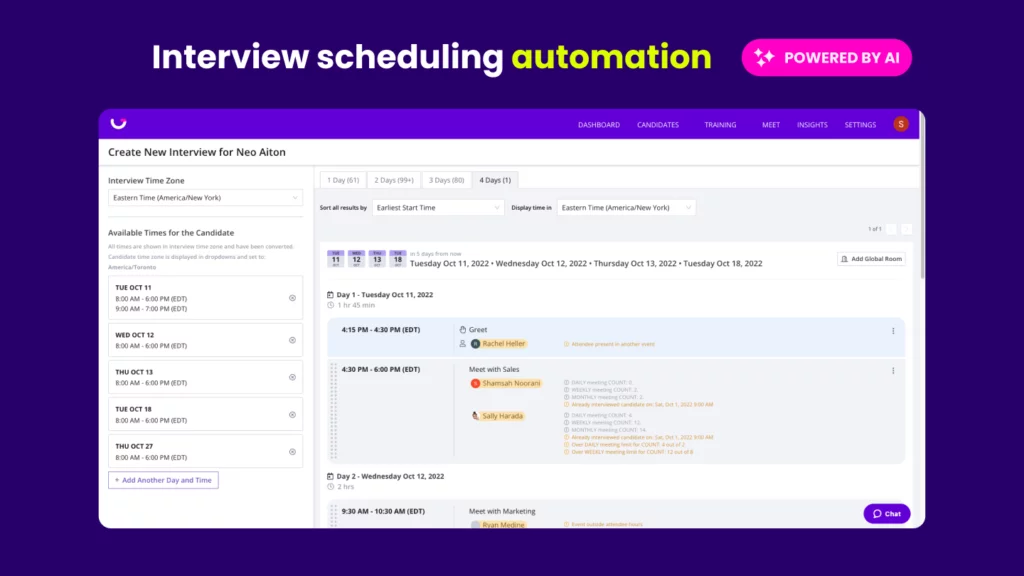 Top 3 benefits
Easily handles high-volume hiring: In a world where teams are trying to do more with fewer resources, GoodTime offers a solution. By providing seamless automated solutions, teams can focus less on the cumbersome details and more on getting talent through the door faster.
Prioritizes relationships: While GoodTime's intelligent automation takes care of tedious tasks, such as back-and-forth scheduling, talent teams now have more time to focus on creating relationships with the candidates that matter.
Speeds up hiring: GoodTime Hire greatly reduces time-consuming work, allowing talent teams to hire at a much quicker rate. And with the average time-to-hire sitting at 44 days, there's no better way to get ahead of the competition than this.
2. Resume sorting: SmartAssistant
You know as well as I do that it takes hours and hours to sift through endless resumes, just to find one well-matched candidate.
SmartAssistant's AI-powered recommendation service does this for you. Using powerful custom algorithms, SmartAssistant easily finds and scores talent, recommending the best match at lightning speed.
It also helps eliminate subjective opinions. Yes, even the most well-intended recruiters can let bias seep in. When reviewing information, this tool does not analyze personal data (such as name, age, gender, etc). Nor does it factor past hiring decisions into the algorithm. Instead, it focuses on the competencies that matter.
Top 3 benefits
Increases productivity: With rapid applicant screening, SmartAssistant discovers talent in just minutes — giving recruiters more time to work on other important tasks.
Boosts discoverability of candidates: Sometimes good candidates get lost in the weeds. With SmartAssistant, every candidate is evaluated the same way, giving everyone a fair chance to be seen and heard.
Expands team diversity: When biased opinions are not a part of the sourcing decision, your company gets a better chance at well-rounded, diverse hires. And this is critical for company success.
3. Search queries, prep, and drafting emails: ChatGPT
You know I had to include this one on the list. Only surfacing in November of 2022, ChatGPT is still in its early days. Yet, it's created ripples across every industry. Hopefully optimistic, recruiters joined the crowd to see how ChatGPT could help them speed up their efficiency.
And it didn't disappoint. While ChatGPT is certainly not perfect (keep in mind that many still use the free version), it's certainly eliminated extra steps for the recruiter. Here are a few ways recruiters use Chat GPT to speed up their hiring process:
To level up search queries: Using ChatGPT, recruiters can generate Boolean search strings to help them find the best candidate.
To prep for an interview: Based on a specific prompt, ChatGPT can generate a list of interview questions for a specific role.
To draft email communication: ChatGPT can create emails for a variety of scenarios, making candidate communication quick and seamless.
Top 3 benefits
Saves time: ChatGPT creates answers to prompts in seconds and helps talent teams speed up their time-to-hire.
Reduces manual effort: Many talent teams spend hours writing emails or developing interview questions. Now talent teams can use ChatGPT to do their tedious tasks. And while ChatGPT is still not perfect, talent teams can quickly make edits and move on to the next task.
Minimizes cost: ChatGPT offers three plan options. Many businesses choose to stick with the lowest plan, which is free. Even the next plan level is very affordable, coming in at $20 a month. For talent teams who are trying to do more, but reduce costs, ChatGPT is a great option.
Curious how a real TA leader uses ChatGPT? We spoke with Dubi Ben-Shoham, Head of Talent Acquisition at Socotra, and he shared how he utilizes it for repetitive or templated candidate emails. You can watch a clip from our conversation below.
4. Background checks: Checkr
Before offering a job, it's important to verify that a candidate is who they say they are. That's where Checkr comes in.
This AI-powered platform saves hours of administrative work by verifying employee information — in just seconds. While traditional employment verifications can take up to 10 days, Checkr can complete it in less than 90 seconds. Checkr processes a mind-blowing 1.5 million + background checks per month, without sacrificing accuracy or compliance.
For Jackie McKewon, HR Generalist at Deploy HR, Checkr has been a huge time saver. "As a result of bringing Checkr on board, our team has more time back in their days to focus on candidate retention programs, improving the onboarding experience, and the candidate onboarding process," she raves.
Top 3 benefits
Improves accuracy: When records are processed manually, there's a greater risk of mistakes. Checkr's tool categorizes data clearly and consistently so records are always accurate and up to date.
Maximizes time: Checkr saves talent teams time by doing the hard work for them.
Lessens Administrative burden: Talent teams can spend days getting background checks, drug testing, and verifying reference checks. Checkr greatly reduces the administrative workload so teams can focus on hiring faster.
5. Technical screening: HackerRank AI
HackerRank AI makes technical hiring a dream. It provides screening and interview technology that is solely focused on the technical hire. With skills-based assessments, developers can prove their capabilities using the latest technologies. And talent teams can adopt an extensive library of technical skills, giving them the insights they need to make the most informed decisions.
But there's more. HackRank AI also provides a live coding option. This way, developers can show off their skills in real time. This is especially important since a growing number of developers and technical recruiters we speak to say technical interviews aren't effective.
For talent teams focused on technical hires, HackerRank AI makes finding and interviewing candidates seamless. Here's what Jon Duggins, Director of TA at DraftKings, had to say: "Screening candidates through HackerRank has helped us rapidly and accurately identify the skills of candidates, and therefore find and hire the technical talent our team needs to innovate."
Top 3 benefits
Mitigates bias: Certified assessments are built to ensure fairness. Unlike subjective evaluations that may be influenced by biases, technical skills assessments focus solely on the performance of the candidate.
Ensures honesty in performance: When assessing candidates, this AI-powered tool automatically detects plagiarism, making sure that only those with the best skills get through.
Discovers most in-demand tech skills: HackerRankAI has an extensive library of tech skills, helping talent teams assess and hire with confidence.
6. Sourcing: SeekOut
Although SeekOut offers many recruiting services, it focuses on one, main theme: using data to discover talent.
One benefit of SeekOut is its ability to quickly identify and close skills gaps. Their AI-powered search engine uses data to understand current employee skills, experiences, or career goals. Then, using this data, talent teams can make targeted decisions around their sourcing strategy, like planning for new roles or training existing employees.
Beyond that, SeekOut gives access to 800 million public profiles and matches applicant competencies with the roles they best fit. Then, it sorts these applicants based on how qualified they are for the role.
Top 3 benefits
Improves efficiency: With SeekOut, talent teams quickly get the insights they need to hire the best-matched candidate for the role.
Increases diversity: This powerful search tool finds the most diverse, hard-to-find talent. And talent teams have total control over how they filter candidates, helping them focus on what truly matters — skills.
Creates unity across teams: Finding top talent is always easier when every member of the talent team is on the same page. With SeekOut, teams can easily share and discuss insights.
What AI recruiting tools does your team need?
Now it's your turn. What AI recruitment tools would best benefit your team's specific needs? Begin by asking questions like, "What is our ultimate goal this year?" or "What are our current challenges?" Then find the tool that works best for your team's specific needs. It's a challenging time to hit hiring goals right now with leaner resources, and adding recruitment automation is your best bet to getting ahead.
If you're still not sure where to begin, try GoodTime Hire. Our interview scheduling software gives teams the edge they need to hire up to 50% faster.
Automated interview scheduling at warp speed
Lean team? Sky-high goals? No sweat. Secure top talent 50% faster with smart scheduling automation that handles even the trickiest interviews.