Get excited: our team is always hard at work in making GoodTime the best it can be, and we're here to share the latest product updates from January 2023. New high-volume hiring features, updates to flexible scheduling, and more releases are coming your way. Buckle up, let's review!
Watch the Full Product Updates Walkthrough
Want the entire scoop on our latest and greatest product updates? Check out January's product update webinar below. Keep scrolling to read the biggest highlights.
GoodTime Hire Updates
We've taken flexible scheduling to the next level, updated the dashboard, improved the interview training functionalities, and more.
Revamped Flexible Scheduling
We've given "request availability" an upgrade. Since your availability may span more than one day, candidates can now submit their own availability over multiple days as well. This added flexibility allows candidates to get in the door days faster than before. What's more, this comes neatly packaged in a new interface, complete with your company colors and background information.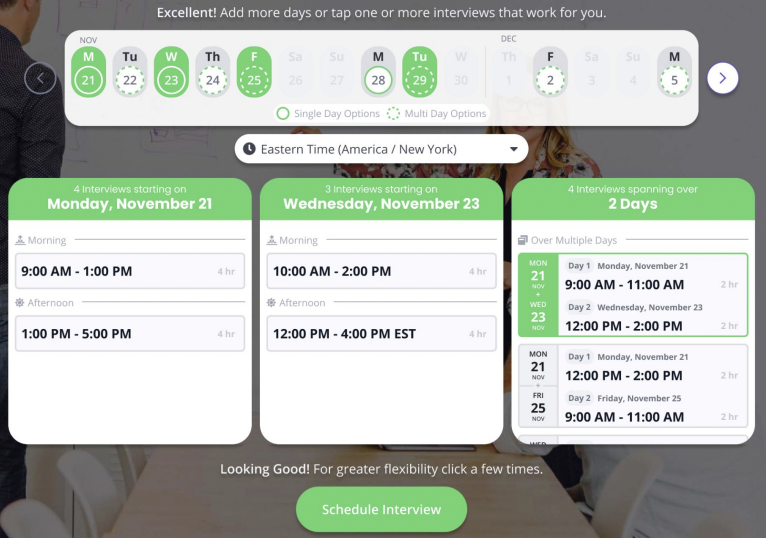 Dashboard Improvements
The dashboard just got a makeover, and it's looking sharp. We've completely renovated it to show essential information, including the number of accepts and declines, the role in question, and the stage for each candidate. These updates effectively save time, reduce errors, and foster transparency.

Auto-replace Interview Trainees
We get it, unexpected things come up. GoodTime can automatically replace your declined interview trainees with someone who is available that has the same tag or is qualified for the same training path. You'll be able to maximize the interview training capabilities of your organization, save hours of repetitive work, and interview more people than ever before.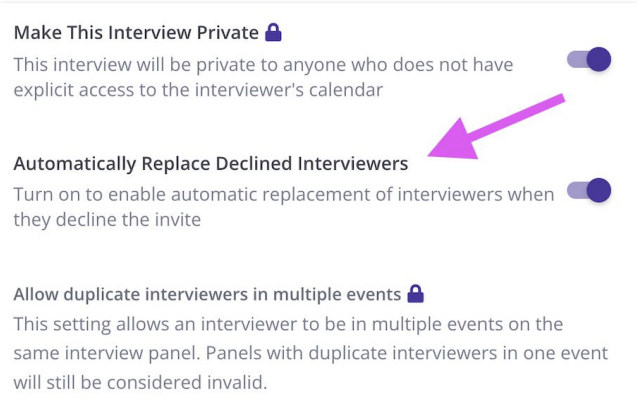 Training Path Auto-enrollment
Create a chain of interview training paths by setting up auto-enrollment. Once a trainee graduates, they'll be automatically enrolled in the next path of your choice, and outdated tags can be automatically removed. With eligible trainees now able to quickly complete multiple training paths, you'll be able to graduate them faster and watch your interviewer pool grow quicker.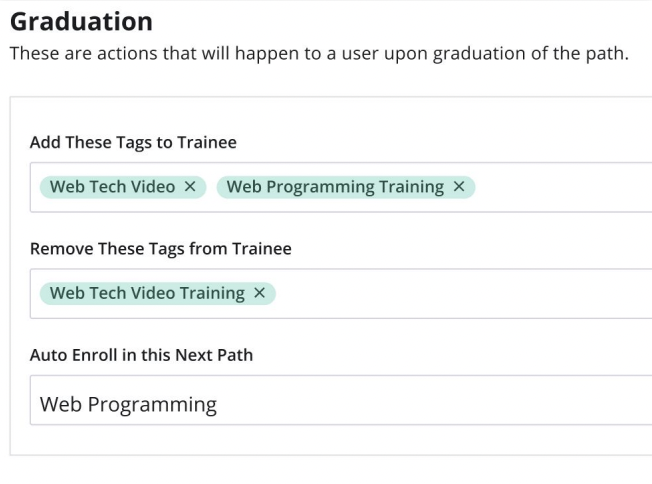 Other Notable Updates
Bulk Scheduling: Will be enhanced for Workday customers
SuccessFactors: Will be fully supported by GoodTime
Workday: Integration will be further streamlined
GoodTime Hire for High Volume Updates
Introducing: the new GoodTime Hire vertical for high-volume scheduling. The Hire scheduling that you know and love can now be done at scale along with SMS support through the Chrome extension.
WhatsApp Communication
Keep top talent engaged by communicating and sending interview scheduling requests to candidates over WhatsApp. This feature is especially useful when interviewing international candidates.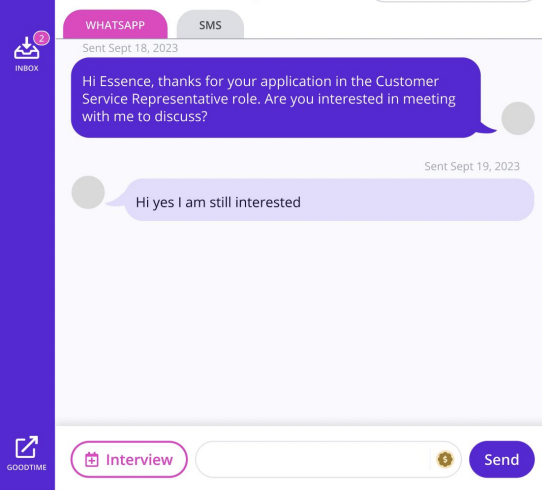 Interview Blocks
Designate specific interview blocks using calendar events. When these interview blocks are used, GoodTime will only search these blocks to show availability to candidates.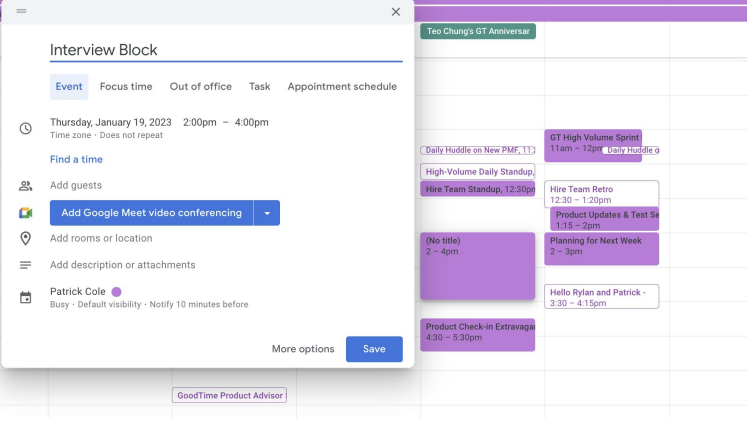 Notifications
Staying on top of status updates when you're juggling multiple candidates can be hard. By receiving notifications in the Chrome extension, you can easily see when you have new messages from candidates and when they've scheduled interviews.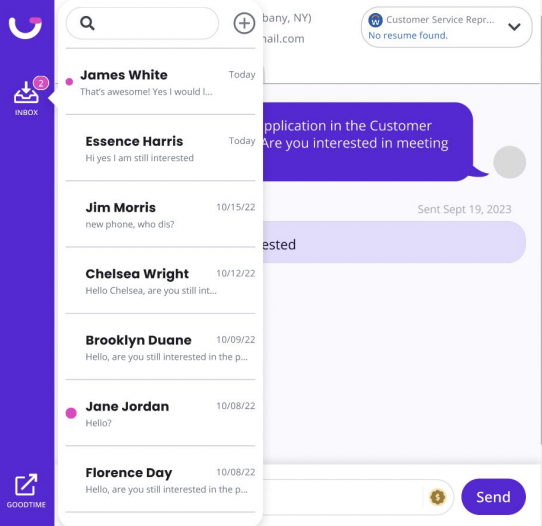 GoodTime Meet Updates
We've created a new way for your company to upskill and mentor employees, enabled in-app messaging, and more.
Meet Connect
It's time to get acquainted with Meet Connect. Meet Connect makes it easy for you to connect with other people at your company. Whether you're looking for a mentor, picking up a new skill, or grabbing coffee with someone who has a shared interest, Meet Connect makes it easier than ever to connect with those that matter.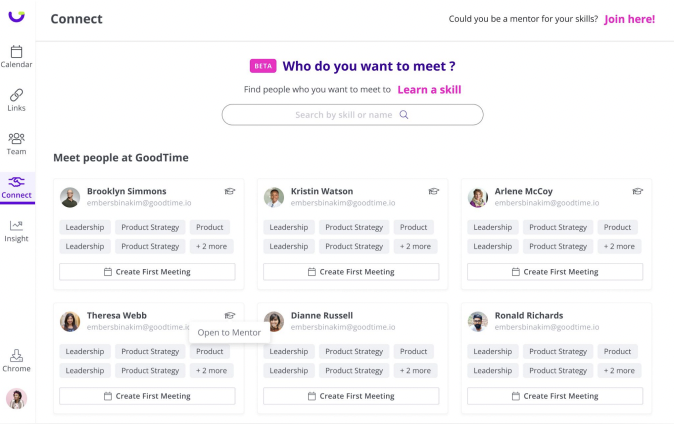 Profile Pages
Getting to research and vet potential mentors helps to create a fruitful mentee-mentor relationship. Connect search now features member profiles that give details on experience, areas of expertise, and interests. This helps enrich the search experience with more details on viable mentors.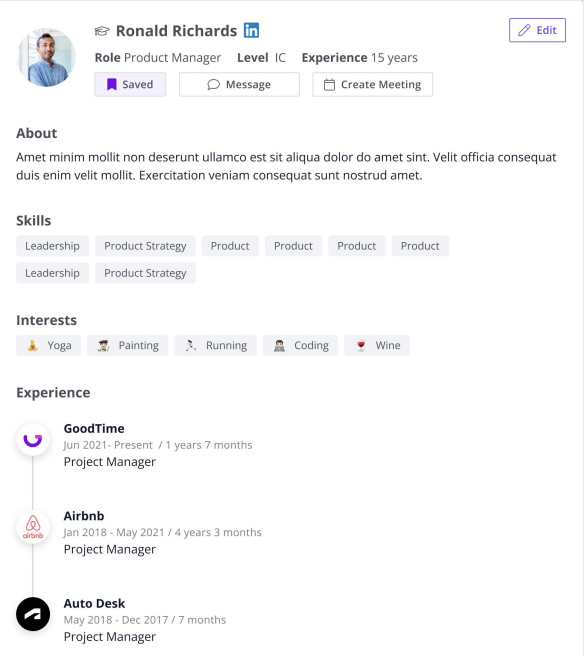 Messaging
Need to check on something before scheduling a meeting? In-app messaging makes it easy for you and your team to communicate quickly before scheduling meetings. That means no more jumping in and out of different applications to get a meeting on the books.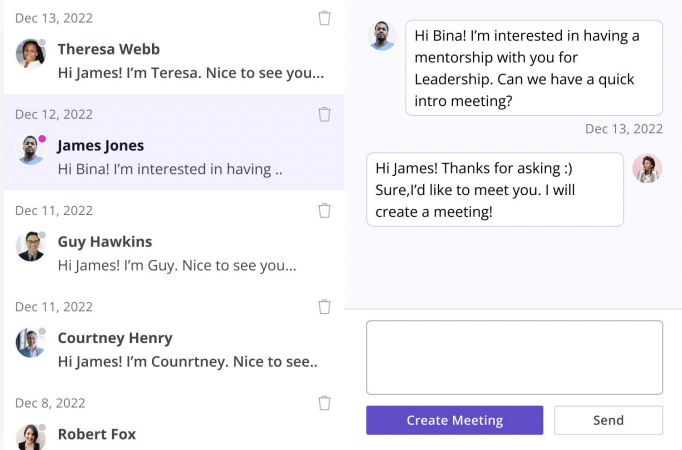 Other Notable Updates
Cost Center Admins: Add additional cost center admins that can manage users
Connect Mentorship Goals: Set goals for your mentorship programs that keep track of mentor and mentee progress
Connect Mentorship Reviews: Allows mentees to leave reviews on their mentorship experience
Premium Access Sharing: Allow users to invite their friends, colleagues, and co-workers to join Meet. Invitations come with a free one-month trial of Meet and also gift the sender a week of free Premium as well.
Not Part of the GoodTime Family Yet?
It's time to change that. With GoodTime, you can get better outcomes from your company's most important meetings. For interviews, GoodTime Hire helps you schedule 40% faster, hire 50% more efficiently, and 5x team productivity. (Seriously.) For every other meeting, GoodTime Meet allows you to take complete control of your calendar with free, flexible scheduling for hybrid and remote teams.
Learn more about how Hire can transform your interview scheduling.
Learn more about how Hire for High Volume can revolutionize your high-volume hiring.
Learn more about how Meet can revamp your meeting scheduling.